You've probably heard about OKRs (Objectives and Key Results), but you're unsure how to implement them in your business.
Even if you have a basic idea about OKRs, it can be tough to know where to start. There are many software options, and it's hard to know which fits your business best.
What is OKR Software, and Why does it help?
OKR software is a tool that can help businesses track and manage their objectives and key results. In addition, it can be helpful software for managers and employees, as it provides a clear overview of what needs to be done to achieve specific goals.
Here is the list of the best OKR software:
1. Lattice
Lattice is a performance management software suitable for startups. It helps you track your progress and goals with its performance management, engagement, and analytics features.
Features
Goal setting
Performance management
Compensation management
Employ engagement
Carrier development
Analytics
Likes
It is straightforward to use
Allows you to make agendas for your 1:1s
Dislikes
Need integration with more okr tools
Other details
2. ClickUp
If you're looking for powerful and versatile project management software, ClickUp may be just what you need. With ClickUp, you can manage an infinite number of projects and tasks, making it perfect for businesses of any size.
You'll also find that ClickUp is packed with features, including task dependencies, Gantt charts, and custom views. And if you need more power, it offers enterprise-level features like unlimited storage and collaboration.
Features
Gantt chart
Dashboards
Native time tracking
Mindmap
Notepad
Forms
Kanban board
Sprints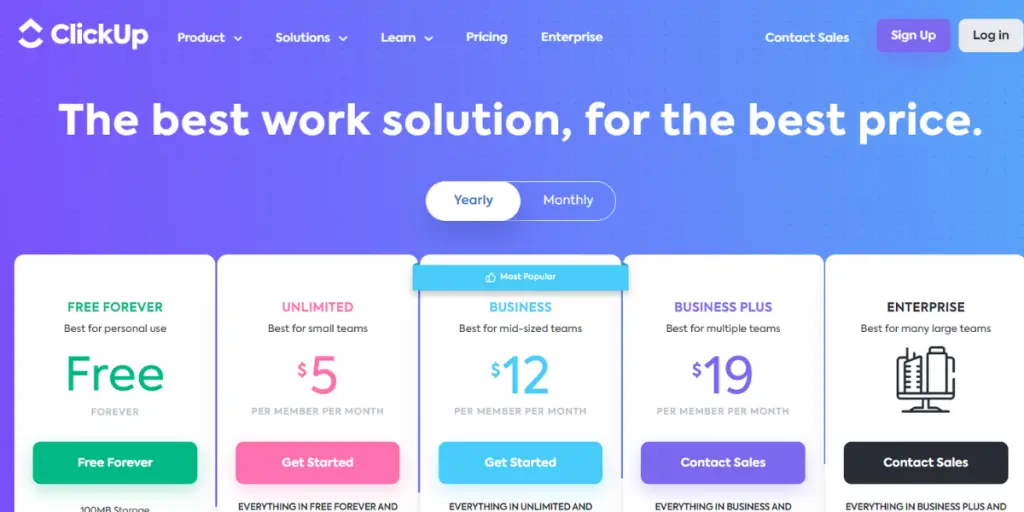 Dislikes
Slacks document management system is messy
Description and tasks appear with a delay
Other details
3. 15five
15five is a performance management system that helps you track your progress and achieve your goals. It is simple to use and has various features that make it one of the most useful solutions on the market.
Features
Customization
Dashboard and reporting
Access management
Strengths discovery
Career vision
Data insights
Slack, team, and google calendar integration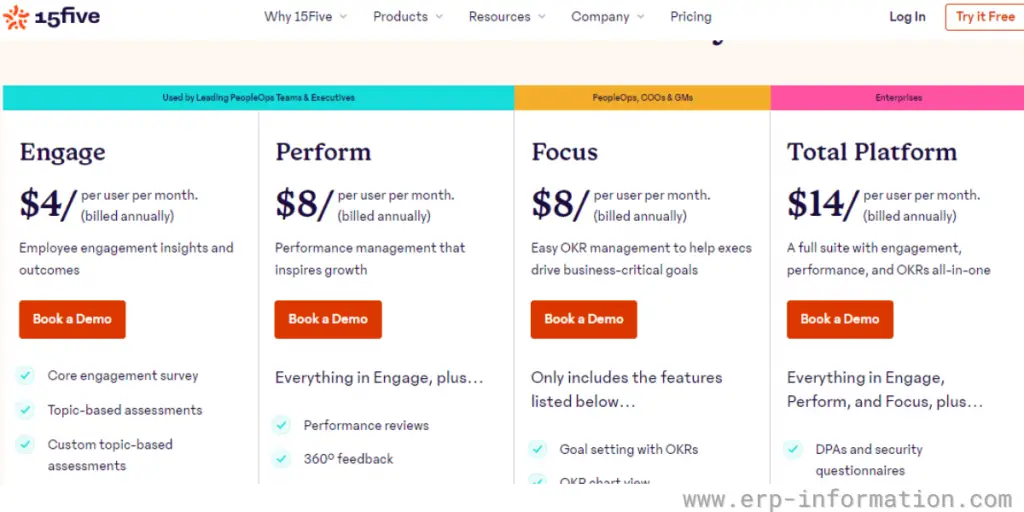 Likes
It allows you to visualize results and generate constant communication
Provides good support
Dislikes
The survey tool is not robust
Other details
4. Profit. co
Suppose you're looking for robust Objectives and Key Results software; profit.Co should be at the top of your list. It's simple to use and helps you track progress, execute your strategy and achieve your goals in real-time.
Features
Individual and Team Objectives and results
Seven types of key results to track goals
Dashboard to know teams' progress
Real-time heat maps
Likes
Provides good customer support
It is very flexible
Dislikes
For beginners, various options for creating OKRs will be confusing
Other details
5. Mooncamp
Mooncamp is a system suitable for startups. It is a free tool that helps you track your progress and measure your goals. Here employees can update work progress through Microsoft teams.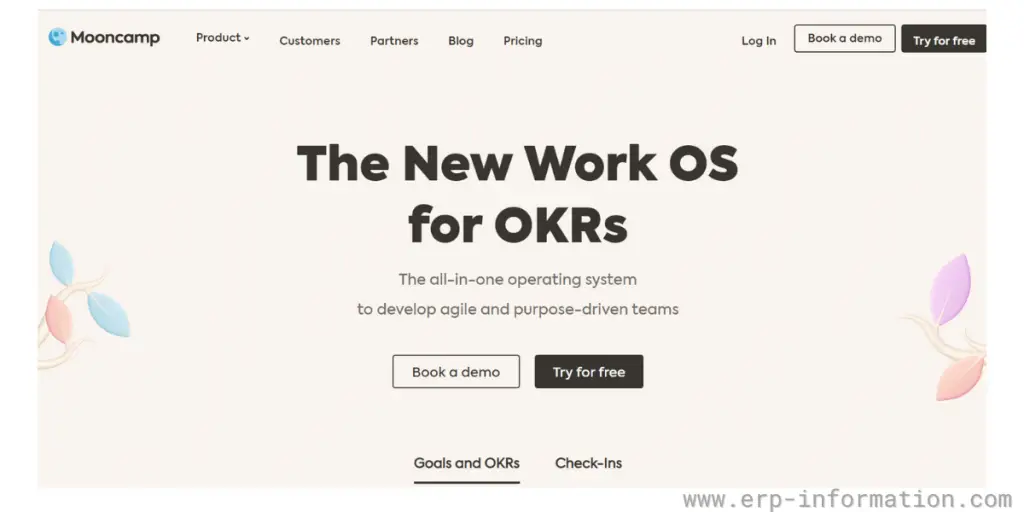 Features
Goals and results
Feedback
Onboarding
Check-ins
Integration
Microsoft teams integration
Reporting and analytics
Likes
Software is very flexible
It allows you to create many types of goals
It allows you to generate your fields
Highly customizable
Dislikes
Because of the higher flexibility, users will not use the software consistently, which leads to confusion.
Other details
6. FlowyTeam
If you're looking for software that enables you to do all your work in one app, then go for FlowyTeam OKR software. It is a good provider o. It's easy to use and helps you track your team's productivity and performance.
Features
Individual and team options
Check-in
One-on-one meetings
Performance and productivity software
Goal settings
Dashboards and reports
Dislikes
Unavailability of google calendar integration
Lack of integration requirements
Other details
7. Koan
Koan software is one of the cool systems with an intuitive interface. With its excellent features, teams can set clear and measurable goals. In addition, the software helps to track performance and creates alignments.
Features
Overall view across the organization
Tracking the team's OKRs
Status updates
Like
It is very flexible
Unlimited users can use the software
Dislike
It does not provide the features like check-ins, one-to-one, and feedback
Other details
8. Leapsome
Leapsome is the best Objectives and Key Results tool option for performance-oriented companies. It's easy to use, helps you track your progress, and makes setting and meeting goals a breeze. It provides performance management, employee engagement, and learning in a single platform.
Features
Individual and team metrics
Feedback
Status tracking
Goal setting
Onboarding
Compensation
one-to-one and team meetings
Skill framework
Engagement surveys
Likes
You can easily share the feedback with your peers
Provides 360-degree peer reviews
Dislikes
Slacks are not well organized
Help tabs are not much precise
Other details
9. Hirebook
Hirebook is software that offers an excellent solution for tracking and managing employee performance.
Features
OKRs
Check-ins
Surveys
KPIs
Real-time charts
Dashboard and reporting
Goal creation
Status tracking
Feedback
One-on-one meetings
Likes
It is a simple and user-friendly software
It provides good support
Dislikes
Sometimes you face some authentication issues
Other details
10. Betterworks
Betterworks is good for enterprises. It's simple to use and helps you track your progress and goals. It also provides performance management, employee management, insights, and analytics.
Features
Objectives and goals
Employ engagement
Insights and analytics
Performance management
Messaging integrations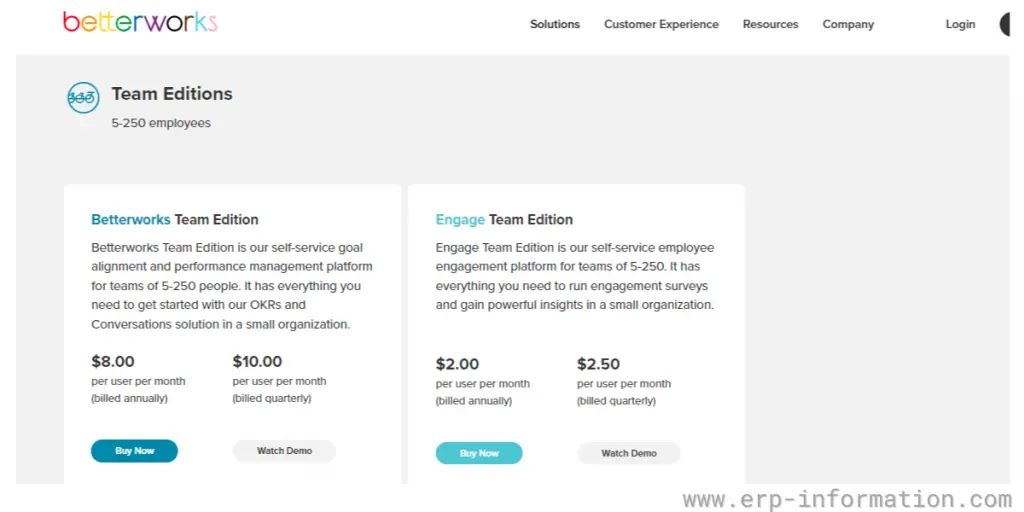 Likes
Easy-to-use software
Provides good customer service
Dislikes
Lack of third-party integration capabilities
Other details
FAQs
Conclusion
There are many types of OKR software on the market, and it can be challenging to determine the best for your business.
Therefore, based on our research and analysis, we've provided a list of the top 10 OKR software options in 2023. Hopefully, this will help you make an informed decision about which software is right for your business.
References