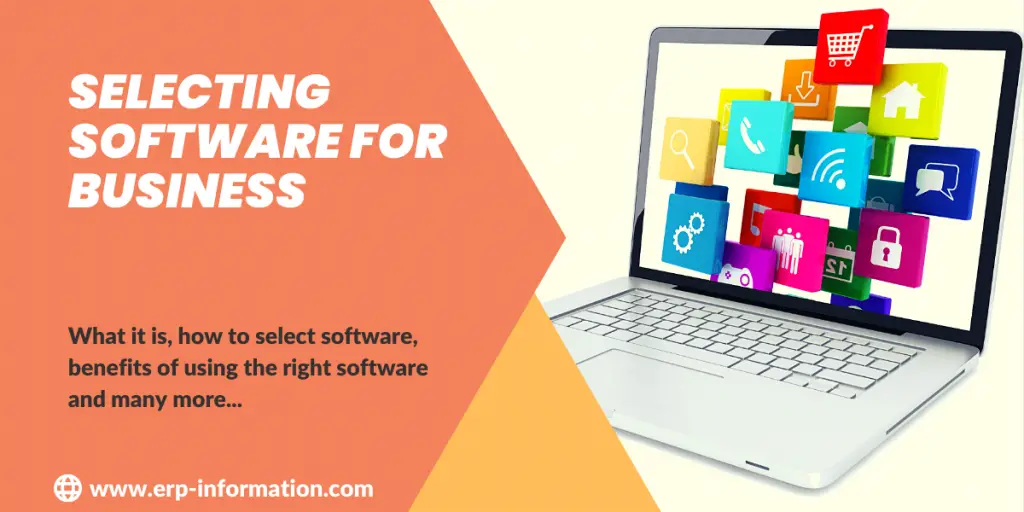 In the present world, technology has become an integral part of every business. As a result, businesses need a strong technology foundation to succeed and stay competitive.
This means that companies need to select the best software for their needs. Unfortunately, selecting software for business is not an easy task.
This blog will explain everything you wish to know about selecting software for business. In addition, it will provide tips on selecting the best software for your business.
What is software, and why do businesses need it?
Software is a set of instructions, data, or programs used to operate computers and perform specific tasks. Businesses need software to stay competitive and run their operations efficiently.
The software can automate routine processes, increase productivity, facilitate communication and provide insights into the performance of the business.
Factors to be considered while selecting the software
Features offered by the vendor
Pricing and packages or plans
Easy usability
Scalability
Customization capabilities
Training for employees
Security
Customer service 
Assistance in implementation
Maintenance requirements in progress
Process of selecting software for business
When selecting the best software for your business, it is most important to consider a few key factors. First, the selection process needs considerable time and resources. 
The flow chart below will explain how to select the best software for your business.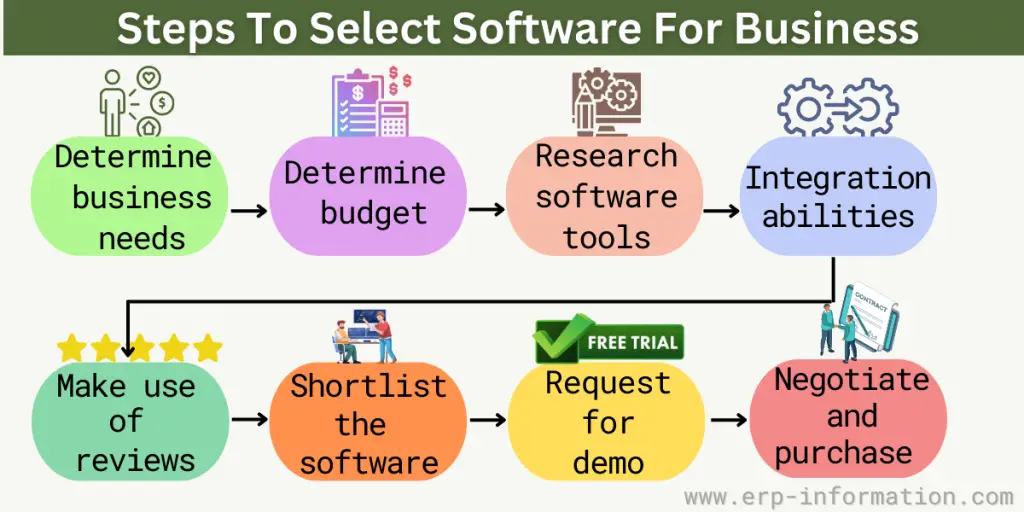 1. Determine your business needs
You should evaluate the specific needs of your business and determine which features are most important. Here it would be best if you took the time to assess the requirements.
What tasks are essential to helping your business thrive? Pinpoint the areas of improvement and discover how software can enhance your operations.
Make a list of things you don't want. This will help you quickly reject software that has unwanted or troubling features.
Depending on your business type and size, you may need different software; decide between System, Utility, or Application software options and choose what works best for you.
Make sure you consider every angle when figuring out what needs should be met so that you can get the most from this investment! 
Take some time to identify all areas where software could improve efficiency or profitability, from accounting and customer relations management to administrative tasks.
2. Determine your budget
Determining business needs to help you determine the features you need for software and how much you can pay for it.
Which way of paying for the service is best for you? You can pay a fixed amount every month, pay for what you use, Unlimited usage, Pay as you go, pay as per seat, freemium, or tiered fixed fee.
Research different software providers and their pricing. Various software providers have various pricing options, so it is important to research and find the best choice for your specific business needs.
Create a budget and stick to it. Once you have determined what features you need and which software provider offers them at the best price, create a budget that fits your company's finances and stick to it.
This can ensure you get the most value for your money without overspending on unnecessary features.
3. Researching available software tools
Research available software solutions to compare features and pricing models. Research the software for your requirements, and you need to consider some points.
First, you need to spend most of the time understanding different available software.
Researching features, functionalities, and how user-friendly
Comparing with alternative software
Pricing comparison and evaluating that which is affordable for you, selecting the one which is matching to your budget
Shortlisting the vendor for better offers and volume 
4. Integration
The next thing you need to recheck is the software's integration capability.  
Ensure that the software is compatible with existing systems and has good customer support.
Make sure the software is secure and compliant with industry regulations.
Always go with the new version of the software for better integration.
5. Make use of reviews
Online reviews and reviews of experts can be enormously helpful tools when selecting the best software for your business.
You will come to know the customer support of the software team for any query or implementation.
By reading through and considering user experiences, pros, and cons, potential customers can better understand the tech product itself and what they stand to obtain or lose in terms of quality and customer service when selecting it as a viable option.
Furthermore, these reviews often lead to greater vendor transparency, which promotes honest dialogue between buyers and sellers.
As such, you are investing a few extra moments in the research process makes you more likely to make smart decisions regarding selecting the best software for your unique needs.
It would be best if you consulted with experts to get the best advice on which software is right for your business.
6. Shortlist the selected software
Selecting software for business can be a daunting task. With so many choices available on the market, it may seem impossible to pick the solution that best meets your needs. 
To make this selection process easier, creating a shortlist of software on a spreadsheet can help you compare their features, tools, pros and cons, and pricing side by side. 
This will save you from having to consult multiple pages of reviews online to determine which system is most compatible with your expectations.
7. Request for demo/Free trial
Contact the companies directly. Once you've shortlisted your options, contact the companies directly and ask for a demo. Many companies offer online demos or free trials, so you may not even need to speak with someone in person.
A demo is a fantastic way for companies to understand the work, comfortability in usage, and sustainability of software.
You can easily understand the usable features and figure out unwanted features.
Instantly you can clarify your doubts with stakeholders.
8. Contact the Vendor for the negotiation and purchase process
After selecting the best software for your business, contact the vendor to get a pricing quote and begin the negotiation process.
Selection of the subscription plan and negotiation will take place in this stage.
Depending on the cost and features of your chosen software, negotiations with the vendor can be quite extensive. 
Once both parties agree to a deal and all contracts have been finalized, the vendor will update you on installation procedures and associated fees.
During this time, you need to ask any pertinent questions that may arise to ensure a successful transition from selecting to installing your new business software.
Some software vendors will provide a free trial or training that will be helpful for you.
After passing through all these selection processes, the software is ready to use for your efficient productivity.
The benefits of using the right software for your business
Using the right software can significantly impact the broadening of your business. The benefits below will encourage you to spend time selecting the best software for your business.
Increased productivity and profits
It can reduce costs and save time.
Increase efficiency, improve customer service and provide insights into performance.
The right software can help improve communication within your organization. For example, applications facilitating communication between departments or team members can improve workflow and productivity.
It can help to stay ahead of the competition and scale your operations quickly.
Can reduce or eliminate redundancies and wasted time and effort.
Consistent upgradation in the software will help for a better future.
Choosing the right applications can help keep your business safe from data breaches and other online threats. 
Security-focused applications can protect your company's data while also helping to ensure that your employees are productive during working hours.
The consequences of selecting the wrong software for your business
Choosing the wrong software can expedite wasted time, money, and resources. 
It can also damage your reputation if customers experience poor performance or service. 
Additionally, it can lead to security issues and data breaches that can have a long-lasting impact on your business.
FAQs
How to know if the software is fit for your business requirements?
Before committing to a software solution, ensure it meets all your requirements with a free trial. 
To get the most out of this test period, map out what you need from the product and keep an eye open for any specific features that could be useful in streamlining workflows.
What are the major factors to consider when developing a software solution?
Industry benchmark
Quality assurance
Best practices and supports
Upgradation
Conclusion
In conclusion, selecting the best software for your business is essential to its success. It can help you to minimize costs, increase efficiency and stay ahead of the competition. 
When selecting the best software for your business, it is important to consider cost, compatibility, customer support, and security factors. Additionally, consulting with experts can help find the perfect software.
We hope this blog post successfully provides complete information on selecting the best software for your business.