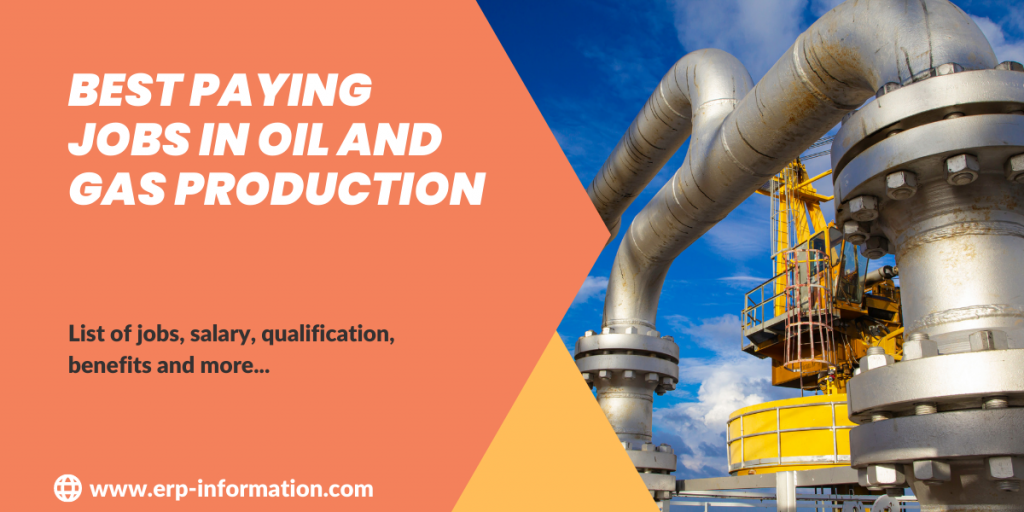 The oil and gas industry is an ever-evolving field that requires a steady influx of personnel to maintain its growth. As demand for services increases, so does the need for talented individuals with specialized skills – providing ample opportunity to work in this dynamic space.
The oil and gas industry is one of the most lucrative sectors in the world. As a result, many best paying jobs in oil and gas production are available for those looking to make a career in this field. From engineering positions to oilfield service professionals and more, individuals have many opportunities to make excellent salaries in oil and gas production. 
This article will explore the ten best paying jobs in the oil and gas production industry with average pay, required qualifications, Job benefits, and risks.
Countries that provide job opportunities in oil and gas production
Some countries offer the best paying jobs in oil and gas production, which are listed below.
US: ExxonMobil, Chevron Corporation, Marathon petroleum, Valero Energy Corporation, Phillips 66 
China: Sinopec, Petrochina
Saudi Arabia: Saudi Aramco
UK and Netherlands: Shell, BP
France: TotalEnargies
Russia: PJSC Lukoil, GazProm
Norway: Equinor ASA
Kuwait: Kuwait Petroleum corp
Canada: Offers many job opportunities in OIL rig.
10 Best Paying Jobs in Oil and Gas production industry
1. Chemical engineer
Chemical engineers are the masterminds behind transforming crude oil into useful products like gasoline and kerosene. From daily laboratory assessments to ensuring maximum efficiency while preserving safety regulations – they stay abreast of the latest advances in their field to ensure successful refining operations. This is one of the highest paid oil field jobs.
| | |
| --- | --- |
| US Salary | Average $167120 a year |
| Qualification | Bachelor's degree in chemical engineering |
Benefits
High salary package, paid time off, Health insurance, and retirement time contribution.
Growth
Around 2000 job opportunities every year; other jobs are energy manager, Analytical chemist, Mining engineer, manufacturing engineer, etc.
Risk
Possibility of risk from chemical, biological and physical hazards
2. Reservoir engineer
Reservoir Engineers explore the depths of geology and fluid mechanics to discover hidden treasures in underground petroleum reservoirs.
Then, with their specialized education, they assess potential reserves so companies can tap into these natural resources for our use. This is a branch of petroleum engineering. Those looking for the best paying jobs in oil and gas production can think about it.
| | |
| --- | --- |
| US Salary | Average $137156 a year |
| Qualification | Petroleum engineering |
Growth
Good growth in oil and gas, construction, and production fields.
Benefits
High-paid salary, Health benefits, other contributions, diverse collaboration, travel, etc
Risk
work pressure of production forecasting, testing, drilling, workover planning, financial reporting to SEC, etc.
3. Petroleum engineer
Petroleum engineers are at the forefront of exploration efforts and problem-solving in the oil and gas industry. With a lucrative salary, they face interesting challenges with each new project that requires creative solutions, turning problems into possibilities within tight deadlines.
| | |
| --- | --- |
| US Salary | Average $130850 a year |
| Qualification | Bachelor's Degree in Petroleum Engineering and Engineers need to take the license. |
Growth
Around 2100 demand for this job every year.
Benefits
Good salary, travel experience, reputation, and insurance facility.
Risk
Risk of working Offshore oil rigs, risk of health working in a dangerous environment,
4. Petroleum geologist
Petroleum geologists are integral to the oil and gas industry, working closely with cutting-edge technology to discover precious new energy sources.
By carefully examining data gathered from deep beneath the earth's surface, these specialists can accurately calculate potential extraction amounts – supplying us with a valuable resource for years to come. A petroleum geologist job is one of the highest paid oil field jobs.
US Salary
Average $112114 a year
8.35 employment growth, Can work as drilling or reservoir engineers, managers, teachers consultants
Qualification
Ph.D. in petroleum is preferable, and a degree in physics, chemistry, biology, engineering, or mathematics.
Growth
An average of 2400 openings are projected every year, and projected growth of  5% from 2021 to 2031; you can get other job options like environment protection specialist, Hydrographic surveyor, sustainability engineer, etc.
Benefits
He can explore scientific and technical skills, Prediction and can get all job facilities.
Risk
Need high stamina to work in a difficult environment and carry required equipment.
5. Production engineers
Production engineers are the brains behind petroleum engineering. Equipped with specialized degrees and expertise in good equipment, they expertly guide wells along their journey from drilling to the production stage.
Continually monitoring efficiency levels throughout the process, these skilled professionals ensure that each project is commercially viable for maximum success.
| | |
| --- | --- |
| US Salary | Average $110,880 a year |
| Qualification | Bachelor's Degree in Petroleum Engineering (or a related field like Mechanical, Civil, and Chemical engineering) |
Growth
Great opportunity in oil and gas, refining, pipeline construction, and maintenance.
Benefits
High pay salary, Travel experience, Strong job prospects, Generous paid time off, Matching retirement plan contribution, and Insurance for health and disability.
Risk
Health hazards, Irregular vacations, the Possibility of long working hours, Worry or mental stress, etc
6. Mechanical engineer
Mechanical engineers keep the engines of vital oil and gas operations humming efficiently. Skilled professionals devise, create and maintain sophisticated equipment to guarantee enterprises operate securely, reliably, sustainably, and with the highest quality.
| | |
| --- | --- |
| US Salary | Average $ 99576 a year |
| Qualification | Mechanical engineering, NACE coating inspection certification, QA/QC certification, NDT certification, AWS grades, CSWIP certification |
Growth
Can move to administrative or management level, better career opportunity in renewable energy and sustainable technologies in the future.
Benefits
High paid salary, learning and updating new technologies, strategic thinking opportunities, Insurance, pension benefit many more contribution benefits.
Risk
Responsible for ensuring compliance with HSE standards and working closely with machines.
7. Drilling consultant
Drilling consultants provide invaluable expertise to ensure safe operations. Their deep analysis of seismic surveys and core sample data can help identify locations with promising reserves that give companies a leg up when it comes to successful drilling endeavors.
These specialists are instrumental in developing safety protocols during this process and offer technical guidance every step of the way — essential for harvesting those hidden pools beneath our feet.
| | |
| --- | --- |
| US Salary | Average $ 90144 a year |
| Qualification | Bachelor's degree in petroleum engineering, drilling, geology, and geophysics. |
Growth
Job growth to Drilling supervisor, Drilling superintendent, and constant job opportunities.
Benefits
High pay, overseas travel, more opportunities for analytical skills, and other job benefits.
Risks
Onsite supervision is required, risk of working critical locations, reaching target depth, and managing cost.
8. Project manager
Oil project managers are at the helm of managing an incredibly complex and important process. From defining objectives to allocating resources, they create plans that must stay within time and budgetary constraints while adhering to government regulations.
Collaborating with engineers, technicians, and other industry professionals, this specialized personnel ensures a successful operation from start to finish.
| | |
| --- | --- |
| US Salary | Average $ 78132 a year |
| Qualification | Petroleum engineering |
Growth
20% growth is expected in 2027, opportunity to promote to the COO position
Benefits
Good salary, compensation for the carrier, TRS staffing, all other job benefits, travel experience, Insurance, etc
Risk
Coordinating with oil and gas departments, responsible for employee injury and accidents, violence in the workplace, managing the cost, etc
9. Environmental manager
Environmental managers play a critical role in keeping our planet safe from the potential harm of oil and gas extraction.
They investigate how these activities affect ecosystems, figure out ways to reduce damage, make certain operations adhere to safety standards by inspecting pipelines for any signs of problems or leaks, and identify risks before they become an issue so solutions can be put into place quickly.
| | |
| --- | --- |
| US Salary | Average $73530 a year |
| Qualification | Bachelor's degree in environmental or engineering, Certified Environmental manager ( CEM) course, or diploma in environmental studies. |
Growth
Environmental engineers have high demand in the future in the field of Government subsidiaries, transportation, remediation, agriculture service, etc.
Benefits
Good package, Overseas working opportunity, Can get knowledge about legislation and regulations of different countries and all other job benefits.
Risk
Risk of the fulfillment of the production industry and government rules need deep thinking strategy, in-depth research, and submission of related reports within the given time.
10. Gas plant operator
Gas plant operators are vigilant guardians of efficiency and safety, precisely regulating the complex systems within gas plants to ensure maximum performance. By reading gauges and adjusting valves as necessary, they maintain a delicate balance in these sophisticated machines while inspecting oil and gas pipelines for potential problems that could sabotage production.
US Salary
| | |
| --- | --- |
| US Salary | Average $52844 a year |
| Qualification | Bachelor's Degree, Master's Degree, or GED, Math, and analytical skill are preferable. |
Growth
Average growth is 2.53% per year but is expected to go down by 2029.
Benefits
High salary and paid time off, and other job facilities
Risks
Need to handle the equipment and pressure of getting word done by workers.
The below table shows the average salary of oil and gas professionals as per the Global report GETI 2019. This data is pre-pandemic data.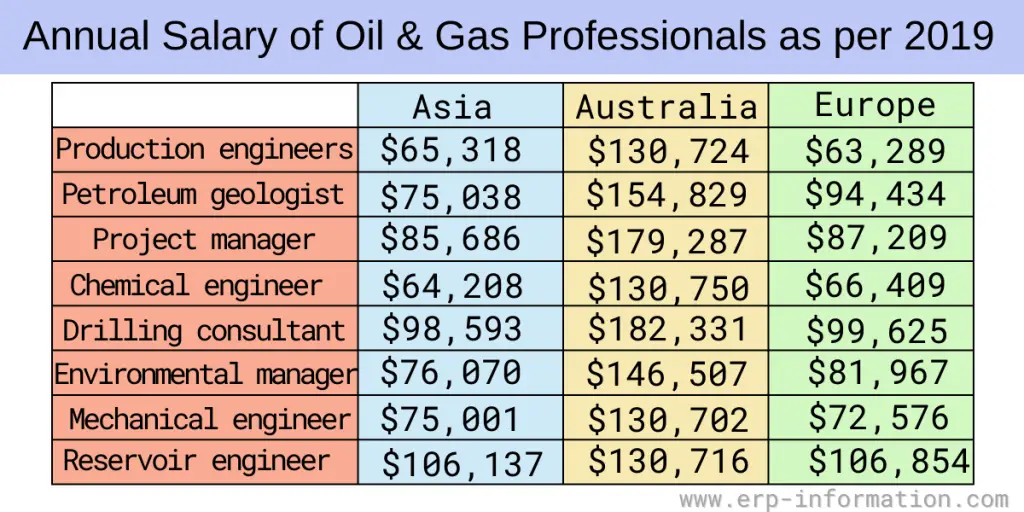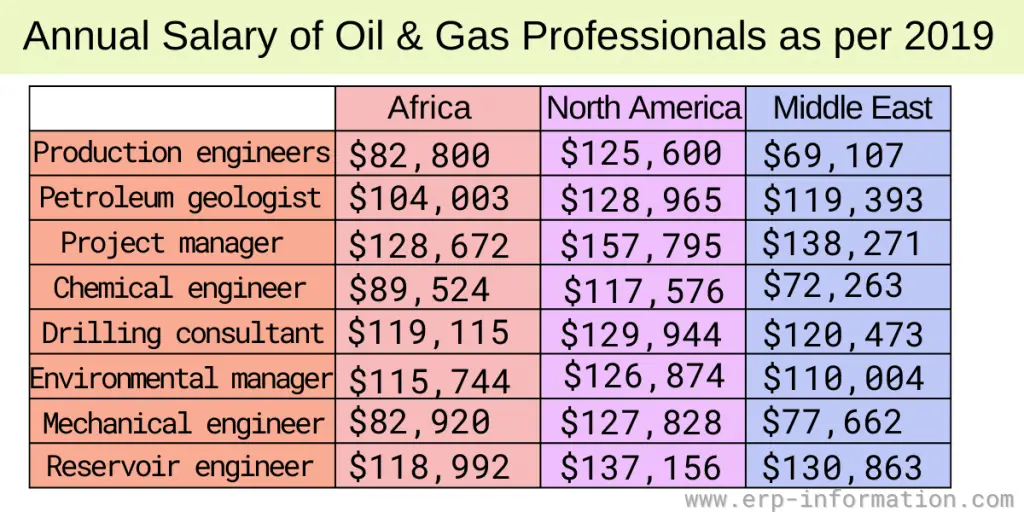 The infographic below shows the same data in the pie chart.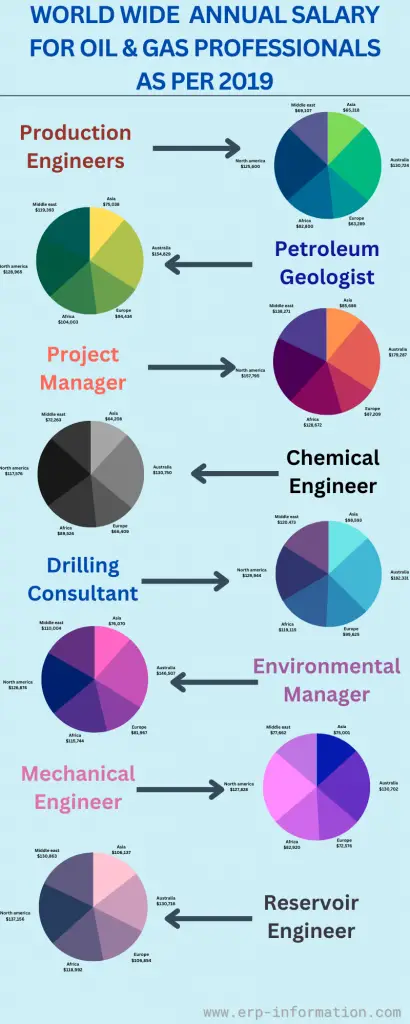 Conclusion
The oil and gas production industry is an excellent option for individuals looking to make a high salary in an impressive field. They have a good opportunity to get highest paid oil field jobs.
From engineering roles to oilfield service positions and more, there are a variety of jobs in this sector that offer competitive wages and excellent benefits. With quality education, experience, and dedication, individuals can succeed with the best-paying jobs in oil and gas production.
We hope this blog post successfully provided you with complete knowledge of the ten best paying jobs in oil and gas production, its opportunities with their salary benefit, and required qualifications.