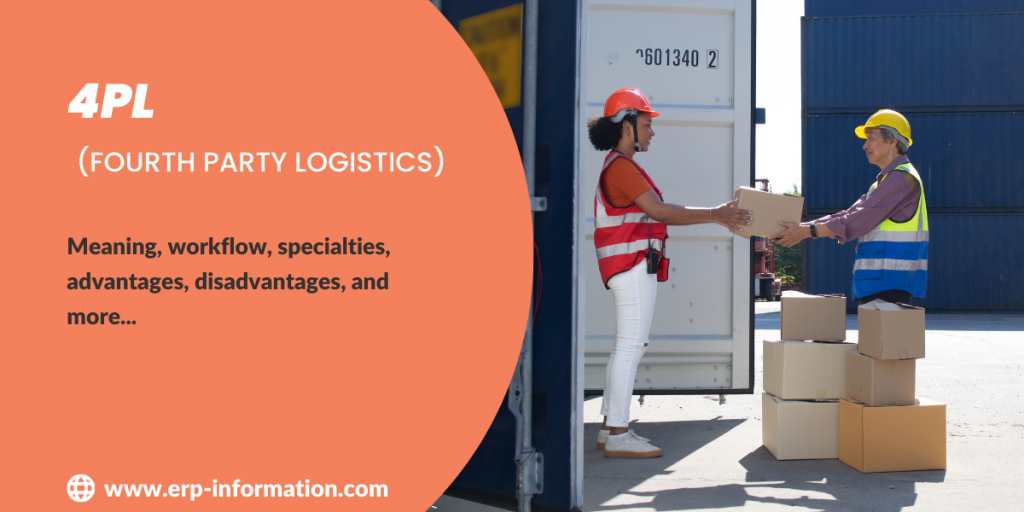 Logistics play a fundamental role in any business, and with the ever-evolving supply chain, we are now well into the 4PL or fourth-party logistics age.
This differs from traditional third-party logistics (3PL) providers as it requires higher involvement and coordination to manage an integrated supply chain process. 
This blog post is here to help you understand 4PL, how it works, and its advantages and disadvantages. It also compares 3PL and 4PL and provides a list of vendors.
What is 4PL Logistics?
4PL is an outsourcing model where a business hires an outside service provider to manage its supply chain and logistics. The fourth-party logistics provider will be the main person in charge of the supply chain and handle resources, technology, and infrastructure. 
The logistics providers will handle how the materials travel from where they were made to the store. They will also set up warehouses and coordinate with shipping companies and agents. They also help make decisions by giving advice.
Workflow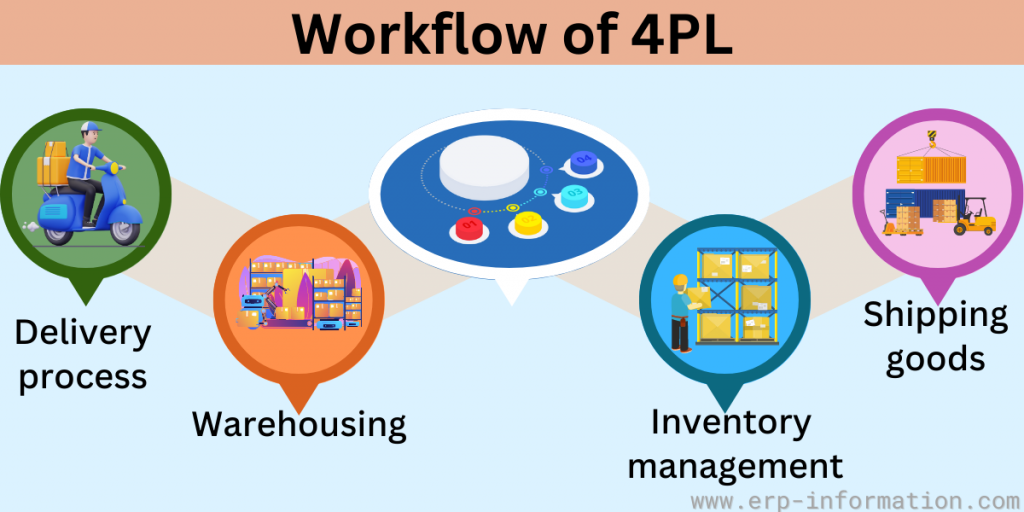 Delivery process
One of the primary responsibilities of a fourth-party logistics company is to work closely with the manufacturer to prepare the finished goods for delivery. This involves various activities, such as quality control, packaging, and labeling.
Once the goods are ready, the fourth-party company will coordinate with one or multiple warehouses operated by a 3PL provider to ensure seamless transportation of the products.
By entrusting the logistics process to a fourth-party logistics company, manufacturers can benefit from streamlined operations, greater visibility, and improved efficiency in their supply chain.
Warehousing
When products get to the warehouse, a 3PL service takes over. They receive and store inventory, put goods in boxes, and ship orders.
Inventory management
By utilizing inventory management software, 4PLs can easily keep track of inventory levels, ensuring their customers always know what's available and what's running low.
With the ability to analyze data and generate reports in real-time, these tools are essential for any company looking to stay competitive in the world of logistics.
Shipping the goods to the customer
During this stage, the 4PL team collaborates with a third-party logistics provider (3PL) to ensure that orders are picked up from the warehouse and delivered promptly.
Specialties of Fourth Party Logistics Provider
A fourth-party logistics provider is a company that helps other businesses with their shipping needs. 
It can help ensure products get to the right place and store in warehouses.
It helps businesses make their logistics operations run more smoothly and save money. 
It can often offer better solutions than businesses could come up with.
It works like 3PL taking care of the entire logistic process.
It makes easy inventory planning, network analysis, and design.
It provides inbound, outbound, and reverse logistics.
It helps to pay more attention to the product. It also eliminates all the complicated steps takes for the product to get to you.
It can manage multiple vendors.
How 4PL Logistics is different from 3PL Logistics?
| | |
| --- | --- |
| 4PL logistics | 3PL logistics |
| It takes care of the whole process from start to finish. This includes order fulfillment, moving items around, and using technology for help. | It helps with getting orders to customers. This includes storing items, packing orders, shipping packages, and managing transportation systems. |
| When you work with 4PLs, the relationship is more like having a long-term plan to improve your supply chain. It can help organize your supply chain in a better way. | When you work with 3PLs, the relationship is mainly about shipping costs. |
| Fourth-party logistics do not own warehouses, packing, and shipping but can help you find the best suppliers for your business needs. | 3PL providers usually own warehouses, trucks, and distribution centers. This helps make your business more efficient and costs you less money. |
| It helps you save even more money by improving your supply chain. They offer package services like lean manufacturing, reverse logistics, and procurement practices to make it cheaper for you. | 3PLs help you save money and do things faster. |
Advantages and Disadvantages of 4PL
Advantages
It handles a complete supply chain.
Businesses can get help from fourth-party logistics. They can advise on strategies and also help with doing things.
It helps to save money or better profit.
Lesser order cycle time
Reduces the inventory wastage
Lesser procurement cost
Good transparency
All-in-one solution for supply chain vendors
Disadvantages
When you use a fourth-party service, the company doesn't have much control over how its products are shipped or handled.
This can be a bit costly for small and medium-sized businesses.
It creates dependency.
Fourth-party Logistics Vendor List
DHL supply chain
UPS supply chain services
Accenture
Kuehne+Nagel
DB Schenker
FAQs
Why should companies go 4PL instead of 3PL?
3PLs help you save time and shipping costs. 4PLs provide more help and control. They act like advisors to help you reach your goals.
How fourth party logistics add value to the entire supply chain?
It can help you manage your suppliers. Instead of dealing with lots of different companies, you only need to work with a few 4PL service providers. This makes it easier to keep track of your suppliers and services.
Conclusion
This is all about 4PL logistics. Knowing the advantages and disadvantages of using this type of service is important. This post has explained how 4PL is different from 3PL and what it offers that other services don't. The vendor list will help you choose the best vendor for your company.