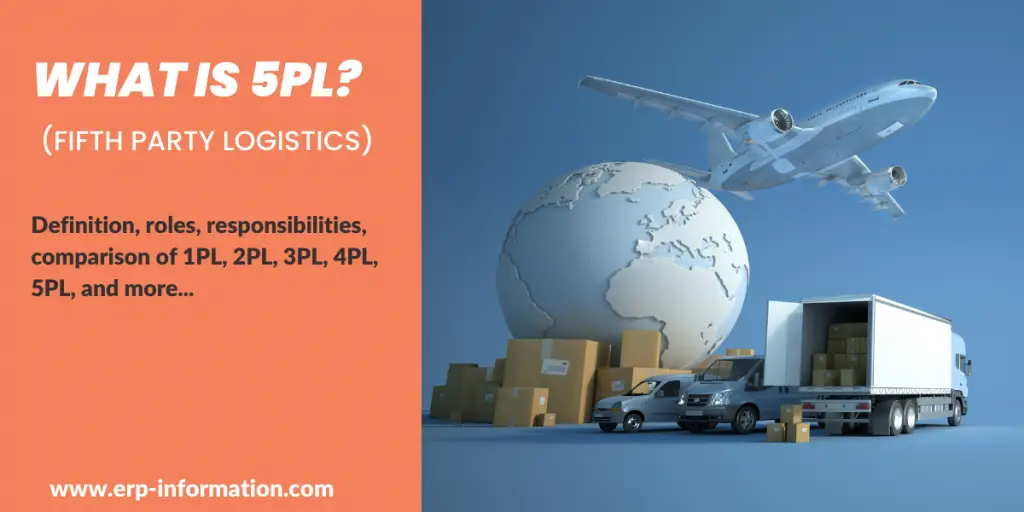 In the field of supply chain management, 5PL logistics refers to a modern approach, also known as Lead Logistics Provider (LLP), which has recently been introduced.
This approach involves delegating all logistics management responsibilities to a sole provider who serves as the strategic partner and central point of communication for the supply chain in its entirety.
This blog post will provide you with a comprehensive guide to 5PL logistics. Its roles, responsibilities, and comparison of 1PL, 2PL, 3PL, 4PL, and 5PL.
What is 5PL?
A 5PL is a company that helps other enterprises manage their supply chains. This includes planning, organizing, and managing everything related to the supply chain. When a company hires a 5PL, they take charge of all these activities.
In traditional logistic methods, businesses usually use third-party companies called 3PLs to help with their supply chain.
These companies can help manage transportation, store things in a warehouse, and keep track of inventory. However, this can lead to inefficiencies, lack of coordination, and increased risk of errors or delays.
Roles and Responsibilities of 5PL Logistics
This logistics provider might have different jobs or tasks, depending on what the company they are working for needs. However, here are some general responsibilities that a 5PL logistics provider may undertake:
Acts as a central point of the supply chain
The role of the 5PL provider is to act as the central point of contact for all logistics activities, coordinating and managing the relationships between the various 3PLs and other service providers involved in the supply chain.
Logistics strategy development
A 5PL logistics provider helps a business create a plan that will help them reach their goals. It is an overall strategy for how they will move things around and get things done.
This includes identifying key logistics challenges, developing solutions to address those challenges, and implementing best practices to optimize the supply chain.
Takes care of designing and implementing strategies
They are responsible for designing and implementing logistics strategies, managing risk, monitoring performance, and ensuring that all aspects of the supply chain are aligned with the business's goals and objectives.
Management of multiple logistics service providers
This logistics provider coordinates and manages relationships with multiple logistics service providers, such as carriers, warehouses, and customs brokers.
They act as the central point of contact for all logistics activities, ensuring all parties are aligned and working together towards common goals.
Supply chain visibility and control
The 5PL logistics provider provides end-to-end visibility and control over the entire supply chain, from sourcing to delivery. They use advanced analytics and technology tools to monitor performance, identify issues, and optimize logistics operations.
Risk management
Its provider works closely with the business to identify and mitigate risks throughout the supply chain. This includes developing contingency plans, monitoring compliance with regulatory requirements, and managing security, safety, and sustainability issues.
Continuous improvement
The 5PL logistics provider regularly evaluates logistics operations to identify opportunities for continuous improvement. This includes analyzing data, assessing performance metrics, and developing strategies to optimize processes and reduce costs.
Aims to address the challenges
5PL Logistics aims to address the challenges by providing a more integrated and comprehensive approach to logistics management.
By outsourcing all logistics functions to a single provider, businesses can benefit from greater visibility, control, and optimization of their supply chain.
Overall, the responsibilities of a 5PL logistics provider are focused on delivering a comprehensive, integrated, and optimized supply chain solution that meets the unique needs and requirements of the business.
By leveraging their expertise and resources, the 5PL logistics provider helps organizations achieve greater efficiency, visibility, and control over their logistics operations.
Overview of 5PL Across the World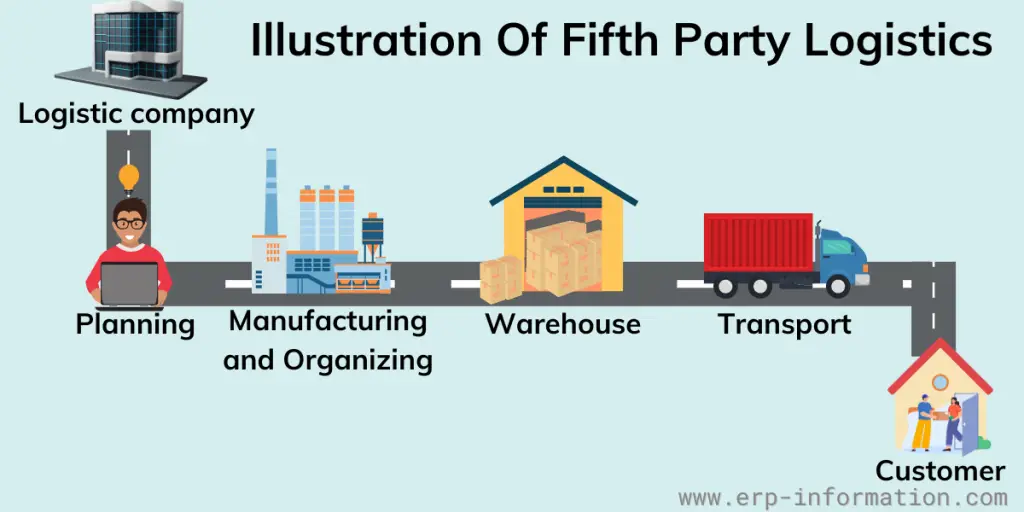 European market dominates the global fifth-party logistics industry due to the adoption of advanced technologies for managing their supply chain.
The e-commerce industry is growing, making it easier to trade things across borders. These things help the market grow but also make it complicated. However, new technologies and blockchain can improve it, so companies are taking advantage of that.
The fifth party logistics market is divided into type, application, and region. Type includes transportation, warehousing, and other services. 
The application could be e-commerce, traders, logistics company, or others. Regions include North America, Europe, Asia-Pacific, and LAMEA. The fifth-party logistics market companies are 5PL Logistics Solutions LLC, Toll Holdings Ltd., DHL International, etc.
Difference Between 1PL 2PL 3PL 4PL and 5PL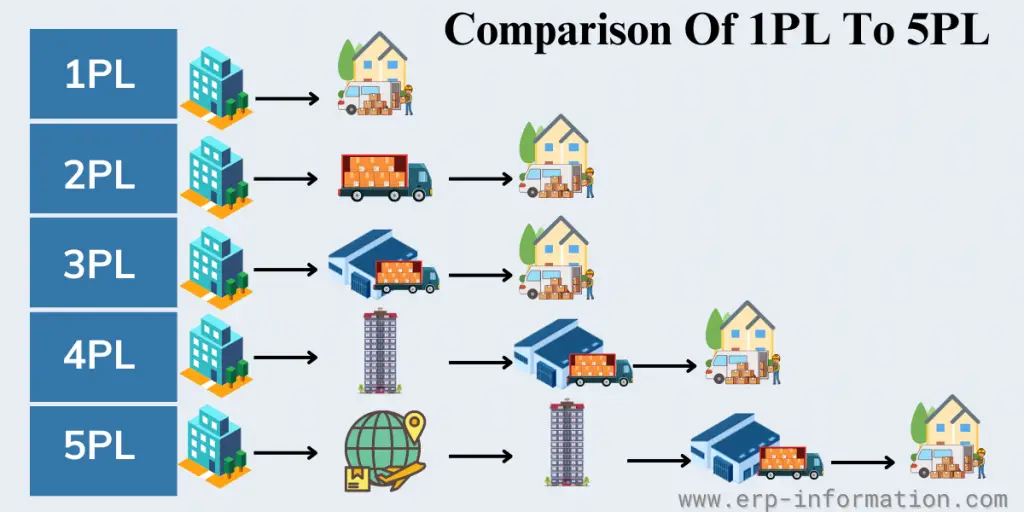 | | | | | |
| --- | --- | --- | --- | --- |
| 1PL | 2PL | 3PL | 4PL | 5PL |
| A logistics company manages the complete supply chain of the manufacturer from production to delivery | A transportation company helps to transport the products from manufacturer to customer | The manufacturer hires a third-party company to store, pack, and transport products to the customer | A logistics company manages 3 pl services on behalf of the manufacturer | A logistics company manages the complete supply chain of the manufacturer from production to delivery |
1PL
In first-party logistics, someone needs to transfer cargo, freight, or goods from one place to another.
This could be a company, dealer, or individual. Two parties are involved – a manufacturer or distributor and a customer or retailer. The transportation between these two is called first-party logistics.
1PL is a type of subcontracting that helps move goods across the country. This nationwide transport service includes things like loading and unloading items.
2PL
A 2PL is a company responsible for transportation. It can be a shipping line with ships, an airline with planes, or a vehicle hauling company.
They are sometimes called forwarders because they move things from one place to another for customers. For example, an airline company might also help you get something to your customer.
2PL storage and warehousing services are extra services that accompany transport services. These services usually happen at the company's place.
3PL
Third-party logistics is when a company hires another company to get its products to the customer. This includes receiving, storing, packing, and shipping services.
Some 3PL companies offer extra help called value-added services like inventory management, putting together parts of the product, and packaging it up.
A 3PL level looks at the whole supply chain and offers different services. They have the expertise and will monitor your supply chain regularly. They will also communicate with customs to make sure everything is done properly.
4PL
A 4PL provider manages all parts of the supply chain. This includes technology, buying things, and financial help. 
4PL Logistics is a consulting company that helps coordinate different parts of the supply chain. A 4PL provider has 3PL resources and digital tools to help with the process. It includes project management, logistic strategy, impartial service advance, and others
5PL
5PL is a new approach to logistics that allows companies to outsource various supply chain segments to multiple providers.
These providers collaborate and use technology to exchange information, enabling real-time updates for all parties involved. This results in a seamless and efficient process flow.
5PL providers are good at engineering and creating new, advanced automation systems.
Advantages
A fifth-party logistics provider helps manage the supply chain.
They ensure the right solutions and technologies are in place for their clients. 
They also combine different shipping needs from different companies into bigger groups so that they can get better rates for everyone.
Disadvantages
The companies that work with 5PL have much power over the supply chain. 
It can be very costly if the partners do not fit together well.
Implementation can be complex, requiring investment in technology, process design, and management changes.
It can impact on profitability and competitiveness of small businesses.
Limited flexibility: By outsourcing all logistics functions to a 5PL provider, businesses may lose some flexibility and control over their logistics operations.
Data security concern: If the provider is not adequately equipped to handle sensitive data or is located in a region with lax data privacy law.
Top 5 PL logistic providers
CH Robinson Worldwide Inc
UPS supply chain solutions
XPO
CEVA
SNECI
DB Schenker
Agility
Conclusion
5PL logistics represents a significant shift in how businesses approach logistics management, offering a more streamlined, efficient, and cost-effective solution to supply chain challenges.
As businesses continue to face increasing pressures to optimize their logistics operations, 5PL logistics will likely become an increasingly popular model for managing supply chains in today's complex and rapidly changing business environment.