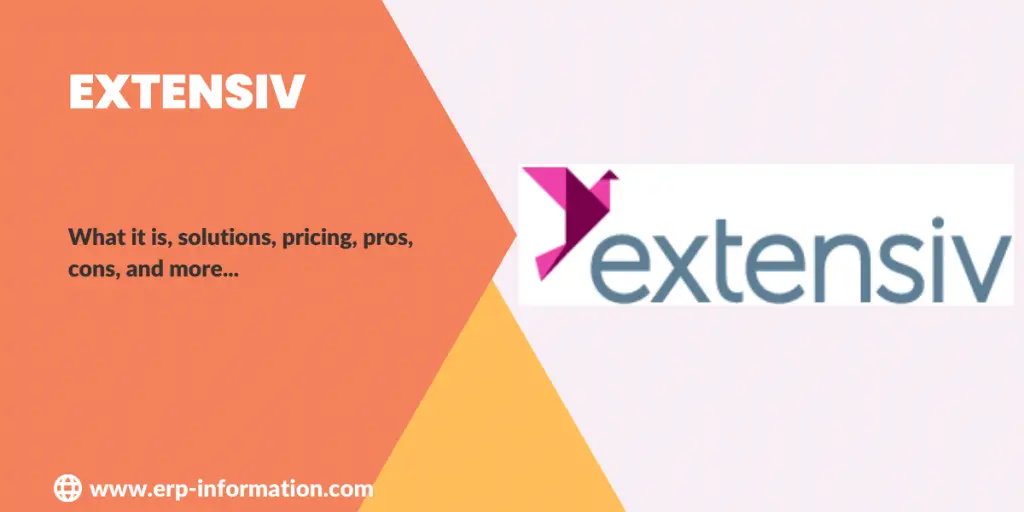 As today's consumer expectations continue to rise, companies constantly seek innovative ways to streamline and optimize their fulfillment networks.
Extensiv might be one of the options for the companies to do that. It is an omnichannel fulfillment platform that offers a unique platform that connects brands and 3PLs.
This article provides comprehensive information about Extensiv solutions, along with pricing, implementation, pros, and cons. 
What is Extensiv?
Extensiv is a visionary technology company that offers a cloud-based fulfillment platform, and it declares that it combines four leading fulfillment technology brands into one complete omnichannel fulfillment platform.
On May 23, 2022, 3PL Central, a key player in omnichannel solutions, underwent a transformative rebranding, emerging with a new identity "Extensiv". This strategic shift reflects a commitment to delivering comprehensive and collaborative software solutions in the realms of warehouse management, inventory, and order management.
It has been an expert in serving 3PLs since 2006 and helped many companies streamline their operations and improve efficiency.
With Extensiv industry knowledge dating back several years, it understands the unique challenges of running a warehouse and has developed a software solution to address those needs. 
It provides solutions for brands, 3PLs, 4PLs, and B2B and integrates with e-commerce and warehouse management.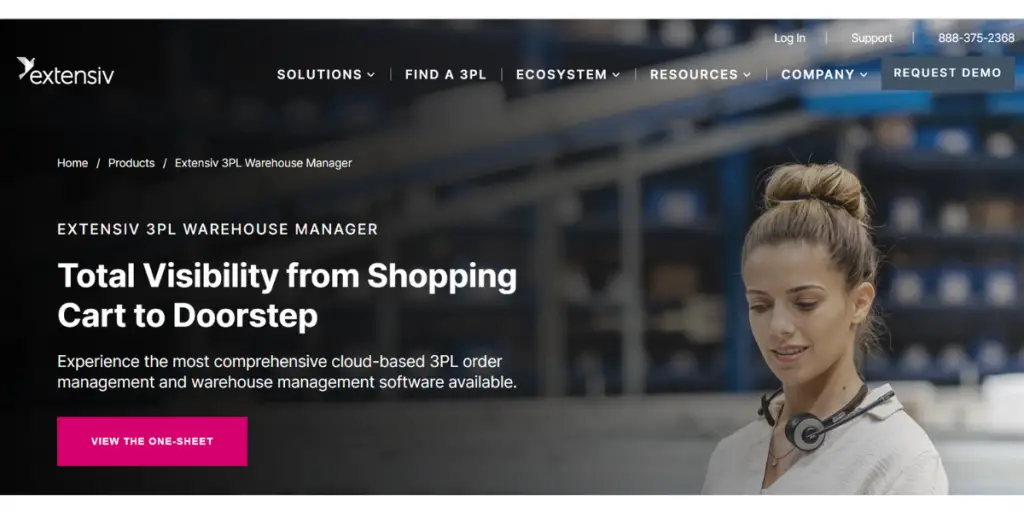 Pricing
It offers four plans
Merchant – This plan is for single merchants/brands who ship in-house or use a 3PL. It charges $39 per month.
EDI Merchant – This plan is for merchants who also need EDI connections. It charges $99 per month.
3PL – This plan is for warehouse shipping for multiple brands. It charges $99 per month.
Master Account – This plan is for software providers needing connections for their customers. It charges $199 per month.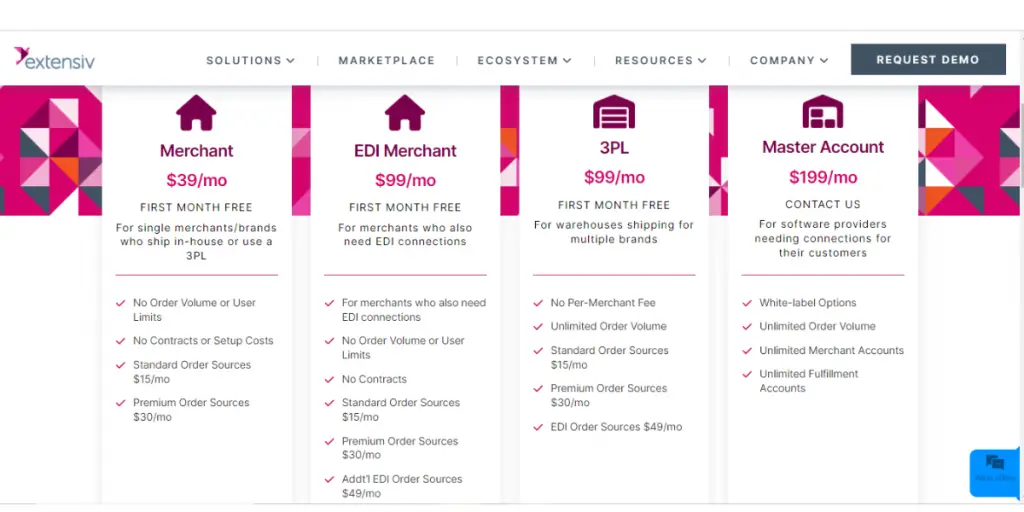 Solutions
3PL warehouse manager
3PL Warehouse Manager was created by 3PL warehouse owners and operators who were searching for an intuitive system that could help them manage their operations seamlessly.
3PL Warehouse Manager is a cloud-based WMS that connects with customers' systems. It handles more orders, manages workflows, and offers value-added services. The features of an extensiv 3PL Warehouse Manager are as follows.
Automate billing
Barcode scanning
Dock scheduling
Automate small parcel shipping
Reporting and visualization
Extensiv warehouse manager
Extensiv Warehouse Manager allows you to manage stock levels of each item across multiple warehouses. You can print product barcodes and manage assets and bins. It helps to validate all receivings, pickings, and packing and updates every step in the inventory process. Features include,
Receive inventory with precision
Manage and audit inventory
Pick, pack, and ship
Access real-time data
Extensiv order management
With order management, you can manage multiple orders and complex fulfillment. It allows you to manage an entire e-commerce business, automates routine tasks, and provides a complete view of your business while working with 3PL or selling across multiple channels. Features include,
Automate order management
Replenish inventory
Track and integrate shipping
Forecast feature demand
Centralize insights and visibility
Extensiv integration manager
It allows you to do seamless integration of several e-commerce platforms and marketplaces. Features include,
Seamless connection of fulfillment tech stack
Integration of shipping software
EDI automation
Extensiv network manager
It allows you to have 360-degree visibility of your customers' inventory and transaction data across all 3PL warehouses and extends your geographical network and warehouse capacity.
Implementation
It offers two types of implementation.
Onsite implementation
The Extensiv team will handle onsite discoveries, end-user training, and go-live support for organizations wanting direct end-user training.
This implementation model helps organizations to customize their business needs. It supports the complete implementation cycle along with the customer's leadership team. 
Remote implementation
The platform assigns a dedicated implementation manager to guide the customer's leadership team to start the project. The model provides hand-in-hand training through setup, configuration, and training plans for users. 
Some screenshots of Extensiv Solutions
Pros and Cons
Pros
A cost-effective WMS solution with outstanding features
Easy to use and simple to navigate solution for customers and their employees
Effective and useful barcode scanning 
Provides effective training sessions to understand the software
Cons
Sometimes, when you download reports, they will not be laid out neatly to export to Excel.
Sometimes, it can be a little clunky and cumbersome.
The subscription price may be high for small businesses.
Not giving much focus on consignment between the customers.
No free trial is available.
Alternatives 
Flowspace
Contact Logix
RapidResponse 
Wireless warehouse in a box
FAQs
What are the types of 3PL?
The main four types are:
Standard 3PL providers
Service developers
Customer developers 
Customer adapters
What is a 3PL distribution center?
It is the center where distributors ship the products. 3PL distribution means when you get someone else to ship the products. They will get the products, put them in boxes, and then mail them to the customer. 3PL distributors handle the process of distribution and logistic services.
Conclusion
Extensiv is the leading provider of 3PL warehouse management, order management, and warehouse management solutions.
In conclusion, its features and services fulfill your business requirements. However, it is essential to consider the pricing, pros, and cons when deciding if this platform is the best solution for you.
Reference