Businesses are always looking for ways to streamline their operations for increased competitive advantage.
Businesses are always searching for solutions to improve their operations, from innovative HR software solutions to innovative inventory management software.
ERPNext open-source ERP software satisfies your business by providing all the modules that you need.
 When selecting an ERP solution, you have two choices: a private, on-premise system or a cloud-based one.
While open source ERP may not be as common as popular, proprietary solutions like SAP or Oracle, it has several advantages that make it worth considering. 
The article discloses everything about ERPNext.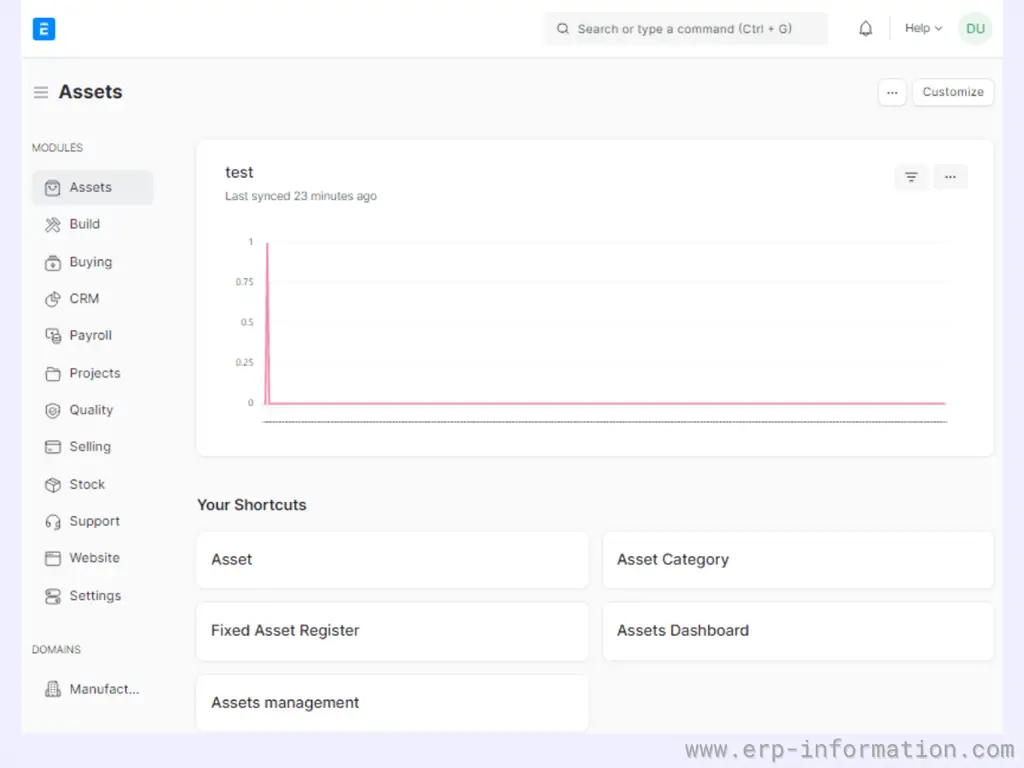 What is ERPNext?
ERPNext is one of the best open-source enterprise resource planning (ERP) software you have ever seen. It is free and open-source software that you can use to manage your business.
It is designed as an enterprise resource planning (ERP) system, a software suite that integrates and manages all business areas.
It is available on the web, on mobile devices, and as a desktop application. It has a robust set of features that businesses of all sizes will find helpful.
ERPNext Pricing
It offers three types of pricing (as of writing this article, for more updates, refer to its official website)
Open source: This is on-premise and self-hosted. So it is fully free and all modules are available.
Managed Hosting: Starts at Rs 750 per user per month and 14 days free trial available. It provides security updates and server monitoring along with all modules.
Enterprise: Starts at Rs 2000 per user per month. It provides security updates, server monitoring, product warranty, on-premise hosting, professional support, personal onboarding along with all modules.
Its cloud hosting costs $50 per user per month, with 25 GB storage and 15,000 emails per month.
ERPNext Implementation
It is designed so that customers can quickly implement the software by themselves without any help. Still, it provides videos and some other supplements to help the customer in the implementation process.
Companies that have paid login or cloud hosting will get one-to-one support in configuring the system.
ERPNext Supports and Services
It provides support via email, chat, and screen sharing for self-hosted customers.
For cloud-hosted customers, it provides support via email, bug fixing support, one to one support sessions with the support team.
Customers can also ask questions on ERPNext's open-source community forum.
Other Information
It is available in 70 languages. Some of them are Arabic, German, English, French, Hindi, Indonesian, Spanish, Chinese (Simplified)
It offers a 30% discount for the education sector.
ERPNext Modules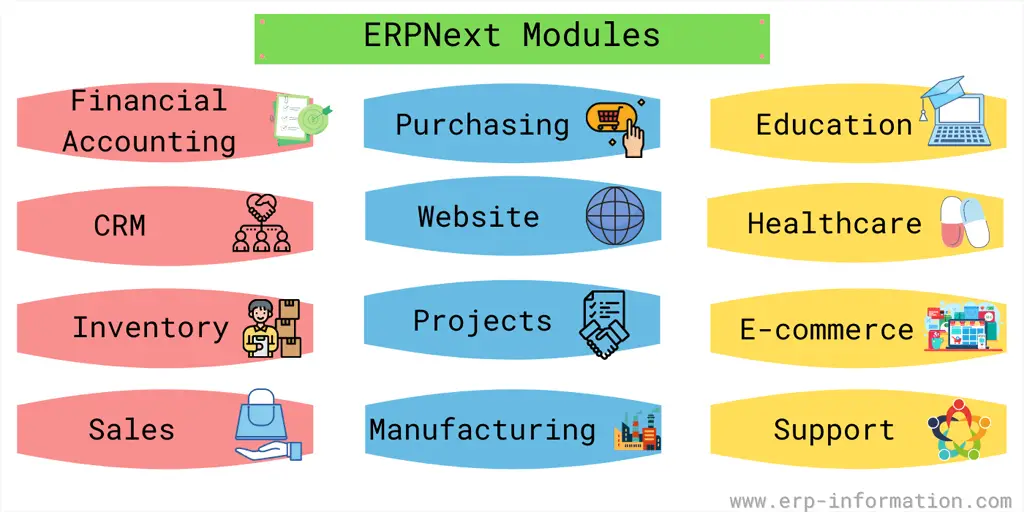 Financial accounting: This module allows the user to have consolidated financials, transactions within the company, and bank statement uploading abilities.
CRM: This module provides payroll, leave management, and employee lifecycle.
Inventory 
Sales 
Purchasing
Projects
Manufacturing
Education
Healthcare
E-commerce
Website
Support
ERPNext Advantages
Top advantages for your enterprise include:
It has a practical and easy-to-use interface
It is freely available. No license charges
You can implement this software by yourself
With its comprehensive features, it saves your time and money
Its reporting system is straightforward and simple
It provides a flexible, centralized platform for your business
ERPNext Disadvantages
This ERP software is not much suitable for large industries
It is new to the market, so companies did not have much trust in it
For customized version upgrade issues are there
Documentation is not so good
What industries does it support?
It supports the following industries by providing specific modules for them. Those industries are
Agriculture
Retail
Distribution
logistics
Financial services
Education
Healthcare
Non-profit
ERPNext Alternatives
Customers of ERPNext
Some of the companies using ERPNext are
Union Global
Office one
Neolync
Zerodha
eso electronic
V3 Technologies
ElasticRun
You can find more open-source ERP software similar to ERPNext.