Odoo is a comprehensive open source ERP software that can manage all aspects of your business, from sales and marketing to finance and HR. It offers a wide range of features and modules customized to meet your organization's specific needs.
This guide will provide an overview of Odoo's features and functionality and tips on how to get started using it.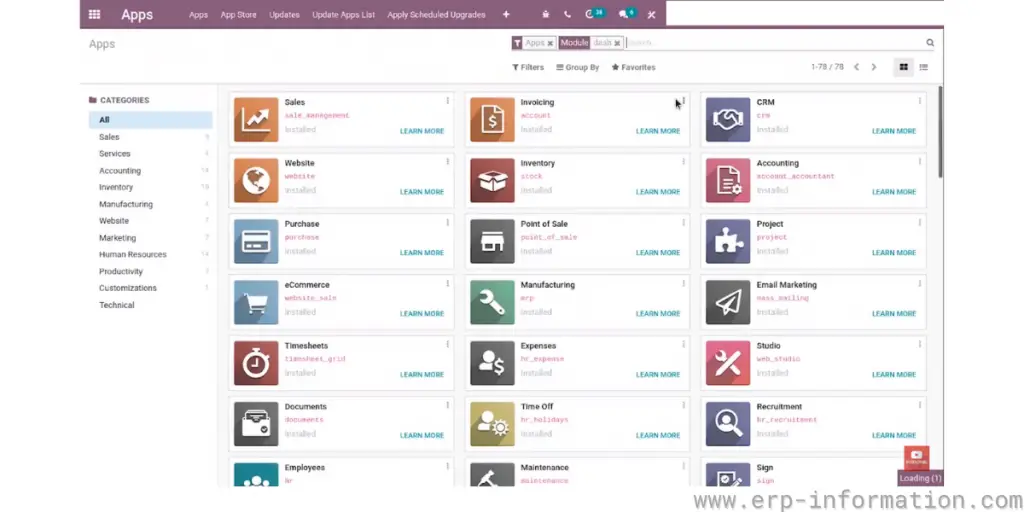 What is Odoo ERP?
Odoo is an open-source software suite that helps entrepreneurs save time and money managing their businesses. It's one of the leading open source ERP, CRM, and business automation tools.
It incorporates more than 30 main modules and more than 16,000 third-party plug-ins. So the customer can get the modules that he needs.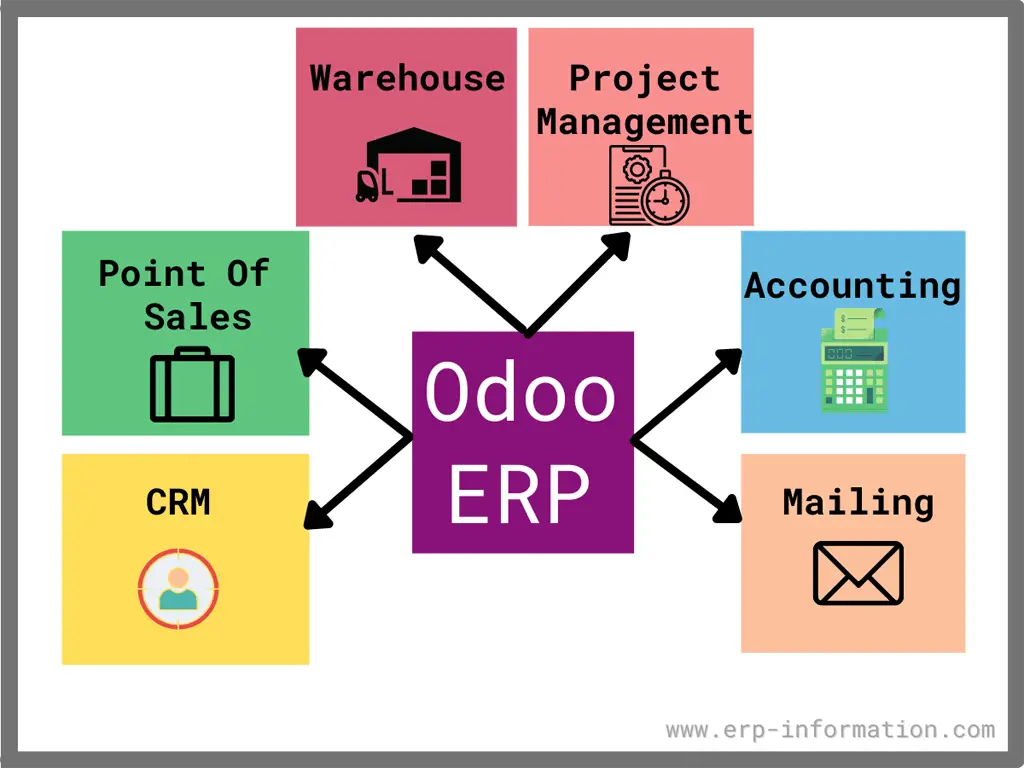 Odoo pricing
It offers two types of editions.
Community edition – This is entirely free of cost. No license cost also. In this version, you will get basic features. But you will not get general components such as unlimited Functional Support, Upgrade to a newer version, Better Hosting Facility, and Unlimited bug fixing. 
Enterprise Edition – This is a paid version. You will get all the community edition features and extra features in this edition.
All the essential features are free for unlimited users if you want a community edition.
If you're going to go for the Enterprise edition, then pricing details are as follows (as of writing this article, for more updates, refer to its official website)
Annual subscription

$8 per user per month
$6 per user per month if you are a new customer

Monthly subscription

$10 per user per month
$7.5 per user per month if you are a new user
Odoo ERP Pricing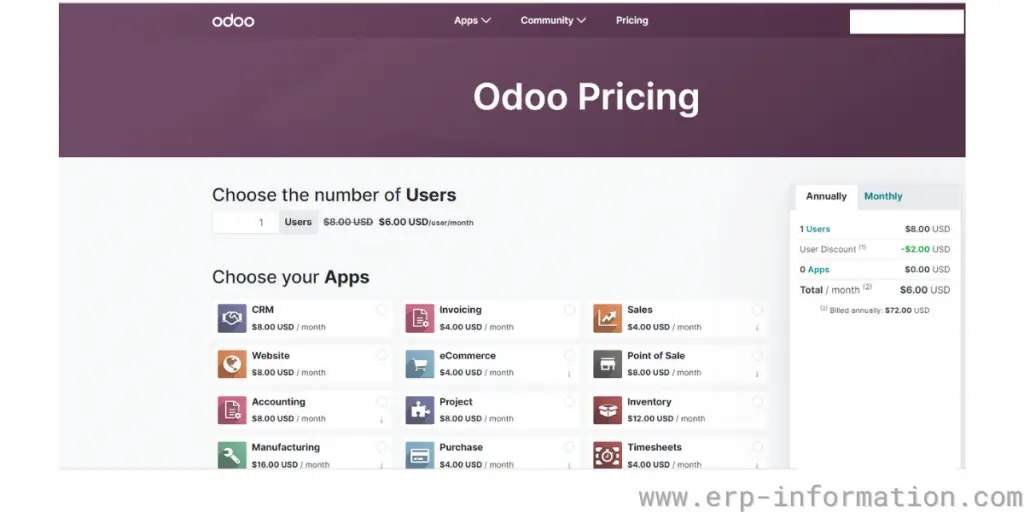 Odoo ERP Implementation
It offers three types of implementation for its paid users
Self-service: Here, clients can implement the software by themselves. They will get functional and bug fixing support on standard features, 24/5 only in English through the mail.
Success packs: In this type, Customers can implement the software with the help of Odoo by purchasing its success pack ( Recommended for companies with less than 50 users). Customers will get a dedicated consultant also.
With a local (Odoo) partner: Here, customers can implement the software with the help of a partner(Recommended for companies with more than 50 users).
Odoo Implementation cost
Its implementation cost differs from industry to industry. The price depends on the type of industry.
Implementation includes installation, server management, configuration, modules management, training, support, etc.
Hence, complicated implementation takes around 6 to 9 months and costs around 10,000 USD to 1,00,000 USD.
The price of success packs for new customers is as follows.
3,060 USD for the Basic plan, 25 hours, suggested for simple apps.
5,950 USD for the Standard plan, 50 hours, indicated for advanced apps and data import
10,625 USD for a Custom plan, 100 hours, suggested for advanced apps, data import, and customizations.
21, 250 USD for the Pro plan, 200 hours, suggested for advanced apps, data import, and customizations.
Odoo Customer Support / Service
It supports its customer via its website by providing educational materials, user documentation, videos, and a free trial for 15 days.
It offers practical and bug fixing support on standard features for paid customers in English through the mail.
The customer who purchased the success pack, Odoo, provides a dedicated consultant for support and supports through live chat or email in applications. That is available in English and French languages from Monday to Friday.
The community forum is also there to support customers. Here you can ask questions and answer about Odoo ERP apps.
It has limited customer support for the community edition. However, that is only through forums.
Other Information about Odoo ERP
It offers three types of hosting

Cloud hosting  (No additional charges)
On-premise hosting ( No additional charges)
Odoo cloud platform

It is available in more than 50 languages worldwide
Its website is available in 11 languages
It is an API-friendly software. You can integrate it with many famous apps such as WhatsApp, Amazon, and more than 16,000 third-party apps through its internal app store.
It offers software training classes at $125 per class or $1000 per year
In the enterprises edition, iOS and Android apps are available
Odoo ERP modules and their features
This article will look at the new features in Odoo Community Edition version 14. I'll be looking at all of the new features and some other cool stuff available to you.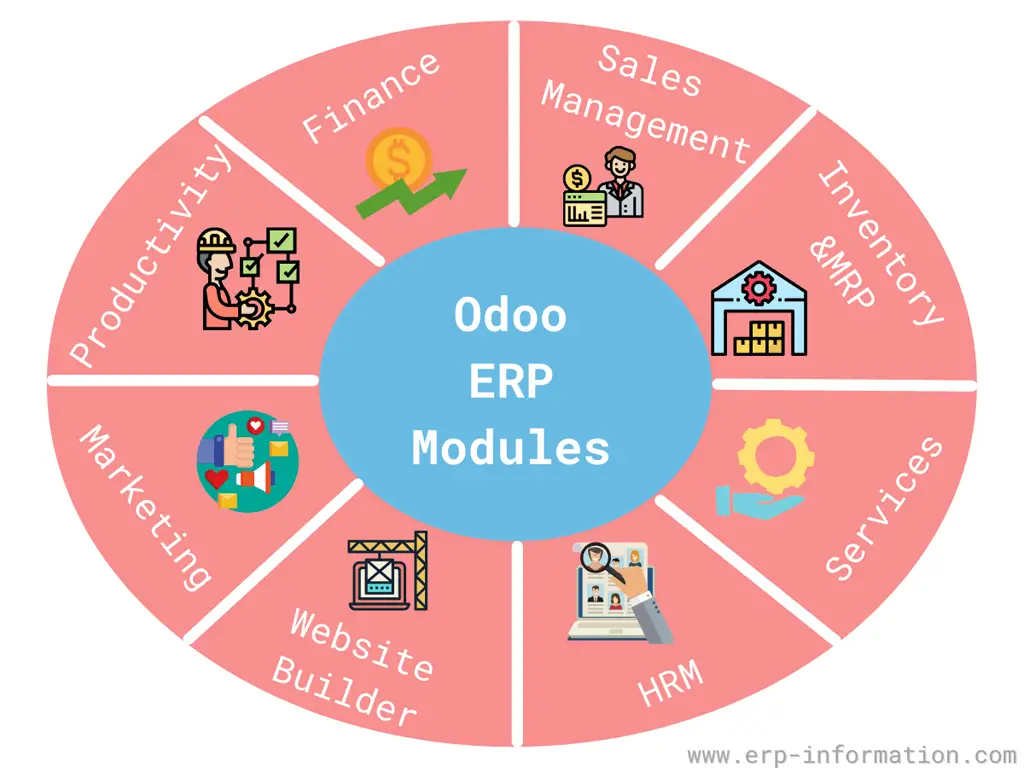 Some Screenshots of Odoo Modules
Accounting Follow up Reports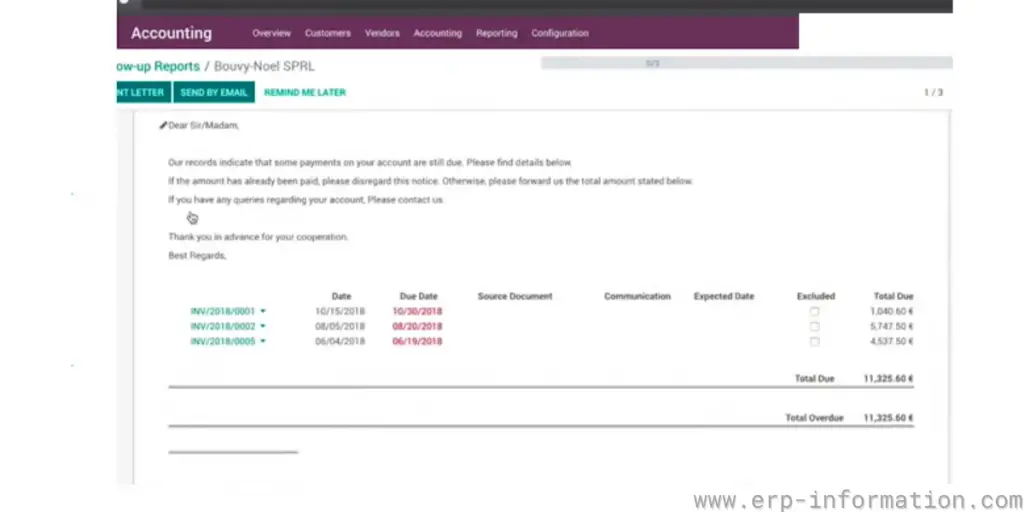 CRM Pipeline Analysis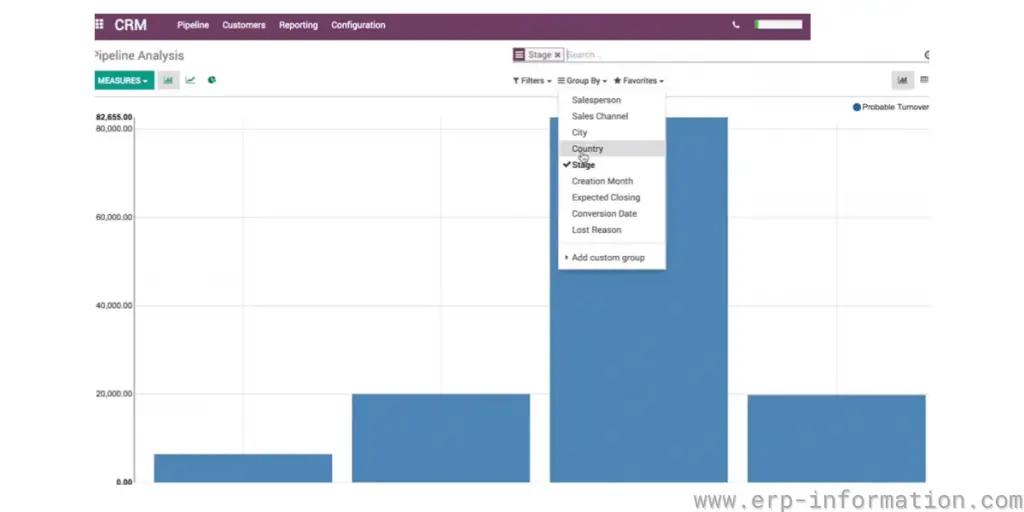 Employees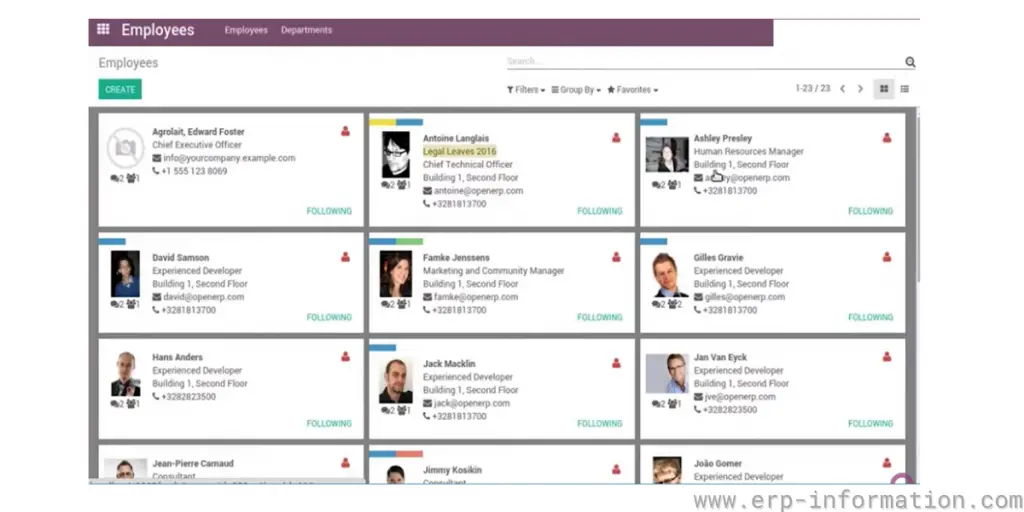 1. Finance
Invoicing – payments
Expenses
2. Sales Management
3. Inventory and MRP
Inventory
MRP
Purchase
Maintenance
4. Services
5. Human Resource Management
Employees 
Time off
fleet
Recruitments
6. Website Builder
Blogs
Forums
E-learning
Live chat
e-commerce 
7. Marketing
Email marketing
surveys
Event management
SMS marketing
8. Productivity
Odoo ERP Advantages
Odoo is a python-based open-source enterprise management software solution that is free to download, use and distribute. 
Small business owners who have long struggled with the complexities of maintaining records, managing finances, and coordinating projects with employees offer a cost-effective alternative to expensive software systems. 
Its intuitive interface and powerful features make it easy to set up and get running on your computer or mobile device in just minutes — without any unique expertise.
With a free community edition and a paid enterprise version of the software available online and through partners worldwide, It offers small-business owners the tools to grow their business without breaking the bank.
Odoo ERP Disadvantages
Insufficient Support: You will get support only if you are paid customer. For the community version(open-source version), you will not get any help to fix bugs.
High training fees: To operate with the community edition, you need good software knowledge. Odoo provides software training classes. But its cost is high.
Difficult to maintain: If you choose the community edition (which is free) of Odoo, you are required to have sound IT knowledge because you need to operate it fully without any support from Odoo. Otherwise, it isn't easy to maintain and run the software.
Confused pricing format: It provides annual and monthly subscriptions. Other than that, it offers separate charges for applications. These charges are different for different applications. That might not be very clear.
What industries does Odoo support?
It supports industries such as
automobile
Manufacturing
Service Sector
Trading company
Marketing
Education sector
Health Care
Apparel
E-Commerce
Solar
Real Estate
Alternatives of Odoo Open source ERP
Customers of Odoo
Alta motors
agile
Alpinter
AMNESTY International
Hyundai
Toyota
MARKANT
National Equipment Corporation
Nordika
Conclusion
Odoo is a comprehensive ERP solution that companies can customize to meet the needs of businesses of any size. It integrates with other software, has a user-friendly interface, and supports multiple languages. It is also open source and free to use.
It is a perfect choice if you are looking for an affordable, reliable ERP solution!
You can find more open-source ERP software similar to Odoo.