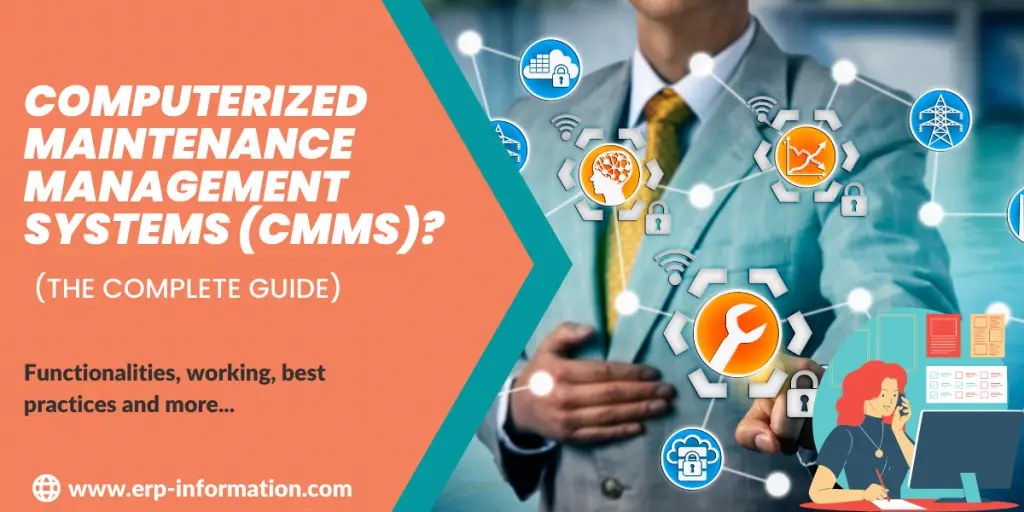 A CMMS, or Computerized Maintenance Management System, is a software application that helps organizations manage their maintenance operations. It enables users to track work orders and assets, schedule preventive maintenance tasks, and generate reports on facility performance.
CMMS can help businesses save money by reducing downtime, improving equipment reliability, increasing efficiency, reducing costs, and optimizing production.
This blog post will explain what it is and how it can help your business. You'll learn about the different types of CMMS systems and how they can benefit your company.
What is CMMS?
Computerized Maintenance Management Systems (CMMS) is a software application that helps organizations manage and schedule their facility's maintenance activities. It electronically tracks work orders, parts, labor, and other related data.
Typically, this software integrates with other enterprise resource planning (ERP) software applications businesses use. This allows companies to have one system for managing all aspects of their business, from production to maintenance.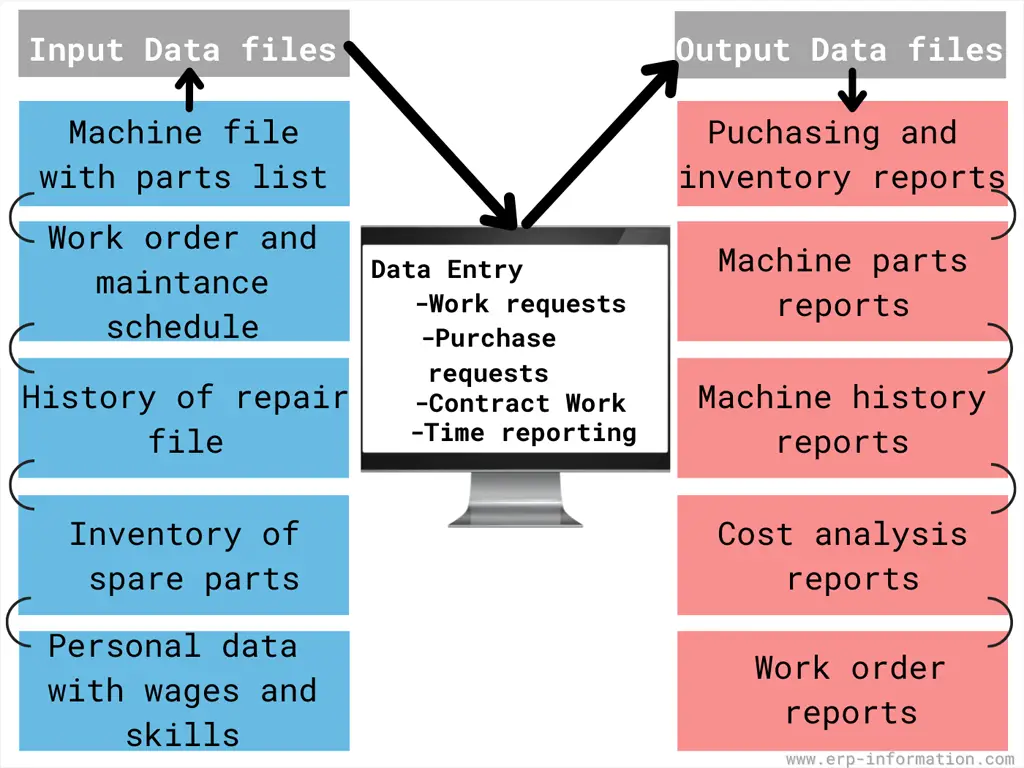 Functionalities
Equipment recording and tracking: Tracks the availability of equipment and records the equipment certification.
Employee management: Helps allocate the tasks to the employees and schedules their shifts.
Asset management: Stores and shares information about assets like equipment model, type, costs, repair information, safety measures, warranties, etc.
Inventory control: Helps to track inventory costs and helps to manage suppliers
Preventive maintenance: Helps to reduce the equipment downtime
Work order management: Automates work order generation, reserves the information like the work order number, and work order type (repair or replace), tracks the downtime, and records planned and actual costs.
Mobile maintenance: With the help of mobile devices like smartphones, the technician or maintenance team members can access system data.
It is helpful to the industries like hospitals, oil & gas production, manufacturing, power generation, construction industries, transportation, government, etc.
How do computer maintenance management systems work?
When a work order generates, it is assigned to a webmaster or a maintenance team and equipment.
The webmaster or technician updates the work order with new data like meter reading, time spent, etc., and the work order completes. 
Now,  computerized maintenance management systems process these data and update the records of the asset. In addition, it can be programmed to find out the difference in asset conditions.
If the equipment crosses the predefined threshold line, an email is sent automatically to the technician or maintenance team members. 
Computerized maintenance management systems allow the organization to set the system per its requirements. For example, an administrator can create a mandatory field that the technician should fill before closing the work orders.
It helps to complete the entry with valuable data and generates accurate reports. Then the management of the organization takes the reports and analyzes them.
Types of CMMS
Generally, a computer maintenance management system is divided into two types.
On-premise: Maintenance data is managed by an in-house software system in this system. In this system, installing new features and managing infrastructure is your responsibility.
Cloud: In this system, infrastructure management is hosted by a CMMS provider. New features updates automatically.
With the help of a cloud computerized maintenance management system, you can enter the data from anywhere. For example, a technician can view and update work orders using the mobile application.
Advantages of the computerized maintenance management system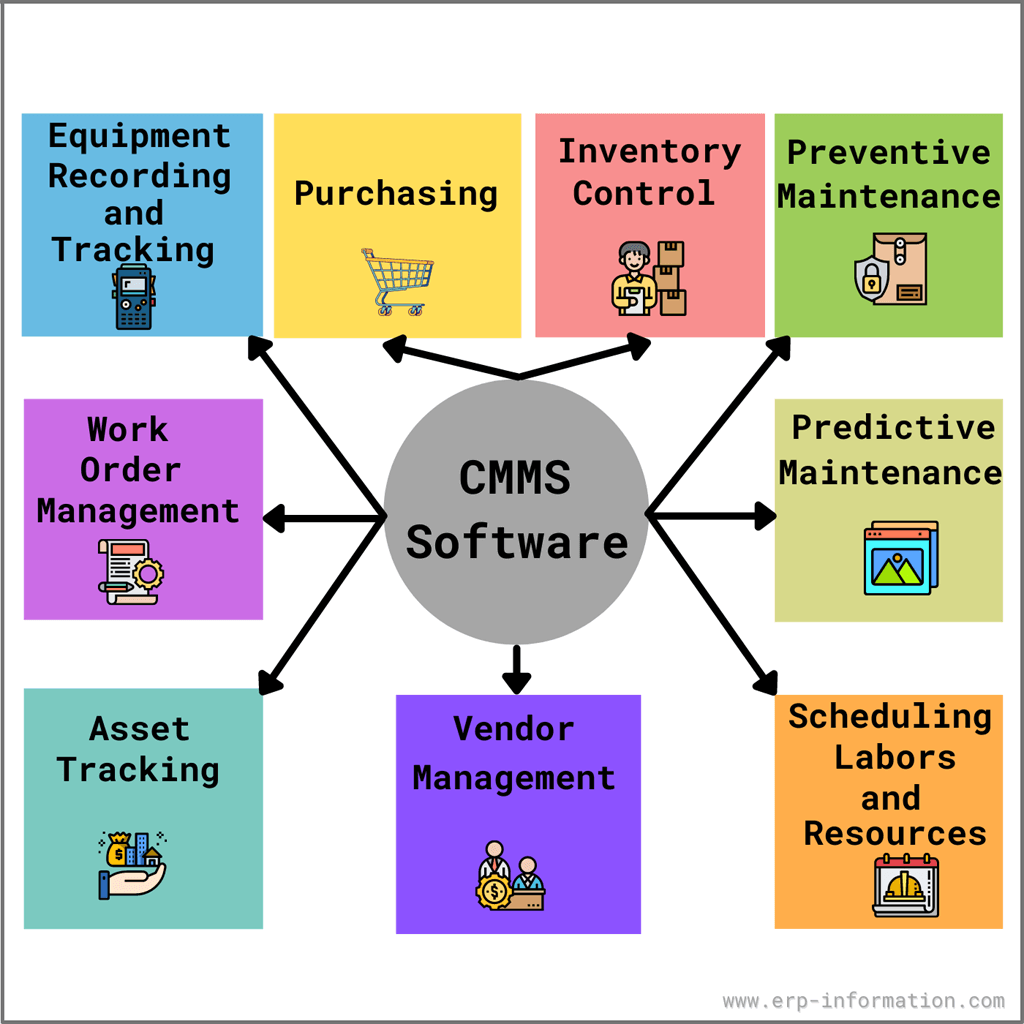 It allows maintenance workers to do their jobs accurately and efficiently.
It supports manufacturing and many industries like hospitals, sports, transportation, etc.
It improves workflow visibility by finding where an asset is, who has to handle it when should work on it.
It saves time and reduces errors by automating the tasks like inventory, scheduling shifts, etc.
It reduces the risk and maintains a healthy operating environment.
It stores the respected assets' repair manuals, documentation, and maintenance procedure. Then, it transfers those preserved details to the new technician.
Data stored in CMMS makes audits easy by generating responses and reports according to audit demands.
Computerized maintenance management system best practices.
Below is the list of best practices for computerized maintenance management systems. After adopting it, you face problems like inaccurate data, less completion value, etc. To avoid these problems, know the best practices.
Get support and involvement from management
To take full advantage of computerized maintenance management systems, the involvement and support of management are very important.
Let the management explain and demonstrate the impact of CMMS on the overall development and success of the organization.
Have a good and long-term relationship with the supplier
Keep on communicating with the vendors even after purchasing CMMS to update yourself about the upcoming software updation, new features of the system, etc.
Customize the system
Make adjustments to the system as per your requirements. For example, some features in the system may not be helpful, which leads to confusion while operating. Hence to avoid this problem, customize the system and make it easy to use.
Blend mobile capabilities
Allow the technicians to use CMMS on their smartphones to work even though traveling or moving from one department to another. Let them have access to the system everywhere they go. Again, it helps to save time.
Use latest technologies
To make data-driven decisions, use the latest technologies like data analytics, AI, the internet of things devices, and machine learning.
These technologies allow you to analyze previous data and decisions. Internet of things device will enable you to monitor and control machinery remotely and run real-time data into the CMMS.
Systematize data entry needs
CMMS helps to deposit valuable information about repair history and assets operating. However, getting accurate and meaningful data without coordination between data entry team members isn't easy.
Hence discuss with your vendor and standardize the data entry needs so that all users enter the standard data.
Computerized maintenance management systems software
Following is the list of software
Smartsheet
EZOfficeinventory
TeroTAM
GP Mate
ManWinWin
Asset Panda
UpKeep
FMX
eSpace
5 Best CMMS Inventory Management Software Solutions
Difference between CMMS and EAM
Both computerized maintenance management systems and enterprise asset management (EAM) are asset management systems. Some similarities are there between them, and some differences are also there. We focus on differences.
| | |
| --- | --- |
| CMMS | EAM |
| It is less comprehensive | It is more comprehensive |
| Not all CMMS have EAM functionalities | EAM solutions have some CMMS functionalities |
| It is for a company with less maintenance staff | It is for a company with more mechanical maintenance staff and IT maintenance staff |
Conclusion
CMMS systems are computer programs that schedule, track, and manage preventive maintenance tasks and work orders for industrial or commercial facilities.
They can be used in various industries, including manufacturing, healthcare, hospitality, education, and government.
It comprises three main components: the database, the software application(s), and the user interface.
The database stores all information about assets under management (e.g., equipment make and model number, serial number). The software applications use this data to generate work orders and reports. In addition, the user interface allows users to input data (e.g., PM tasks) into the system and view/print reports.