Do you want to determine the best workforce management software for your business? There are many options on the market, and choosing the right workforce management software for your business can be time-consuming.
We've researched for you. Here are 10 of the best workforce management software on the market today. Businesses of all sizes can trust these workforce management solutions, and they offer easy-to-use interfaces and powerful features.
What is Workforce Management Software?
Workforce management software is a solution that allows businesses to manage their workforce more efficiently.
Workforce management software allows them to automate and streamline workforce scheduling, analytics, time and attendance tracking, employee task assignment, communication, payroll, and more.
Purpose
Workforce management software aims to help businesses optimize their workforce, increase productivity, and reduce labor costs. Workforce management software also helps minimize workforce-related risks such as shortages, overtime, sick leaves, and payroll errors.
Important Characteristics of Workforce Management Software
Workforce management software should be capable of supporting the needs of an organization's workforce planning goals by providing automated tools for workforce scheduling, reporting, and analytics.
Work management software should offer employee self-service, tracking, and optimization features.
It should offer workforce forecasting and planning capabilities, workforce communication tools, and employee task assignment tools.
Workforce management software should integrate with other third-party systems such as payroll, ERP, and accounting software.
Here is the list of workforce management software.
1. Rippling
Rippling is a global workforce management software, which means you can manage the workforce worldwide.
It manages the hiring and payroll of the HR, IT, and finance departments. It acts as a single source of information by connecting employee information of all business systems. It integrates with many apps like Google Workspace, Slack, Zoom, Dropbox, and more.
Features
Hiring, paying, and managing the global workforce
Analytics of workforce data
Automated training and compliance with the help of learning management
Talent management for recruiting and retaining talented candidates
Tracking and approving of attendance and time
Reviewing, approving, and reimbursing employee expenses with expense management
Easy run of payroll
Screenshot of Rippling
Likes
It is easy to use, and there are no technical issues
Allows you to pay employees in different countries with their local currency
Integrates with many popular apps
Intuitive dashboard and clean interface
Dislikes
No solution for the payment of state and federal taxes
The search bar is not comprehensive, and sometimes it does not recognize many words
Sometimes, while seeing pay stubs, the app starts loading but immediately goes back to the previous screen
Customer service is poor
Unintuitive interface
Limited access to learning materials
Limited mobile app functionality
Supported industries
Technology
Healthcare
Restaurants
Manufacturing
Retail
Other details
2. BambooHR
BabmooHR is one of the top workforce management software. It is the all-in-one solution to manage the workforce of an organization. It manages employee information, hiring, and onboarding processes, tracks times, and captures benefits.
Features
People data and analytics: You can manage and analyze workforce data in one place
Hiring: Makes the hiring process easy with applicant tracking tools
Onboarding: Provides fewer compliance and onboarding checklist for easy onboarding
Compensation: Allows you to track employee timings and paid time offs and runs payrolls
Culture: Helps organization with employee satisfaction and performance management.
Some screenshots of BambooHR
Likes
You can have all employee data in one place.
Onboarding, hiring functionalities, and customer services are good.
Dislikes
ATS is not much-developed.
Sometimes delay in responding to solve issues
Understanding leave management policies is complex.
Some modules and features are only accessible to US clients.
Customization within the platform is a long and boring process.
Supported industries
Construction
Finance
Healthcare
Nonprofit
Technology
Other details
3. Paylocity
Paylocity is HR and Payroll software for all types of businesses. It provides many solutions, such as human resources, payroll, workforce management,  talent management, and employee experience. It also provides integration with other apps and reports.
Features
Time and attendance: Provide more than 100 reports to track attendance, time off, and schedules.
Data insights: Gives complete visibility into attendance.
Streamline communication: Allows employees to identify missing punches and submit a timecard.
Communication: Employee and supervisors both will get notifications regarding time card submission and approval.
Employee scheduling: Provides tools to manage hourly employees and manages staffing needs with skills.
Managing compliance: Provides templates, recurring shifts, and earmark favorites.
Employee time tracking: Provides time clocks and Kiosk tablets.
Some screenshots of Paylocity
Likes
Customer service is good and easily reachable
It enhances company communication
The software is intuitive and user friendly
Dislikes
Modules configuration can be overwhelming.
It could provide better integration with their platforms with each other 
It will not alert regarding changes in the software
Limited customization options
Restricted Integrations
Limited Functionality
Supported industries
Education
Financial services
Healthcare
Retail and wholesale
Restaurants and hospitality
Other details
4. Hubstaff
Hubstaff is an all-in-one work time tracker. It allows its customers to track and field service management and remote teams and offers many features other than workforce management, such as employee monitoring and project management.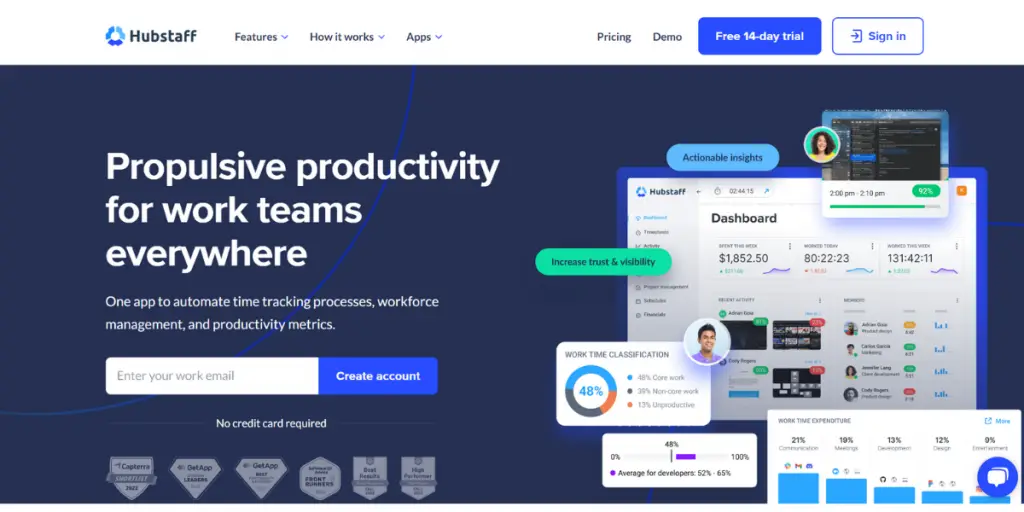 Features
Employ scheduling: You can streamline scheduling, time off requests, and shift management.
Payroll tracking: Automates employee payment process and provides specific time sheets for accurate payment
Invoice tracking: Automates invoicing with bill rates and tracks invoices
Work orders / Job management: Allows you to create work orders for clients and job scheduling
Some screenshots of Hubstaff
Likes
Customer support is good
Reporting options are good
Intuitive user interface
Dislikes
While using the software, you will experience bugs
The time off feature will not allow you to use decimals of hours means minutes
Report and their presentation formats are overwhelming
Supported industries
Real estate
E-commerce
Staffing and recruiting
Construction
Design
Cleaners
Other details
5. TCP 
TCP workforce management software is a comprehensive solution for automatic time tracking and employee-related processes.
It is good for organizations of all sizes and supports many industries, including healthcare, manufacturing, construction, hospitality, and retail.
Features
Time and Attendance
Employee scheduling
Leave and absence management
Labor tracking and costing
Document management
Reporting and Analytics
Mobile solutions
Payroll integration
Shift scheduling
Screenshot of TCP
Likes
Navigation is easy 
Provides reminders
Easy to use and create schedules
Dislikes
It isn't easy to accept to check the schedule when notifications pop-ups.
The reporting feature is not good.
Supported industries
Healthcare
Manufacturing
Hospitality
Retail
Construction
Other details
6. Anaplan 
Anaplan software enhances the workforce blueprint with its HR and workforce planning functionalities. It provides real-time insights about your workforce. It has 2000 + customers all over the world.
Features
Talent strategy
It helps you to enhance your workforce strategy with good insights and adaptable plans.
Workforce planning
It provides an accurate view of your organization's workforce and helps to fill the workforce gaps by forecasting workforce demand.
Compensation planning and modeling
A compensation plan helps to acquire and retain talent.
Some screenshots of Anaplan 
Likes
It provides a good user experience, scalability, and flexibility
It connects people, data, and plans to empower decision-making. 
Dislikes
Occasionally bugs will appear
Implementation is difficult
Limited Formula Functionality
Scaling Limitations
Supported industries
Consumer goods
Financial & Business service
Retail
Manufacturing
Technology
Other details
7. Ceridian Dayforce
Dayforce is an HCM solution that provides HR, payroll, benefits, talent management, and workforce management functionalities. Its workforce management solution helps businesses attract and retain talents and take care of employees' well-being.
It also provides Dayforce assistance that helps the workforce to schedule requests via chat or voice commands.
Features
Workforce scheduling: With historical data, recent trends, and seasonal predictions, you can efficiently align the workforce to demand.
Auto-generate intelligent schedules: Analyzes factors such as business demand, labor budget, and workforce skills to create schedules automatically.
Compliance management: Allows you to schedule and pay the workforce in more than 60 countries on one platform.
Analytics and dashboards: Allows you to view data like attendance, and overtime Labor demand tracking and proactive alerting.
Time and attendance: Tracks times and attendance of the workforce.
Likes
Handles complex pay policies accurately
Communication between internal modules with each other is good 
Dislikes
Support for clocks is poor. So it is difficult to pay hourly employees. 
There needs to be an assigned representative for account problems. Hence response to the issue takes more time.
A big gap is present between the sales and implementation team
Frequent releases and hotfixes lead to creating system problems
Reporting functionality is not user-friendly
Supported industries
Retail & Hospitality
Manufacturing
Healthcare
Public sector
Sports and entertainment
Other details
8. Hireology
Hireoligy is one of the best workforce management software. This software is for attracting, hiring, and managing talent. It provides employee management solutions to help businesses to build their teams. It also fulfills payroll needs.
Features
Diverse candidate sourcing
Employee referrals
Applicant tracking system
Automated verifications
Digital onboarding
Payroll and HR
Insights and analytics
Screenshots of Hireology
Likes
It tracks multiple users' text messages and emails
You can save and reuse job listings
Intuitive dashboard
Dislikes
You can't customize your onboarding processes. You need to contact them for help when you want to customize.
Search for past candidates is a daunting task.
While doing advanced research on the closed job posts, it shows errors saying lost page.
Supported industries
Healthcare
Hospitality
Retail automotive
Professional service
Other details
9. APS workforce management
APS makes your workforce management tasks easier with efficient payroll and HR functionalities. In addition, APS workforce management software provides personalized service and supports organizations in achieving their goals. 
Features
Payroll
Provides features like real-time payroll processing, tax compliance, tax jurisdiction auto-assignment, Employ self-service, new hiring reports, payroll alerts, and integration
Time and labor
Offers features like labor management, scheduling, points tracking, FMLA tracking, data collection, and time clocks.
HR
Offers functionalities such as onboarding, offboarding, applicant tracking, benefits administration, performance reviews, incident tracking, asset tracking, and compensation management
Benefit enrollment
Offers features like employee self-service, compliance reporting, and integration with payroll.
ACA
Offers functionalities like measurement period analysis, HR module integration, and dependent tracking
Recruitment
Custom applicant process, applicant rating and review, communication templates, and applicant portal
Additional
Some additional features are employee background screening, pay scale, and workforce management dashboard. 
Likes
Allows you to customize reports according to employee and department
The software is flexible and provides good customer support
Allows you to check the accuracy of payroll runs at multiple levels.
Dislikes
The support for tax accounts and tax notices is not helpful
The employee integration to Intacct needs to be improved.
It does not allow you to run the same report of different companies. 
Supported industries
Payroll
Time and labor
HR
Recruitment
10. Quinyx
It is an AI-powered WFM platform that allows you to make task-related workforce scheduling and managing handy. So you can boost your workforce efficiency with the help of this software.
Features
Demand forecasting: Analyzes data points and does demand to forecast automatically
Workforce scheduling: Considers labor rules and regulations automatically and optimizes labor scheduling
Labor optimization: Helps to avoid over-scheduling and under-scheduling of employees
Strategic planning: Predicts future staffing needs.
Time and attendance: Streamlines employee attendance and payroll
Engagement: Allows you to retain talents and improve productivity
Advanced analytics: Provides 360˚ view to make good decisions.
Some screenshots of Quinyx
Likes
You can easily add and remove employees
Easy to schedule and track employees
Dislikes
Lack of filters and reports on the absence
Real-time updation of the site could be better. Every time you need to refresh for updation
There is no log history to check who changed shifts and all
Supported industries
Retail
Warehouse
Hospitality
Logistics
Other details
Conclusion
Workforce management software is a crucial tool for businesses of all sizes. Not only does it help to optimize workforce allocation and scheduling, but workforce management software can also help to track employee productivity and performance.
This article outlined the ten best workforce management software vendors and key features you should look for when buying workforce management software.
Reference