Do you want to understand what a Learning management system (LMS) is? How can it be used to improve your business? If yes, then this is the perfect blog post for you! 
This blog will discuss the definition of LMS, its use, and list the ten best learning management system software with their features and pricing.
Then, we will recommend some of the best tools available on the market. Finally, we will provide a few examples of how LMSs can benefit businesses in different industries.
What is learning management system?
It is a software application that allows organizations to create, manage and deliver e-learning content for users. This technology allows businesses to provide online training courses and other educational materials to their staff members in an organized manner.
LMS is used to automate the learning process. They have a wide range of features that make learning easier and more effective. For example, they can track progress and completion levels, provide learning resources such as quizzes and games, create learning paths, assign tasks to learners, and much more.
The COVID pandemic has drastically altered how we learn, with Learning Management Systems playing a crucial role in keeping learners worldwide connected and engaged.
As a result, schools, universities, and companies worldwide have fully embraced this technology to ensure learning continues during these unprecedented times.
Uses of LMS
Learning management systems are a great way for businesses to provide learning and development opportunities for their staff members. 
They can be used for online learning, such as virtual classrooms, and offline learning activities, like team-building exercises. 
They can also deliver training content in various formats, from videos to interactive quizzes and games.
It can be used in any industry to improve learning and development. For example, they can help businesses in the healthcare sector with training, certification, and onboarding new staff members.
They can also help retail stores provide better customer service through online learning modules. 
Additionally, learning management systems can improve employee engagement and retention by providing learning.
Ten best learning management system software.
1. Google Classroom
Google Classroom is a free online education platform developed by Google for schools. It allows educators to create and manage assignments, communicate with students, and provide feedback on student work. Google Classroom is tightly integrated with other services such as Gmail, Drive, and Docs.
Features
It is an all-in-one learning platform that can manage multiple classes in one central location.
Easy to use and easy to access in minutes.
Collaborate remotely with your classmates in real time. Experience the convenience of simultaneously working on the same document or connecting face-to-face through Google Meet.
Teaching and learning can be done anywhere from any device.
It is completely secured.
Likes
Easy for setting and easily connecting the whole classroom.
It became a lifesaver during the pandemic time.
Google Classroom, with great functionality, make learners use it more efficiently.
It sends email notifications about day-to-day updates.
Allows to use google Sheets, Docs, Google Forms, and google drive.
Dislikes 
Students may create disturbances in the class by editing themselves.
By accidentally any assignment is deleted, it will be a problem for all the students.
Some users feel difficulty in searching for actual messages in the unread notifications.
No parental control feature.
Content management could be improved with a sub-section of notes and syllabus.
Other details
2. Canvas LMS
Canvas is an online k-12 (Kindergarten to 12) learning platform that enables educators to create and deliver courses online.
In addition, it provides educators with a range of tools to manage their students, including the ability to track student progress and assign homework. Canvas LMS also includes a social media feature that allows students to communicate with one another and collaborate on projects.
Features
Everything is in one place.
Canvas API easily links with any other app like Microsoft team, Adobe, G Suite, etc.
Best features like rubrics, schedules, calendars, quizzes, and speed graders are available.
Easy communication in the class and massaging video or audio notes.
Likes
Canvas is a great way to see all materials and information in one place.
 It helps use it to communicate with other people, store documents, and take tests.
Easy to use and makes learning fun.
Different color codes and the graphic user interface are pretty good.
Dislikes 
The electronic grade book is a little difficult to understand
Difficult to current the mistakes of assignments
Other details
3. Talent LMS software
Talent LMS software is a learning management system that enables businesses to manage and track employee training. It offers modules for online course creation, e-learning, employee tracking, and reporting.
Additionally, Talent LMS integrates with third-party tools like social media platforms and video content providers.
The main benefits of using Talent LMS include improved compliance with safety and regulatory standards, reduced training costs, increased efficiency in the delivery and tracking of training courses, and better ROI on corporate training initiatives.
Features
Easy courses with videos, presentations, and docs
Host live sessions, tests, quizzes
Guide for learners' growth with detailed learner's path and completion rules
Easy customization with brand logo, company Demaine
It can be delivered on any device
Likes
One platform for all training with great features
Good support and technical assistance
Easy API access for integration
Copy paste option on a quiz is a time saver
Affordable pricing
Dislikes
No skill improvement tracking
Complex navigation ecosystem
Limited testing options
Lack of integrated grade book
4. Blackboard Learn LMS
Blackboard is a learning management system software that provides educators with various tools to create and manage online courses. It can track student progress, upload files, and post announcements.
Blackboard is often used in higher education institutions, but it can also be helpful for K-12 schools, businesses, and training organizations. 
Features
Freedom for educators to utilize the best practices
High technology environment with different tools, data access, and integration
Uses best student engagement strategy for a good learning experience
Easy accessibility and anti-plagiarism tools for educators 
Simple, efficient, and reliable
High visibility, quick access, and keeping students on track
Easy interaction anytime, anywhere
Likes
It provides comfortable learning environments through online
Lots of integration that is easily accessible and adaptable
It helps to merge the class with multiple users
Easy integration with ZOOM
Some users feel that it is not suitable for higher education
Safe Assign is a great feature that checks the student's assignments for plagiarism
Dislikes
Locating the content is frustrating
Lack of clarity in the task Some need to create users only
Lack of compatible add-ons
Easy visualization of tasks, homework, and projects by combining calendar
Users expect more integration and improvements in mobile apps
5. SAP Litmos
SAP Litmos is the best cloud-based Learning Management System that enables businesses to manage and deliver employee training programs. It offers a range of features, such as course authoring tools, social collaboration tools, reporting and analytics, and mobile access.
Litmos LMS is aimed at businesses of all sizes.
Features
Provides training for the intelligent enterprise
Unifies the virtual, classroom, social learning, and mobile
Provides web-based training courses, Schedules, and track instructor-led courses
It easily works with an existing system
API, which helps to share information with another system
Automates the tasks and allows to record and upload the videos
Custom UI branding and dashboards
Customizable learning paths
Likes
It has a consistent user interface.
Easy to learn and share the progress
After completion of training, You can download the certificate 
Ability to export SCORM file
It is clean and intuitive and allows for multiple integrations
Dislikes
It does not allow courses to be checked.
Sometimes there is a bug in Litmos that doesn't enable courses to be checked off as completed.
Users feel that it is an expensive tool.
Some users think that reports are not user-friendly.
Other details
6. Mindscroll LMS
MindScroll is a cloud-based eLearning platform that provides end-to-end solutions for organizations' Learning and Development (L&D) needs. From content authoring to delivery and tracking of learning programs, MindScroll offers a suite of products and services that assists organizations in using technology for learning.
Features
Multi-language support
Creates online courses and uploads the contents
Online learning with UGC guidelines
Conducts virtual classes with web conferencing tools
Creates online surveys and assessments
Gamification of learner activity
Comprehensive dashboard and interactive reports
Secure hosting and backup
RESTful APIs help to easy integration
Likes 
Easy to conduct virtual classrooms with web conferencing tools like ZOOM, Google meet, etc.,
Easy collaboration with video, User-generated content, blogs, and mobile.
Dislikes
The Subscription is not renewed plan will be downgraded to the basic plan, and all users will be automatically locked.
Other details
7. UQualio LMS
UQualio is the ultimate tool for expanding learning opportunities. This cloud-based application gives users around-the-clock access to create effective video eLearning courses on any device, all backed by Scandinavian principles and EU GDPR – meaning your data remains secure! It's time to unlock easy learning anytime, anywhere.
Features
Course Builder
Course management
Reporting and communication
Customize the platform
Quizzes and tests
Gamification and certificates
Security and reliability
Supporting material ad advanced setting 
Video creation on mobile
Likes
Easy to learn and intuitive
Easy to track the courses progress
The concept of creating video learning and using it is very different
Userfriendly and great functionality
Dislikes
Not many customizable options
No SCORM compliance
No video conferencing and virtual classroom
Other details
8. TalentCards LMS
TalentCards is the fastest, most reliable way to put powerful training tools directly into your employees' hands. It is a mobile app that trains employees for microlearning anywhere and anytime.
Features
User-friendly for field workers and those who move always
Creates laser-focused training
Uploads content in multiple formats
Trains learners in the native language, available in 13 languages 
Easy and instant communication
Fast-tracking and quality user engagement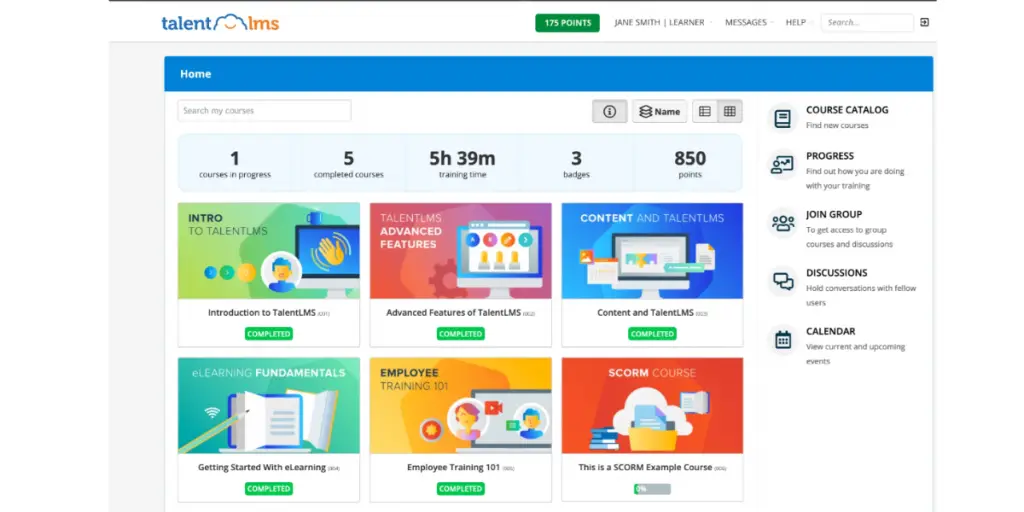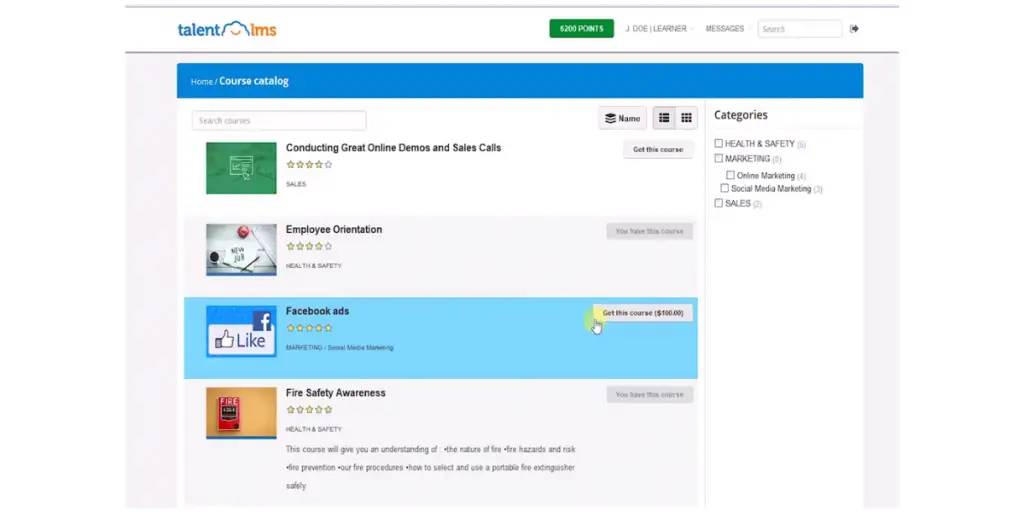 Likes
Frontline, diskless training for employees
It can be used for announcement platform and training tool
Card sets are impactful easy, and fun to use
Information can be shared in narrative form, pictures, links, etc
Dislikes
No provision to add images
Creating cards is time-consuming
The quiz widget is limited
MCQ offers many choices; wrong selection can create a problem in the work
Lack of administrative features
Other details
9. iSpring learn
iSpring learn is another learning management software for training scenarios and critical projects. It provides product, sales, channel, compliance, and certification training.
Features
Creates and uploads content: ppt, SCROM, Flash clips, etc
Creates interactive long read
Easily manages users and groups.
Track the training process
Monitors the team's productivity
Customizable training portal
Easy integration
Likes
Quickly create online courses
Extremely easy to use, saves money and time
Great service from iSpring team members
Dislikes
Sometimes difficult to decide which report to use.
It will not produce the percentage of people who completed the course
Other details
10. Claned
With Claned, you can give learners the education they need with ease and speed. This revolutionary digital learning platform creates custom courses to fit any purpose – corporate training or university classes. And its automated learning capabilities, your materials will have a maximum impact on participants.
Features
Interactive materials and contextual commenting
Social learning
White labeling
Track learning in real-time
Learning analytics
Likes
The modern interface is easy to use
Responsive staff and useful training session
Features help produce quality content. 
Dislikes
No integrated conference tool
No grading of student collaboration
Other details
Conclusion
In the era of digitalization, learning management system software has taken an important role in online teaching and training. It helps to manage, administer, deliver and monitor all aspects of learning. 
This blog post provided complete information regarding LMS with its importance. The listicles of LMS will help you to select a good one for your need.
Reference