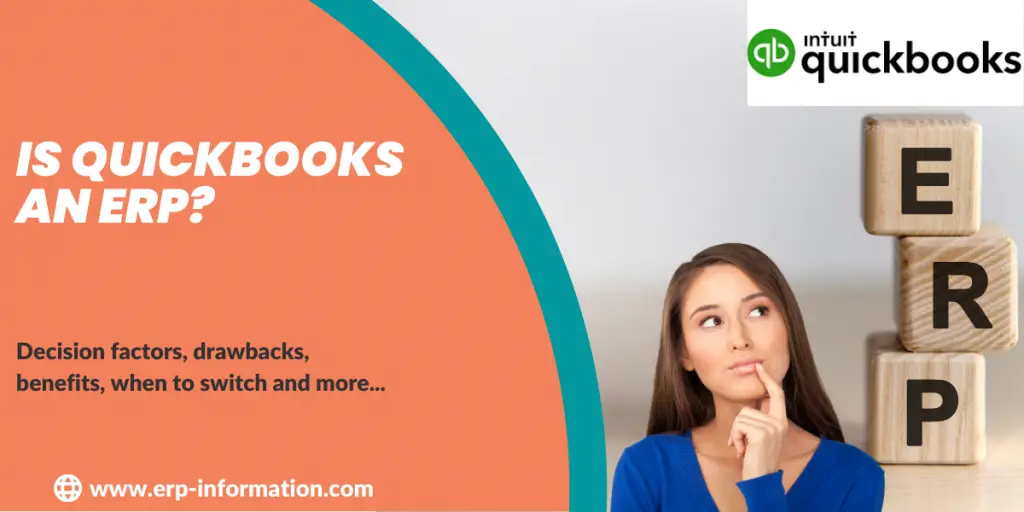 When it comes to accounting, various tools, and software solutions are available that can help streamline operations and make it easier to grow your business. You might have a question is QuickBooks an ERP? Quickbooks is software that is often used by businesses to manage their finances. It is popular because it is easy to use and affordable. 
Still, many people are unsure whether or not Quickbooks is an ERP.
In this blog post, we will define Quickbooks, and ERP software, then discuss whether both are the same or different. We will also look into factors to decide where they differ, the drawbacks and benefits of using the former over later, and when to switch.
What is Quickbooks?
Quickbooks is software that enables businesses to manage their finances. It can track income and expenses, create invoices and reports, and much more.
There are three types of QuickBooks: Desktop, Enterprise, and Online. Desktop and Online are only for accounting and only have some of the features that ERP software does. 
What is ERP software?
ERP stands for Enterprise Resource Planning. It is a business management software used to manage and streamline a company's critical processes, including accounting, human resources, inventory management, customer relationship management, and more.
Is QuickBooks An ERP System?
No, QuickBooks is not an ERP system. It's an accounting software program created by Intuit. While it offers features similar to those in ERP systems, it lacks the comprehensive functionality and scalability businesses need to manage their operations effectively.
Quickbooks cannot help you with other parts of running a business. You have to do those things yourself or use different software. When you do this, you might need to copy the same information from one system to another, which can be time-consuming and cause mistakes.
When an order is made, the accounting department gets the information and creates a record of it. Then, the warehouse makes a list so someone can pick out what was ordered. Next, the order is packed up and sent to the customer. After that, the warehouse updates its inventory and tells accounting they sent the order. Finally, the accounting will send an invoice to the customer.
An ERP system can help with each step of a sale. It links the CRM, warehouse, inventory management, and accounting together. This way, all the information is shared in one place, and nothing needs to be re-entered. 
The ERP system takes care of the planning. With an ERP system, departments like warehouses and sales can use order data to plan their work better. For example, they will know when they need more staff to do their job quickly and well.
So, how is it different from traditional enterprise software? Let's take a look.
Factors to decide Quickbooks is different from traditional ERP software.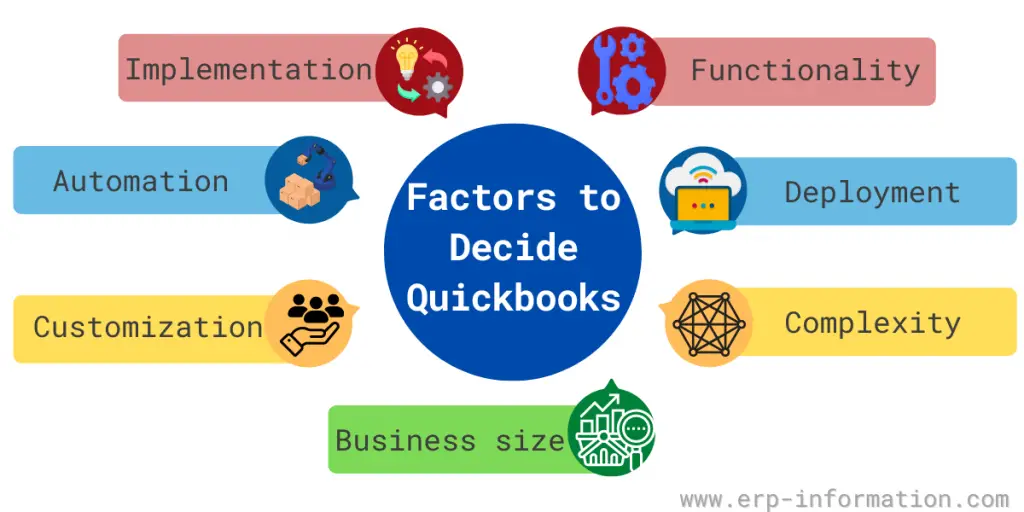 Implementation
Some ERP software programs can be complex and time-consuming to implement. QuickBooks is easier to use and can be set up quickly, but it does not provide the same breadth and depth of features. 
Automation
Quickbooks offers various automation features. However, it's typically used by small businesses with limited numbers of users.
ERP systems are generally more complex and expensive but offer more comprehensive automation features – making them ideal for larger companies or businesses with more sophisticated needs.
Customization
There are different types of ERP software on the market, each designed to meet the specific needs of a particular business. For example, enterprise software programs are designed for manufacturing companies or service industries.
Quickbooks offers far fewer customization options.
Business size
QuickBooks is best suited for small businesses with limited needs, while ERP systems are more appropriate for larger companies with more complex operations.
Complexity
An ERP system is designed for more complex businesses, with modules for accounting, manufacturing, sales, and other areas. They also require more time to set up and learn how to use them. In addition, they offer more comprehensive tracking and reporting capabilities.
On the other hand, QuickBooks is better suited for more specific businesses or those that don't need the extra functionality.
Deployment
Quickbooks is cloud-based software, while some ERP software programs are installed on-premise too.
Functionality
QuickBooks is software that helps businesses track their income and expenses. ERP is software that integrates all aspects of a company, including accounting, sales, production, inventory, and customer relations.
Drawbacks and benefits of using Quickbooks over ERP
ERP Quickbooks is a popular, low-cost option for small businesses that need to manage their finances. However, it has several drawbacks and benefits comparatively.
Drawbacks
Limited functionality: It can only do basic bookkeeping and financial management and does not offer the comprehensive features of an ERP system. 
Inability to integrate with other software: It cannot easily integrate with other software your business may be using, such as CRM or manufacturing software. 
Lack of support: If you have any problems with it, you will likely have to troubleshoot them yourself or hire someone externally to help you.
Benefits
Affordability: It is typically much cheaper in comparison. 
Ease of use: It is user-friendly and can be set up and used quickly. 
Flexibility: It is a cloud-based software accessible from anywhere and can be easily scaled up or down to meet your business's needs.
When to switch from QuickBooks to an ERP?
This is best for small businesses, but as a company grows and starts to experience more complex processes and needs, it becomes increasingly difficult to manage and track everything in QuickBooks.
ERP software is designed to manage and track a company's growth, so it's the perfect solution for businesses ready to take their operations to the next level.
In addition, it can handle more complex processes, provide greater visibility into all aspects of the company, and automate many tasks that would otherwise have to be done manually.
So if you're starting to feel like QuickBooks isn't cutting it anymore, it may be time to consider switching to more comprehensive solutions.
Some of the factors that indicate you need to switch are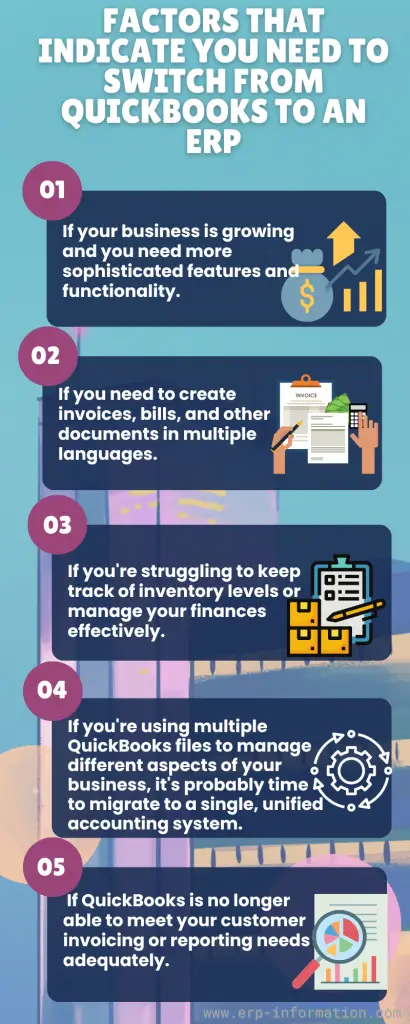 If your business is growing and you need more sophisticated features and functionality
If you need to create invoices, bills, and other documents in multiple languages
If you're struggling to keep track of inventory levels or manage your finances effectively
If you're using multiple files to manage different aspects of your business, it's probably time to migrate to a single, unified accounting system. 
If the current system can no longer meet, your customer invoicing or reporting needs adequately.
How much does a QuickBooks certification cost?
QuickBooks certification can cost anywhere from a few hundred dollars to a few thousand, depending on the certification level you seek. 
What time does QuickBooks take to learn?
Learning QuickBooks depends on your prior experience with bookkeeping and accounting, but most people find that they can be certified within just a few weeks.
Conclusion
Quickbooks can be considered a component of an ERP solution because it is not as comprehensive as other ERP solutions on the market. ERP QuickBooks is an excellent accounting software for small businesses and can handle some of larger enterprises' more complex financial needs, but it's not an ERP.
If you need an ERP system, plenty of great options on the market will fit your requirements. Do your research, ask for guidance, and find the right system for your business.
Reference