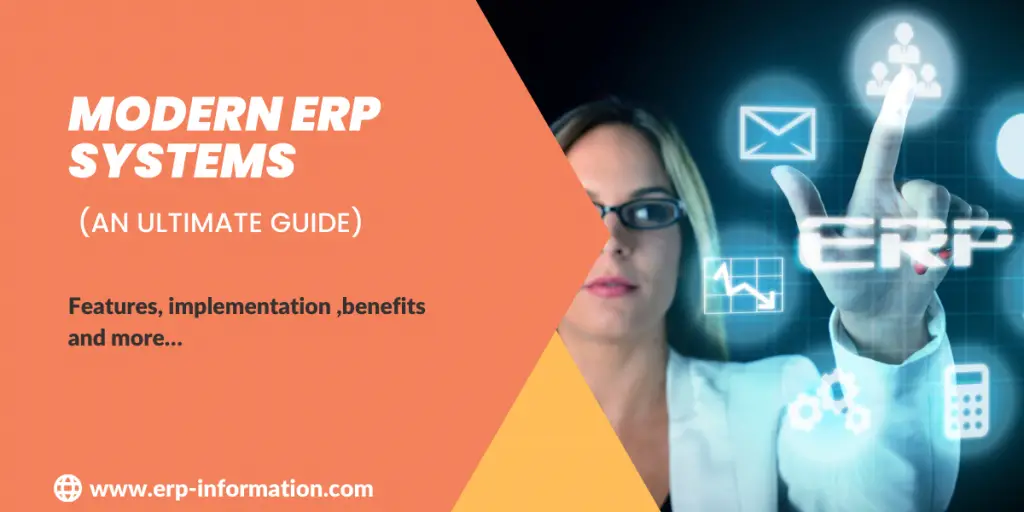 Your business is growing, but your current ERP system can't keep up. As a result, you're missing out on essential features and updates that could help you succeed.
You've probably heard that modern ERP systems can solve all these problems, but it's hard to know where to start. So how do you know which plan is right for your business? 
In this guide, we'll answer all of those questions and more. Then, we'll walk you through the process of implementing a modern ERP system, step by step. By the end, you'll have all the information you need to make the best decision for your business.
What is a Modern ERP System?
ERP systems have become increasingly popular in recent years due to the growth of e-commerce and the globalization of business.
A modern ERP system is an integrated software system that helps a company manage its business processes, from ordering and inventory to sales and finance. An ERP system includes accounting, human resources, manufacturing, marketing, and sales modules.
What are the essential features?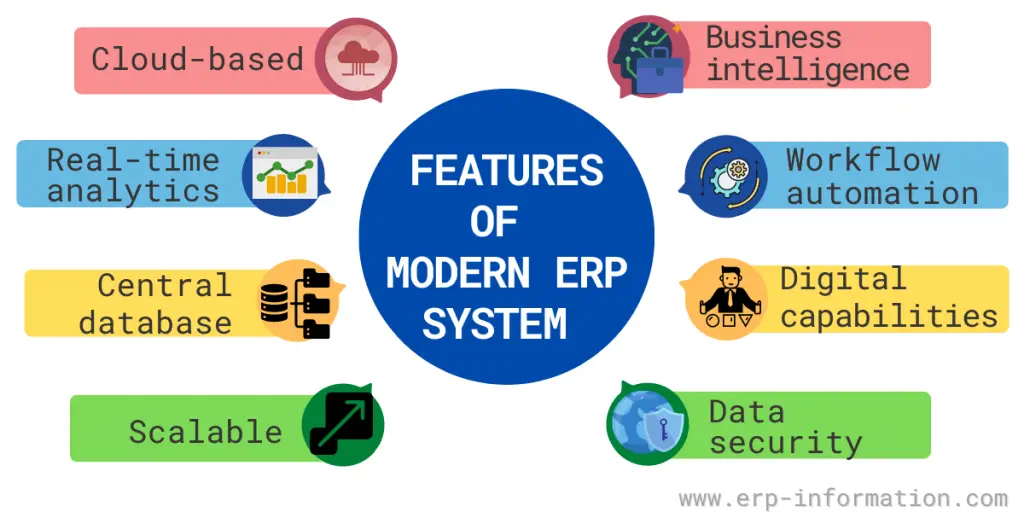 Cloud-based
A modern ERP system is cloud-based, which means it can be accessed from anywhere, at any time. It provides a lower total cost of ownership since there is no need for a significant up-front investment in hardware and software and no ongoing maintenance fees.
Real-time analytics
A modern cloud ERP system offers real-time analytics to make informed decisions about your business in real-time. For example, you can track your inventory in real time and make changes to your production schedule accordingly. 
Central database
A modern ERP platform has a central database, giving you a single source of truth for all your data. For example, using a customizable dashboard, you can view the supply chain's financial and inventory data in one place.
Scalable
A modern ERP system is scalable, which means it can grow with your business. For example, if you add a new product to your inventory, your ERP system can automatically update your accounting records.
Data Security
A modern ERP system provides data security features, such as audit trails, to keep track of all changes made to the system, so you can always see who made what changes and when and ensure that your data is safe and secure.
Digital capabilities
A modern ERP solution enables digital capabilities, such as e-commerce and mobile apps, to help you run your business more efficiently.
Workflow automation
It can automate your business processes, such as invoicing and purchase orders, to save time and money.
Business intelligence
It offers business intelligence features, such as predictive analytics and machine learning to help you make better decisions about your business.
Implementation steps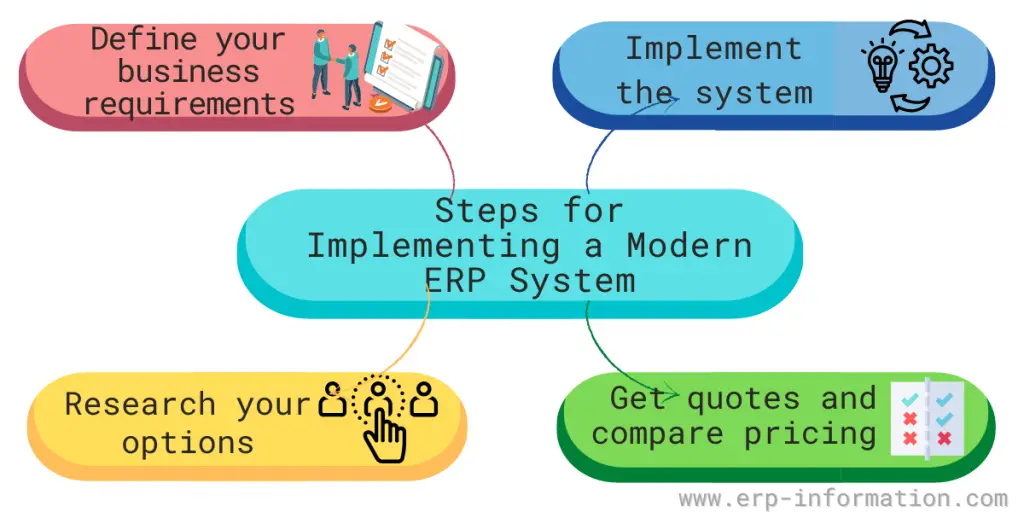 There are four steps.
Define your business requirements
The first step is to define your business requirements. What do you need the system to do? What features are must-haves?
Research your options
Once you know what you need, you can start researching your options. There are many ERP systems on the market, so it's essential to take the time to find the right one for your business.
Get quotes and compare pricing
Once you've narrowed down your options, you can get quotes and compare pricing. That will help you find the most affordable option for your business.
Implement the system
The final step is implementing the plan. That will involve working with a professional to ensure that the system is set up correctly and that all your enterprise data is migrated.
Risks of not having a modern ERP system
Missed opportunities: A lack of visibility into your business functions can lead to missed opportunities for growth.
Inefficient processes: Outdated processes can lead to inefficiencies and wasted time and money.
Poor customer service: Without a central database, keeping track of customer information can be challenging, leading to poor customer service.
Reduced competitiveness: Without the latest features and functionality, you may fall behind your competitors.
What are the benefits?
There are many benefits, including:
Improved efficiency and productivity
Increased visibility into all aspects of the business
Greater flexibility and scalability
Reduced costs
Increased customer satisfaction
Top 10 Modern ERP Software
A list of the top 10 Modern ERP Software includes:
Microsoft Dynamics 365 Business Central
SAP Business One
Infor CloudSuite
Epicor Eagle N Series
Intacct Advanced Financial System
Sage Intacct Financials
Oracle ERP Cloud
Workday
FAQs
What is the best ERP System for small businesses?
The best system for your business will depend on your specific needs and budget. However, we recommend looking at Acumatica, Microsoft Dynamics 365 Business Central, or NetSuite. These systems are affordable and offer many features tailored to small businesses.
What are the new trends in Modern ERP Systems?
Some of the new trends are:
The move toward cloud-based solutions, the introduction of artificial intelligence (AI) and machine learning (ML), the increasing use of mobile devices and apps, and the trend toward big data analytics.
Conclusion
Overall, a modern ERP system can offer many benefits to your business, including increased efficiency, better customer support, and new features that can help your business grow.
However, if you're considering upgrading your ERP system, we recommend researching the best option for your business needs.