Today, there is a wide range of cloud ERP solutions for the benefit of companies of all sizes, particularly in industries that have traditionally been hard to manage.
Netsuite ERP is one of them that helps to automate manufacturing processes and increase overall efficiency.
This article outlines Oracle NetSuite's cloud ERP solution Platform's main features, including its advantages and limitations.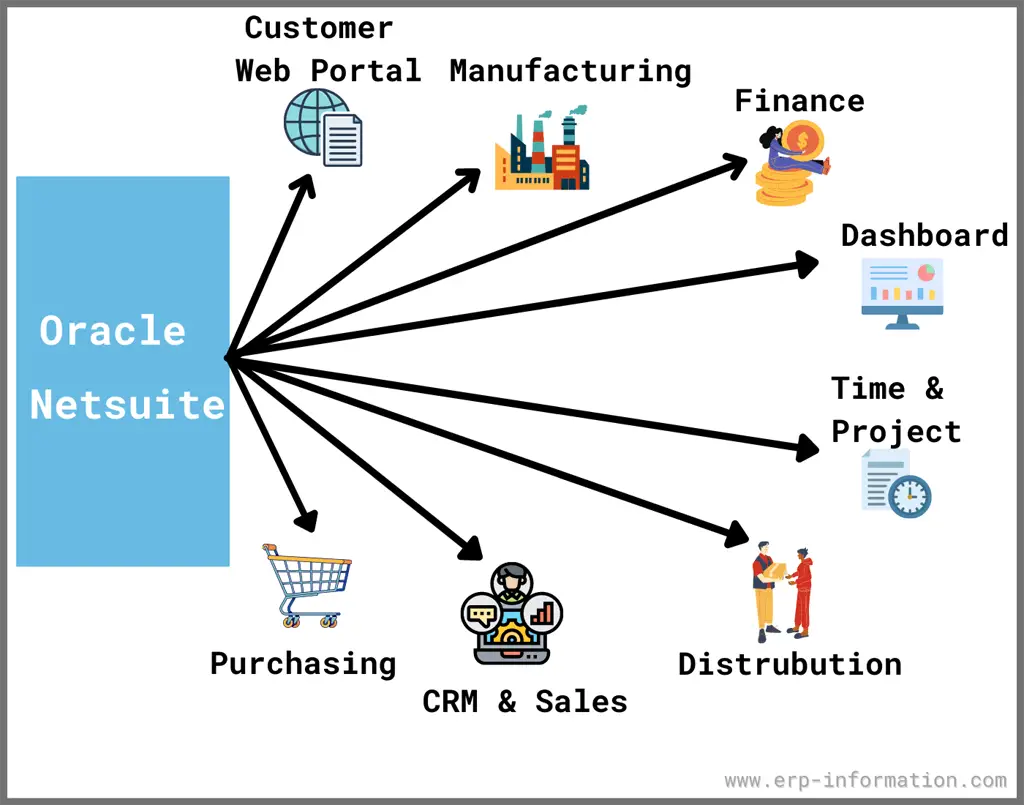 What is Netsuite ERP?
Netsuite is a revolutionary, cloud enterprise resource planning (ERP) solution that helps your company achieve continuous improvements in technology, streamlining processes, and providing accurate reporting across the business.
Netsuite Pricing
( As of writing this article, pricing details are as follows. For more updates, visit its official website).
Its license cost starts at $999 per month, and the individual user cost is $99 per user per month.
Pricing as per Edition
It offers three types of editions. They are categorized based on the number of users, the size of your organization, and the kind of functionalities you need.
Netsuite Limited Edition: This edition is a pricing plan for small industries with 10 user licenses and less than 50 employees.
NetSuite Mid-market Edition: This edition is a pricing plan for medium industries with more than 10 user licenses and who are required to have merged financial reports across multiple currencies.
NetSuite Enterprise Edition: This is a pricing plan for large industries with more than 1000 user licenses.
Pricing as per the type of user
It offers pricing as per the role of the end-user like a CEO, a sales manager, a controller, etc.
Pricing for advanced module
Apart from ERP and CRM features, NetSuite provides some add-on advanced modules. You can choose and get their license as per your business needs.
These are the modules dedicated to particular industries. For example, the ' NetSuite Manufacturing' module is very much suitable for manufacturing industries. This module fulfils all the needs of the manufacturing organization.
But again, these advanced modules' costs vary based on your industry types like small, medium, or enterprise.
You can add or remove the modules as per your requirement during the contract renewal.
Pricing for support
It provides technical support freely with the subscription license.
If you want 24/7 technical support, you need to upgrade yourself to NetSuite premium support, dependent on your software contract value.
NetSuite Implementation
NetSuite implementation process takes place step by step
Introduction – The user finds out its objectives and discusses the scope of implementation with its implementation partner.
Setting up – The client setups an internal team to help its NetSuite partner while implementing the software.
Configuration – To find out all business scenarios such as finance, CRM during implementation, the internal team is involved in work sessions and learns how the scenario requirements are converted into Netsuite best practices.
Data resetting – The software starts consuming customers' data.
Learning of software – The customer's internal team observes and learns new enhancements and finds gaps in the process if any.
Final configuration – The implementation partner executes the client's customized design and transfers all data from the client's legacy system to NetSuite.
Testing and Training – End users start testing the new system for its ERP functionality, and all the users of the customer company take training on NetSuite.
Live work and support – The customer's company start running its business on NetSuite software officially. If any issues come while running the software, the company gets help from the implementation partner, and thus implementation ends.
Supports and Services
It offers two types of support systems. Basic and Premium.
Customers will get Netsuite basic support with its subscription that includes
Online support for complex issues during weekdays within working hours (8 am to 6 pm)
NetSuite users support group access.
Premium support provides all facilities of basic support along with that it provides
24/7 supports
Advanced notification of new releases
Support on weekends
Support via toll free technical center
NetSuite Features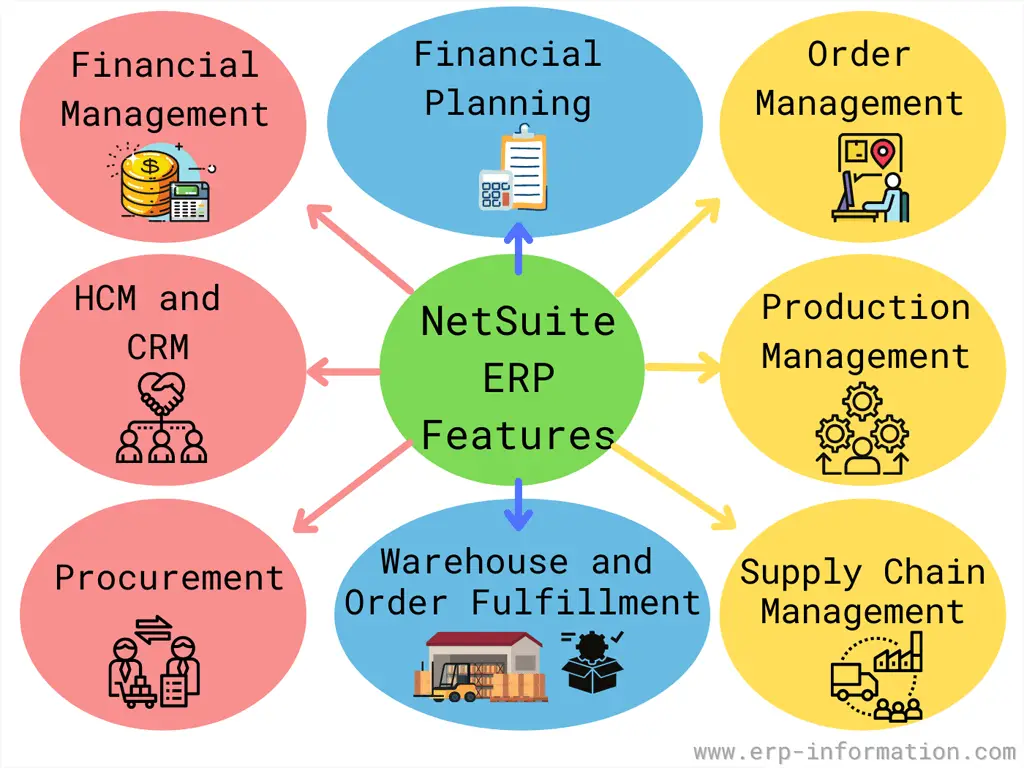 1. Financial Management
Finance and Accounting
Billing
Revenue Recognition
Financial Planning
Financial Reporting
Global Accounting and Consolidation
Governance, Risk, and Compliance
2. Financial Planning
3. Order Management
Multichannel Order Management
Sales Order Management
Returns Management
Pricing Management
4. Production Management
Product Data Management
Work Order Management
Planning and Scheduling
Quality Assurance
Manufacturing Execution System
5. Supply Chain Management
Planning
Execution
Collaboration
Support
6. Warehouse and Order Fulfillment
Inbound Logistics
Outbound Logistics
Inventory Management
Warehouse Management System
7. Procurement
8. HCM
9. CRM
Limitations of NetSuite ERP
Every ERP has its limitations. You know Netsuite is a good cloud ERP. Still, it has some drawbacks. Let us have a look.
Needs more support and maintenance for customization: Customization of this ERP requires more attention and support because it is very advanced.
Expensive: It is costly for small businesses.
Extra maintenance cost: It provides an annual subscription plan for users and the number of accounts required. When the number of users and the number of accounts rise, you have to pay more ERP maintenance costs.
Extra costs for advanced modules and suite apps: If you need more advanced functionalities to enhance your business, you can go for advanced modules and suite apps. But you need to pay an extra fee for that.
Advantages of NetSuite ERP
Following are a few advantages of this ERP.
Easily customizable: It provides basic features as per your subscription. But you can customize these features as per your business needs quickly.
It allows you to customize forms, fields, and documents. You can also change and generate new functionalities, workflows, and business processes per your/user requirements.
Provides visibility: With the help of its feature, you can get a perfect customer view and track the customer quickly.
It allows you to record and analyze the contracts to the purchase history and hence provides real-time data to make better decisions.
Very flexible: It is very flexible software. You can integrate it with any third-party software effortlessly without losing precision and accuracy.
What industries does it support?
It supports the following industries.
Digital Marketing
Advertising
Apparel, footwear, and accessories
Camus stores
Education
Consulting
Energy
Healthcare, health, and beauty
Manufacturing
Media and publishing
Financial services
Food & beverage
Retail and wholesale distribution
Professional services
Nonprofit
Restuarant&Hospitality
Transportation
Software companies
IT Services
NetSuite Alternatives
Sage Intacct
Quick books Desktop Pro
Customers
ASICS Asia
Covisint
DWA Media
Primary arms LLC
Zev Technologies
7 Nation
ChannelAdvisor
School of Rock
You can find more cloud ERP software similar to NetSuite.