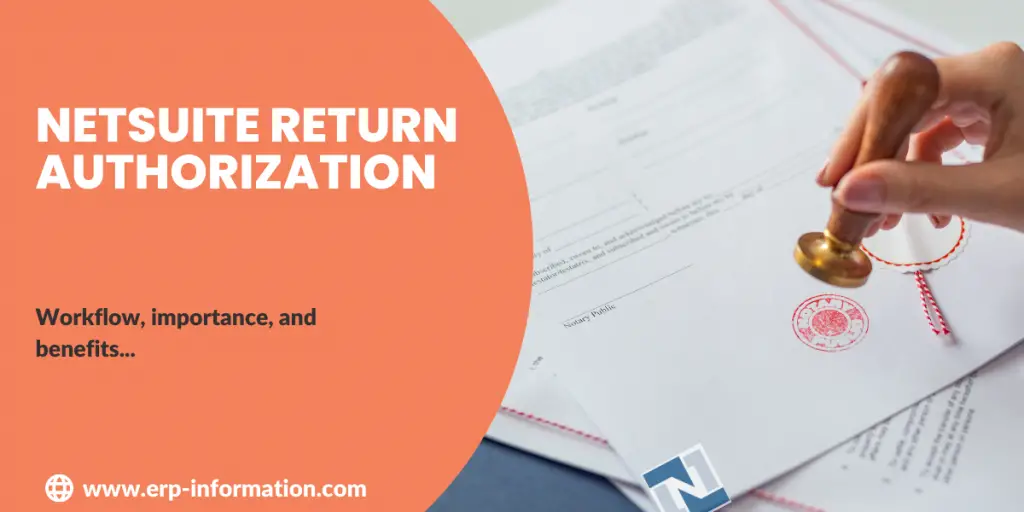 An online electronics store owner developed his business and had customers from around the globe. However, with the increase in sales, the number of return requests also started to mount. 
Managing these returns soon became a logistical nightmare that consumed his time and resources. Then, he knew he needed a robust software solution to simplify this complex process and bring transparency to his operations.
Many other entrepreneurs are in similar predicaments, struggling to handle returns efficiently. It is here that platforms like NetSuite Return Authorization help ease the problem.
This software is designed to streamline the return process and prevent backlog in the warehouse, ultimately making returns management less taxing and more efficient.
Note: At the end of the article, we have discussed common issues businesses face while dealing with returned items.
In this blog post, we will look into the workflow of NetSuite return authorization, its importance, and its benefits.
What is NetSuite's Return Authorization?
NetSuite Return Authorization, also known as Return Material Authorization(RMA), is a feature of the NetSuite ERP system that helps businesses manage and streamline their return processes.
It allows businesses to record information about an expected return of items from a customer, including details such as the item number, quantity, and price to be refunded.
Why is RMA Essential?
It is essential for the following reasons: It helps to
Track return items
Keeping inventory levels accurate
Process refunds quickly and efficiently
Avoid fraud
Improve customer satisfaction
How does NetSuite's Return Authorization Work?
The process begins with creating a return authorization form, the first step in returning items in NetSuite.
Customers who want to return an item fill out the form on the company's website. The form asks for basic information about the returned item and the reason for the return.
Once the form is submitted, a representative will review it and contact the customer in case of queries. If everything looks good, they'll issue a Return Authorization Number (RAN). 
RMA NetSuite (Return Material Authorization) number is crucial for tracking the return process, identifying the items, and executing the following steps, such as inspecting returned goods, updating inventory quantities and values, and issuing refunds.
All these steps can be tracked and managed within NetSuite, making the return process more efficient and transparent for both the business and the customer.
What is the Return Authorization Number?
A return authorization number is like a code. The seller gives them this number when someone wants to return a product they bought. It helps the seller track who is replacing the product and ensure they get their money back.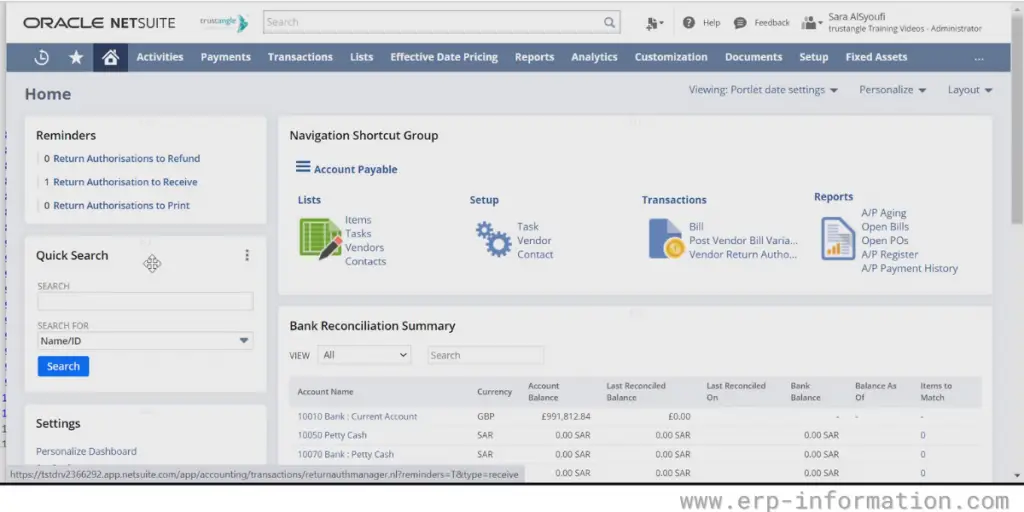 Steps Involved in NetSuite Return Authorization
The image shows the NetSuite RMA process. It includes the following steps.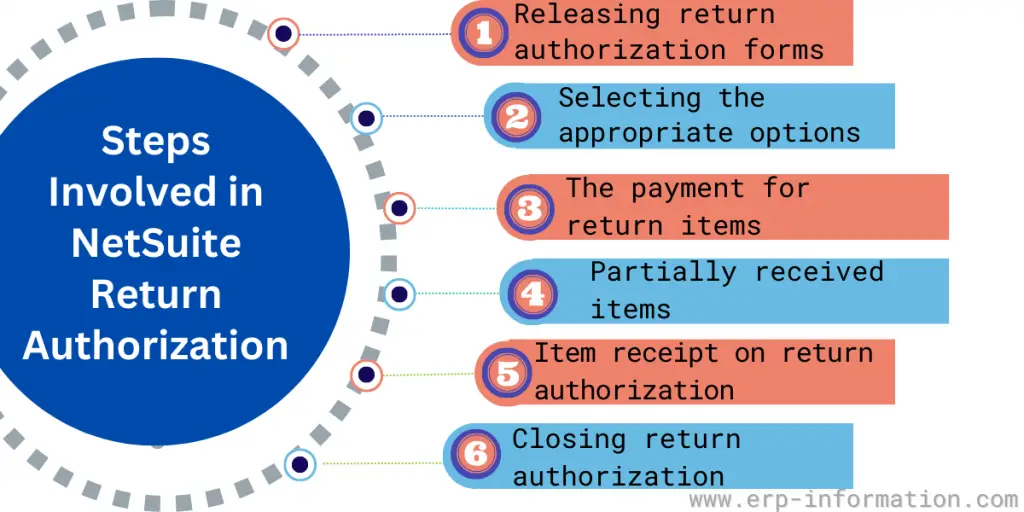 1. Releasing return authorization forms
This step identifies and initiates the return process for items the customer wishes to return.
The form consists of the following information.
What items are being returned
How many items are returning
Cost of items
2. Selecting the appropriate options
There are two options for creating RMA forms.
Linked return authorization

RMA can be created in a cash sale, invoice, or sales order. This method auto-fills the form.
Standalone return authorization

You need to enter all information using the existing sales transaction record manually.
3. The payment for returned items
It can be done in three ways.
A. RMA forms
There are two types of forms.
| | |
| --- | --- |
| Standard return authorization-Credit  | Standard return authorization-Cash |
| If the customer wants credit instead of cash, the memo for credit is generated. Later it can be deposited into the customer's account or refunded to the customer. | If the customer wants cash, then direct money is deposited to the customer. But can not be converted to credit.  |
B. Refund in advance of return
Some companies enable refunds in advance of a return. In this case, the customer gets a refund before he hands over the item.
C. Advance receiving feature
All RMA forms are processed as credits and refunded to the customer if the advance receiving feature is enabled.
4. Partially received items
There may be a situation where the customer has returned some items but not all. In this case, you have to process the RMA as partially received.
5. Item Receipt
After the customer returns the item, you must process an "Item Receipt" to update the inventory levels.
6. Closing return authorization
Once you've processed the return, you'll need to close it.
The Benefits
Saves time: It will save you time by automatically generating a shipping label.
Tracks your return: With it, you can track the status of your return, so you always know where it is in the process.
FAQs
What are the challenges businesses face while dealing with returned items?
When businesses deal with returned items, they often face many challenges that can impact their operations and customer satisfaction. Here are some of the most common issues:
Logistical Complexity: Managing returns involves several steps, from receiving the returned item, inspecting its condition, restocking it, and processing the refund or exchange. This process can be logistically complex and time-consuming.
Costs: Returns can be costly for businesses. They have to absorb the shipping costs and potentially lose the profit from the sale. Plus, there may be additional costs for inspecting, restocking, and reselling the item.
Inventory Management: When an item is returned, it must be added to the inventory. That can cause discrepancies in inventory management if not handled correctly, leading to inaccurate stock levels.
Fraudulent Returns: Businesses are susceptible to return fraud, such as wardrobing (where customers purchase products intending to use and return them) or returning stolen merchandise.
Damage or Loss: Returned items may get damaged during transit. Sometimes, items are lost, adding to the cost for the business.
Impact on Sustainability: Managing returns has an environmental impact. It increases carbon footprint due to additional transportation and potential wastage if the product cannot be resold.
Customer Satisfaction: Slow or complicated return processes can lead to customer dissatisfaction and tarnish a company's reputation.
Resource Intensive: Processing returns can drain resources, requiring dedicated staff and systems, which can be particularly challenging for small businesses.
By adopting a robust return management system like NetSuite's Return Authorization module, businesses can address many challenges, streamlining their return processes, improving customer satisfaction, and reducing costs.
How long does it take for a return to be processed?
It depends on the product. It can vary from 1 day to 30 days.
RMA does not have a strict time limit, but closing it as soon as possible is advisable.
What do you mean by NetSuite Return Authorization from the case?
If a customer has an issue with a product, they can open a case in NetSuite. From there, you can create a return authorization directly from the point. That will help you keep track of all the details related to the return in one place.
How will I know when my return has been processed?
You will receive an email notification from NetSuite when your return has been processed.
Conclusion
NetSuite's Return Authorization process is helpful for businesses selling products. It is designed to be quick and easy.
It helps create a return authorization from a case, and NetSuite will automatically generate a shipping label. Plus, you can track the status of your return, so you always know where it is in the process.
The post provided overall information about NetSuite RMA. We hope you find it informative.
References