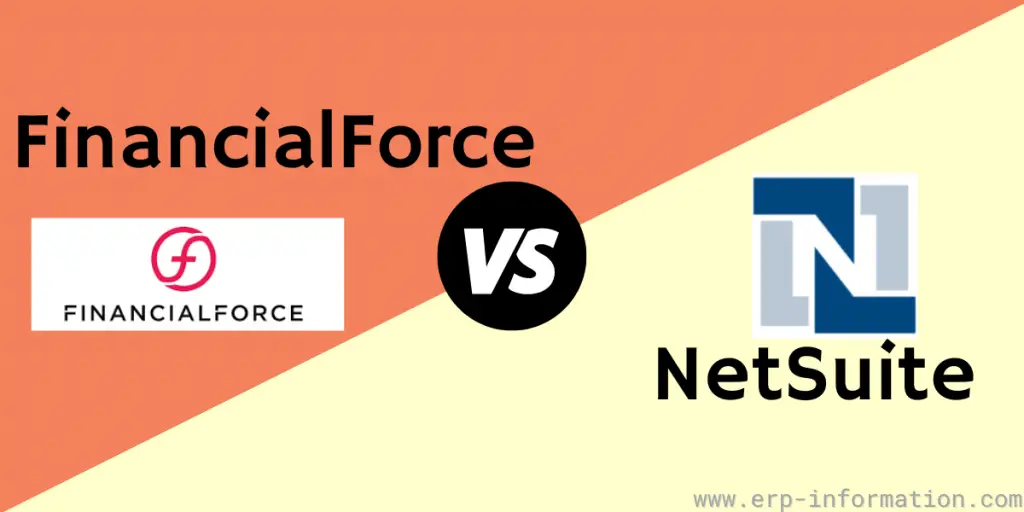 Regarding cloud-based ERP solutions, two of the most popular options on the market are FinancialForce and NetSuite.
Both solutions offer a wealth of features and benefits, but which one is the best fit for your business?
This blog post is all about FinancialForce vs NetSuite. First, we'll compare FinancialForce and NetSuite side-by-side, so you can decide which ERP solution is right for you.
What is FinancialForce?
FinancialForce is a cloud-based ERP and PSA(Professional Services Automation) solution that offers a complete suite of financial applications. FinancialForce is developed on the Salesforce Platform, which integrates seamlessly with Salesforce CRM.
It provides the best user experience by providing users with seamless support to move from one module to another.
FinancialForce ERP features
Billing management – Flexible billing management provides different billing options, such as recurring, fixed, and one-off. Billing is based on product, subscription, and usage-based(days, monthly, yearly) for products or services.
Project schedule forecast – It provides excellent visibility of the schedule starting from the project plan, deployment, and installment to the end of the project.
Revenue tools – It includes multiple revenue functions, including the past, present, and total revenue information, that helps to simplify complex revenue calculations.
Purchase management simplifies the entire procure-to-pay process, including direct and indirect spending, inventory control, workflow approvals, and supplier agreements.
Accounting solution – It provides a robust and easy accounting solution that supports multiple currencies, entities, taxes, and transactions.
Interactive dashboard – The drag-and-drop interface of the FinancialForce dashboard makes it easy to create custom reports and analytics.
Governance, Risk, and Compliance (GRC) – It provides a complete view of all the risks across the organization and helps to comply with government regulations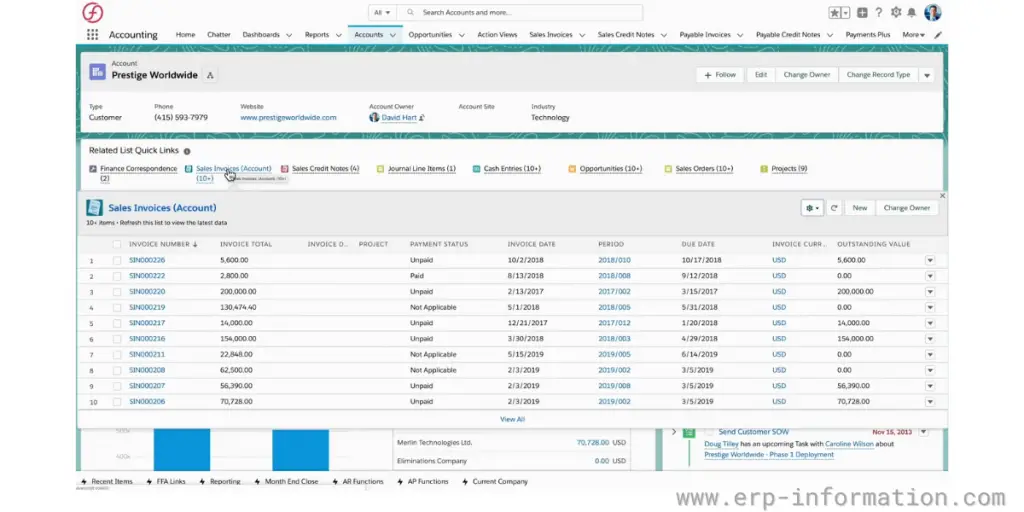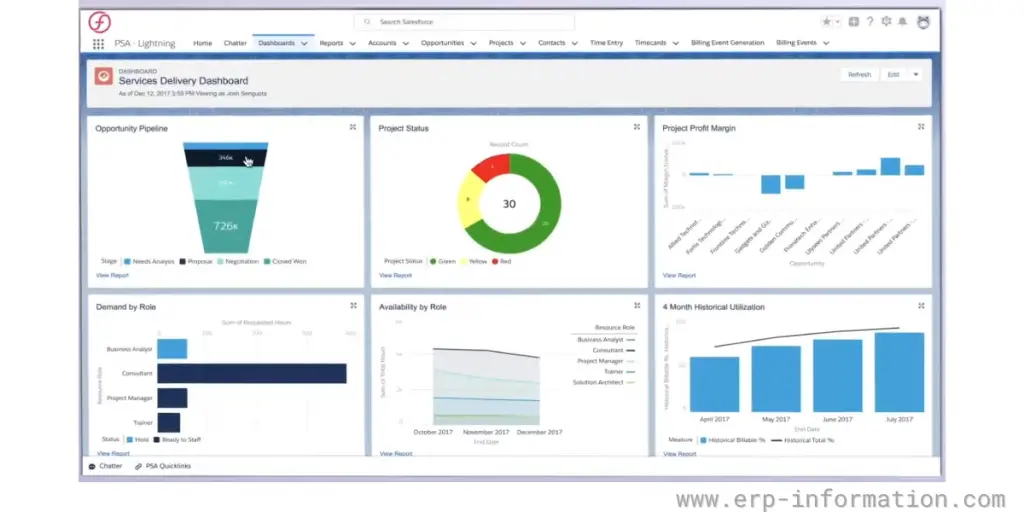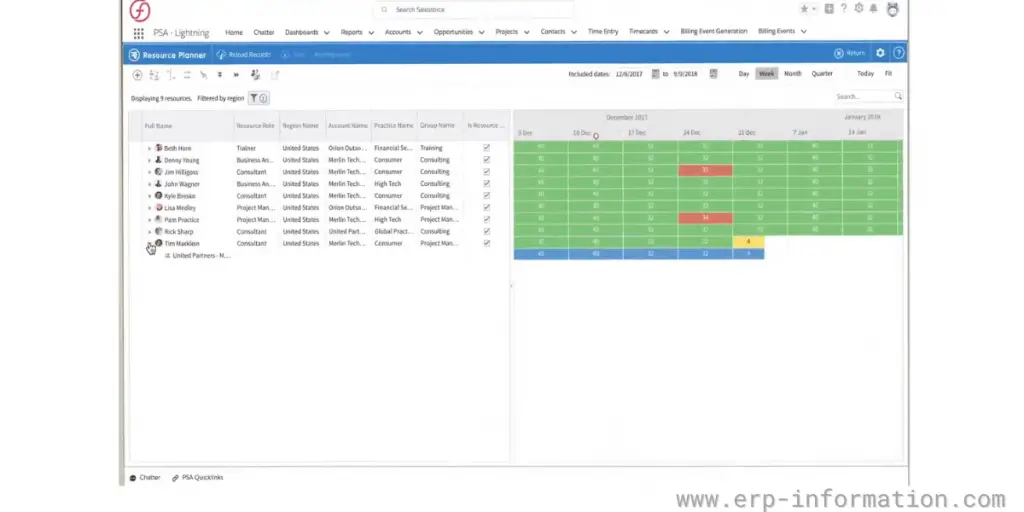 What is NetSuite?
NetSuite is a cloud-based ERP solution that offers a complete suite of financial, customer relationship, and inventory management applications. It provides users with real-time visibility into all aspects. However, NetSuite is not built on the Salesforce Platform and does not integrate with Salesforce CRM.
NetSuite features
Accounting management – Helps streamline the general ledger and automate the accounting process. In addition, it provides transparent and real-time information about all financial activities.
Business globalization – It supports a wide range of business units, languages, and currencies that helps to expand business worldwide.
Inventory management – Most of the inventory processes are automated. It includes Inventory tracking, determining to reorder points, replenishment of inventory, ensuring the safety stock level Etc.
Order management & fulfillment – It streamlines the entire order management process from sales order entry to invoicing. It also includes split shipments and drop ships.
Warehouse management – Using RF-enabled putaway and picking, wave management, cycle counting, and shipment integrations, it became easy to optimize warehouse operations.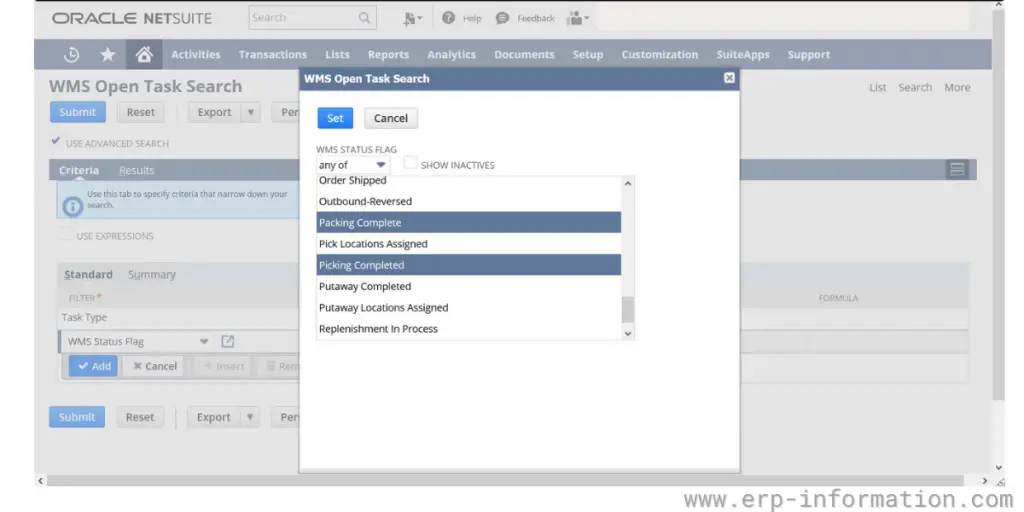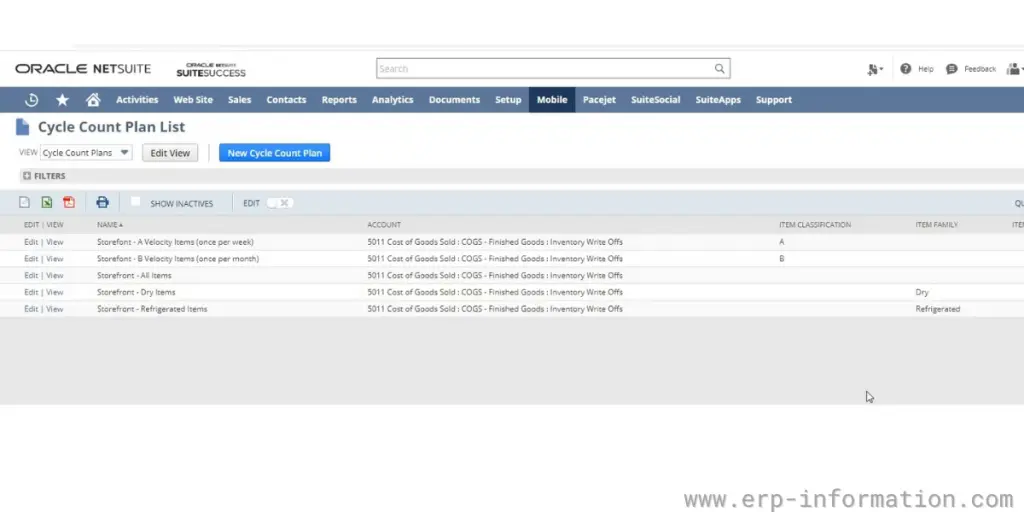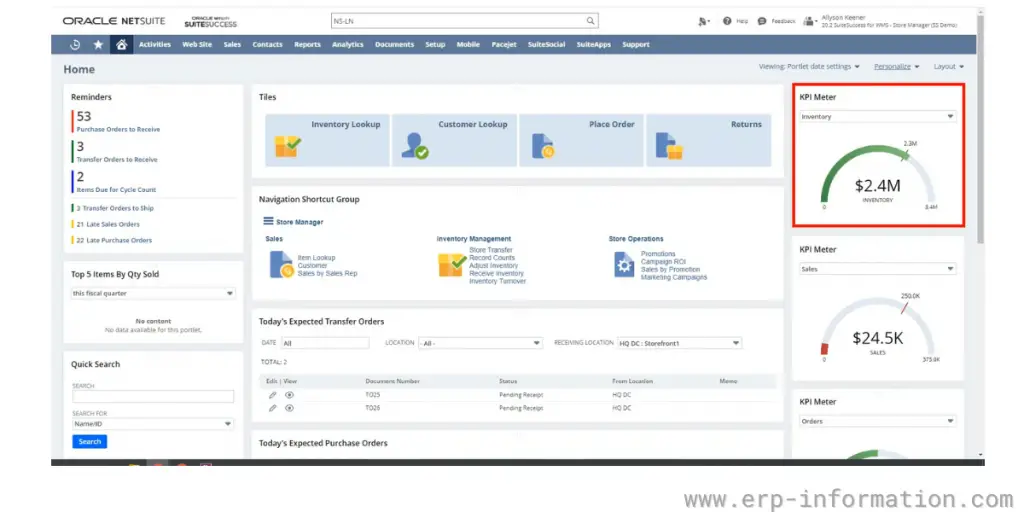 Both FinancialForce and NetSuite offer similar features and benefits. But, there exist a few key differences between the two solutions. Here's a closer look:
FinancialForce vs NetSuite
| | | |
| --- | --- | --- |
| | FinancialForce | Netsuite ERP |
| Integrations | BI, CRM, E-commerce, Inventory management, Payroll, Point of sale, Supply chain management, and Salesforce. | NetSuite CRM, E-commerce, PSA, Google Apps, Salesforce, Celigo Etc. Integrated with more than 30 software, Including Access pay, ADP, Avalara, Sap concur, Jeera, and Nimble AMS. |
| Language support  | English | English, Swedish, Chinese, German, Japanese, Spanish, French, Russian, Italian, Dutch, Portuguese |
| Customers | Elastic, MDA, Splunk, HP, Red Hat, Design | Xerox siemens, Cisco |
| Device support | Windows, Mac, Web-based, iPhone, Android | Windows, Mac, Web-based, iPhone, Android |
| Company size | Small to Large enterprises | Small to Large enterprises |
| Customer support | Email, phone, training, tickets, video tutorials, online | Email, phone, training, tickets, video tutorials |
| Number of users | 11 to 1000 | 2 to 1000 |
| Deployment | Cloud, SaaS, Web-based | Cloud, SaaS, Web-based |
| Competitors | Quickbooks, Acumatica Cloud ERP, Oracle NetSuite, Multiwave CPQ | Bright pearl, Sage, Acumatica, Salesforce CPQ |
Pros
FinancialForce
Graphical representation of reports is informative and easy to understand
It provides a modern and user-friendly interface
Provides a single source of truth by centralizing customer data in one place.
Approval automation makes clear guidelines and helps to stay in compliance
NetSuite
It has an intuitive, interactive user interface.
With NetSuite, data and transactions can be saved quickly and easily. It also has high scalability to meet customer needs.
Features are highly customizable and do not need developer support.
Cons
FinancialForce
The implementation process is quite long and requires many tests according to the number of customization you need, so it is time-consuming and needs developer support.
System slowdowns occur after a while.
NetSuite
The implementation and customization are costly.
Customer support is not reachable all the time.
Conclusion
FinancialForce is a good choice if you want an all-in-one solution that integrates with Salesforce. However, NetSuite may be a better option if you want a more customizable solution.
Both systems provide a free trial, so you can try each one out and see which one works better for your business needs.