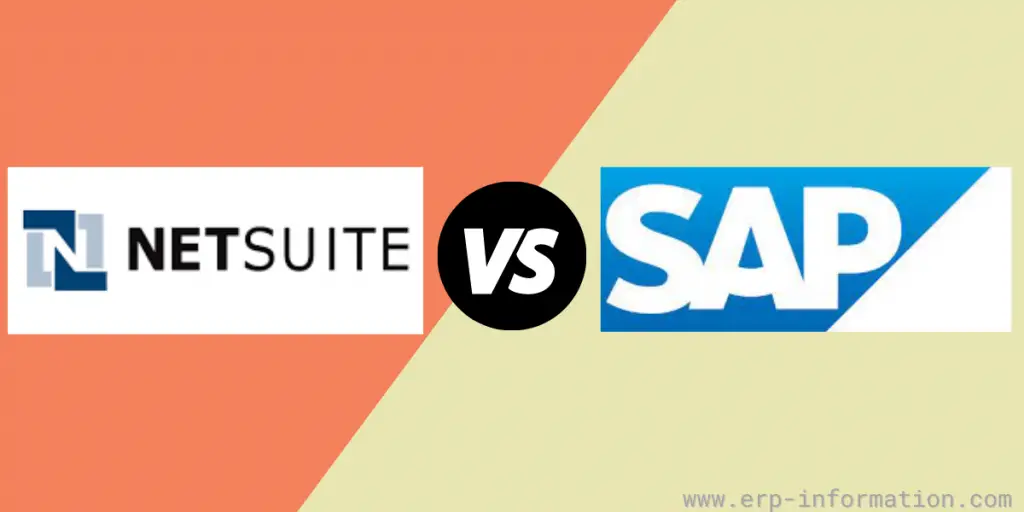 Here is a comparison guide of NetSuite and SAP for your better understanding. NetSuite and SAP are two of the most popular ERP software available. You're probably wondering which enterprise resource planning (ERP) software is the best for your business.
There are many ERP options to choose from, and it can be hard to decide which one is right for you.
In this blog post, we'll talk about NetSuite vs SAP so that you can decide which one is the best fit for your business. We'll discuss the deployment, pricing, features, support, customization, analytics, and reports of each software and help you decide.
Introduction of NetSuite and SAP software
SAP
---
the global enterprise software leader provides businesses with a suite of applications to help them run their operations. It has been around for over 40 years, and millions of people use its software in over 180 countries.
It offers a wide range of applications, from accounting to HR to manufacturing, and is flexible and can be customized to fit the needs of any business.
NetSuite
---
Cloud-based ERP software helps businesses manage their finances, operations, and sales. It's a popular choice for small to medium-sized businesses because it's easy to use and affordable.
Scalable so that it can grow with your business.
Deployment
When it comes to deployment, NetSuite and SAP are both quite versatile. NetSuite can be deployed in the cloud or on-premises, while SAP is available in the cloud, on-premises, or hybrid deployments.
One of the advantages of NetSuite is that it is rapid and easy to get up and running in the cloud. There is no need for complex hardware or software installation, and NetSuite can be accessed from anywhere with an internet connection.
On the other hand, SAP offers a more flexible deployment option with its on-premises and hybrid deployments. With on-premises SAP, you have the option to install and run SAP software on your premises.
That can be an excellent option for companies who want more control over their data and infrastructure.
A hybrid deployment mix of on-premises and cloud-based deployments can be a good option for companies that want the best of both worlds.
Pricing
NetSuite and SAP both offer different pricing models. NetSuite's pricing is based on the number of users.
Its license cost starts at $999 per month, and the individual user cost is $99 per user per month.
NetSuite edition pricing is as follows.
NetSuite Starter/Limited Edition: Limited Edition is NetSuite pricing for small businesses. It's ideal for companies with a single legal entity, do not require more than ten user licenses, and have less than 50 employees. It charges $1000 per month.
NetSuite Mid-Market Edition: NetSuite Mid-Market edition is the right fit for companies that require more than ten named users and have two or more legal entities that need the ability to perform consolidated financial reports across multiple currencies. It charges $2500 per month.
NetSuite Enterprise Edition: NetSuite's Enterprise edition is designed for companies with more than 1,000+ named users.
SAP ERP offers two basic plans
Plan 1 is the entire license plan. It costs $3,213 per user for a full license or $108 per user/month.
Plan 2 is the restricted plan. It starts at $1,666 per user for a subscription or $56 per month.
When it comes to pricing, NetSuite is more affordable than SAP. This is because it has a lower upfront cost and is priced on a monthly subscription basis. However, the exact pricing will depend on the features and functionality you need for your business.
SAP is a larger and more complex software suite than NetSuite. As such, it is usually more expensive. However, the price of SAP can also vary depending on the industry you are in and the size of your business.
Features
Both NetSuite and SAP are comprehensive ERP systems when it comes to features. However, they do have some differences. For example, SAP focuses on manufacturing and distribution, while NetSuite is more suited for small to medium businesses. Additionally, SAP is often seen as a more complex system, while NetSuite is known for being more user-friendly.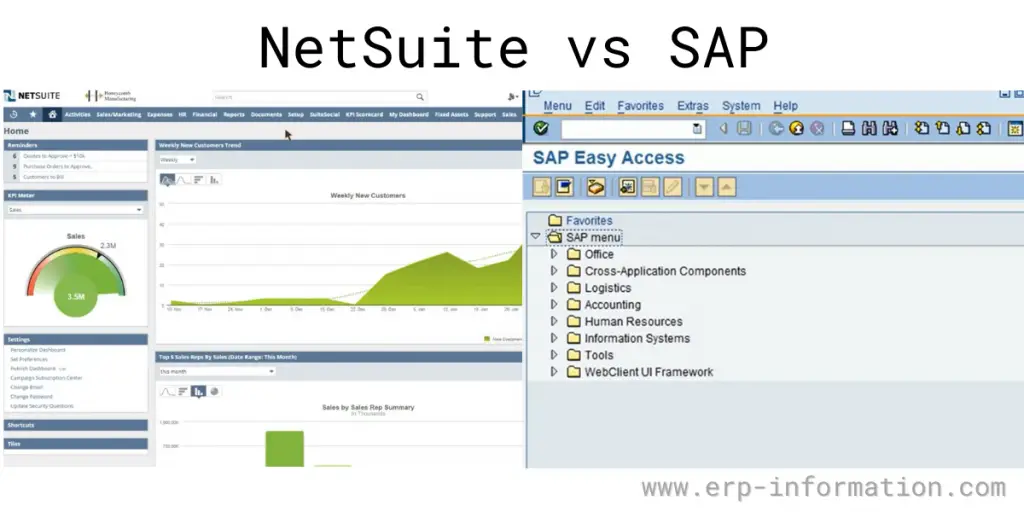 Support
Both NetSuite and SAP offer high-quality support services, but there are some differences between the two companies. For example, NetSuite offers more personalized support, while SAP has more comprehensive support options.
NetSuite provides two types of the support plan.
Basic – Customer will get essential support with a subscription that includes online support
Premium – You need to pay extra for this support that includes 24/7 support, support on weekends, advanced notification
SAP support includes
24/7 support for critical issues
Support through support launchpad
Proactive and automation support tools
Free updation of a new version of the software
If you're looking for a more responsive and easier to work with the support team, NetSuite is the better choice. However, if you don't mind working with a less responsive support team, SAP may be better.
Customization
NetSuite and SAP both offer good customization features. For example, SAP provides an easy-to-use dashboard by keeping end-users in mind. But you need to modify the code for customization. On the other hand, NetSuite enables you to customize forms, records, and KPIs without changing the code.
Analytics and Reporting
Both software platforms offer different advantages and disadvantages regarding analytics and reporting. It depends on your needs as to which platform would better fit.
If you need more customization options and the ability to create your reports, SAP may be the better option.
However, NetSuite may be better if you need an easy-to-use platform with a wide range of pre-built reports.
Some other key differences between NetSuite and SAP
NetSuite
---
More affordable
Can be deployed faster
Easier to learn and use
SAP
---
Has a more extensive customer base
More widely used in large enterprises
More established and reputable
Conclusion
Choosing the proper enterprise resource planning (ERP) system can be daunting. This comprehensive guide will help you decide if NetSuite or SAP is the best solution for your business.
We've compared features, pricing, and customer support to help you decide. But, in the end, it comes down to what matters most to your business.
If you're a small to medium business and you prioritize customization and scalability, NetSuite is the better choice. However, if you're a large enterprise and need industry-specific functionality, SAP is a better option.