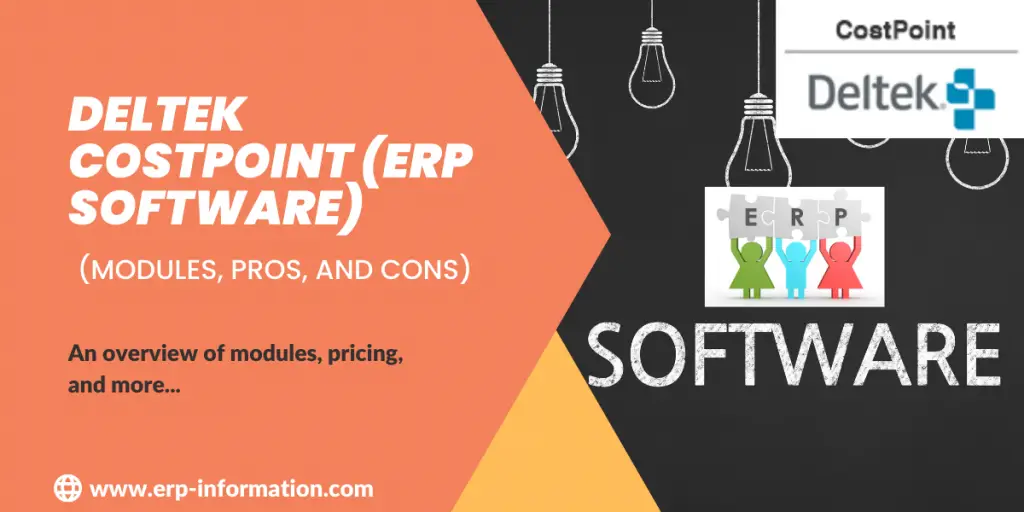 Deltek Costpoint is a popular ERP software, but what are the modules, pros, and cons?
It is a comprehensive ERP software that can handle various business needs, but is it the right fit for your company?
This blog post will cover the Deltek Costpoint modules, pros, and cons to decide whether this software is right for your business. So if you're considering Deltek Costpoint for your business, read on to learn everything you need to know!
New version: Deltek Costpoint 8.1.9
Release date: June 23, 2022
What is Deltek Costpoint ERP?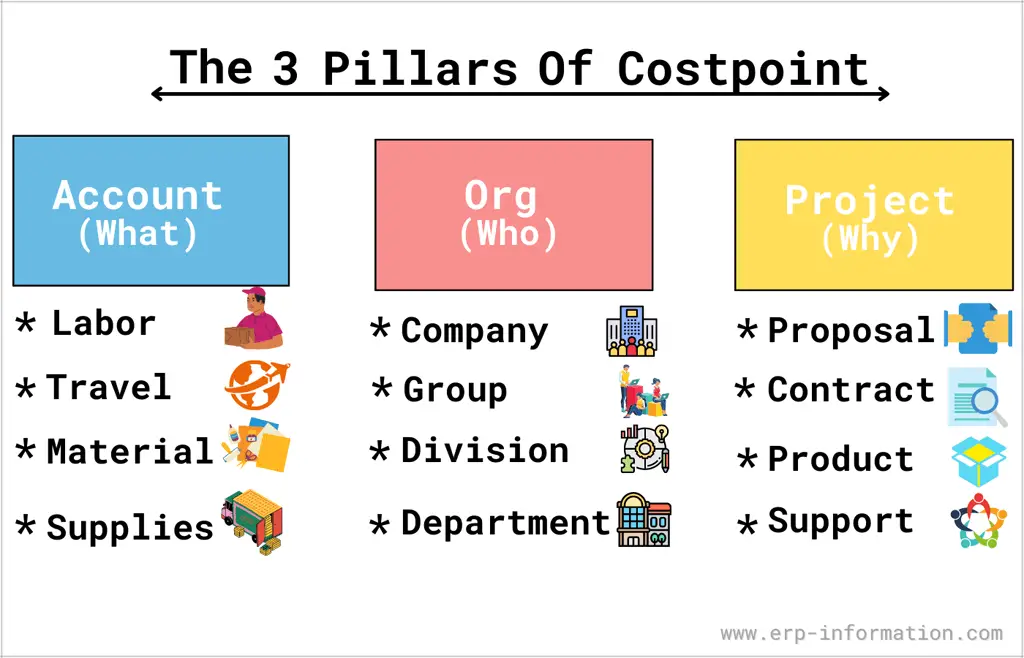 It is a cloud enterprise resource planning (ERP) software built for government contractors. It offers single data entry and real-time visibility of financials, projects, people, and more to help you stay on time and under budget with your project ledger.
Deltek's integrated platform provides a solution for every aspect of government contracting to help you streamline your processes and keep your team on the same page.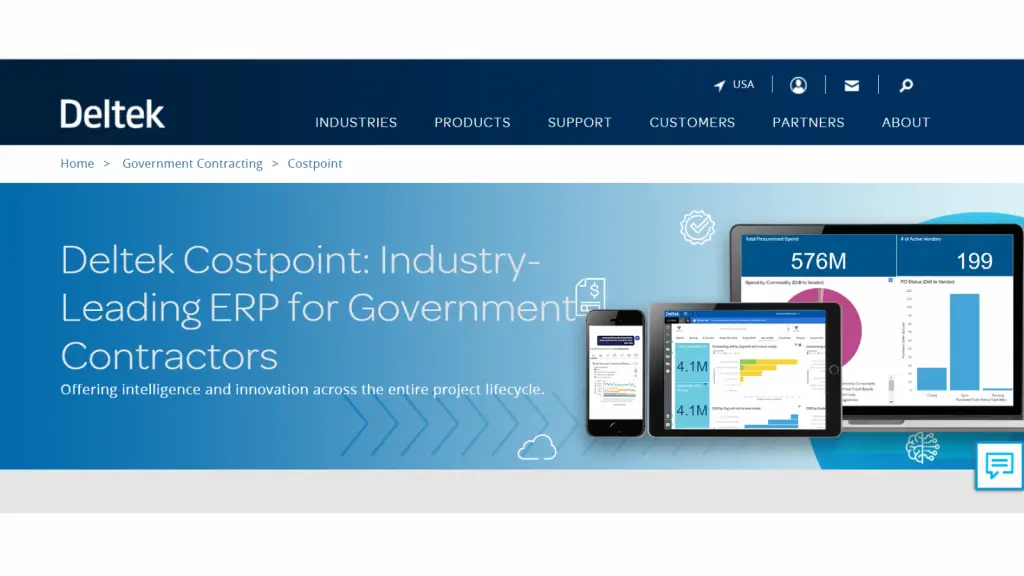 Solution for Government Contractors
It is engineered for government contractors to support contract management best practices and government regulations, such as compliance with Federal Acquisition Regulations (FAR) and Generally Accepted Accounting Principles (GAAP).
It integrates seamlessly with Deltek's Time Collection and Human Capital Management software solutions.
Deltek Costpoint Modules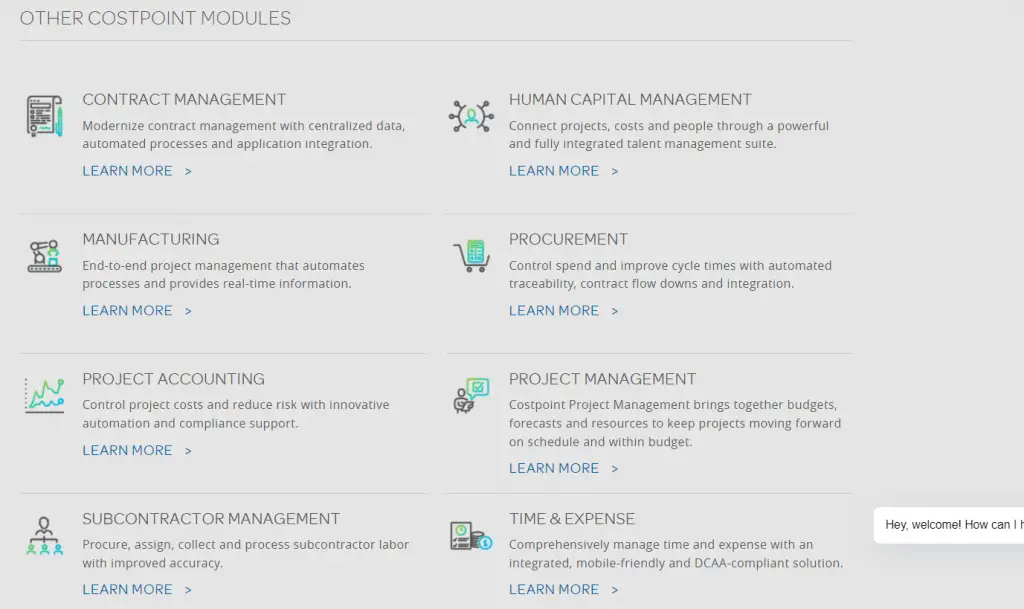 Browse Applications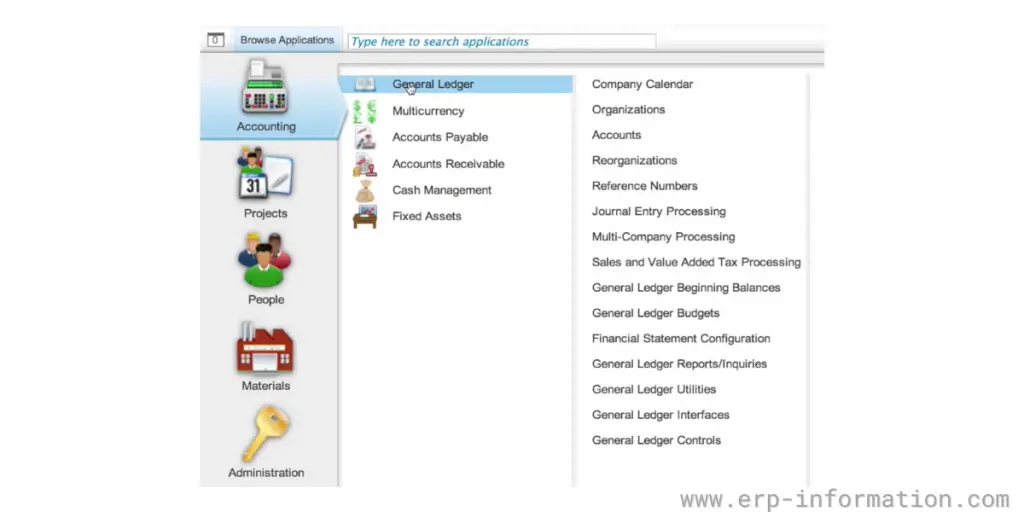 Financial Management
It provides real-time visibility into your financials, projects, and people in a single solution. Deltek Costpoint ERP's financial management features include the following:
General Ledger
Accounts Receivable/Billing
Account Payables and Purchase Orders
Bank Reconciliation
Expense management (The project-based businesses can also take advantage of its time and expense management features to help them stay on top of their projects.)
Contract Management
Deltek Costpoint ERP is engineered to support contract management best practices, including compliance with FAR and GAAP. In addition, it integrates with Deltek's Time Collection Software and HCM software solutions.
This ERP helps project managers stay on time and under budget by providing budgets, costs incurred to customers or subcontractors, and direct labor hours billed to customers or subcontractors.
This gives managers real-time visibility into their projects, including project budgets, contract changes, and real-time reporting.
Deltek Time Collection Software
Deltek Time Collection software is a cloud-based time-tracking solution that helps contractors manage their time and projects.
Business Intelligence with Deltek Costpoint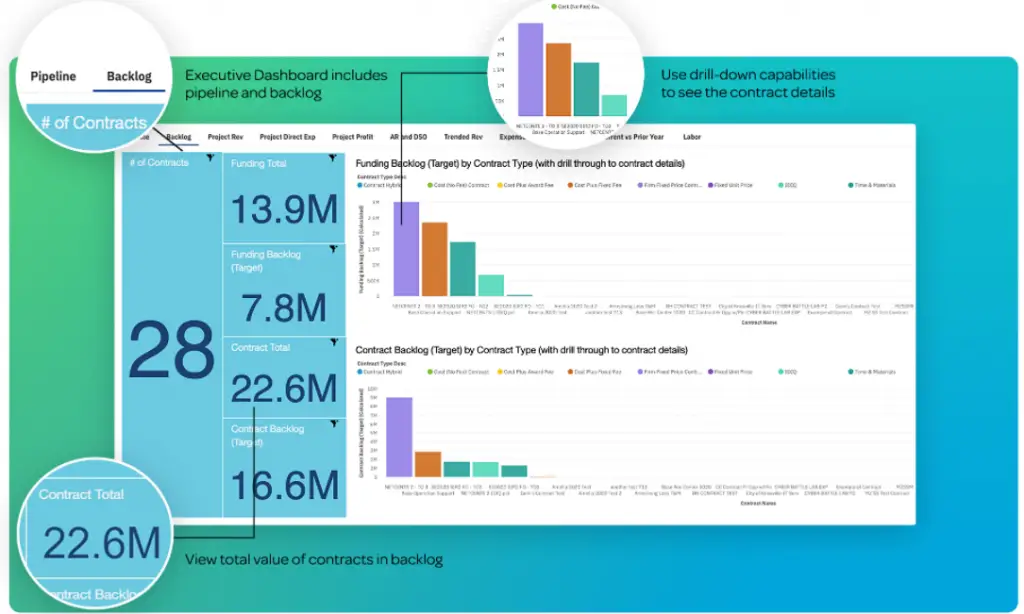 Government contractors can use data analytics to see dashboards and reports, automate the workflow with AI (Artificial Intelligence) and ML(Machine Learning), data-backed decision-making, and intelligent project management.
Deltek Human Capital Management (HCM) Software
Deltek's HCM software is a cloud-based human resources solution that helps contractors manage their people and projects.
Pricing
It has not disclosed the accelerated pricing. To get the pricing details, contact the vendor.
Front and back suites start at $30/user/month.
The full suite starts at $46/user/month.
Implementation
Costpoint offers a convention implementation plan for government contractors. That includes
Complete testing plans
Expandable platform
Less risk of implementation from data relocation
Industry-based platform configuration
Also, consultant teams and project managers help the customers install, customize, integrate the software, and train employees.
Services and Supports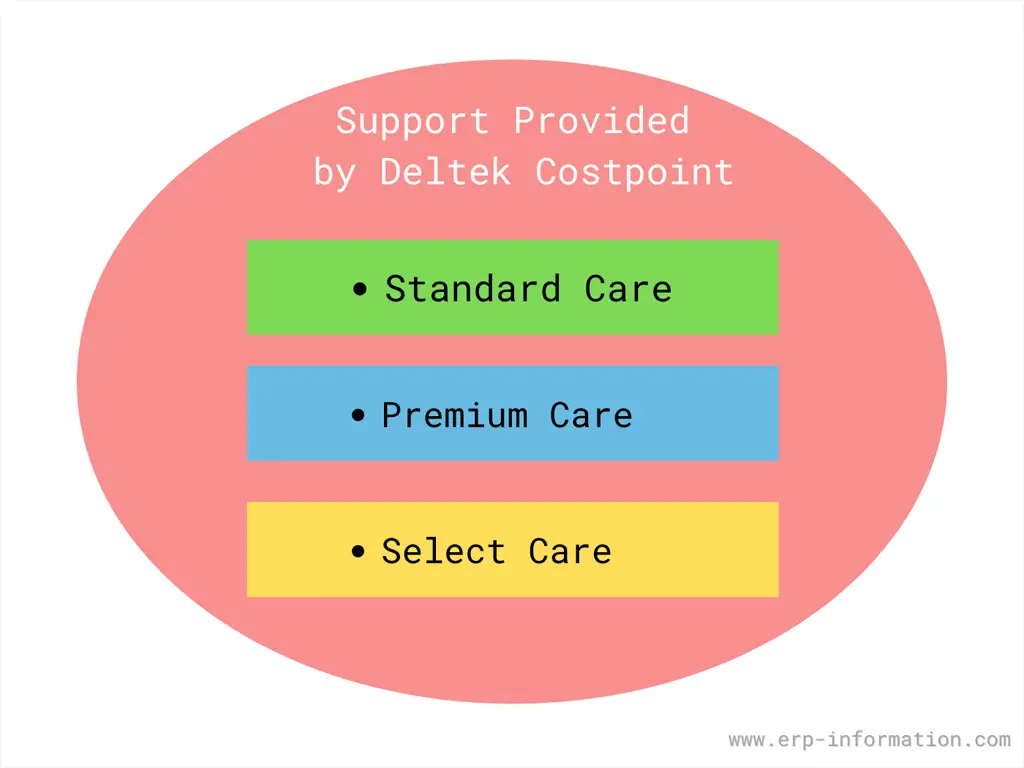 Deltek Costpoint offers three types of customer support
Standard Care: With this type of support, customers will get help online and by email within 24 hours during working hours. It provides unlimited support for the first 120 days and then supports 15 cases yearly. It also provides four permitted support contacts and new releases.
Premium Care: It provides all features of standard care, with that customers get phone support, extended business hour support, and support for unlimited cases. Customers also get six permitted support contacts.
Select Care: It provides premium features and a dedicated customer support manager. In addition, it provides 24/7 professional services support and 15 permitted support contacts.
Advantages
Enhances operational efficiency
This ERP solution allows the business to turn a complicated process into a simple process. With the help of valuable features, companies can automate their departments, project budgeting, and forecasting to increase their profits.
Increases visibility
It allows companies to analyze their profit with the help of comprehensive features. Hence companies can have clear visibility to make business decisions.
Simplifies HR process
Costpoint offers a single integrated solution. Hence companies can have a simple HR process from recruitment to enrollment.
Has robust architecture
Its robust web service architecture makes the integration easy. So the Deltek software can be easily deployed and executed in all production environments.
Industry-leading solution
Deltek is the market leader in providing ERP software to government contractors. So, it has gained a deep understanding of these businesses' specific needs and challenges.
Disadvantages
While working with the software, you will get more frequent and unhelpful messages.
You can attach the report only in the form of a PDF. If you want to take a picture of any receipt, you will not get it in the form of a PNG or JPG directly.
To take an expense report, you need to enter data many times.
What Industries Does it Support?
It supports industries such as,
Accounting and CPA
Architecture, Engineering, and Construction (AEC)
Energy
Management and IT Consulting
Nonprofit
Aerospace and Defense
Engineering Procurement Construction
Government Contracting
Marketing Agencies
Deltek Costpoint Alternatives
If you're not sure this is the right ERP software for your business, you may consider these alternatives.
Costpoint Customers
Following are the few customers,
Aero Simulation
BGI LLC
Digital Consulting Services
Technology Management Company
LogiCore
Sealaska Government Services
GHD
Deltek Vision vs Costpoint
Deltek Vision and Deltek Costpoint are both ERP software solutions offered by Deltek. They both have features that can benefit businesses but also have some differences.
| | |
| --- | --- |
| Deltek Vision | Deltek Costpoint |
| It is more suited for manufacturing, distribution, and retail businesses. It offers features like inventory management, purchasing, and sales order processing. | It is more geared towards companies in the service industry, such as architecture and engineering firms. It offers project management, time and expense tracking, billing, and invoicing. |
| It may be a better choice for businesses looking for an ERP solution with comprehensive manufacturing and distribution functionality. | It may be better for businesses that need robust project management and time-tracking features. |
| It offers a free trial; Deltek Vision is less expensive than Deltek Costpoint. | It does not offer a free trial and is slightly Deltek cost more expensive per user than Vision. |
| It is offered as a subscription | It can be purchased as a one-time license |
FAQs
How do I log into my Deltek timesheet?
To log into your Deltek timesheet, go to the link https://cp.caci.com/cpweb/cploginformmobile.htm?system=CPPROD. You will then be able to enter your username and password.
How would you do Deltek enterprise costpoint login?
You will find the login option here, Url: https://www.deltek.com/en-gb/partners/login.
How do I make a Costpoint on a timesheet?
To make a Deltek Costpoint on a timesheet, you must log in to your Deltek account. Once logged in, go to the "Timesheets" tab and select the week you want to enter Costpoints. Then, click the "Costpoints" button in the top toolbar. This will open the "Costpoint" pane to enter your Costpoint for the week.
Conclusion
Deltek Costpoint is a powerful ERP software that can help businesses manage their finances and operations more efficiently. It offers a wide range of features and several pricing and licensing options.
Getting started with Costpoint is easy, and many alternatives are available if it doesn't meet your needs.
Reference: