Contracts are a critical part of any business. They dictate the terms and conditions of a relationship between two or more parties and can be highly complex documents.
That's why having a good contract lifecycle management system is essential.
This blog post will discuss the ten best CLM software solutions today. Then, we'll take a look at their features and pricing so that you can find the right one for your business.
What is a CLM Solution?
CLM solution means contract lifecycle management software helps businesses automate creating, negotiating, and signing contracts. It can also help with storing and managing signed contracts. As a result, automating contract-related tasks can save businesses time and money.
Why do you need a CLM Solution?
A CLM solution can help businesses streamline their contract management processes. It can also help companies to save time and money by automating contract-related tasks. It can also help enterprises to keep track of signed contracts and comply with the contract terms.
Discover the must-have features of a top-notch CLM solution:
Contract templates: Easily create contracts with pre-designed templates.
Contract management: Effortlessly keep track of all your signed contracts.
Electronic signatures: Streamline contract signing with convenient electronic signature functionality.
Best contract lifecycle management vendors
There are many contract lifecycle management systems on the market today. Here are ten of the best CLM solutions.
1. LinkSquare
Go with LinkSquare for better legal agreements. The software lets you store your contracts in a single repository and provides real-time reports. In addition, it manages contracts with top companies like Cognate, Tango, DraftKing, Wayfair, etc.
Features
Crisis management
Review
Storage
Data privacy and compliance
Deal acceleration
Third-party paper management
Analysis
Screenshots of LinkSquare feature
Likes
Simple and intuitive software
Provides good customer support
Analyze tools provide easy scanning of contracts for key terms and phrases
Dislikes
Its pre-contracting solution is not good
It provides more and more notifications even if it is not necessary
Less ways to map multiple dynamic languages
Inability to search for agreements
Expensive
Other details
2. PandaDoc
PandaDoc is a cloud-based CLM solution that provides SOC 2Type two compliant and regular external audits. In this way, it gives great security to your data.
Features
Legally binding e-signatures
Activity tracking and notifications
Payments
Mobile apps
Audit trail and document analytics
Public and custom templates
Drag and drop document editor
Content library and locking
Single sign-on support
Screenshots of the PandaDoc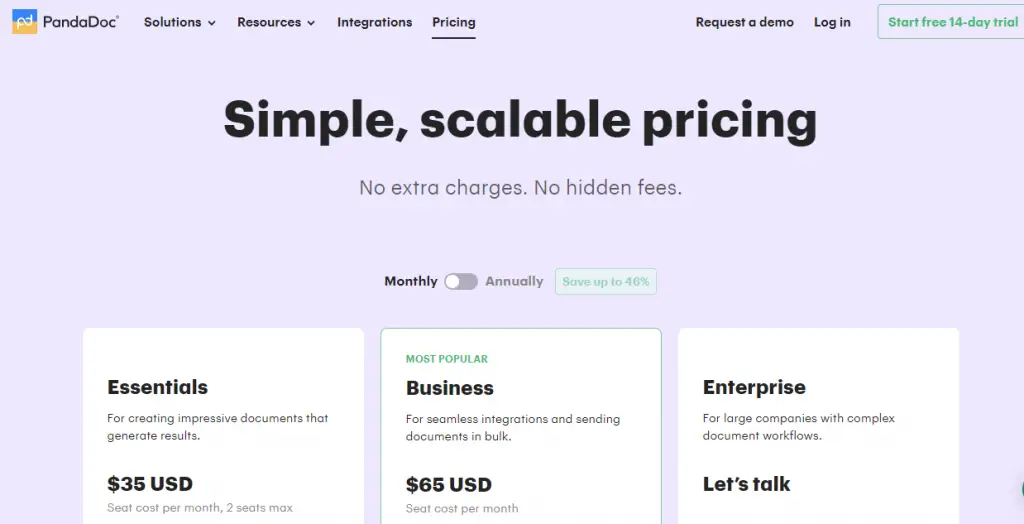 Likes
The software provides good security and compliance for data
It allows you to create and manage the entire workflow of sales documents, from proposals to contracts
It offers free of charge e-signature feature
It provides 24/7 customer support for paid plans
Dislikes
Unavailability of Content library and locking for free plan
Forms and bulk send features charge extra costs
Unsatisfied view to the integrations
The UI is clunky
Other details
3. DocuSign
It started as an e-signature company and now provides CLM capabilities for businesses. It is perfect for small and real estate businesses and is well-known as easy-to-use software.
Features
Real-time audit trail
Top-rated mobile apps
Automate reminders and notifications
Reusable templates
Shared documents
Shared templates
Team reports
In-person e-signatures
Customized branding
DocuSign feature
Likes
You can easily send DocuSign agreements from its platform or Salesforce.
It provides 24/7 chat support.
It offers a 30-day free trial without a credit card.
Dislikes
The user interface is not good
It is expensive
Workflow setup will be complicated initially
Other details
4. Evisort
Evisort provides a good contract intelligence platform that helps to focus more on strategic work, enhances profitability, decreases risks, and increases business agility. Intelligent dashboarding lets you view your agreement data and encapsulate key metrics.
Features
Automation
Analytics
Repository
Integrations
Security and data privacy
Screenshots of Evisort feature
Likes
It provides actionable insights.
Provides transparency into contract status and progress
It offers good customer support
Dislikes
It is a little bit confusing while learning
Poor platform implementation
Poor AI intake of documents
Other details
5. Conga contracts
Conga contracts is a complete solution for revenue lifecycle management that allows companies to create, track, maintain, and report on business agreements. It provides solutions for business operations, finance, sales, legal, and procurement departments.
Features
Conga CLM
Conga contracts
Contracts for Salesforce
Contract intelligence
e-Signature
Some screenshots of Conga
Likes
A good solution for simplifying the complicated process, handling risks, and reducing cross-team friction
You can extract data easily and view all your deals with the help of the contract intelligence feature.
You can easily do contract negotiation
Dislikes
Some of the document templates are not customizable
Configuration is complicated
Migration is complicated
X-Author is unintuitive
Implementation is complicated
Other details
6. Icertis Contract Management
Icertis Contract Management software is a cloud-based solution that helps businesses manage their undertakings. It offers compliance, audit history, contract creation, negotiation, and signing. The software also provides users with notifications and reporting tools to help them better understand their settlement data.
Features
Intelligent contract setup
Contract operations
Governance, Risk, and Compliance
Reporting and dashboards
Contract creations
Notification and reminders
Contract templates
Screenshots of Icertis
Likes
It integrates large platforms like Salesforce, Adobe, SAP, etc.
It provides a flexible configuration.
Good contracts repository
Good handling of complex approval logic
Dislikes
The customization process is complicated and tedious.
Poor customization
Poor integration with other systems
Poor user interface
Some features are unnecessarily limiting
Other details
7. Contract Works
Contract works is an intuitive solution for contract lifecycle management. It provides valuable insights into your agreements by custom reports.
Features
Pact Repository
Reporting and alerts
Search and review
Security
Screenshots of Contract works
Likes
It provides a pricing plan for unlimited users
It provides 24/7 customer support
Dislikes
It does not provide mobile apps
Inability to network with other software
Limited AI support
Unable to archive bulk expired contracts
8. SirionLabs
SirionLabs is a simple and intelligent platform for managing the agreement lifecycle. It provides a solution for legal, sales, procurement, finance, HR, and It departments.
Features
CLM
Contract set up
Pact Repository
Contract analytics
Authoring and negotiation
Contract review
E-signature
Contractual obligation management
Dashboards and reporting
Screenshot of Siron Labs
Likes
Provides user-friendly dashboards and reporting
It manages all the covenant obligations in one place
It provides good customer support
Dislikes
Migration of a subfolder contract to another contract on the same supplier is impossible. For that, you need to recreate the folder.
Implementation of the governance module is not so easy
Contracts cannot be arranged chronologically
It is expensive
It is extensive and requires time and effort for familiarization
Other details
9. Agiloft
Agiloft is a robust contract management software that helps businesses automate their dealing processes. This CLM software is a built-on no-code platform. In addition, it provides fully customizable functionalities.
Features
Treaty Repository
Clause libraries
Approval workflows
Security
Compliance
Buy and sell-side
Alerts and performance tracking
Artificial Intelligence
Screenshot of Agiloft
Likes
The software is easy to set up and configure.
It offers in-house and cloud deployment with the same subscription price, support, and upgrade.
Dislikes
With more customization options, working with the software will be confusing
Multi-language support is not available for the professional pricing plan
Unnecessary integrations are found
UI change created challenges for the end-users
Poor reporting features
Other details
10. LEXION 
Lexion is an easy-to-use contract management software that allows the operations team to quickly review the legal, HR, procurement, finance, and security contracts.
It automates their busy tasks with the help of Natural Language Processing technologies. It also provides an email-centric approach and legacy contract onboarding for easy implementation and adoption.
Features
Accelerate contracting
Scale business
Easy Adoption
Centralized dashboard
Integration with email, SLACK, Salesforce, and more
Intuitive automation
A-I powered repository
Screenshots of Lexion
Likes
User-friendly
Useful in task management and organization
Integrations available
Good customer service
Dislikes
Problems with the data migration process
Reports on insights unavailable
Glitches with notification emails
Problems with AI 
Other details
FAQs
Conclusion
When choosing a CLM solution, it is crucial to consider your business needs. You should also consider the features and pricing of the different solutions. A free trial can be an excellent way to try before committing to it.
The above blog post outlines the ten best CLM software solutions today. In addition, it discusses their features and pricing so businesses can find the right one for their needs.
Reference