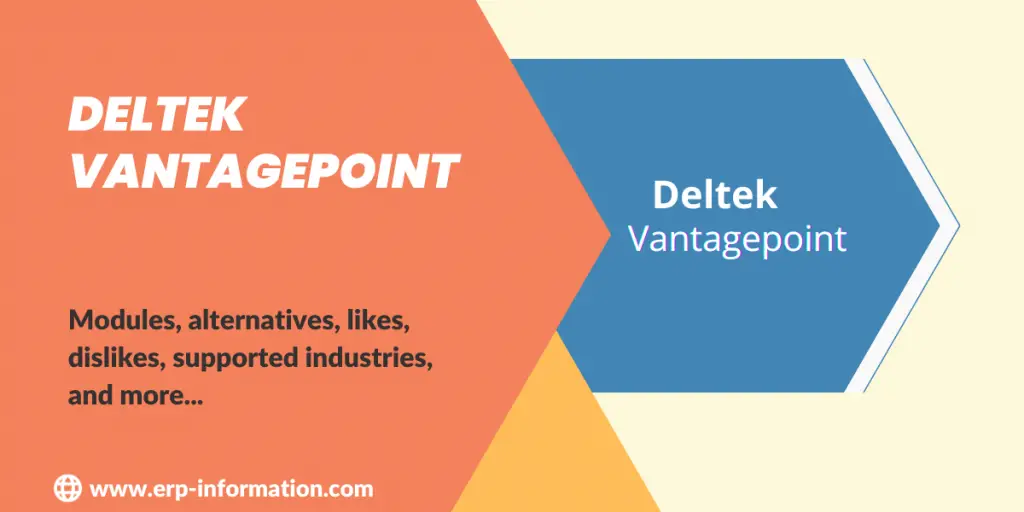 In the complex and dynamic world of project-based businesses, finding a tool that allows for efficient management is of utmost importance. One such tool that has emerged in recent years is Deltek Vantagepoint.
This blog post aims to explore this software in detail, understanding its modules, capabilities, pricing details, and how it fits into the larger landscape of project management tools.
We will delve into its pros and cons, providing an unbiased view to help you determine if it could be a valuable asset for your business needs.
New version: Deltek Vantagepoint 6.0.5
Release Date: September 4, 2023
What is Deltek Vantagepoint?
Deltek Vantagepoint is a comprehensive project and financial management solution designed to streamline business processes for the professional services industry.
It aims to provide complete visibility into every aspect of business, enabling better, faster, and more informed decision-making.
It provides a centralized location for all project-related data, including schedules, tasks, resources, budgets, and documents.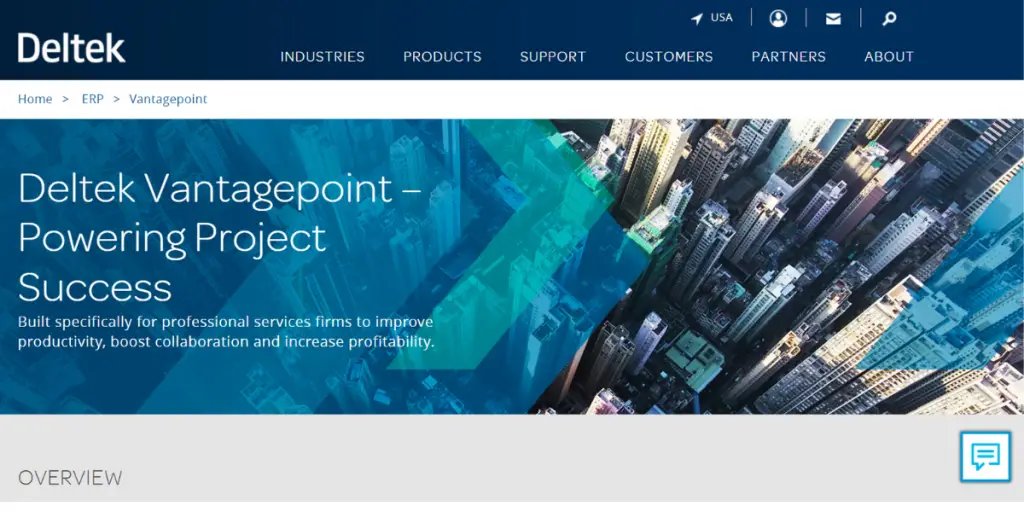 Pricing
Regarding pricing, Deltek does not publicly disclose the cost of VantagePoint on its website. It offers a free trial. Pricing is likely dependent on the specific needs and size of the business. For accurate pricing details, contact Deltek directly.
Deployment and Scalability
Deltek Vantagepoint can be deployed on-premise or in the cloud. The on-premise deployment option requires a one-time payment, while the cloud-based deployment is subscription-based.
It is a scalable software solution that can be tailored to meet the needs of any size organization.
Modules
Deltek Vantagepoint offers a variety of modules to help you manage your projects more effectively. They include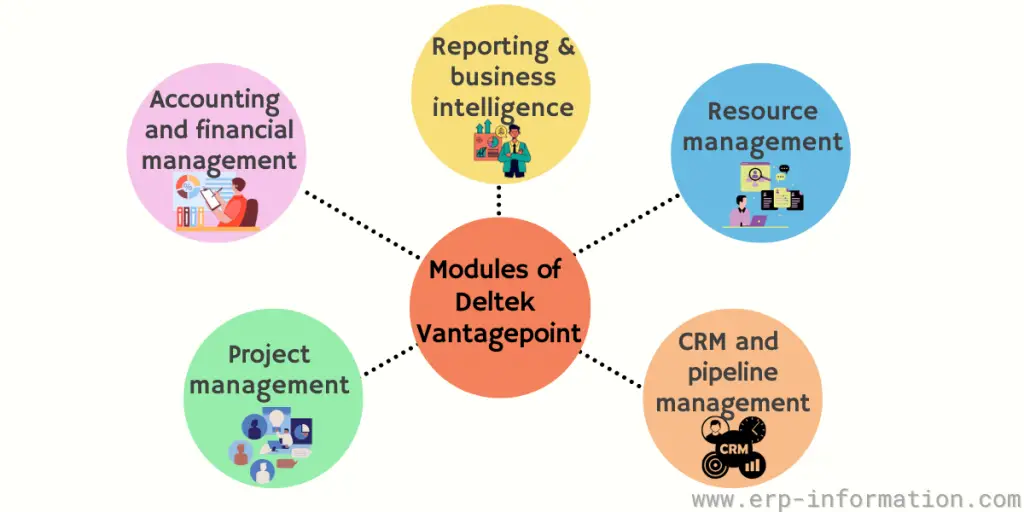 Accounting and Financial Management
Deltek Vantagepoint offers a variety of accounting and financial management features to help efficiently capture time and expenses.
You can speed up payments using interactive billing tools and keep track of your projects' finances.
CRM and Pipeline Management
CRM and pipeline management features will help you keep track of your sales pipeline and nurture your leads through the sales process.
A mobile business card scanner allows for creating a new contact or updating existing contact records.
Project Management
The project command center gives you complete visibility into your entire project.
The project lifecycle helps you reduce schedule and cost overruns, make project planning, find risks, prepare for changing demands, expedite invoices to exceed expectations, and ensure that they are completed on time and within budget.
Reporting and Business Intelligence
You can tailor Deltek Vantagepoint's reporting to meet your specific needs. You can choose which data to include and customize the layout and format of your reports. The software provides role-based dashboards and rich visual analysis.
Resource Management
Its resource management features will help you identify the best resources for your projects based on expertise and availability, create good project plans with real resources, and optimize resource usage.
Industries Supported By Vantagepoint
Vantagepoint mainly serves two industries they are,
1. Architecture and Engineering Firms
Deltek Vantagepoint is a powerful project and financial management tool for A&E firms. It gives firms a holistic view of their projects, helping them to be more productive, collaborative, efficient, and profitable.
2. Consulting Firms
Deltek Vantagepoint is a complete engagement management solution for consulting firms. It gives firms the tools they need to succeed, from start to finish, by providing a holistic view of all engagements and insights that help firms make better decisions.
The software is quite helpful for both industries and has distinct features that make it unique from its competitors.
Other Details
Languages supported
Vantagepoint supports German, English, Dutch, Portuguese, and Spanish.
Vantagepoint integration
Vantagepoint integrates with popular software such as Microsoft Office 365, SharePoint, and Dynamics CRM, allowing a seamless user experience.
Likes
The reporting feature provides a filter button.
You can change the time in the timesheet, which is wrongly mentioned.
It allows you to add your own hub.
It provides a single source of truth. You can easily share the information across your organization.
The resource planning tool is good compared to other project management tools.
It offers user-friendly mobile options.
The user-defined fields and custom hubs are useful.
Allows you to review projects and their profitability.
Dislikes
Formatting reports is difficult.
You can't pull the reports from multiple grids.
Poor usability.
There is no dedicated community area to share dash parts, dashboards, and invoice formats.  
Poor custom proposals.
You will not get all the data in the same place, and you need to open 3-4 reports to get all the data and combine them in another platform like MS Excel.
Poor customer support.
Setting up a project takes more time. You need to open many screens to set up a project.
Expensive software for small and mid-sized companies.
Difficult to search and navigate online documentation.
The reporting feature could be better.
Difficult to use for a non-accounting person.
CRM module is embedded with the role, so to have full access, you need to have a CRM license even if you don't want that module.
The screen layout is limited to 3 columns, which makes your screen too long.
Vision to Vantagepoint Upgrade Process
If you are already using Deltek Vision and it works for you, then it could be beneficial to move to Vantagepoint.
The upgrade process steps from Vision to Vantagepoint include the following steps.
Backup your Vision database
Install the new Vantagepoint software
Restore your Vision database to the new Vantagepoint software
Configure your Vantagepoint settings
Verify your data migration
Start using your new Vantagepoint software
Deltek Vision to VantagePoint: Pros and Cons
Pros
New user experience
After upgrading to Deltek Vantagepoint, you'll first notice the new interface. The sleek and modern design is easy on the eyes and makes navigation a breeze. You'll also find that the software is more intuitive and easier to use than ever before.
Extra functions
You'll have access to all the same features you're used to in Vision, plus a few new ones. It provides data migration, seamless transition, reporting, and customization.
Easy to track
One of the most notable new features is custom reporting. With Deltek Vantagepoint, you can tailor your reports to include only the data that's relevant to you. That makes it easy to track your progress and spot any potential problems.
Remote access
Another great new feature is the integration with other software programs. For example, Deltek Vantagepoint can easily connect to accounting, CRM, and project management software. That makes it easy to keep all your data in one place and accessible from anywhere.
Cons
Complex to upgrade
One is that the upgrade process can be a bit daunting. You'll need to back up your data, install the new software, and restore your database.
System downtime and data loss
You may experience some system downtime during the upgrade process. And if something goes wrong, you could lose data.
Overall, though, the benefits of Deltek Vantagepoint far outweigh the drawbacks. If you're looking for powerful and easy-to-use project management software, Deltek Vantagepoint is an excellent option.
Vantagepoint Alternatives
Vantagepoint competitors are,
Procore
Smartsheet
CoConstruct
Base
FAQs
Does VantagePoint offer a free trial?
Yes, Deltek Vantagepoint offers a free trial. To sign up for the free trial, visit the Deltek Vantagepoint website and click on the "Free Trial" button. You will need to provide your contact information and create a password. Once registered, you will have access to the software for 14 days.
What is VantagePoint API?
The Vantagepoint API provides broad coverage of the Vantagepoint solution, including access to information stored in configuration, the hubs, and access to transaction-related functions.
What is Deltek Open Plan?
Deltek Open Plan is a software program that helps project-based businesses manage their finances and resources. It enables project managers to plan and track their projects. 
It provides features like multi-project analysis, critical path planning, resource management, and Risk analysis to create budgets, track project costs, and assign resources to specific tasks. 
Open Plan also provides reporting features that help business owners measure their financial performance and make better project decisions.
It enhances project planning via rapid data entry and analysis.
Conclusion
Deltek Vantagepoint is a project management software option offering many benefits, including custom reporting, seamless integration with other software, and an easy-to-use interface.
Whether VantagePoint is suitable for your business depends on your specific needs and you can decide that after considering the advantages and disadvantages outlined in the article.
References: