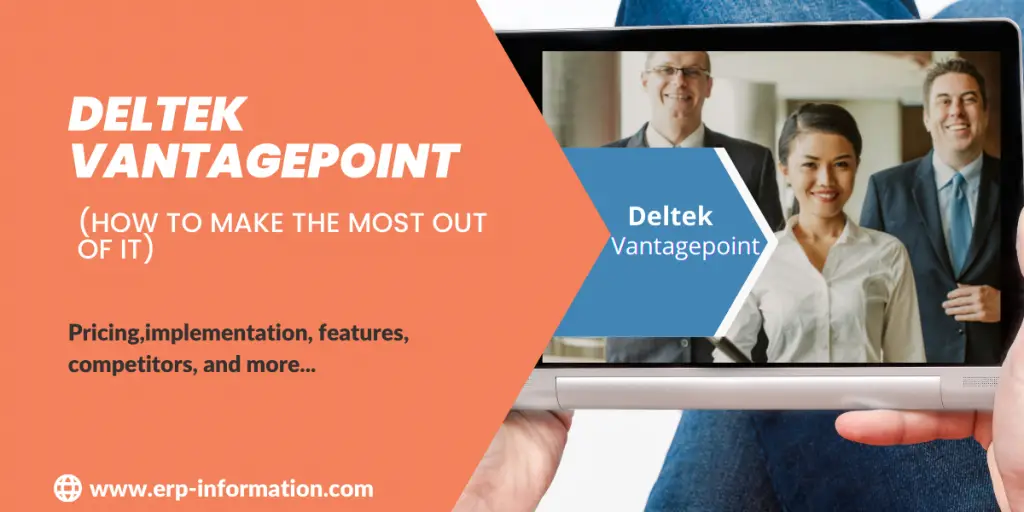 Deltek Vantagepoint is a powerful project management software that will help you streamline your workflow, keep track of deadlines, and ensure your projects are always on their way.
This post will provide Deltek Vantagepoint reviews, including its features, pricing, and implementation details.
New version: Deltek Vantagepoint 5.0.3.3
Release Date: July 18, 2022
What is Deltek Vantagepoint?
It is a project management software that helps project managers to plan, manage, and report on projects. It provides a centralized location for all project-related data, including schedules, tasks, resources, budgets, and documents.

Vantagepoint also includes features for risk management and change control. As a result, you can increase productivity and enhance profitability. In addition, it can be used to generate reports in various formats, including Gantt charts and earned value analysis.
Area of interest
Vantagepoint mainly serves two industries they are,
1. Architecture, Engineering, and Consulting or AEC
Vantagepoint can manage the end-to-end process of an AEC firm, from design to construction to operations.
2. Management Consulting Firms or MCF
Vantagepoint can help you manage the entire project lifecycle, from proposal to invoice.
The software is quite helpful for both industries and has distinct features which make it unique from its competitors like Procore and Wrike.
Pricing options
The software offers a variety of pricing options to meet the needs of any size organization. In addition, products are available on a subscription basis, with discounts available for annual prepaid subscriptions.
The subscription pricing model offers flexibility and predictability, as you only pay for your use. Additionally, subscription pricing includes all product enhancements and technical support.
The individual subscription plan starts at $30/month and includes 5GB of storage. The team subscription plan is $60/month and has 20GB of storage. Custom plans are also available for enterprise organizations.
Implementation
Deltek global consulting service provides full-service, end-to-end solutions that ensure a successful Deltek Vantagepoint implementation. In addition, they provide various packaged options for every firm size and complexity.
Quick launch: This low-cost offering is aimed at small and medium businesses, thus enabling you to quickly and efficiently go live with some Deltek products.
Power launch: The power launch service is for fast-paced organizations that need to implement multiple products quickly or want a more comprehensive rollout.
Customization: The customization service is designed for organizations that want to tailor their Deltek solution to meet specific business needs.
Maintenance: The maintenance service is to help you keep your Deltek products up-to-date and running smoothly.
Deployment and scalability
Deltek Vantagepoint can be deployed on-premise or in the cloud. The on-premise deployment option requires a one-time payment, while the cloud-based deployment is subscription-based.
It is a scalable software solution that can be tailored to meet the needs of any size organization.
Features
Deltek Vantagepoint offers a variety of features to help you manage your projects more effectively. These features include: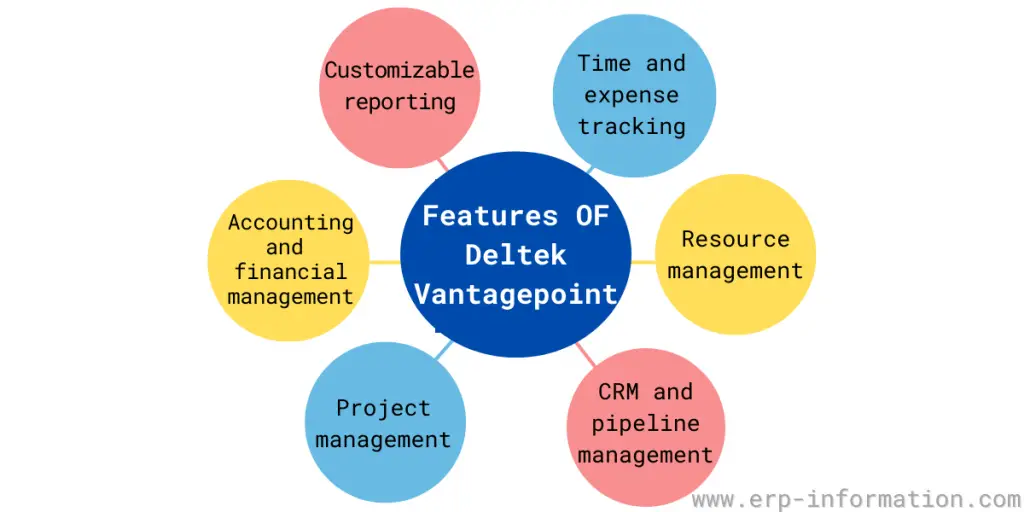 Customizable Reporting: You can tailor Deltek Vantagepoint's reporting to meet your specific needs. You can choose which data to include and customize the layout and format of your reports.
Accounting and Financial Management: Deltek Vantagepoint offers a variety of accounting and financial management features to help efficiently capture time and expenses. You can speed up payments using interactive billing tools and keep track of your projects' finances.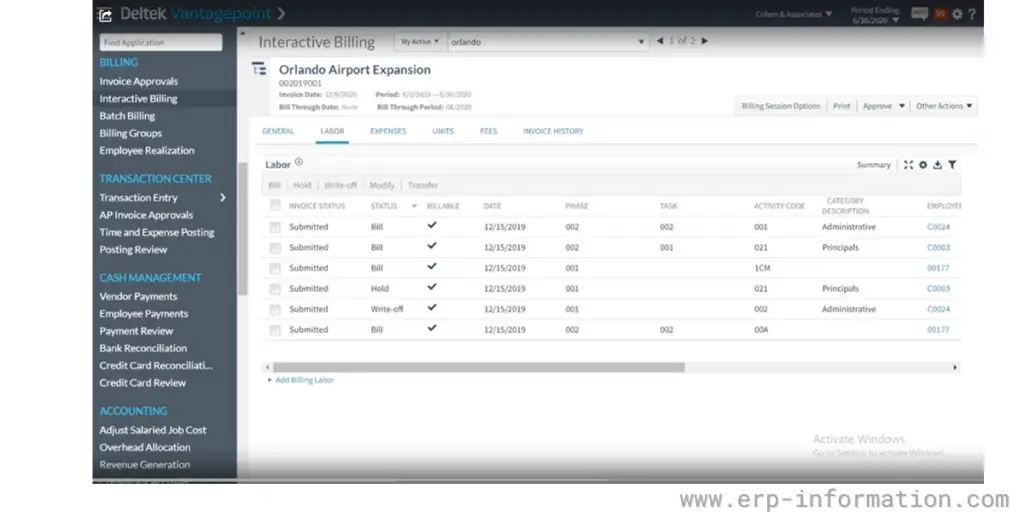 Project Management: The project command center gives you complete visibility into your entire project. The project lifecycle helps you reduce schedule and cost overruns, make project planning, find risks, prepare for changing demands, expedite invoices to exceed expectations, and ensure that they are completed on time and within budget.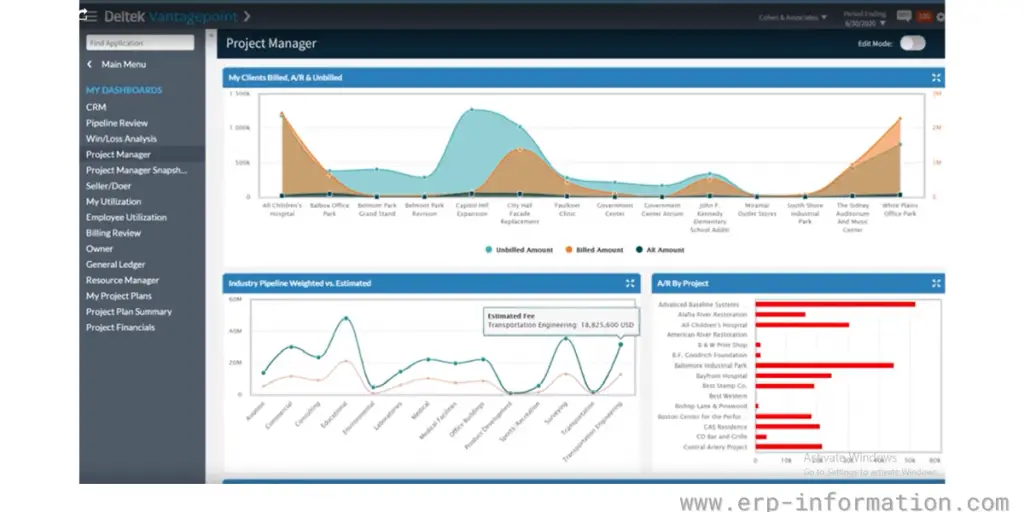 CRM and Pipeline Management: CRM and pipeline management features will help you keep track of your sales pipeline and nurture your leads through the sales process. A mobile business card scanner allows for creating a new contact or updating existing contact records.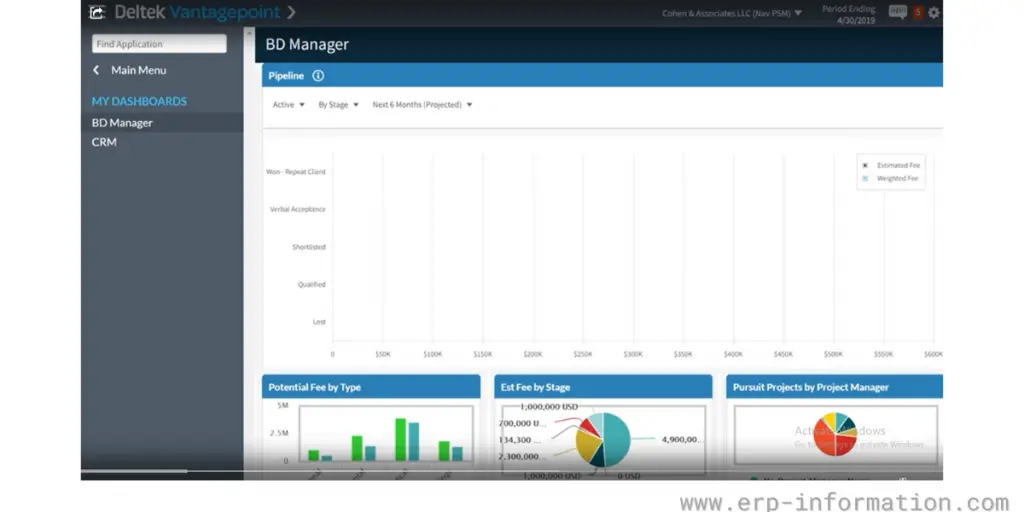 Resource Management: Its resource management features will help you identify the best resources for your projects based on expertise and availability, create good project plans with real resources, and optimize resource usage.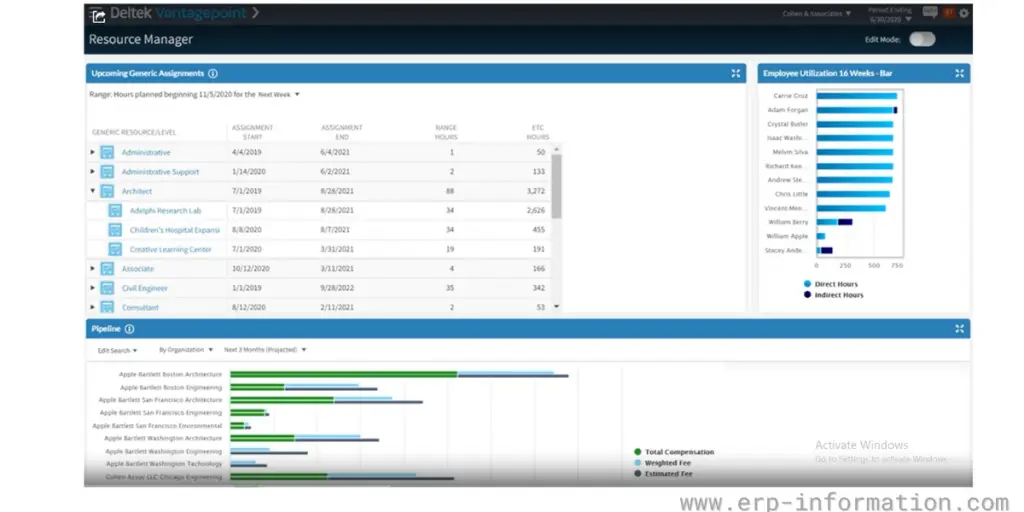 Time and Expense Tracking: Deltek Vantagepoint's time and expense tracking features will help you track your projects' progress and expenses.
Languages supported
Vantagepoint supports German, English, Dutch, Portuguese, and Spanish languages.
Vantagepoint integration
Vantagepoint integrates with popular software such as Microsoft Office 365, SharePoint, and Dynamics CRM, allowing a seamless user experience.
User interface
The Deltek Vantagepoint user interface is designed to be both intuitive and easy to use. The software is web-based so anyone can access it from anywhere, and it features a variety of customization options to suit your preferences.
Vision to Vantagepoint upgrade process
If you are already using Deltek Vision and it works for you, then it could be beneficial to move to Vantagepoint.
The upgrade process steps from Vision to Vantagepoint include the following steps.
Backup your Vision database
Install the new Vantagepoint software
Restore your Vision database to the new Vantagepoint software
Configure your Vantagepoint settings
Verify your data migration
Start using your new Vantagepoint software.
Deltek Vision to Vantagepoint: Likes and dislikes
Likes
New user experience
After upgrading to Deltek Vantagepoint, you'll first notice the new interface. The sleek and modern design is easy on the eyes and makes navigation a breeze. You'll also find that the software is more intuitive and easier to use than ever before.
Extra functions
you'll have access to all the same features you're used to in Vision, plus a few new ones. It provides data migration, seamless transition, reporting, and customization.
Easy to track
One of the most notable new features is custom reporting. With Deltek Vantagepoint, you can tailor your reports to include only the data that's relevant to you. That makes it easy to track your progress and spot any potential problems.
Remote access
Another great new feature is the integration with other software programs. For example, Deltek Vantagepoint can easily connect to accounting, CRM, and project management software. That makes it easy to keep all your data in one place and accessible from anywhere.
Dislikes
Of course, no software is perfect. And there are a few drawbacks to Deltek Vantagepoint.
Complex to upgrade
One is that the upgrade process can be a bit daunting. You'll need to back up your data, install the new software, and restore your database.
System downtime and data loss
You may experience some system downtime during the upgrade process. And if something goes wrong, you could lose data.
Overall, though, the benefits of Deltek Vantagepoint far outweigh the drawbacks. If you're looking for powerful and easy-to-use project management software, Deltek Vantagepoint is an excellent option.
Vantagepoint competitors
Vantagepoint competitors are,
Procore
Wrike
Smartsheet
CoConstruct
Base
FAQs
Does Vantagepoint offer a free trial?
Yes, Deltek Vantagepoint offers a free trial. To sign up for the free trial, visit the Deltek Vantagepoint website and click on the "Free Trial" button. You will need to provide your contact information and create a password. Once registered, you will have access to the software for 14 days.
What is Vantagepoint API?
The Vantagepoint API provides broad coverage of the Vantagepoint solution, including access to information stored in configuration, the hubs, and access to transaction-related functions.
What is Deltek Open Plan?
Deltek Open Plan is a software program that helps project-based businesses manage their finances and resources. It enables project managers to plan and track their projects. 
It provides the features like multi-project analysis, critical path planning, resource management, and Risk analysis to create budgets, track project costs, and assign resources to specific tasks. 
Open Plan also provides reporting features that help business owners measure their financial performance and make better project decisions.
It enhances project planning via rapid data entry and analysis.
Conclusion
Overall, Deltek Vantagepoint is a great project management software option that offers many benefits, including custom reporting, seamless integration with other software, and an easy-to-use interface.
Although the upgrade process can be challenging, it is worth the many advantages. If you are looking for a powerful and user-friendly project management solution, Deltek Vantagepoint is the right choice.
References: