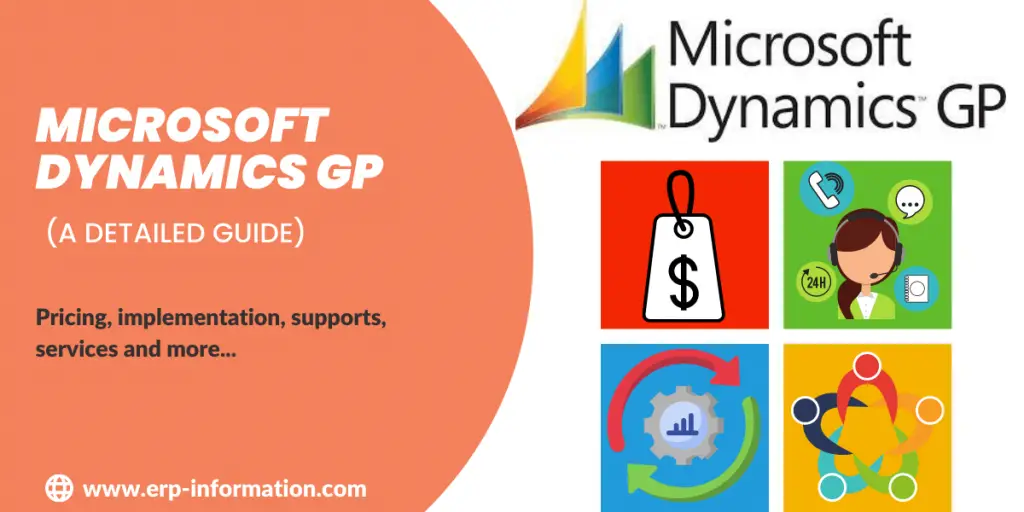 Cloud ERP is one of the essential ERP technologies currently available. It replaces hard drives and tape drives in your company's computer systems.
This post comprehensively details Microsoft Dynamics GP, its pricing, features, and limitations.
New version: Microsoft Dynamic GP 18.4
Release date: July 3, 2022
What is Microsoft Dynamics GP?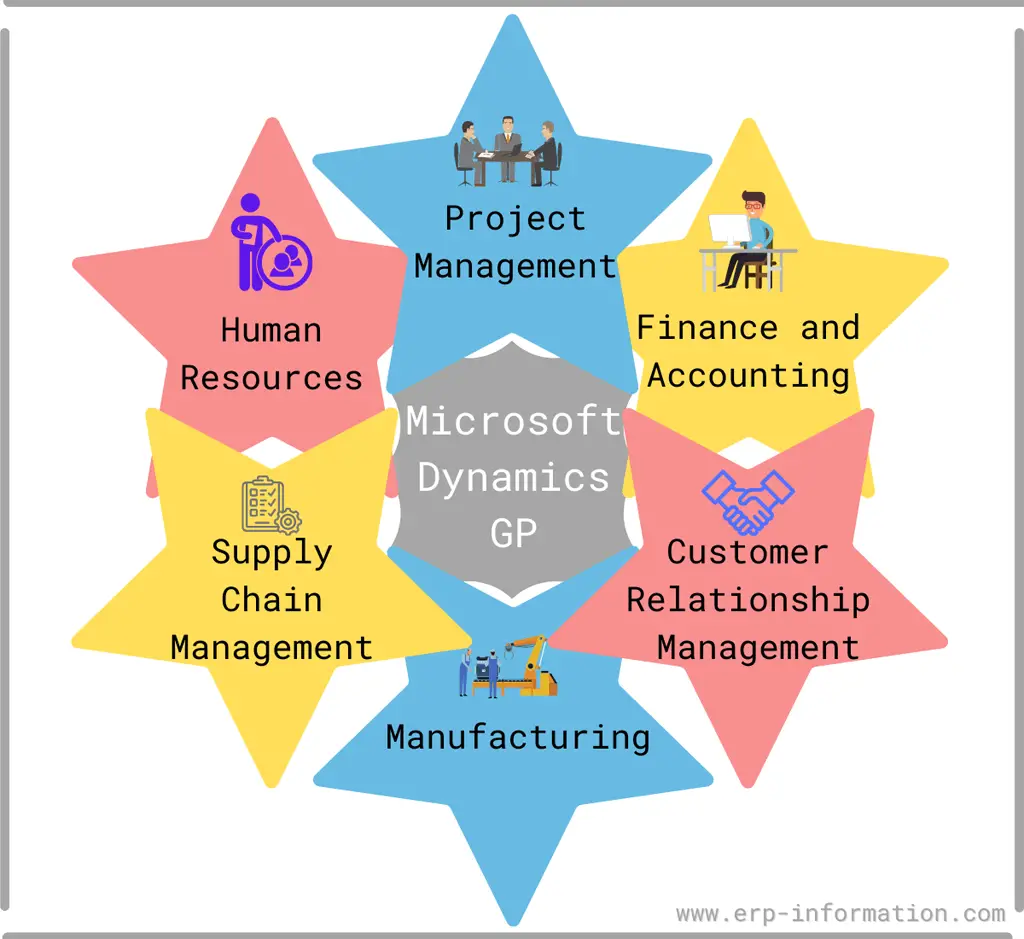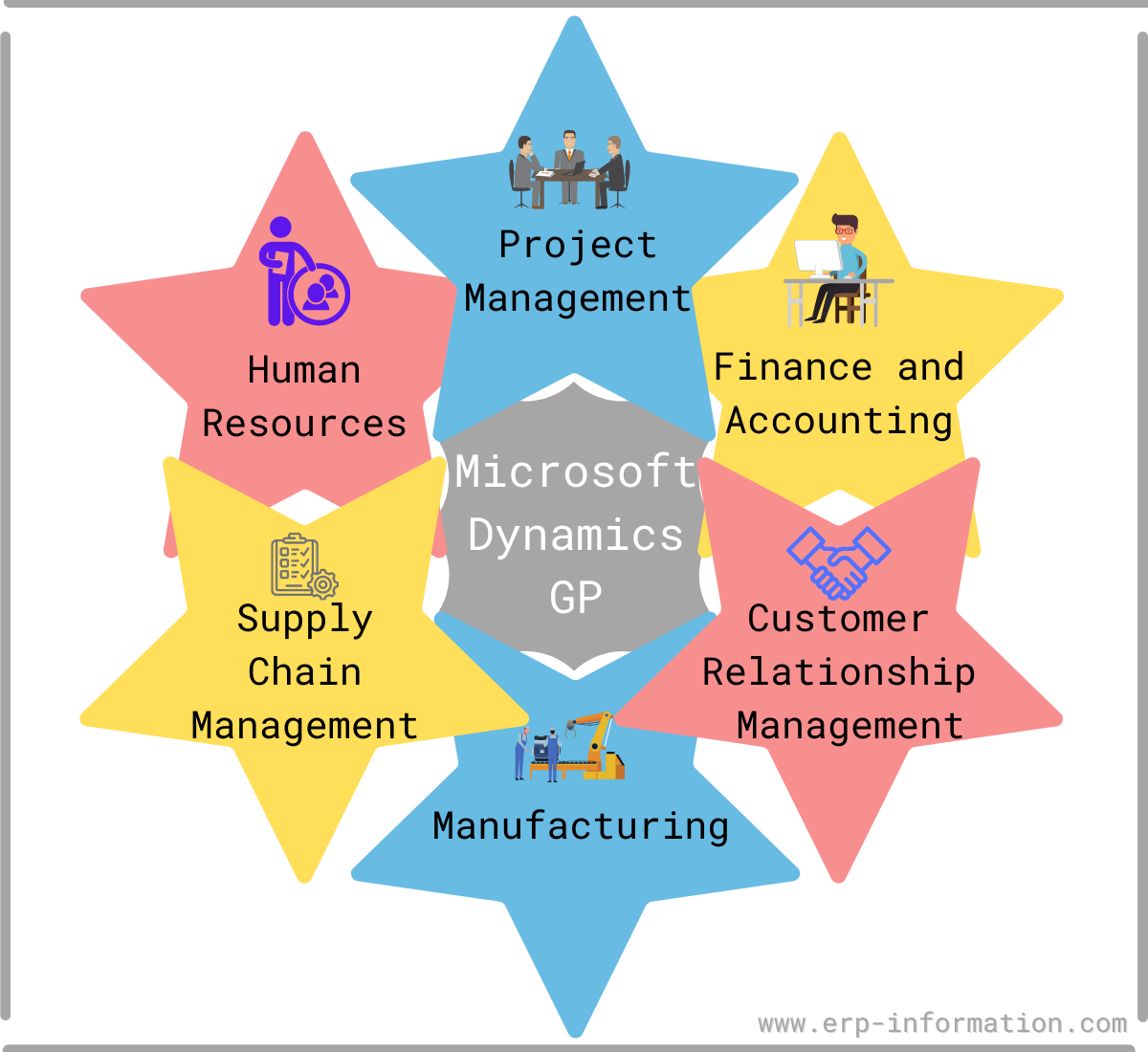 Microsoft GP Cloud ERP is a set of enterprise business software designed to help small and medium-sized companies.
The ERP platform has been deployed by hundreds of thousands of businesses across more than 150 countries worldwide.
It is used by many top companies, including some of the largest tech companies in the world.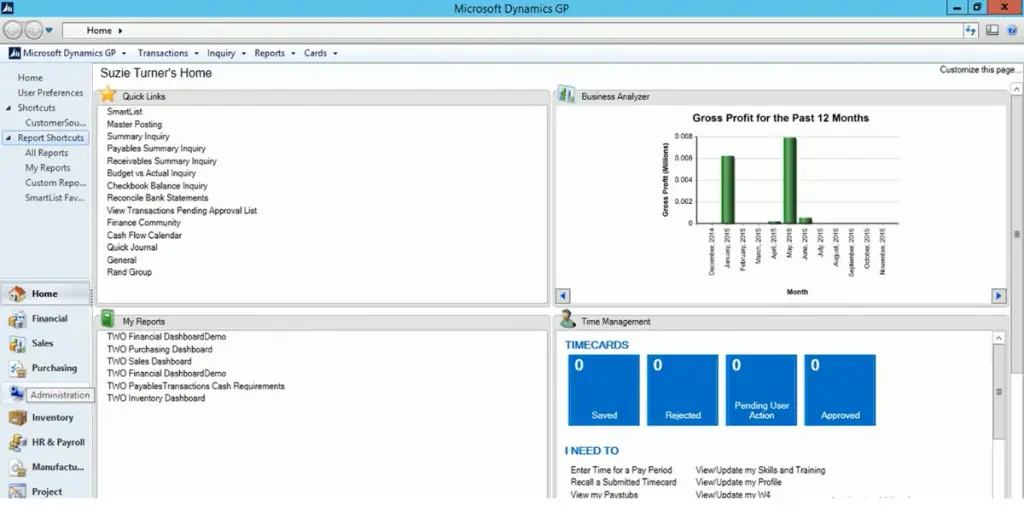 Microsoft Dynamics GP Pricing
Dynamics GP is usually sold through third-party. Hence Dynamics GP cost may vary as per the vendor and the features that you have chosen.
Dynamics GP provides two types of licenses: Subscription license and Perpetual license.
Price package for a subscription license
Subscription clients pay a monthly fee for each user. Its starter pack and extended pack vary between $140 to $240 per user per month, depending on the third party.
Price package for a perpetual license
Perpetual clients pay a one-time fee for the license ( up to 3 users). If users are more than 3, the client needs to pay for each user.
Each user's fees are as follows.
Full – $3000
Limited – $600
Self-service – $60
It is categorized users into three types
Full – Has access to create and edit information
Limited – Has access only to view
Self-service – Has access to non-business tasks
Starter Pack – $5000
* It offers a financial module and a distribution module
US and Canadian Payroll and Human Resource Module
* Gives access to three users with creating and editing data access
* Available in French, Canadian, Latin American, Spanish, and English languages
Extended Pack – $10,000
* It gives all the features of the starter pack
* Gives extended financial module
* Gives extended distribution module
Customization Pack – $6000
Integrates Dynamic GP with ISVs

Human Resource and Payroll Add-on – $7000
Provides advanced Human Resource and Payroll Module
Microsoft Dynamics GP Implementation
You will get Microsoft Dynamics GP software through authorized vendors. They only plan, implement, and customize the software and provide support to the customer.
Some vendors offer a 30-days free trial also.
Companies can deploy the software either on-premise or cloud.
On-premise deployment
---
In this type of deployment initial setup charge is more. But customers can access data without an internet connection provided server maintenance and backups.
Cloud deployment
---
In this deployment type, initial setup costs are less and server maintenance is also unnecessary. But to access data, an internet connection is required.
Supports and Services
Microsoft Dynamics GP offers three types of support plans
Enhancement plan

It gives access to training modules and online materials
Provides access to the new version, service packs, and hotfixes
Provides Microsoft Dynamics life cycle services and license mobility

Advantage plan

It includes all the features of the enhancement plan
Community forum engineers will respond to the queries
The support team will solve six issues per year via phone or email
Response time will be within 3 hours

Advantage Plus plan

It includes all the features of the advantage plan
You will get solutions for unlimited issues
Response time will be within 2 hours
You will get 24/7 technical support
Microsoft Dynamics GP Modules
Microsoft Dynamics provides modules as per the pricing packages.
Available modules in the Starter package
Financial Management

Analytical accounting
Receivable management
Acceptable management
Cashflow management
Fixed asset management
Capability to refund checks

Business Intelligence

Unlimited management reporter designer user and viewer user
Analysis and advanced analysis cube library

Human Resource Management

Human resource unlimited users
Payroll( the US and Canada) total users
Employee profile and pay
Human resource time management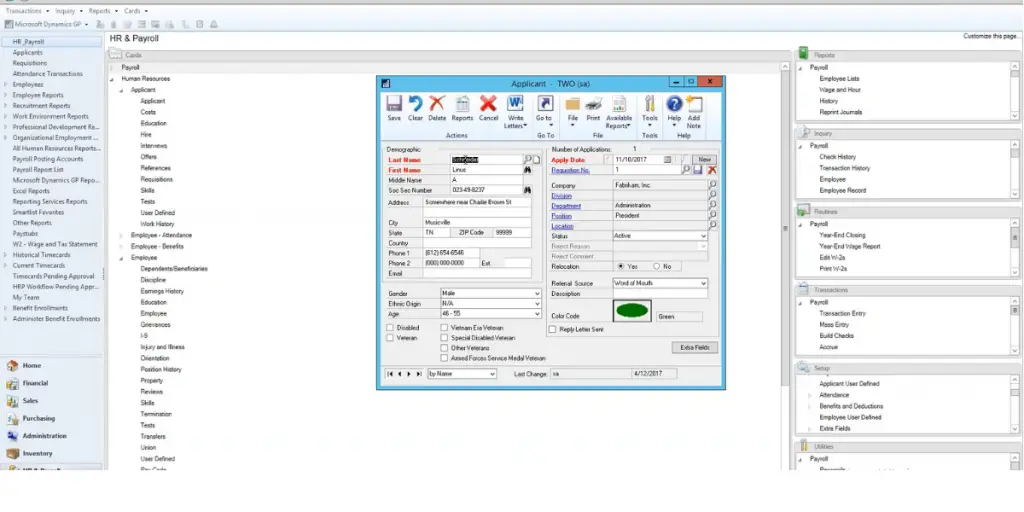 Supply Chain Management

Inventory control
Invoicing
BOM
Purchase order processing
Order management
Sales order processing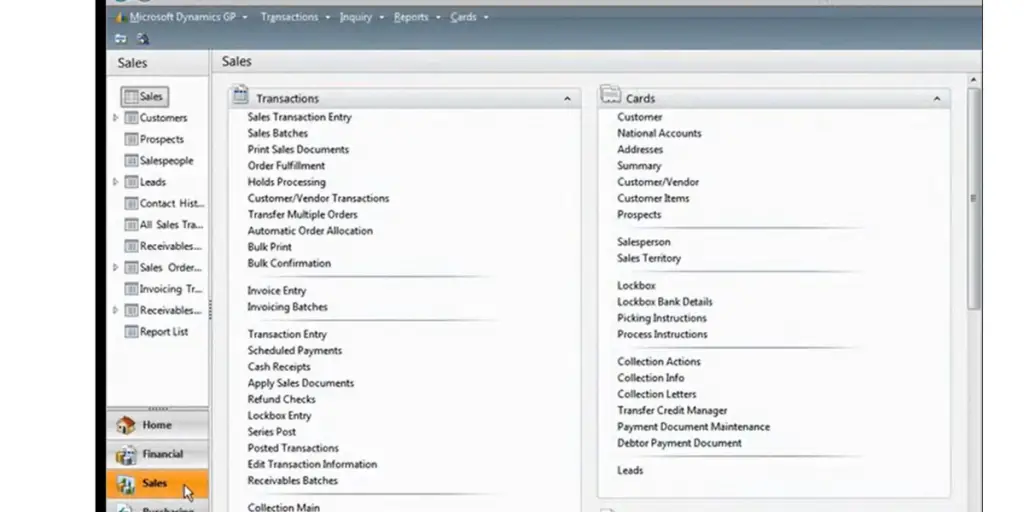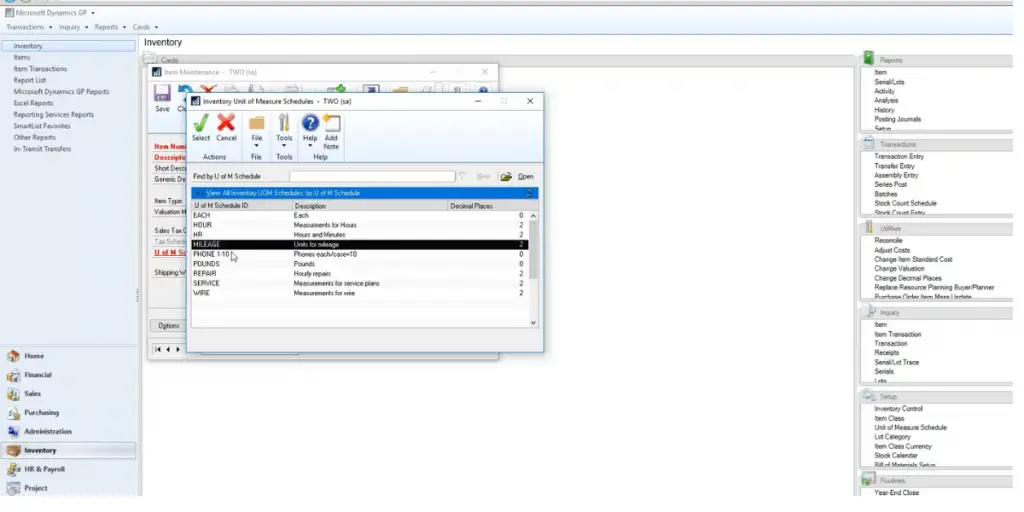 Available modules in Extended Package
All modules of starter packages, along with that
Business intelligence

Unlimited Microsoft forecaster

Supply chain management

Advanced distribution and picking
Returns management
Manufacturing

Manufacturing BOM
Manufacturing order processing
Master production schedule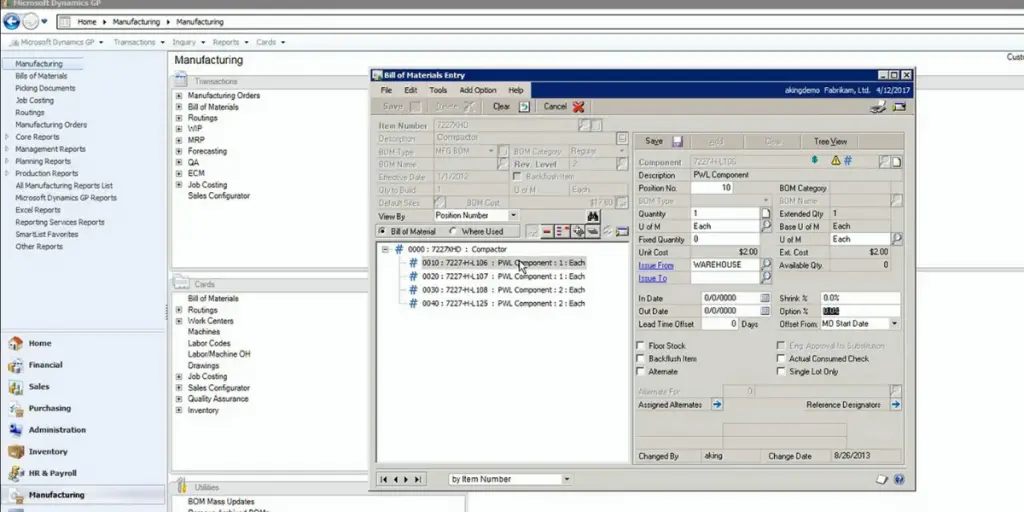 Project management
Customer relationship management

Contract Administration
Preventive maintenance
Service call management
Depot management
Available modules in the customization package
Integration suite
Customization suite
Available modules in HR and payroll add-on
HR and payroll advanced
Self-service benefits
Advantages of Microsoft Dynamics GP
Following are the Microsoft advantages for GP users.
Boosts productivity – It offers flexible, easily implemented workflows and collaborative business intelligence.
Helps to connect all your business processes – It allows you to have and use social software tools to develop your business. In addition, it helps to eradicate useless obstacles to productivity by connecting all business processes and keeping them streamlined.
Exclusive Reporting – This software's good reporting and collaborating abilities give you the necessary information to make business decisions.
Streamlines financial management process with business – The software allows you to alter the financial management process per your business needs. That helps in the reduction of time on routine work.
Provides real-time data – Integration of modules allows you to enter accurate data and one-time data. Hence, you get real-time data throughout the company and can enhance your decision-making.
Reduces training time and expenses – It ingrates with familiar applications like MS Word, MS Excel, and Outlook. Hence the employees can learn to work with the software efficiently without much training.
Microsoft Dynamics GP Disadvantages
Server maintenance costs and hardware costs of Dynamics GP are very high.
You will not get advanced features such as data analysis and mobile accessibility.
You will not get warehousing and budgeting functionalities.
A compatible platform to access add-ons is not available.
What industries does it support?
It supports industries such as
Services
Manufacturing
Retail
Public Sector
Financial Services
Alternatives for Microsoft GP
Customers
Greenergy Fuels Limited
Tesla. Inc
Cox Media Group
Kingfisher Plc.
Wheaton Franciscan Healthcare
Credit One Bank
Essen BioScience
CirclePix
Chatham Financial
Conclusion
Microsoft dynamic GP can be a great way to increase your company's productivity and efficiency.
This blog post has given enhanced knowledge about this software, its benefits, and some potential drawbacks you may encounter when implementing it into your business environment.
In addition, we hope our input gives insight into how useful they are for smaller companies or those who do not need powerful features such as subscription plans.
Click here for more ERP Vendors similar to Microsoft Dynamics GP.
References: