All kinds of small-scale and large-scale organizations benefit from implementing the ERP finance module. In addition, the financial module is the core of many ERP software systems.
It gathers financial data from various functional departments and generates valuable financial reports.
Reports include general ledger, trial balance, balance sheet, and quarterly financial statements.
This article discusses the reports, features, and major functionalities of the ERP finance module.
Introduction
ERP Finance module will take care of all accounts-related entries and their impact on the system.
How finance comes and how it is utilized. That will reflect the total flow of money (Cash/Bank) and expenditures.
As an aftereffect, the management will make crucial financial decisions and budgeting. In addition, management can come to know about the company's financial position at any moment.
Finance Reports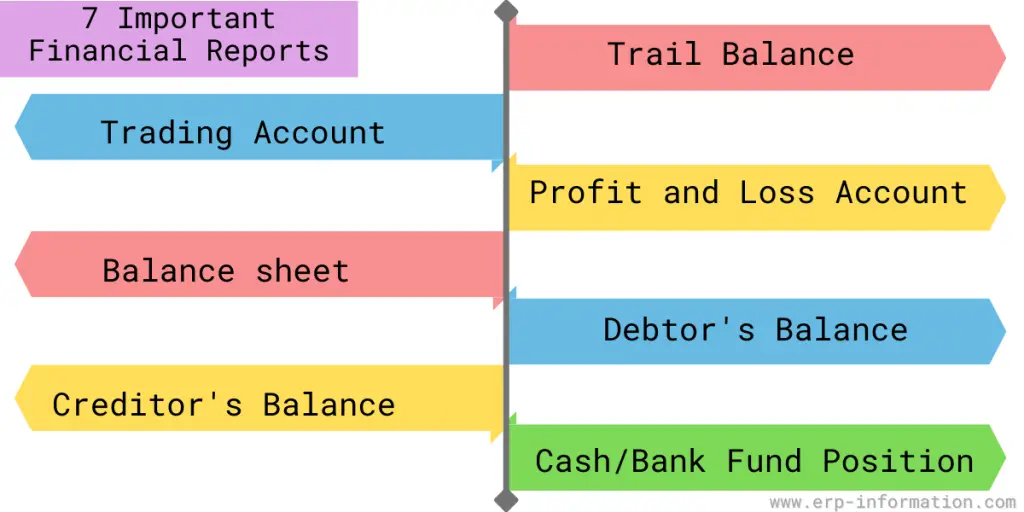 The finance module in ERP helps to generate all sorts of critical financial reports, like,
Trial Balance – A trial balance lists all ledger accounts in a certain period, also called a report of outstanding items. This is necessary because, from the ledger account, we know whether an asset has been debited or credited.
Trading A/c – This account is opened when the business starts. Mainly it is used when we receive cash or purchase goods/services in cash.
Profit & Loss A/c – A profit and loss account lists income and expenses in a certain period, usually in a month. It shows either how profitable you are or unprofitable you are.
Balance Sheet – A balance sheet lists the assets, liabilities, and what is left over in a certain period. It shows your net worth at that time.
Debtor's Balance – A debtor's balance shows the total outstanding debt of your customers. This is necessary because without knowing this, you cannot decide whether to make any discounts or not.
Creditors Balance– Creditors balance lists all that you owe to others. We usually call this liability.
Cash/Bank Fund position – This shows your cash and bank balance at a certain period. This is necessary because without knowing this, we cannot decide whether to borrow any money or not.
And many more are covered in this module.
General Ledger (G/L)
The General Ledger module is the foundation of your accounting system. It meets organizations' current and future financial management requirements of all types and sizes.
It provides a robust feature set to handle your most demanding budgeting and processing needs.
General Ledger integrates with all modules and is the key to maximizing the efficiency and accuracy of your financial data.
G/L Security
The G/L Security module enables access control. For example, organizations can control users' views or use certain general ledger accounts. The above is based on segment validation in G/L Security settings.
G/L Consolidations
G/L Consolidations lets you transfer and merge the General Ledger account. In addition, it combines transaction information between separate companies and branch office locations.
It is also designed to enable subsidiaries and holding companies to run without using the same network or accounting database.
G/L Consolidations provides a feature set that allows your company to define the level of detail to join and provides a comprehensive audit trail.
Features of the ERP Finance module
What is ERP finance?
ERP finance module is a software system that collects all organization's financial information and generates valuable reports.
With the help of these reports, the organization can communicate clearly with its partners, like vendors and customers.
A General ledger provides you with a record /track of all financial transactions.
To integrate your payable data with your purchasing system, use account payable. Using this feature, you can easily track and control your cash flow.
Account receivable is a feature to track customer payments, allowing you to automate tasks like sending payment reminders.
Profit tracking is the best feature for viewing the overall financial performance. It helps to see how your business is using its financial resources. And also it is used to calculate how much your organization is profiting from your efforts.
To track your company assets like equipment, computers, company cars, etc., you can take the help of Fixed asset management.
It isn't easy to manage multiple currencies if you have clients worldwide. However, multi-Currency management is a convenient feature to handle. It allows you to automate the process of both buying and selling in foreign currencies.
Tax management is the best choice to provide a uniform collection of sales and taxes.
Risk management is a good feature of the finance module to analyze and manage your organization's crises.
Reports show you where revenue is generated and where it is not generated. Thus it helps you to understand the financial condition of your company.
Inter-company transactions using the ERP finance module
The inter-company Transaction module lets you enter General Ledger and Accounts Payable transactions that affect more than one company by automatically distributing transactions across two or more companies.
In addition, its built-in flexibility automatically generates intercompany loan account entries according to user-defined relationship tables called routes.
Inter-company Transactions simplify and significantly reduce the work required for intercompany accounting.
Major functionalities
ERP finance module is completely transaction-based, unlike journal-based. That implies most accounting functions are handled through relevant transactions in other modules, thereby saving time.
The module contains complete functionality required for any accounting department, from vouchers to the balance sheet and profit & loss account.
Budgeting and variance analysis between budgeted and actual figures helps efficiently control the enterprise expenses and income.
The ERP finance module also includes cost centers, which are entirely flexible in defining their components.
General overhead cost allocations can be pre-defined and generate required outputs for analysis.
Outstanding payables & receivables with an aging analysis of debtors and creditors are some of the features of this module.
Overall the module takes care of the complete functions of any accounting department.
Advantages of ERP financial module
Enhances productivity
It automates the financial process and reduces manual work. That leads to savings of time and hence increases productivity.
Provides financial clarity
With the help of analytics and a general ledger, an authorized person gets information about the organization's financial condition.
Increases data accuracy
Human errors are also reduced as it reduces manual entry. It also helps to detect and avoid mistakes. Hence you will get accurate data.
Tracks documents quickly
All account-related documents will be in digital form and will arrange in a proper file in the appropriate place. So it is easy to track the required documents.
Helps to forecast
ERP finance modules, reporting systems, and analytical systems help the organization plan and forecast its costs and revenue.
Consolidation and centralization
The organization can get all the financial information in one place. In addition, this module integrates easily with other ERP modules.
Automatic payment
There is no chance of missing payments to any employees because of the account payable feature of this module. It informs the organization about the coming amount through notification.
How does it work?
The function of the ERP finance module starts with account creation. Then, external departments like marketing or purchasing will create some of those accounts.
Apart from regular voucher entries, this module provides financial figures, which will help the authority and other departments.
This model will generate a financial account and documents like accounts receivable and accounts payable.
This module bridges sales & procurement processes. A password will protect all figures. Only authorized persons will be eligible to access information from this module.
Fund manipulation control
Fund manipulation concerns are essential; sometimes, it is treated as blood for an organization. So in this regard, sources of funds and application of funds are to be taken care of by defining.
Balance sheets
Schedules
General and Sub-Ledger
Party and customer masters.
Also, the various input transaction, such as,
Voucher Entry
Credit/Debit entry
Cash/Bank receipts
Cash/Bank Payment
Bank Reconciliation statements
Bill verification.
Then finally, different types of financial reports can be of various types according to specified company standards.
ERP finance module provides businesses the control and accountability for their finances.
Vendors of ERP finance module
Right now, the market consists of many numbers of ERP vendors. Many of them provide all modules required for different businesses.
According to your type of business and industry, you can choose the vendor for the perfect financial management of your business.
Infor, SAP, Microsoft, and Oracle are four major ERP vendors. Vendors provide different deployments also, such as Saas, on-premise, and cloud.
First, you can have the finance module with cloud deployment and other modules with on-premise, and eventually, you can change the deployment type from on-premise to cloud.
Saas, also you can use. It helps to share a single document with multiple clients, which helps to reduce the cost and standardize the business practice.
Oracle NetSuite, Acumatica, and FinancialForce are good and well-established SaaS ERP vendors.
Difference between accounting software and ERP finance
Accounting software focuses on historical and current data. It tracks financial statements, cash flow, bank accounting, reporting, and invoicing, whereas the ERP financial module focuses on budgeting, forecasting, and planning.
Conclusion
The ERP finance module automates your financial operations with the help of technology. It offers several features and functionalities that can be beneficial for your business.
In addition, it also provides several reports that can give insights into your financial performance. In this post, we have informed you about the important features, functionalities, and reports of an ERP finance module.