An ERP system typically includes modules for accounting, customer relationship management (CRM), human resources (HR), and procurement.
This blog post will discuss the different types of ERP modules, their categories, and examples of each type. We will also discuss the features of typical ERP modules, modules in SAP and Oracle ERP solutions.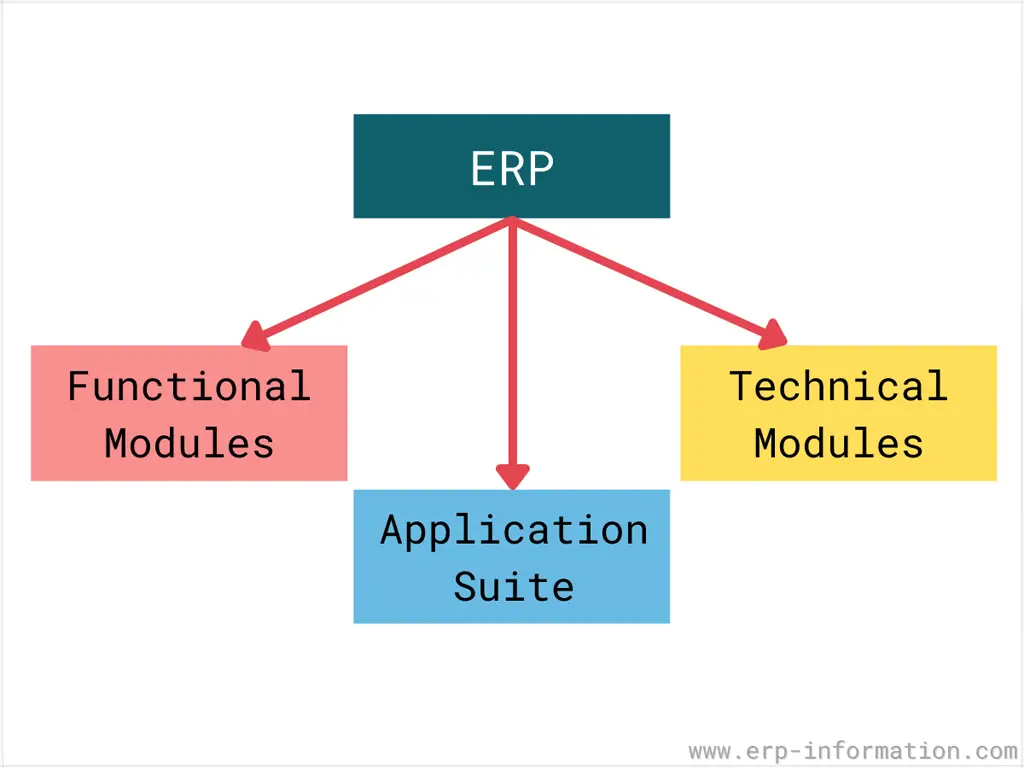 Introduction to ERP system modules
The smooth running of a given business needs different functionalities. Enterprise Resource Planning solution consists of these functionalities.
ERP module is a part of the whole system. Therefore, you can get specific and related functionalities from it. The functionalities are related to one area of business processes.
What are ERP Modules?
ERP Modules are the software that helps the business or organization to unify data from all departments on one centralized platform. It also streamlines and automates the day-to-day activity of the business process and increases productivity & efficiency.
Types of ERP modules
Three types of core ERP modules are
Functional modules
Technical modules
Application suite
ERP Functional modules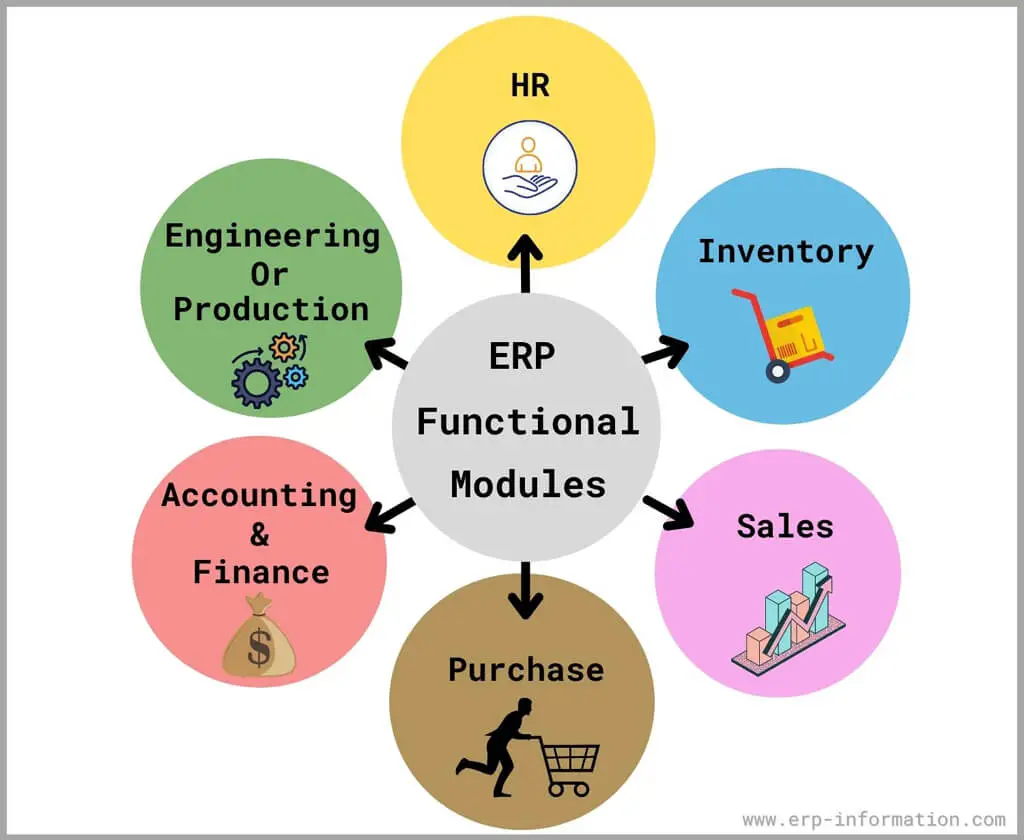 Financial modules of ERP are one of the central core ERP modules. It records transactions in the general ledger accounts. In addition, this module generates financial statements for external reporting purposes.
It facilitates employee recruiting, hiring, and training. This module also includes payroll and benefits.
It maintains production information. This module will help plan, schedule, and record production activities.
The purchase module streamlines the procurement of required raw materials. It automates the processes of,
Identifying potential suppliers
Negotiating price
Awarding a purchase order to the supplier
Billing processes
The purchase module integrates with the inventory control and production planning modules. In addition, the purchasing module combines with supply chain management software.
Inventory is the term for merchandise or raw materials that a company has on hand.
This module manages,
Acquisition of raw materials from suppliers (purchasing)
Handling of raw materials inventory in storage
Work-in-progress goods
Shipping of finished goods to the customer
It records sales orders and scheduled deliveries. Maintaining and accessing customer information is the responsibility of this module.
Customer information includes pricing, address and shipping instructions, billing details, etc.
Technical modules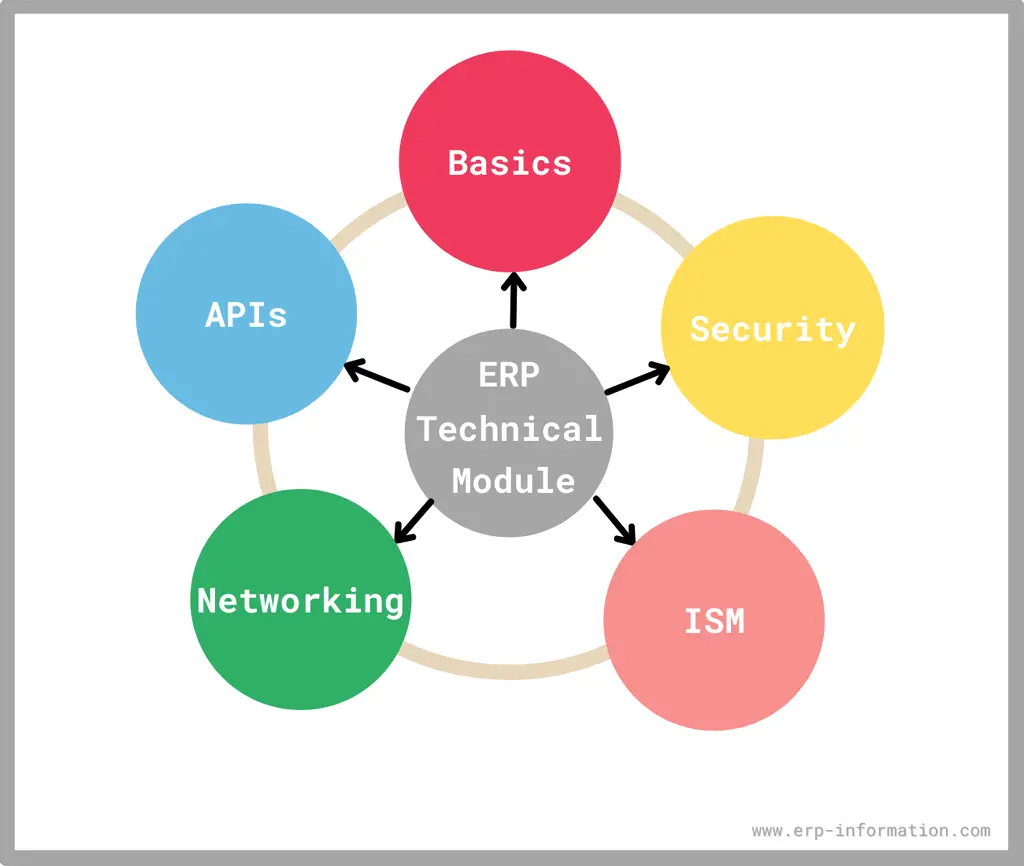 Technical modules come under application platforms. And it is like the role of the operating system for your laptop.
Technical modules integrate tightly with functional modules. They help smooth integration with different functional modules and application suites.
Examples of these are security modules and information system management.
Technical components found in ERP systems are,
Basic components
ERP Security module
Networking and interface
Application Programming module
Analytic module
APIs opened for external use
Integration of ERP with the application suite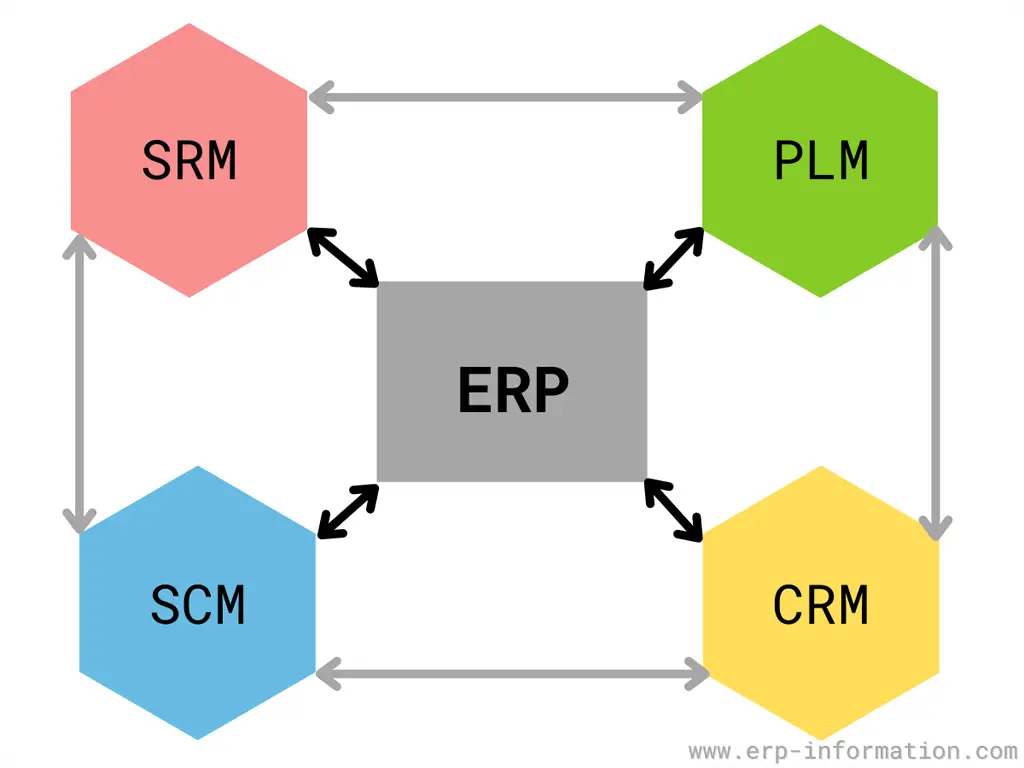 The application suite is the collection of inter-connected information systems. That could be within and across different companies.
Currently, more and more organizations begin utilizing ERP frameworks. The next stage is to interface these frameworks. That will support interactions that occur between and among organizations.
Few of the popular inter-company systems are,
Supply chain management (SCM): SCM interfaces an organization to different organizations that supply the materials. Common SCM frameworks help organizations in planning. For example, they are planning for their creation necessities and improving complex transportation and materials coordination.
Supplier relationship management (SRM): SRM frameworks usually deal with general associations with the materials providers. SRM frameworks help cope with quotation and contract processes.
Companies can have more intra-company systems. But, again, that is an extension of the fulfillment process of ERP systems and ERP modules.
Examples of intra-company systems are,
Customer relationship management (CRM): CRM frameworks associate an organization's ERP framework with its customers. CRM frameworks furnish organizations with the ability to oversee showcasing, deals, and client administration. These frameworks are an expansion of the satisfaction procedure of ERP frameworks.
Product life-cycle management (PLM): PLM frameworks help organizations watch the research procedures, plan, and item the board. They help take new item thoughts from the virtual drawing board to the manufacturing unit.
What is Enterprise Application Integration (EAI)?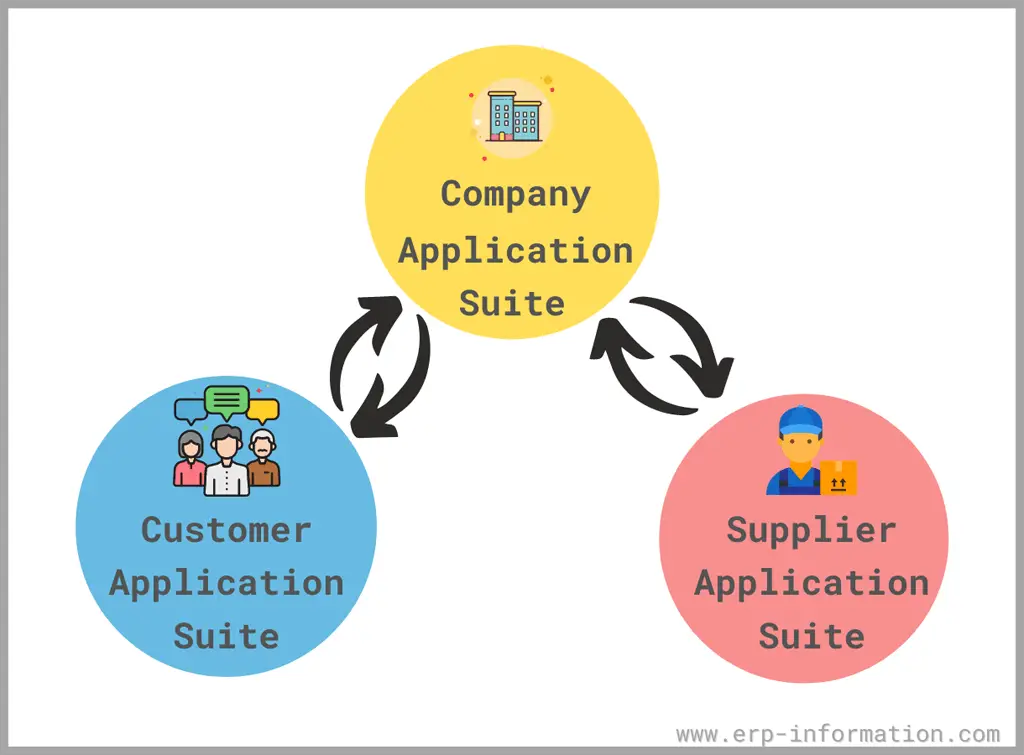 Benefits of ERP modules
ERP modules help your business attain the desired efficiency and enhance day-to-day activities by automating all business processes.
It keeps all the data in a centralized place and gives clear data whenever you need it.
It improves business reporting with the help of reporting features with real-time data.
It helps to eliminate the manual process and reduces errors done by the manual errors. Thus, it increases the efficiency and productivity of the business.
It provides better communication within the department as well as between the departments. When there is a smooth flow of information, cooperation in the workplace also increases.
It helps the business provide good customer service by enhancing on-time delivery and order accuracy.
It allows the business to control who can use, share, and edit the data.
ERP modules analyze the real-time data.
Enhances profitability by avoiding extra expenses like an additional store of inventories.
It improves the cash flow with better invoicing.
What are industries need ERP modules?
Industries such as manufacturing, distribution, healthcare, education, hospitality, non-profit organizations, construction, food industry, and professional service need ERP modules.
Manufacturing and distribution industry
ERP modules allow manufacturers and distributors to manage and control their inventories, purchases, sales, and accounts effectively.
It also provides human resource management to manage and control employees. All these things help in the improvement of the business.
Health care sector
ERP module will benefit payroll, patient care, controlling instrument supplies, compliances, etc. It also helps in operational assistance.
Education sector
ERP module helps improve the management of students enrolling process, teaching sessions, etc.
It is also helpful in scheduling parent-teacher meetings, conducting the monthly test, etc. In addition, it helps monitor the admission fees, student attendance, staff attendance, and staff leaves.
Hospitality sector
In this sector, customer service is very, very important. So it would be best if you concentrated more on customer satisfaction.
ERP system helps to automate the workflow smoothly so that it reduces the waste of time and decreases stress on management and workers.
Construction sector
Equipment rental cost control, inventory handling, and deadlines are critical aspects of construction industries.
A good and efficient ERP software helps the industry with automated workflow and streamlines the process.
Professional services
ERP modules help this sector maintain expenses and profits, keep accurate employee data, and control inventories. Hence billing cycle and cost decrease, and gain increases.
Food industries
The food industry contains many fruits, dairy, vegetables, beverages, chocolates, biscuits, meat, poultry, fishery, etc.
This industry has many phases in the production process. ERP modules help improve quality management in all stages of the production process.
It helps to decrease the production waste and improves productivity.
Non-profit sector
An accurate reporting system is crucial for this sector. ERP systems help by providing efficient financial reports, budget control systems, and self-service payroll solutions.
SAP ERP modules
Financial Accounting (FI)

General Ledger
Accounts Payable
Accounts Receivable
Contract Accounts Receivable and Payable
Banks
Fixed Assets
Special Purpose Ledger
Additional Functions
Lease Accounting
Travel Management
Shared Service Center

Controlling (CO)

Cost Element Accounting
Cost Center Accounting
Activity-Based-Accounting
Internal Orders
Product Cost Controlling
Profitability Analysis
Profit Center Accounting

Materials Management (MM)

Inventory Management
Purchasing
Material Planning
Material Requirement Planning
Invoice Verification
Vendor Valuation
Warehouse Management

Sales and Distribution (SD)

Sales
Billing or Invoice generation
Bills of Material
Shipping and transportation
Electronic Data Interchange
Sales Information system
Credit Control

Human Capital Management (HCM)

Organizational Management
Recruitment
Training and Event management
Wages
Personnel Development
Payroll
Travel Management
Personnel Management
Time Management
Compensation Management
Workforce Administration
Personnel Administration

Production Planning (PP)

Sales and Production Planning
Material Requirement Planning
Bills of material
Shop floor control
Production Orders
Routing

Quality Management (QM) Planning

Process Inspections
General Functions
Notifications of Quality
Test Equipment
Quality Control
Quality certifications

Financial Supply Chain Management (FSCM)

Credit Management
Cash & Liquidity Management
Dispute management
Collections Management
Payments
Treasure and Risk Management

Project System (PS)

Project Preparation
Project Planning
Project Tracking
Project Reporting
WBS Elements
Project Costs

Plant Maintenance (PM)

Project Maintenance
Maintenance planning
Predictive Maintenance
Preventive Planning
Service Management
Oracle ERP modules
Following are the Oracle ERP modules that are important and their functionalities,
Financial Management

Finance and Accounting
Billing
Revenue Recognition
Financial Planning and Reporting
Global Accounting
Governance, Risk, and Compliance

Human Capital Management

Core HR functionality
Payroll
Employee Center
Analytics

Order Management

Pricing and Promotions
Sales Order and Returns Management

The Production Management

Work order management
Planning and scheduling
Quality assurance

Warehouse and Order Fulfillment

Inbound and outbound logistics
Inventory management
Warehouse management system

The Supply Chain Management

Planning
Execution
Collaboration
Support

Procurement
Conclusion
ERP modules can streamline your business processes, improve communication and make you more efficient.
By selecting the suitable modules for your company, you can get all of these benefits and more. If you're unsure which ERP modules are best for your business, this blog post and related post can help.