Are you looking for the most comprehensive resource on Enterprise Resource Planning(ERP) modules? On this page, you will find an easy to follow introduction on each of the ERP system modules.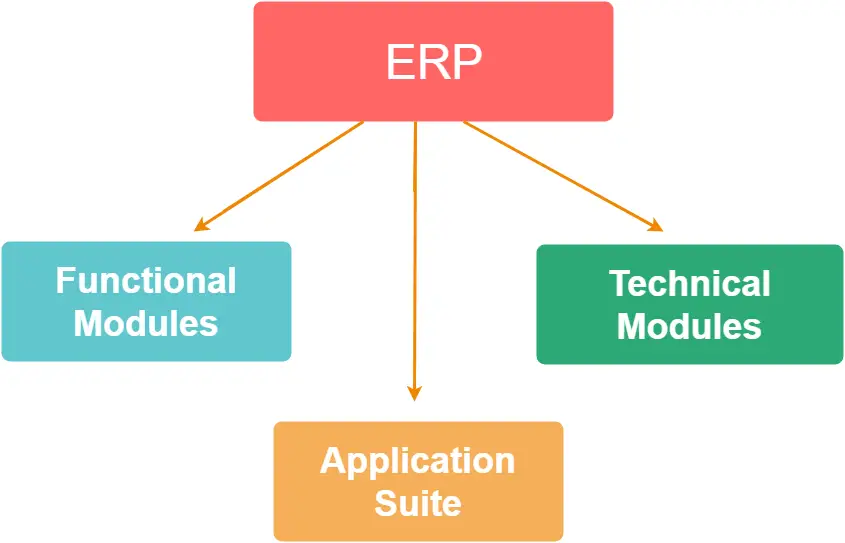 Concepts are explained with texts and images together to give more clarity.
What you'll learn?
After completion of this course you will get absolute clarity on all available modules in the ERP system and what are the functionalities of each of the module. More specifically you learn the following things.
What is an ERP module?
Types of modules.
List of modules in each of the type.
Description and details about each of the module.
What are the ERP modules?
Enterprise Resource Planning solution consists of different functionalities that are needed for the smooth running of a given business.
ERP module is a part of the whole system and that provides specific and tightly coupled functionalities related to one area of business processes.
Types of ERP modules
Functional modules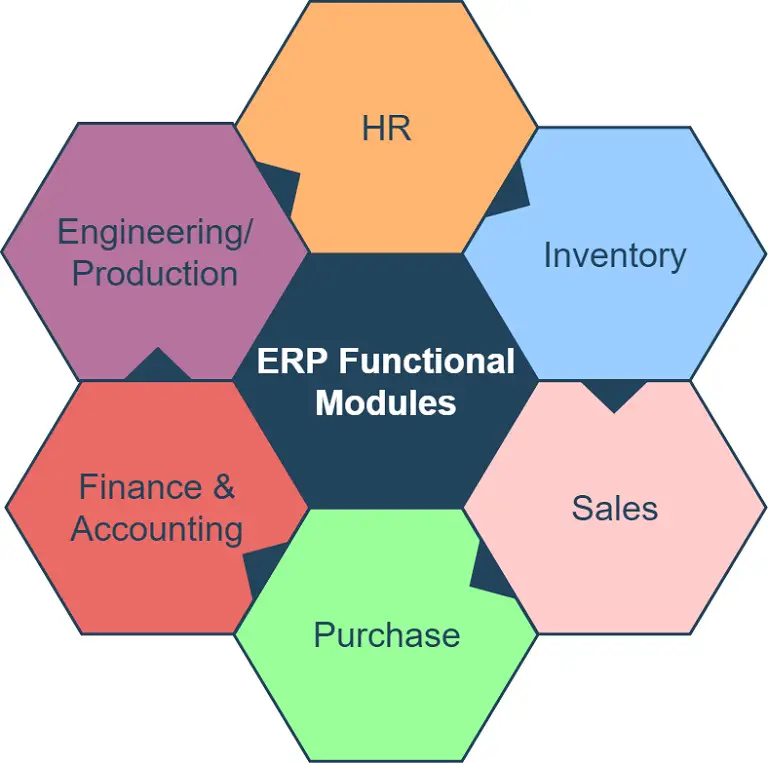 It records transactions in the general ledger accounts. This module generates financial statements for external reporting purposes.
It facilitates employee recruiting, hiring, and training. This module also includes payroll and benefits.
It maintains production information. Here production is planned and scheduled, and actual production activities are recorded.
Purchase module streamlines the procurement of required raw materials. It automates the processes of identifying potential suppliers, negotiating price, awarding a purchase order to the supplier, and billing processes. Purchase module is tightly integrated with the inventory control and production planning modules. Purchasing module is often integrated with supply chain management software.
It manages the acquisition of raw materials from suppliers (purchasing) and the subsequent handling of raw materials inventory, from storage to work-in-progress goods to shipping of finished goods to the customer.
It records sales orders and scheduled deliveries. Information about the customer (pricing, address and shipping instructions, billing details, and so on) is maintained and accessed from this module.
Technical modules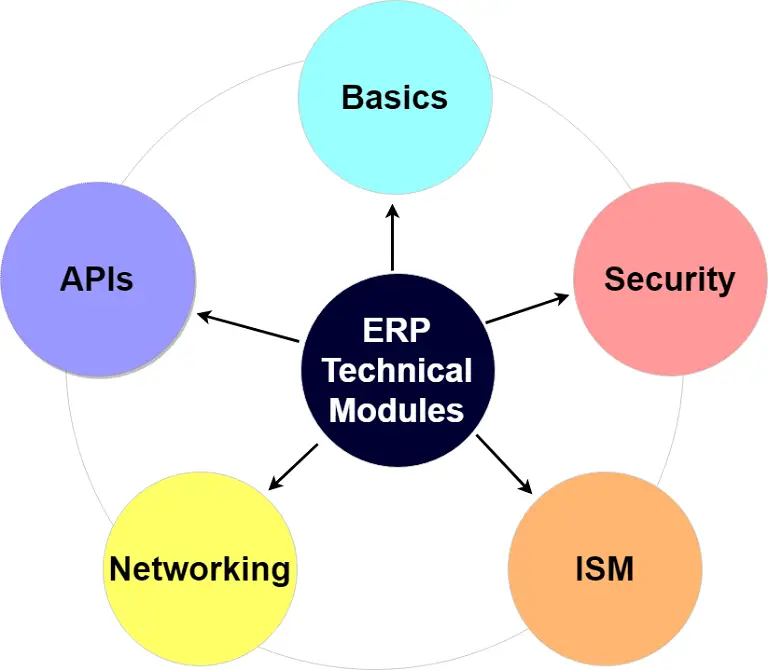 Technical modules come under application platforms. This is similar to the role of the operating system for your laptop.
Technical modules are tightly coupled with functional modules and also facilitate smooth integration with different functional modules and application suite.
Examples of these are security module and information system management. Learn details about technical modules of the enterprise solution.
Technical components commonly found in ERP systems are,
Basis components
ERP Security module
Networking and interface
Information Systems Management
Application Programming module
Analytic module
APIs opened for external use.
Application suite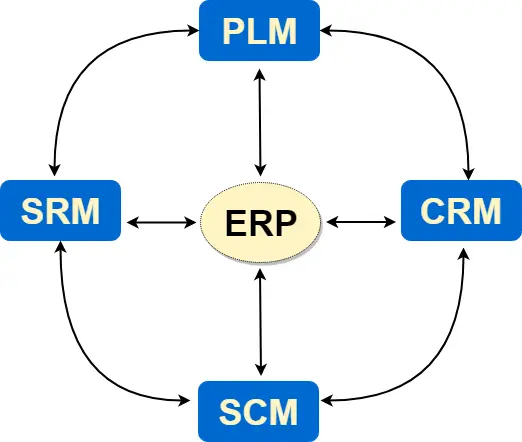 The collection of interconnected information systems within and across different companies is called an application suite.
As more organizations begin utilizing ERP frameworks, the subsequent stage is to interface these frameworks so they could support interactions that occur between and among organizations.
Few of the popular inter-company systems are supply chain management (SCM) and supplier relationship management (SRM) system.
SCM interfaces an organization to different organizations that supply the materials, it needs to make its items. Regular SCM frameworks help organizations plan for their creation necessities and improve complex transportation and coordinations for materials.
SRM frameworks normally deal with general associations with the materials providers. SRM frameworks contain usefulness to deal with the quotation and contracts processes.
Companies can have additional intra-company systems that are an extension of the fulfillment process of ERP systems.
Examples of intra-company systems are customer relationship management (CRM) and product lifecycle management (PLM).
CRM frameworks associate an organization's ERP framework to those of its customers.RM frameworks furnish organizations with abilities to oversee showcasing, deals, and client administration. These frameworks are an expansion of the satisfaction procedure of ERP frameworks.
PLM frameworks help organizations oversee the procedures of research, plan, and item the board. In actuality, PLM frameworks help organizations take new item thoughts from the virtual drawing board all the way to the manufacturing unit.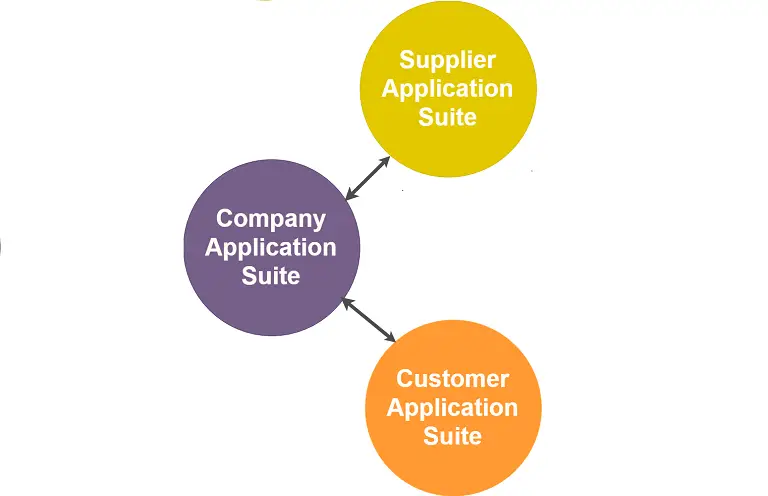 Conclusion
With the business landscape constantly changing, it's imperative to keep an eye on the developments in ERP space and new modules and sub-modules.
If you've overlooked the importance of ERP in the past, remember this, 80% of the big and medium businesses in the world run with Enterprise Resource Planning solutions.
Even if you only use or learn about one of these core ERP modules, it is certain that it'll help you take another step towards reaching your business and career goals.