Keeping your small business safe from online threats is more critical than ever, but it can be hard to know where to start.
With cybercrime on the rise, it's more important than ever to ensure your small business is protected. But many options are available; hence, knowing which firewall for small business is right for you can be hard.
This blog post is about the best firewall for small businesses. We will list the ten best firewalls for small businesses that allow you to make an informed decision and keep your business safe.
What is a firewall, and why is it important?
A firewall is a security system that protects your computer network from unauthorized access. It can be either hardware or software-based, and it works by blocking incoming and outgoing traffic based on predefined rules.
Firewalls are essential to any cyber security strategy and can help keep your business safe from online threats.
Here is a list of the ten best firewalls for small businesses.
1. SonicWall TZ400 Security Firewall
The SonicWall TZ400 is a powerful and versatile security firewall that can protect your small business from online threats. It is easy to set up and use and offers a wide range of features to keep your business safe from cybercrime.
Features
Consolidated management and reporting
The SonicWall TZ400 offers a consolidated management system that makes it easy to keep track of all your devices in one place. In addition, the system provides a central location for reporting and analysis, so you can quickly identify trends and potential problems. 
Deep memory inspection
The SonicWall TZ400 uses deep memory inspection to scan incoming traffic for threats. This ensures your business is protected from the latest online threats, including viruses, malware, and phishing attacks.
SD-WAN and Zero-Touch deployment capabilities
SonicWall's Secure SD-WAN integrates seamlessly with TZ firewalls and can be deployed quickly and easily with Zero-Touch Deployment capability. Plus, it scales quickly to meet the changing needs of your business.
Superior performance and features
The latest generation of TZ firewalls from SonicWall offers the perfect solution. With expandable storage, redundant power, and SonicExpress App onboarding, you can get the protection you need without slowing down your network. And because the TZ firewalls are scalable and easy to deploy, you can be up and running in no time. 
Benefits
Some of the benefits of the SonicWall TZ400 Security Firewall include:
It helps to save time and money
Provides comprehensive security protection
Less complexity
Adopts the latest technologies and offers superior security
2. Ubiquiti UniFi Security Gateway
Ubiquiti UniFi Security Gateway is one of the best small business firewalls solutions. Ubiquiti UniFi Security Gateway provides top-of-the-line security features by providing high-performance routing technology in a cost-effective unit.
Features
VLAN support
UniFi Security Gateway can create virtual network segments for security and traffic management.
Voice and video traffic
Firewalls are an essential part of network security, but they can sometimes slow down the movement of packets. This is especially true for voice and video traffic, which are time-sensitive and can be adversely affected by even minor delays.
The UniFi Security Gateway speeds up the inspection process without compromising security, so voice and video traffic are not impacted.
This leads to clear calls and a latency-free video streaming experience for end-users. With the UniFi Security Gateway, you don't have to choose between security and performance – you can have both!
User experience
This software provides a centralized dashboard with all the pertinent information displayed to help users make sound decisions quickly.
Furthermore, the network information is laid out logically so that employees can efficiently scan for any signs of issues or attacks. This is ideal for small businesses that don't have the budget to hire a dedicated technician and would instead train someone internally to do it.
This product enhances the user experience in a way that benefits individuals and businesses alike.
Detailed overview and analytics
It provides a comprehensive overview of information while expediting troubleshooting and a sorting capability. With its bird's eye view of the network's health and availability, this firewall makes it possible for organizations to make decisions on the fly without waiting for someone to review the data manually.
Router firewall
A stateful inspection firewall monitors incoming and outgoing traffic and permits or denies access to your network.
Benefits
Businesses do need to have additional tools as it provides comprehensive information about network functions.
It gives a site-to-site VPN server that connects remote locations, such as branch offices, to a significant network.
It is cost-effective.
3. WatchGuard Firebox T40
WatchGuard Firebox T40 is a robust, reliable, and best firewall appliance that provides your business with the security it needs to keep data safe. Suitable for small branch offices.
Features
Total security
It is designed to provide superior protection against both known and unknown threats. In addition, they come equipped with various advanced features, including search, AI-powered anti-malware, DNS filtering, and more.
As a result, they can identify packets that contain both malicious headers and content and flag them based on the security rules you've implemented.
Zero-touch remote deployment
The Firebox T40 is a cloud-based device that allows you to avoid sending your team to every location. Instead, you can create and store Firebox configuration data in the cloud with the help of its RapidDeploy technology and have an appliance directly shipped to its destination.
Multi-factor authentication for VPN
VPNs have traditionally been one of the weakest links in the security chain, but the Firebox now makes it easy to set up strong multi-factor authentication.
It gives an extra layer of protection, making it much more difficult for attackers to gain access to sensitive data. Integrating security and convenience makes the Firebox a powerful tool for zero-trust implementations.
Integrated Power over Ethernet (PoE+)
The Power over Ethernet (PoE+) port is an excellent feature of the Firebox T40s. It helps to extend the reach of your networks by powering a peripheral device such as a WatchGuard Cloud-managed wireless access point or a third-party security camera.
This is highly beneficial because it eliminates the need to run costly AC power to remote devices.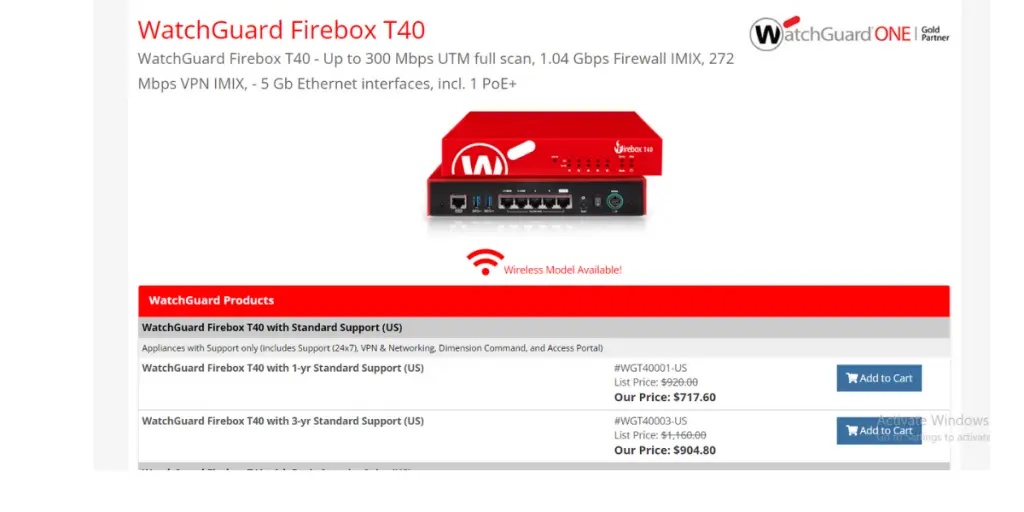 Benefits
It offers enterprise-level security to small offices
In-built SD-WAN in the Firebox helps to reduce costs by avoiding the use of MPLS or 4G/LTE
Available in wired and wireless module
3. Cisco Meraki MX68
Cisco Meraki MX68 is a cloud-managed security appliance that provides the protection your business needs to keep data safe. In addition, it supports up to 50 users.
Features
SD branch cloud platform
It offers centralized management via web-based dashboards or APIs. In addition, it makes it possible to manage multiple devices from a single platform, making it much easier to keep track of everything.
In addition, they often include features like true zero-touch provisioning and smartphone-like firmware updates.
Unified threat management
Cisco's next-generation layer seven firewalls and content filtering is a powerful tool that helps to protect users from malicious content and unauthorized access.
In addition, Cisco Threat Grid is an advanced malware protection system that utilizes machine learning to detect and block threats.
And Cisco's Intrusion Detection and Prevention system provides visibility into security events, helping to identify and prevent attacks.
Advanced analytics with ML
Smart Threshold is a new feature that automatically applies thresholds to identify true app degradation. This lets you quickly see which apps are degrading and why, so you can take corrective action.
With at-a-glance performance across the LAN, WAN, and app server, you can quickly identify areas of concern. And with instant root-cause degradation analysis, you can quickly find and fix problems.
Cloud security
Cisco Umbrella's built-in SD-WAN connectivity ensures that network traffic is always routed through the optimal path, whether it's to a global data center or the internet.
It provides the visibility and control needed to keep business running smoothly. In addition, the umbrella offers remote browser isolation and granular app control for added security.
Connectivity
The Cisco SD-WAN solution extends Zero Trust Networking capabilities to the WAN edge by providing context-aware policy enforcement, which helps prevent data breaches. The solution also offers self-healing capabilities that minimize network downtime.
In addition, Cisco SD-WAN supports hybrid cloud deployments and integrated security features such as Cisco Umbrella and native IPsec VPN.
As a result, the SD-WAN solution provides optimal application performance while reducing costs and simplifying management.
Benefits
It is an excellent choice for small branch offices with less than 50 users.
You can deploy it very quickly because all configurations are in the cloud.
It provides advanced malware protection and intrusion prevention systems.
4. Sophos XG 86
Sophos XG 86 is an excellent firewall for small businesses. It offers many features that help protect your data and is effortless. In addition, it identifies hidden threats and sends notifications instantly.
Features
Deep packet inspection
Xstream is a fast and reliable packet inspection technology that offers excellent protection against various threats.
This firewall leverages Xstream to quickly analyze large amounts of traffic and inspect the header and contents of packets at lightning speeds. Hence it can offer excellent protection without compromising on the end-user experience.
Zero-day and ML protection
Sophos Firewall uses Sophos' industry-leading machine learning technology to determine the latest ransomware and unknown threats before they get on your network instantly. This allows you to protect your data without worrying about paying a ransom.
In addition, Sophos Firewall provides comprehensive protection against all kinds of threats, including viruses, phishing attacks, and Denial of Service attacks.
Absolute visibility and control
Sophos Firewall provides a centralized dashboard and reporting that enables end-users to find required data in a single location.
Benefits
It helps to expose all hidden risks
It blocks unknown threats through advanced technology
Responds automatically to incidents
Small businesses can save time and money because of its zero-touch deployment
6. Fortinet Security Fabric
Fortinet's Security Fabric is a comprehensive security solution that helps protect your business from a wide range of threats.
The Security Fabric is powered by FortiOS, the world's most advanced and comprehensive firewall operating system. FortiOS provides extensive protection against all types of threats, including viruses, malware, phishing attacks, and Denial of Service.
Features
AI-powered security
Fortinet's security services are all integrated into the Fortinet Security Fabric. That means that they can work together to detect and stop threats quickly, no matter where they are on your network.
The Security Fabric is constantly updated with the latest information about threats, so you can be sure you're protected against the latest attacks.
Secure networking
Fortinet Secure Networking addresses the challenge of digital acceleration by integrating network infrastructure with security across all edges. This provides consistent policies and a better user experience for people who work both online and offline.
Zero trust access
Fortinet Zero Trust Access securely connects applications hosted in different places with people working from separate locations. It does this by using the same security for all applications and users.
The security automatically adjusts to the risks seen based on the detailed policy that considers where each application is and who uses it.
Cloud security
Fortinet Cloud Security solutions give you control and visibility of your cloud infrastructure. That helps keep your applications and data safe while also taking advantage of the benefits of cloud computing.
Additionally, our context-aware policy is extended to these environments, providing coordinated threat response through integration with FortiGuard AI-powered security services.
Benefits
It provides application-specific integrated circuits (ASIC) processors.
It offers surface visibility for broad attacks.
7. Protectli Vault – 4 Port
Protectli is a company that provides small businesses with the best physical firewall protection possible. The Protectli Vault – 4 port is one of their most popular products, and for a good reason. It is a reliable and affordable firewall that can protect your business from online threats.
Features
Added security
It provides different security options. One option is to use AES-NI, a hardware-based encryption method built into many processors.
VPN is another option to encrypt your data as it travels over the internet. Finally, there is the option of using coreboot, an open-source firmware that can be used to secure your data at the boot level.
Better performance
It offers gigabit line-rate performance for all units. These "gigabit" switches provide the bandwidth needed to meet the speed and density requirements of today's most demanding applications.
In addition, these switches can significantly reduce network costs while increasing performance by consolidating multiple lines into a single high-speed connection.
Customization
It gives full customization options, including a power source.
Maximum durability
Solid-state reduces the risk of damage from shock or vibration. Fanless means that there are no fans, which increases the lifespan of the components by reducing the dust that can accumulate inside the computer. Aluminum chassis help dissipates heat, further increasing the drive's reliability.
8. OPNSense
OPNSense firewall is a FreeBSD-based open source firewall. It was designed from the ground up to be easy to use and feature-rich. The main goal of OPNSense is to provide an easy-to-use, fast, reliable, and secure firewall.
Features
Multi-WAN
Multi-WAN capable routers support multiple WAN connections, including load balancing and failover capabilities. It means if one WAN connection goes down, the router will automatically switch to the second WAN connection.
It ensures that there is always a working connection, providing redundancy and more excellent uptime.
Virtual private networking
Integrated IPsec, OpenVPN, and pluggable support for Tinc and WireGuard allow a wide range of VPN configurations. That makes it much easier to connect to a private network, and it also makes it possible to use multiple VPN protocols at the same time.
Intuitive user interface
When it comes to the user interface, the most intuitive one would be the one that is fully responsive and has an integrated search option.
Multi-language
Supports many languages like English, Czech, Chinese, French, German, Italian, Japanese, Portuguese, Russian, and Spanish
9. Paloalto Networks NGFW
Palo Alto Networks NGFW is a high-performance security solution offering comprehensive enterprise network protection.
This small business firewall provides various features and capabilities that protect your business from online threats. Plus, it's easy to use and manage, making it an excellent choice for businesses.
Features
Application-based enrichment
One way to ensure security is through application-based policy enforcement. This policy allows businesses to control which applications are accessible by employees and sets restrictions on how they can use them.
Prevents threats
Viruses, malware, and other malicious software are too common, and they can cause serious harm to your computer if you're not careful. Palo Alto network NGFW helps to prevent threats.
Expandable cloud-based architecture
It can be easily deployed and managed in the cloud. In addition, the NGFW protects against a wide range of threats, including malware, ransomware, phishing, and other cyber attacks.
Traffic visibility and support
It provides support features like URL filtering, data filtering, mobile security, and more. It is essential to have these features because they can help to protect your business from malware, phishing attacks, and other online threats. It also provides traffic visibility.
10. Firewalla
Firewalla is a network security company that provides cyber security for small businesses. Their products include a firewall, intrusion detection and prevention, and anti-virus protection.
Two of its famous products are Firewalla Purple (gigabit cyber-security) and Firewalla Gold (Multi-gigabit cyber-security).
Features
Complete cyber security
It offers complete security to your phone, camera, and speakers by providing automatic alerts against threats.
Provides parental control
It allows you to keep one eye on your child's activity. That means you can check whether they are doing homework or playing games.
Privacy protection
It offers protection while using public Wifi with the help of its VPN server so that you can protect your privacy.
Ad-block
With the help of its in-built Adblocker, you can avoid commercial ads while browsing.
FAQs
Conclusion
A firewall is a critical piece of hardware or software for any small business. It can help protect your data and keep your systems safe from unauthorized access.
In this blog post, We've outlined the best firewalls for small businesses and shared our top picks for the best firewall device and appliance. Keep these considerations in mind to find the best solution for your needs.