Any company would aim to improve productivity, quality, and collaboration, boost creativity and speed up the product release time. Here, product life cycle management software plays a major role. They handle the life cycle of the product at every single stage in an efficient manner. 
This blog post helps you decide on the right product lifecycle management software to aid your enterprise by giving you an insight into some of the best available software and product lifecycle software features, likes, and dislikes.
What is product lifecycle management software?
Product lifecycle management software is a platform to manage the complete data and operations detail at every stage of a product's life, from conception, manufacturing, servicing, and sales or service life across a wide network of companies and individuals.
This typically constitutes information regarding the product's various components, documentation, new design, modifications, quality-related activities, marketing, and sales. 
The product lifecycle management software combines with many systems like ERP, MES, CAD, etc. It is a multi-user platform that allows people with different responsibilities and access to an organization to use it.
Important features for a platform to qualify to be a product lifecycle management software:
Management of the design and process documents of the product
Provision for an Information repository, which is centralized
Management of workflow and process management for any modifications approval 
Secured access for multiple users (electronic signature)
Automated tools for improving productiveness
Uses
Improve productiveness
Faster time to market products
Reduction in production costs
Centralization of data
Integration of business operations
Reduction of integrity risk
Good analysis of data 
Here is the list of the top PLM software
1. TeamCentre by Siemens
Team center software is a state-of-the-art platform with a versatile PLM solutions that digitally connects people and processes across the operations of the various departments of a business to work creatively.
Irrespective of the approach used to employ this software, like on a cloud, SaaS-delivered via Teamcenter X, or on-premises, the following results will remain the same.
The software helps speed up the product development process and easily overcome any difficulties arising.
Features
Adaptable PLM infrastructure 
Managing changes in workflow and operations
Handling BOM, documentation, reports, and publications
Managing electronic design, mechanical design, software, and manufacturing
Managing the Manufacturing data, process, and materials from design to production 
Sustainability and satisfying environmental norms
Cost, planning, and product execution
Quality planning
Research and analysis
Managing the manufacturers, i.e., sources, and supplier interactions
Provide digital mockups
Likes
Stability in functioning
Smooth integration with CAD, SAP, and NX
Intuitive and easy accessibility of modules 
Easy configuration and application from different processes
Easy management of processes and collaborations 
Enhances productivity 
Dislikes
Difficulty in navigating the UI
Options for customization are limited
The system can slow down and hang
Improvement in graphic card configuration to handle data files
It does not integrate with CATIA and Solidworks 
Pricing can be revised. 
2. Arena 
The cloud PLM platform from Arena plm is built to face any hurdles during the entire process of product development.
It aids in-house teams and their external partners to work in sync to design, produce and deliver a product with the fastest possible solution while being cost-effective and highly productive.
It also complies with environmental and regulatory norms for FDA, ISO, ITAR, and EAR. Arena supports over 1000 state-of-the-art and multi-faceted customers in the electronics and medical devices industry to find a common solution for electrical, mechanical, and software designs. 
Features
Maximized scalability and serviceability
Easy collaboration between partners
Affordability
Likes
Easy documentation
Smooth functioning interfaces
Simple BOM structure
Good analytic capabilities
User-friendly interface
Accurate tracking of changes 
Accommodates adjustments in settings.
Dislikes 
Licensing is expensive
Problems with integration tools for XPLM and Solidworks
The search option is not handy.
Processing bulk changes in multiple steps to process is sluggish
3. Autodesk Fusion Lifecycle 
Autodesk Fusion Lifecycle is a cloud-based product lifecycle management platform that aids in determining and automating processes. It keeps checking the product development and workflow going forward without any hurdles.
It can incorporate; a single centralized data source, BOM, Change Management, Quality Management, Supplier Collaboration, and Product Data Management.
Features
Collaborations with your global supply chain and enhance efficiency
Shorten target dates and fast-track the process of product development
Centralized source of data for the entire process, managed BOM and materials
Aids engineering division with changes with organizing, managing, and tracking product data, revisions, and releases
Provision for change management and quality management
Likes
Easy collaboration
Access to data
Good user interface
Visualization of product available
Dislikes
Navigating in the cloud makes it slow
Problem with third-party controls
Other details
4. Oracle Agile PLM 
Oracle Agile PLM platform is the latest all-inclusive software available for the industry to adopt. It contains all the main elements that handle product value chains efficiently. As a result, this collaborative software helps the choicest projects to reach the market faster. 
Features
Comprehensive and well-connected platform
Quality management tackles any issues arising in the process.
Streamlined corrective actions
Exploring data-driven insights
Portfolio management helps manage plans, human resources, materials, and other resources required to be invested in new product development.
Likes 
Good features and components
Structured BOM
Cost-effective solution 
Dislikes  
The licensed version is costly
Not scalable 
BOM management does not support many files
Other details
5. SAP PLM software
SAP PLM software lends support to product realization processes. It may also be used along with SAP and other products. In addition, it helps provide faster and better decision-making on product blueprints to satisfy various customized requirements of the customers.
Features
Resource and portfolio management
Management of product design, product development, costing, and compliance 
BOM and documentation
Likes
Easy creation of documents and BOM
Adaptable integration solutions (ERP) 
Monitoring the progress of the product
Well-connected with all the departments involved ( Design, hardware, software engineering, and services
Dislikes
UX design can be improved
Migration troubles ( from ERP)
Other details
6. ENOVIA
Enovia PLM platform aids teams across the value chain to seamlessly carry out innovation and collaboration in any field of business. It helps the product reach the market smoothly and successfully. PLM data can be accessed by all the team members inside and outside securely.
Features
Connecting people, ideas, processes, and data
Strategic project planning 
Building a good value chain
Provides virtual development – Reducing design time and overhead
Likes
Easy to work
Easy collaboration
Involvement of all stakeholders in the process
Dislikes
No help section in FAQ
User interface improvement
Slow loading of pages
Other details
7. Aras PLM
Aras PLM is an open architecture platform that allows the creation of tailor-made client solutions. This low-code technology provides fast and upgradeable solutions for the entire lifecycle of sophisticated products in all engineering, manufacturing, and maintenance processes. 
Features
Takes care of the manufacturing process planning, design, engineering, and quality.
Adaptable to any business changes.
Documentation and BOM
Likes 
Controls both business and finances
Wide range of toolsets
Dislikes
Some technical issues
Slower functioning 
Other details
8. Propel
Propel is a cloud-based PLM platform that offers to develop, enhance, and set into motion the product into the market. Easy-to-use software connects all the components of a product to yield good results.
Features
Collaboration across the value network
Documentation and BOM
Offers change management, quality management, tasks, and requirements
Product information management
Likes
User friendly
Easy to customize
Dislikes
Cannot maintain complete BOM
Management of notifications
Other details
9. Windchill
Windchill is a PLM system by PTC with open architecture. It aids in easy integration and provides a strong base for any product-driven digital thread. You can use it on Windows, Linus, and UNIX. 
Features
Offers package deals for both experts and non-experts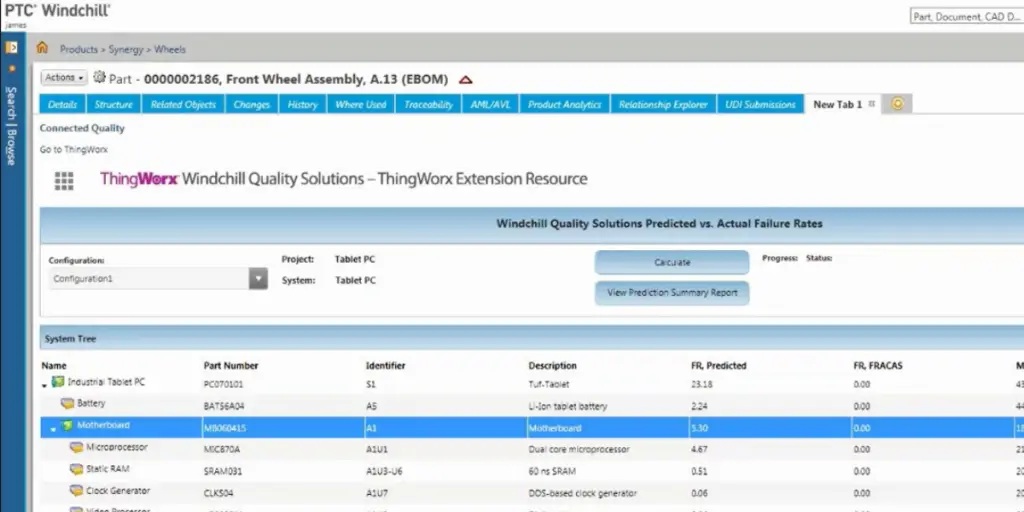 Multi-system data handling
Data upgradation and systematized automation
Provides both cloud and on-premises delivery (secure and fast)
Likes
Compatibility
Supports multiple users and multiple devices
Visually compares and validates product management process 
Provides BOM
Provision for interface customization for user
Dislikes
Search, and navigation can be improved
Customer support needs to improve
10. Bamboo Rose
Bamboo Rose retail product lifecycle management is a unique platform to transform design concepts from development and testing to branding and sales.
It can support complex and undemanding lifecycle management processes to deliver the goods well in time at the appropriate marketplace.
In addition, it allows retailers and suppliers to work in unison to develop quality products with a few reduced cycle times.
Features
Automatic adjustments to market variations and design changes
Handling all BOMs and documentation through the process
Innovatory designing of all products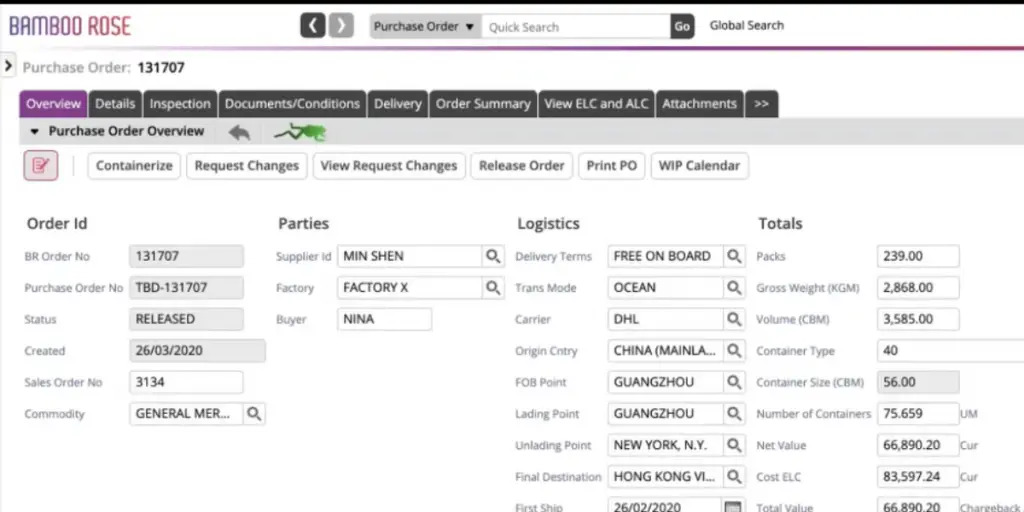 Shorter cycle times
Reduced sampling costs 
Likes 
Creative digital rooms for collaboration
Automation of import and export
Dislikes
Less integration with third-party software
Other details
Note: Pricing details are not provided on the official website of the above software. You need to contact the vendor for the details.
Conclusion
Hoping your journey from product conceptualization to product realization gets fruitful after going through the post and helps you choose a well-suited PLM software to connect you seamlessly through the product value chain and manage the quality, resources, documentation, research, development up to sales and marketing.
Reference