PDM, or Product Data Management, is all about how companies handle and organize their product information using methods and tools. It is a way organizations control and arrange details about their products, making sure everything is in order and well-organized. Read on to know more about it.
This blog post will discuss PDM and the 10 top PDM software programs available. Stay tuned!
Product Data Management Definition (PDM definition)
Product Data Management (PDM) is the collection of the organization's product data and maintenance. This data can include anything from engineering drawings and BOMs to marketing materials and customer support information.
The below image represents product data management in detail.
PDM's purpose is to ensure that all this data is accessible to everyone who needs it, whether in engineering, manufacturing, or marketing.
As a result, companies can avoid duplication of work, ensure consistency across different product versions, and make it easier to bring new products to market quickly and efficiently.
Now let us look into PDM in detail.
Overview
PDM system is specifically designed to store and manage the complete information in a more robust and retrievable manner, including computer-aided design (CAD) data, models, parts information, manufacturing instructions, requirements, notes, documents, etc.
Product data includes any information related to the characteristics of a product and technical specifications such as its size, price, color, materials used, usage instructions, and more.
This data is essential for businesses as it provides valuable insight into customer demand and can help them create more effective marketing strategies.
Product data also helps businesses understand their competitors better, as they can compare their product offerings against those of their competitors to identify areas where they can gain a competitive advantage.
Additionally, product data allows companies to track inventory levels to ensure that they remain adequately stocked.
Regarding the engineering side, the specification includes manufacturing instructions and CAD models.
Following are the data managed by PDM.
Brand name
Part number
Description of product
Vendor information 
Vendor part number
Unit of measurement
Product specification
Bill of materials
Cost of the product
CAD drawing
Material and Part datasheets
If a Product Data Management System can address all the requirements of an organization and is accessible by multiple applications across an organization, it would be considered an ideal PDM system.
Choosing the right PDM software can allow the company to survive in the excessively saturated market.
It stores all the information about the products in an organized, less vulnerable, and retrievable manner.
All the other systems can then leverage the information stored in the PDM system within the company that needs information about the specific product.
This information may include extensive information about the particular product ranging from the raw materials deployed in the manufacturing cycle to how it was manufactured.
The data feed by the PDM system behaves as a source for various business functions, from design to manufacturing.
Ensure the Highest Level of Security
PDM systems store and manage sensitive information about a specific product in a way more secure and manageable form and ensure that all users can appropriately leverage this information throughout the product development lifecycle.
PDM system ensures the highest level of administrative functionality and security features through the proper implementation of role management, project-based security, and access privileges.
The merger of the Bill of Materials BOM data
Product Data Management necessitates the management of BOM data.
The automated system of PDM facilitates the synchronization of BOM data emerging from the different sources and product development lifecycle phases that include as-designed, as-planned, as-managed, and as-maintained states.
PDM system offers the highest level of customization of all the core functionalities, allowing you to perceive BOM data before and after the modifications.
Live demonstration of the product development lifecycle encompasses sharing and on-demand visualization of the product and under-the-hood product assemblies and parts without relying on any Cad authoring tool or technical knowledge.
Digital mockup features can reduce the cost incurred on physical prototyping.
Data Management Process
Data management is crucial for all businesses for their overall growth. So while implementing this process, you need to follow the below steps.
1. Decide data architecture
Every work needs a blueprint. The determination of data architecture serves as a blueprint that determines all the databases and software you require for your organization's data management process.
So it is essential to decide where you want to store your data.
2. Allot responsibilities
While implementing the data management process, ensure who is responsible for which work. Then, assign the work to each person.
Opacity in the team leads to poor data quality. Hence, assign the responsibility to each person.
3. Decide the names for the files
Decide standard names for each file so that the user can easily search the file, and he will be able to find out which data is there in that file. Hence you can save time.
4. Data collection
This step will be the essential step in this implementation process. To make critical business decisions, you need valid, real-time data. So collect crucial and necessary data from different sources.
5. Construct a dataset
Once you have collected data, you need to validate the dataset by comparing it with another source and re-arranging it for the following process.
6. Data processing
After completing data validation, convert the data set into one single data so that software can easily understand it.
For example, if you have fields representing the final product like the assembled product, finished product, output product, etc. Just merge them into a single lot, the final product using data processing.
7. Data analyzing
With the help of software, analyze the data to get a better result because computer programming examines data accuracy better than a human.
8. Documentation
Record all the previous steps and results in documents and save them with the proper name.
9. Share documents
Share all documents of the data management process with your team members to understand all the implementation steps, standards, and responsibilities.
10. Cooperation between departments
Cooperation and proper communication between departments are crucial to avoid redundancy if your organization is large.
So communicate your process with other departments that avoid uncertainty about the data management process between departments.
Advantages of Product Data Management
These are the well-known benefits of the PDM system.
Optimize the profitability of the business by reducing the cost incurred on production.
Minimize the errors and save the expenditure incurred on offsetting casualties and mishaps.
Enhance the overall productivity of the company and minimize the cycle times.
Precisely address all the requirements of the business.
Creates an opportunity for better business decision-making
Facilitate teamwork by allowing the global team to communicate with each other easily.
Instantly extract the most precise and accurate data.
Immediately tracks and manages all changes related to product data.
Product Data Management Software
We'll be listing some of the well-known PDM software. We hope this list assists our readers in selecting the best appropriate PDM software for their business.
1. Upchain
Upchain software is a cloud-based Autodesk fusion 360 managed, best product data management software for businesses of all sizes. It makes managing your product data easy and helps you avoid any mistakes.
Key features
Upchain software offers an intuitive drag-and-drop interface for easy product management.
Easily manage your product data with custom fields and filters.
Get real-time updates on your products' statuses and changes.
Collaborate with your team in a secure environment.
Easily integrates with CAD tools and other software
Connects product development processes
Screenshots of Upchain
Likes
It provides an excellent service for BOM and change management.
You can easily customize the workflows
Dislikes
The user interface is not so good.
3D modeling and assembling are complex to handle 
More improvement is needed in features like Change management, Bill of materials
It crashes sometimes 
Advanced features are missing in 3D tool.
Application stability and API interface need to be improved
advanced surfacing options are missing 
Supported industries
Building design
Infrastructure
Construction
Other details
2. Autodesk Vault
Autodesk Vault is a product data management software developed by Autodesk. It offers an intuitive drag-and-drop interface and connects product development processes for easy product management.
Key features
Integration with CAD
Automated design and data reuse
Concurrent design and scalability
Accurate and comprehensive BOM
Integrates PDM with ERP and PLM
Store and manage product data securely
Access product data from any location
Create and share product data with others
Screenshots of Autodesk Vault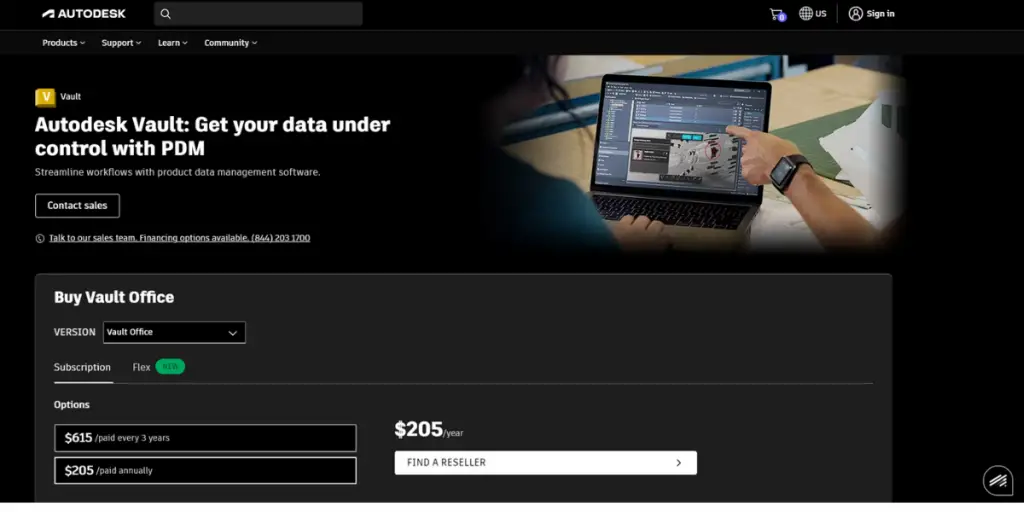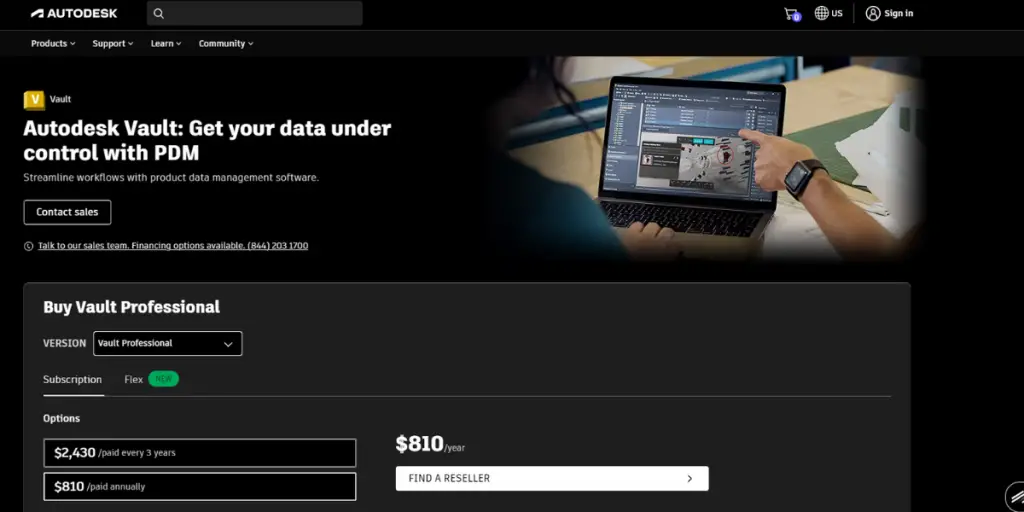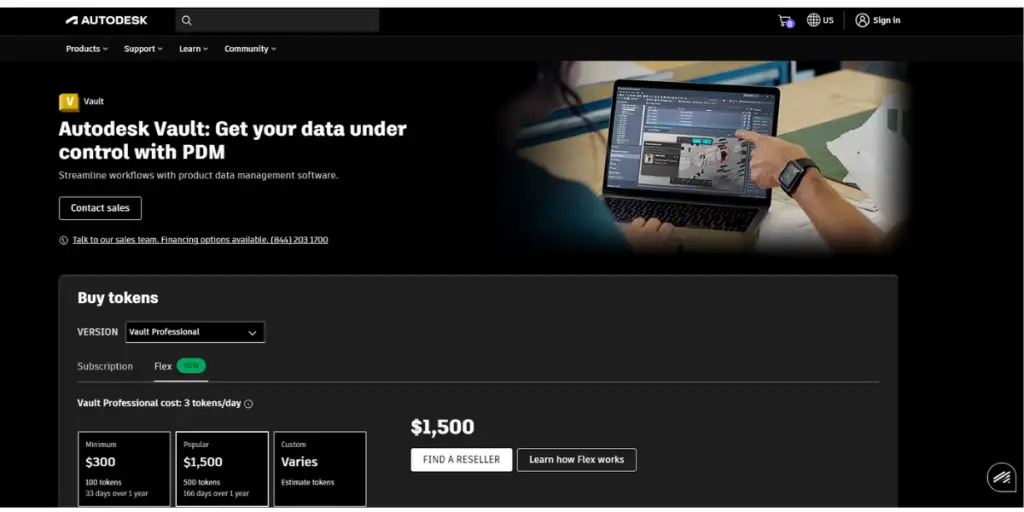 Likes
You can quickly search and reuse design data
Reduces errors with automation and data accessibility
Dislikes
Unable to accommodate more than one person at a time on a file
Gets sluggish on high load 
Issues with storage and backup 
Difficulty in learning for beginners
Constant uploading issue 
Difficulty in import or export bulk capabilities 
Supported industries
Building design
Infrastructure
Construction
Other details
3. Solidworks PDM
Solidworks PDM is an excellent product data management software for businesses of all sizes. It is easy to use and helps to keep product data secure and accessible from any location.
It also allows users to create and share product data with others, making collaborating on projects much more accessible.
Key features
Centralizes product data in a secure, reliable system.
Automate routine tasks and improve workflows.
Easily share data with stakeholders across the organization.
Manages data files and documentation.
Allows to store design data securely and retrieve it easily.
Collects data from multiple locations.
Screenshots of Solidworks PDM
SolidWorks Enterprise PDM generally comes with the following features and functionalities.
Bill of Materials Management
Product Development Lifecycle Management
Version Control
Formula Management
Document Management
Product Analytics
Testing Management
Likes
Aids in design and real-time simulations
User-friendly software
Speedy renderings
Dislikes
Software is expensive with high system requirements
Mobile version is slack
Integration issues with Sharepoint or one drive for data
Issues with large assemblies management needs improvement
Supported industries
Aerospace and defense
Architecture and construction
Infrastructure
Governments
Home & lifestyle
Transport & mobility
Other details
4. Siemens Teamcenter
Siemens Teamcenter software is one of the best product data management software options. It offers many features and capabilities to help businesses manage their product data more effectively.
Key features
BOM management
Change management
Document management
Electrical design management
Product cost management
Likes
Helps to deliver large products with enhanced productivity.
Easily integrates with other CAD solutions.
Revision and data management
Efficient workflows
It offers industry-based solutions like Aerospace & Defense and Energy.
Dislikes
Manufacturing Process Planning is complex
User Experience Improvements
Visualization and data loading on UI needs to improve
Migration issues
Error management
Usability
Customizing options are less
Deployment issues
Expensive upgrading
No documentation and training manual support
Supported industries
Aerospace and defense
Automotive transportation
Consumer product
Electronics
Energy and utilities
Heavy equipment
Insurance and financial
Media and telecommunication
5. OpenBOM
OpenBOM is a comprehensive product data management software that helps businesses manage their product data more effectively.
OpenBOM provides users with a centralized repository for storing and managing product data. It also offers a variety of tools for managing parts, purchases, CAD files, and documents.
Key features
BOM management
Item management
Change management
CAD integration
Screenshots of OpenBOM
Likes
Efficient sharing of BOM with other company
3D viewer for preview of images and parts
Allows multiple simultaneous edit and data sharing 
Effortless integrations
Dislikes
Engineering change requests feature needs to be improved
Cannot handle large and complex BOMs
Issues with speed and no offline access
User interface is not intuitive
 Occasional bugs 
6. Delogue 
Delogue is a top product lifecycle management software that helps businesses manage their product data more efficiently.
Delogue is specifically designed for the lifestyle industry and can adequately address all the requirements of this specific industry.
Delogue accumulates all the product data, appropriately manages the project, and consistently communicates with your development team during the lifecycle workflow.
To enhance accuracy, efficiency, and knowledge accessibility, Delogue stored all the sensitive information in one central place. As a result, Delogue is a valuable tool to boost the productivity of your production team. 
Delogue can be easily incorporated into your current ERP system, apart from these peculiar functionalities.
Key features
Manage product data and specifications more efficiently
Keep track of products, manage information, and collaborate with team members effectively.
Streamline your workflow for faster product development
Get real-time feedback from your team and customer
Likes
Easy access to information
Decent user interface
Enables easy design changes to the final product
Dislikes
Errors made while commenting cannot be deleted
You can't see whether your supplier opened the message or the email sent to him
Complexity of platform
Other details
7. Altium 365
Altium 365 revolutionizes the product design process with its comprehensive platform that connects PCB design, MCAD, data management, and collaboration – streamlining workflows to make electronics engineering easier.
Feature
PCM design
Mechanical and electronic collaboration
Centralized cloud storage
Life cycle management and libraries
Keeps team working together
Manufacturing with convenient version-control
Screenshots of Altium 365
Likes
Easy to use
Good customer support
Share the PCB information with customers and suppliers
Easy integration with mechanical CAD
Collaboration and online libraries for team sharing
Active BOM
New and improved homepage
Revision control of symbol, footprint, and unified component released to the server
Dislikes
Expensive
Newly released features have some bugs
Frequently crashes
Poor design rule management
BOM and the 3D view are a bit slow
Need improvement in Elbow position option
SVN and GIT migration does not work well
Complexity
Other details
8. Synergis Adept
Synergis Adept is unified control of your engineering drawings and business documents in one secure place. You no longer need to search multiple locations for the information needed – access it through a shared collaboration platform.
Features
Powerful engineering document management software
Efficient workflow, collaboration, and transmittals
Integrated with AutoCAD, Solidworks, Inventor, MicroStation
Design visualization
Security and Control
Easy to connect applications and eliminate information silos
Screenshots of Synergis Adept
Likes
Simple platform
Easy to setup and learn
Helps find, manage, share, and integrate engineering and enterprise information
Good customer support
Storage of backup files and sharing
Seamless workflow
Dislikes
Poor document management
Some users feel that there is a lack of customization and modernization while using the modern web 2.0 world.
Lagging while working with a large number of drawings
Expensive for smaller enterprises
Issues with newer versions
Supported industries
Chemical
Energy and utilities
Manufacturing
Mining
Oil and gas
Facilities and building
Other details
9. Onshape
Onshape's cloud-based PDM system empowers product developers with the resources to rapidly create, collaborate and bring products quickly from concept to market.
Feature
Cloud-native Computer-Aided Design(CAD)
Provides a multi-user environment
Flexible pricing plans
Built-in Product data management with 3D CAD
Agile product development
It offers powerful automation and customization tool.
Screenshots of Onshape
Likes
Easy-to-use and user-friendly UI
Easy learning management features
No need for hardware for the server
Easy and smooth development of product
Dislikes
Difficult to use large-scale architectural projects
Some users faced occasional glitches and clashes in large-scale projects
Need improvement in the sheet metal side of modeling and documentation 
Less functionality compare to more mature CAD software
No axis for creating revolve shapes
Supported industries
Automotive
Consumer products
Education
Electronics
Industrial equipment
Medical
Other details
10. Windchill PDM
Windchill PLM software offers extraordinary value with its easy-to-implement PDM and PLM tools suite. No need to start from scratch; users can reap the rewards quickly, right out of the box.
Features
Open architecture for PDM and PLM
Easy integration with other systems 
Real-time information sharing
Dynamic data visualization
Easy, secure data access
Quality focused process
Geographically distributed teams
Screenshots of Windchill PDM
Likes
Rich application and intuitive product structure management software 
Version control and powerful configuration management
Comprehensive security measures
Action icons of files are easy to recognize
Preview UI file is very useful
Upgraded architecture
Effective collaboration tools
Compatibility with multiple devices
Easy to find any part and assembly with its drawing file
Dislikes
Steep learning curve to fully utilize the platform
Some reference errors are difficult to solve
Some users felt speed is less
Not designed for process manufacturers.
Not suited for enterprises with less than 5 users
Library module needs improvement with better standard parts
Issues with handling backup files after a gap
Other details
Uses of PDM software
It helps to access the design files from CAD software. Generally, it is not easy to find these design files.
It helps to reduce development costs and errors.
It allows you more visibility across teams and improves cooperation between team members.
It helps the organization to get complete control over the product information.
It helps to get efficient output from the design and engineering team.
It allows the design team to speed up the designing process and helps release the product quickly in the market.
---
FAQs
---
Conclusion
The centralized Product Data Management system serves as a crucial hub for efficient control of both product data and manufacturing processes.
Implementing PDM software not only empowers the engineering team but also results in significant time and resource savings.
We trust that this blog post has equipped you with valuable insights into the diverse platforms available, assisting you in making well-informed decisions tailored to your needs.
Reference