Product data management, or PDM, is a term used to describe the process and tools used by companies to manage their product data.
This blog post will discuss what PDM is and some of the top software programs available. Stay tuned!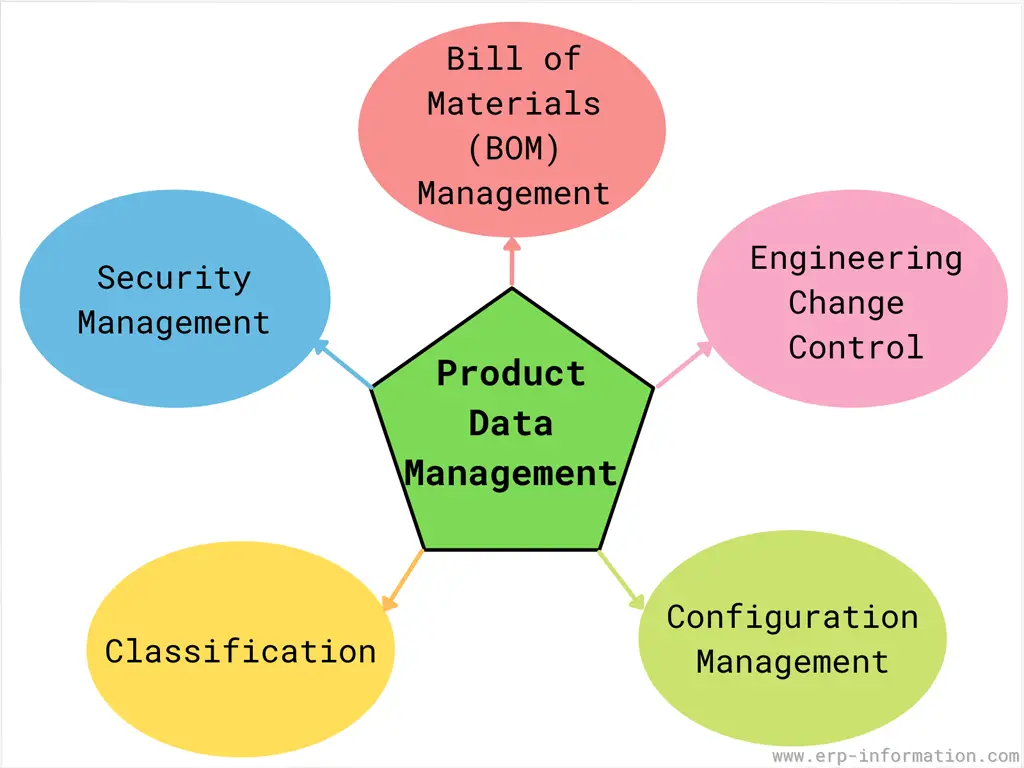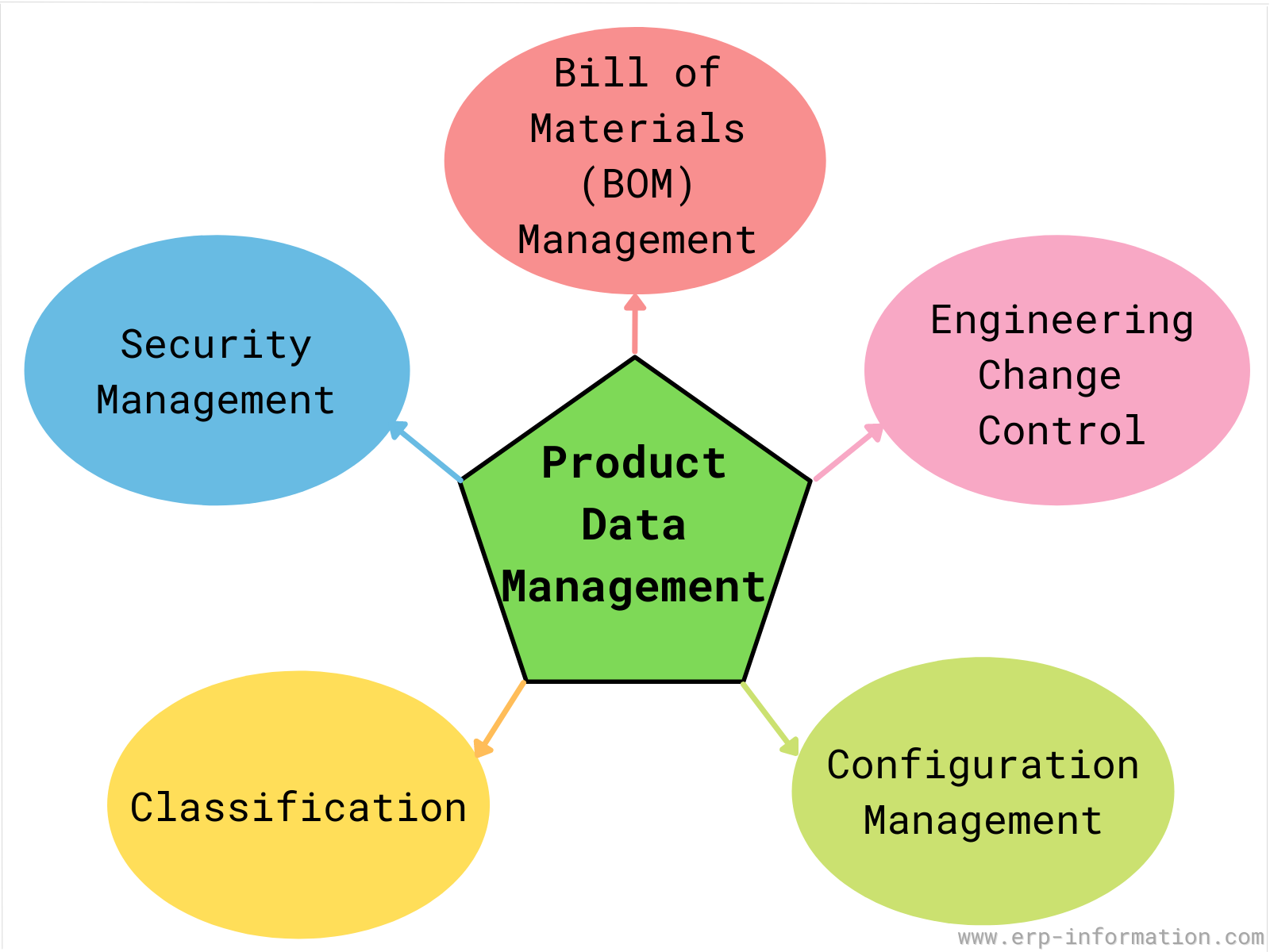 What is Product Data Management (PDM)?
Product Data Management (PDM) is the collection, organization, and maintenance of product data. This data can include anything from the engineering drawings and BOMs to marketing materials and customer support information.
The purpose of PDM is to make sure that all this data is accessible to everyone who needs it, whether they're in engineering, manufacturing, or marketing. Companies can avoid duplication of work, ensure consistency across different product versions, and make it easier to bring new products to market quickly and efficiently.
Now let us look into PDM in detail.
Overview
PDM system is specifically designed to store and manage the complete information in a more robust and retrievable manner that includes computer-aided design (CAD) data, models, parts information, manufacturing instructions, requirements, notes, documents, etc.
If a Product Data Management System can address all the requirements of an organization and is accessible by multiple applications across an organization, it would be considered an ideal PDM system.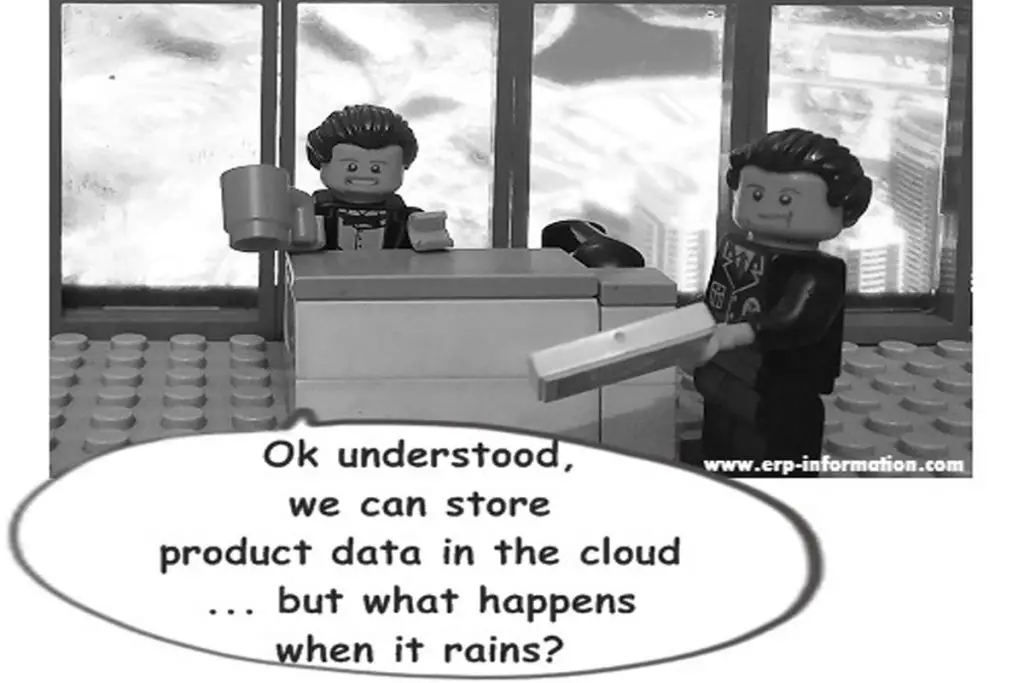 Choosing the right PDM software can allow the company to survive in the excessively saturated market.
It stores all the information about the products in an organized, less vulnerable, and retrievable manner.
All the other systems can then leverage the information stored in the PDM system within the company that needs information about the specific product.
This information may include extensive information about the particular product ranging from the raw materials deployed in the manufacturing cycle to how it was manufactured.
The data feed by the PDM system behaves as a source for a variety of business functions, from design to manufacturing.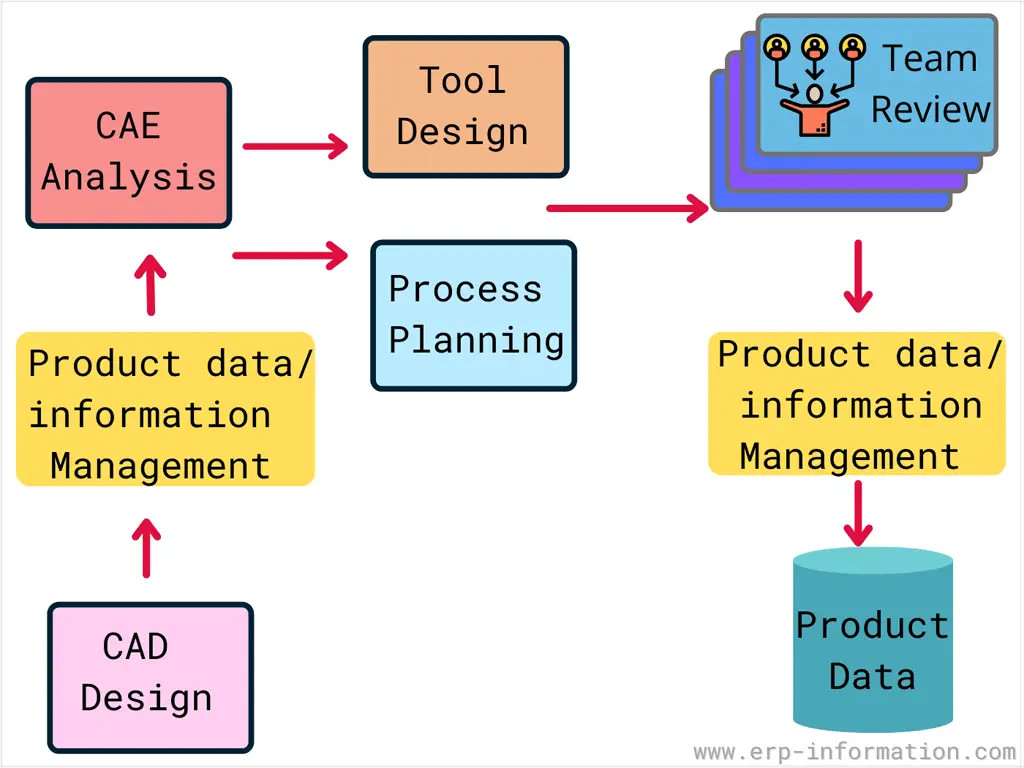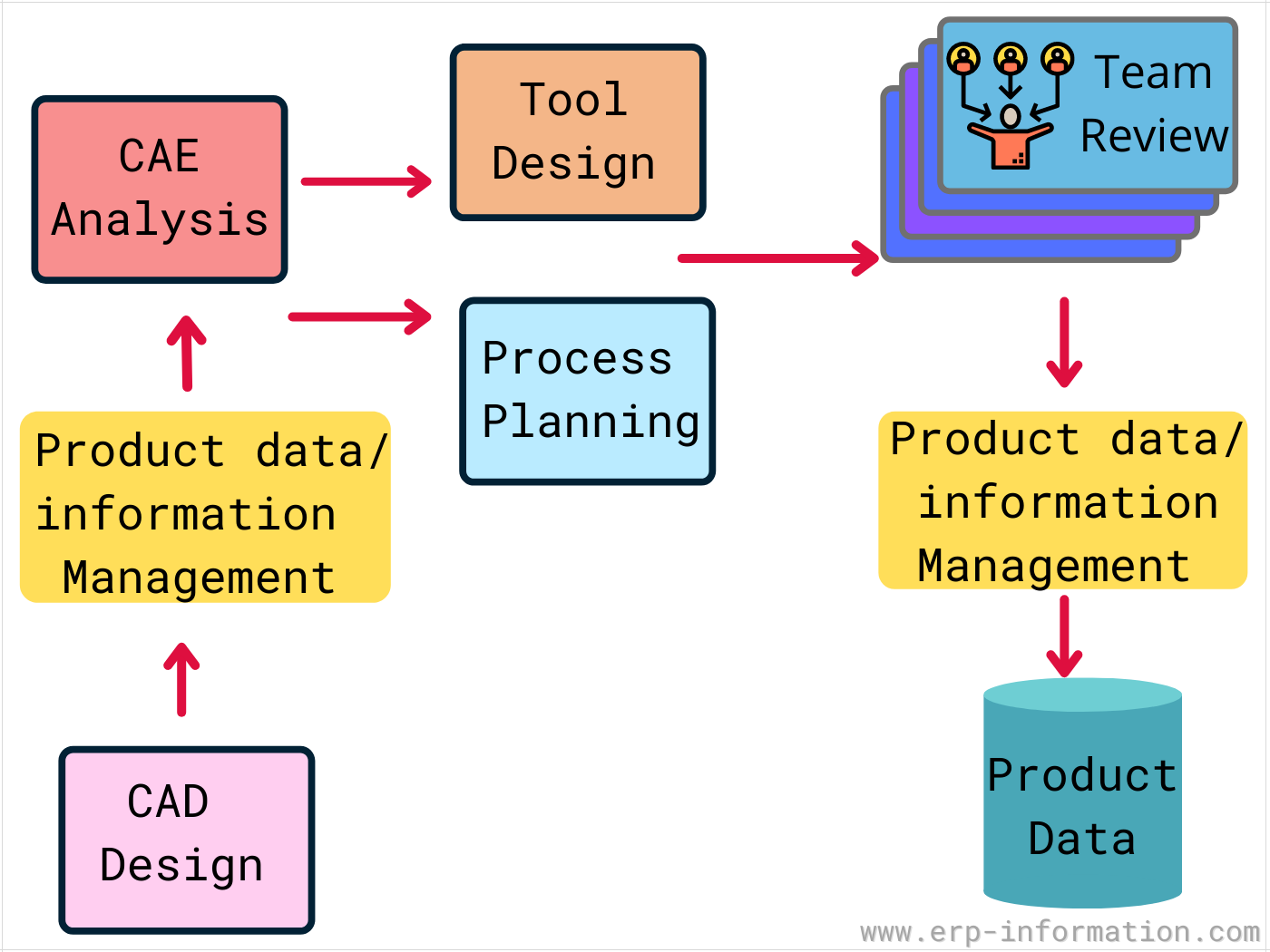 Ensure the Highest Level of Security
PDM systems store and manage all the sensitive information about a specific product in a way more secure and manageable form and ensure that this information can be appropriately leveraged by all users throughout the product development lifecycle.
PDM system ensures the highest level of administrative functionality and security features through the proper implementation of role management, project-based security, and access privileges.
The merger of the Bill of Materials BOM data
Product Data Management necessitates the management of BOM data.
The automated system of PDM facilitates the synchronization of BOM data emerging from the different sources and product development lifecycle phases that include as-designed, as-planned, as-managed, and as-maintained states.
PDM system offers the highest level of customization of all the core functionalities, allowing you to perceive BOM data before and after the modifications.
Live demonstration of product development lifecycle encompasses sharing and on-demand visualization of the product and under the hood product assemblies and parts without relying on any Cad authoring tool or technical knowledge.
Digital mockup features can reduce the cost incurred on physical prototyping.
Data Management Process
Data management is crucial for all businesses for their overall growth. So while implementing this process, you need to follow the below steps.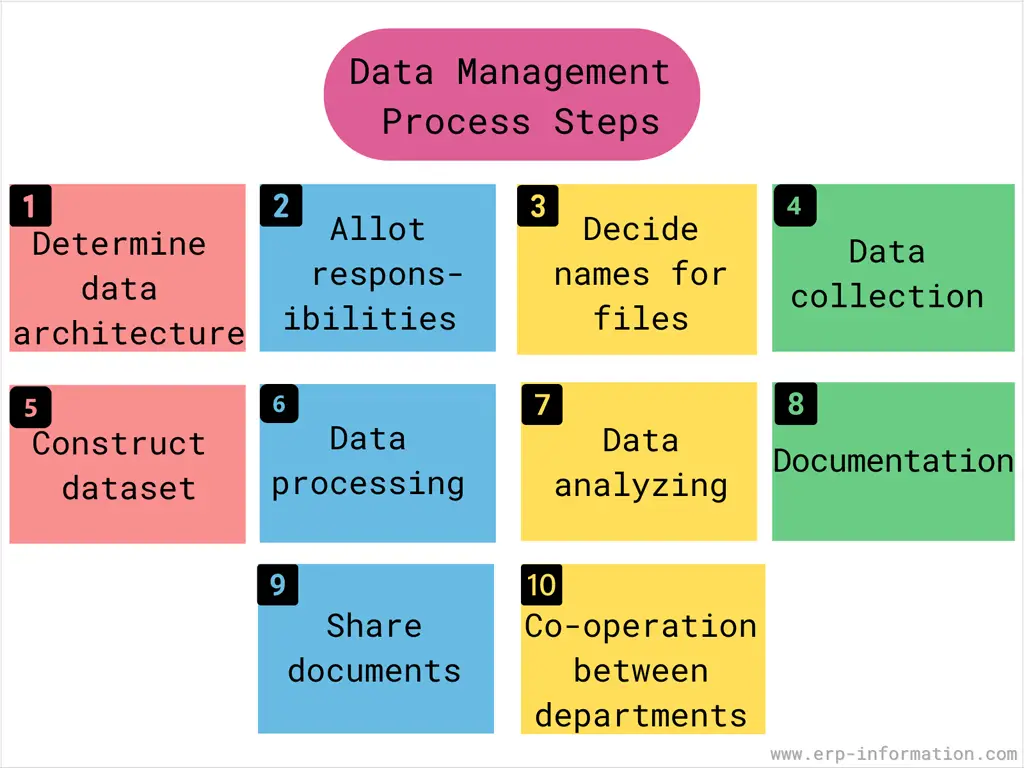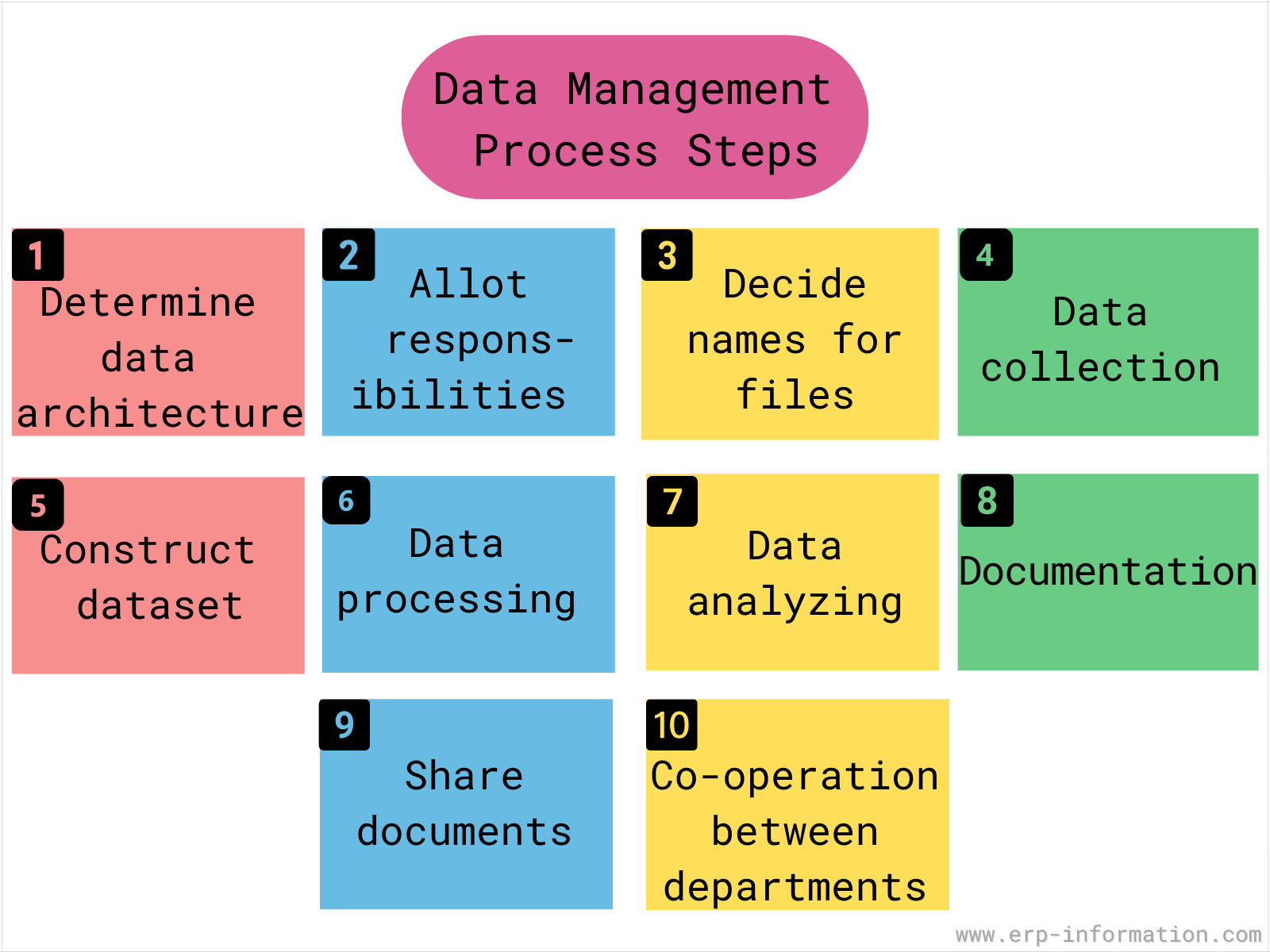 1. Decide data architecture
Every work needs a blueprint. Determination of data architecture serves as a blueprint that determines all the databases and software you require for your organization in the data management process.
So it is essential to decide where you want to store your data.
2. Allot responsibilities
While implementing the data management process, ensure who is responsible for which work. Then, assign the work to each person.
Opacity in the team leads to poor data quality. Hence, assign the responsibility to each person.
3. Decide the names for files
Decide standard names for each file so that the user can easily search the file and he will be able to find out which data is there in that file. Hence you can save time.
4. Data collection
This step will be the essential step in this implementation process. To make critical business decisions, you need valid, real-time data. So collect crucial and necessary data from different sources.
5. Construct a dataset
Once you have done data collection, you need to validate the dataset by comparing it with another source and re-arranging it for the following process.
6. Data processing
After completing data validation, convert the data set into one single data so that software can easily understand it.
For example, if you have fields representing the final product like the assembled product, finished product, output product, etc. Just merge them into a single lot, the final product using data processing.
7. Data analyzing
With the help of software, analyze the data to get a better result because computer programming examines data accuracy better than a human.
8. Documentation
Record all the previous steps and their results in documents and save them with the proper name.
9. Share documents
Share all documents of the data management process with your team members to understand all the implementation steps, standards, and responsibilities.
10. Co-operation between departments
If your organization is large, cooperation and proper communication between departments are crucial to avoid redundancy.

So communicate your process with other departments that avoid uncertainty about the data management process between departments.
Benefits of PDM
These are the well-known benefits of the PDM system.
Optimize the profitability of the business by reducing the cost incurred on production.
Minimize the errors and save the expenditure incurred on offsetting casualties and mishaps.
Enhance the overall productivity of the company and minimize the cycle times.
Precisely address all the requirements of the business.
Creates an opportunity for better business decision making
Facilitate teamwork by allowing the global team to communicate with each other easily.
Instantly extract the most precise and accurate data.
Immediately tracks and manages all changes related to product data.
Product Data Management Software
What is PDM software?
PDM software is a type of software that helps companies manage their product data. This can include the product's design, the engineering specs, the manufacturing process, and the sales and marketing information.
It is used to store, manage, and track this data to find and use when needed. It can also help automate some of these processes to be completed quickly and easily.
 I'll be listing some of the well-known PDM software. I am hoping this list assists our readers in selecting the best appropriate PDM software for their business.
Plytix
It is a versatile Product Information Management Platform that allows business owners to collect, manage, and enrich their specific product-related data.
The aim behind the deployment of this phenomenal PIMS is to incorporate consistency across the business.
Aside from all these functionalities, Plytix software allows business owners to create harmony between the product and sales channel and perform a competitive comparison between different shopping channels and platforms.
SolidWorks Enterprise PDM
Product data management Solidworks is a cloud-based software system specifically designed to assist the business in the following ways.
Properly managing product data,
Sharing design information amongst the core development team
Automating the product development lifecycle
managing deadlines
Expediting the process of document creation
Keeping a track record of progress.
SolidWorks Enterprise PDM generally comes with the following features and functionalities.
Bill of Materials Management
Product Development Lifecycle Management
Version Control
Formula Management
Document Management
Product Analytics
Testing Management
Delogue 
Delogue is specifically designed for the lifestyle industry, and it can adequately address all the requirements of this specific industry.
Delogue accumulates all the product data, appropriately manages the project, and consistently communicates with your development team during the lifecycle workflow.
To enhance accuracy, efficiency, and knowledge accessibility, Delogue stored all the sensitive information in one central place. As a result, Delogue acts as a valuable tool to boost the productivity of your production team. 
Delogue can be easily incorporated into your current ERP system, apart from these peculiar functionalities.
Big Data
This software generally comes with an in-built extensive data management system.
It is delicately designed using the most sophisticated development methodology and allows you to get instant access to tons of data within seconds.
As a result, Big Data is well-suited for large-scale organizations and big projects.
TDSmaker
TDSmaker works pretty well with SMEs and large-scale manufacturing companies and is well-suited for a spreadsheet business.
TDSmaker is a universally well-known and counterintuitive software for creating and editing professional spreadsheets.
This software is way more effective and convenient to use than any other application software, such as Microsoft Office, Quark, and Adobe Framemaker, to create and manage spreadsheets.
The user interface of TDSmaker is pretty much self-explanatory and counterintuitive. It doesn't require any prerequisite knowledge from the user; thereby, it saves the behemoth amount of money that the company has to spend on training sessions.  
Uses of PDM software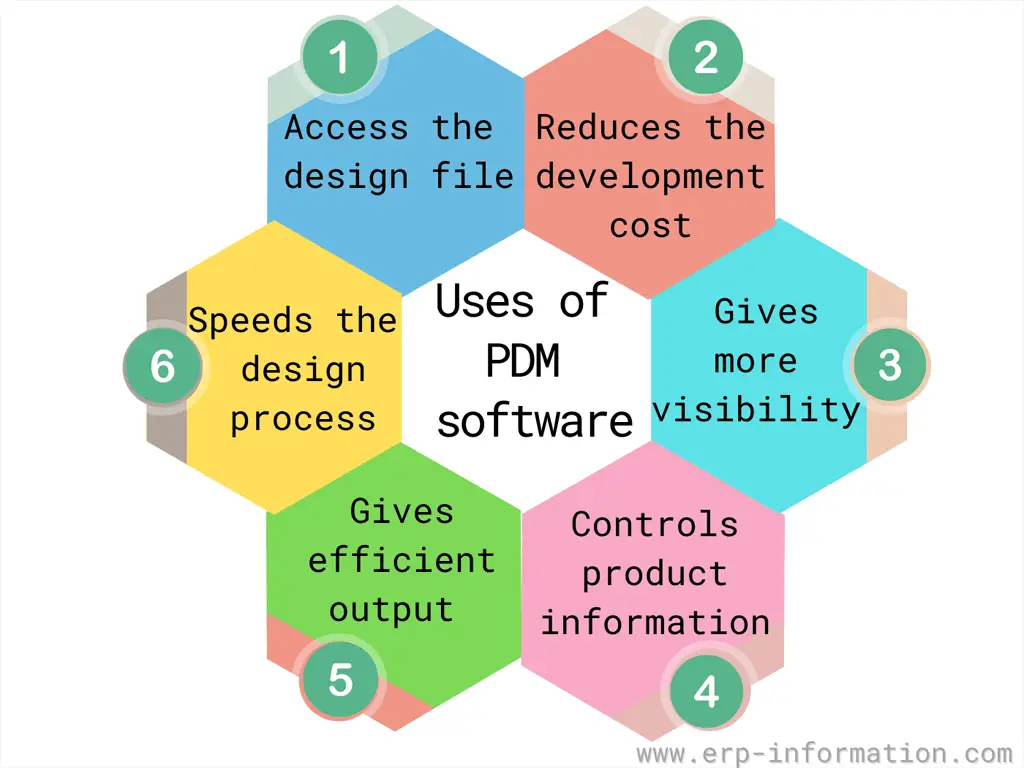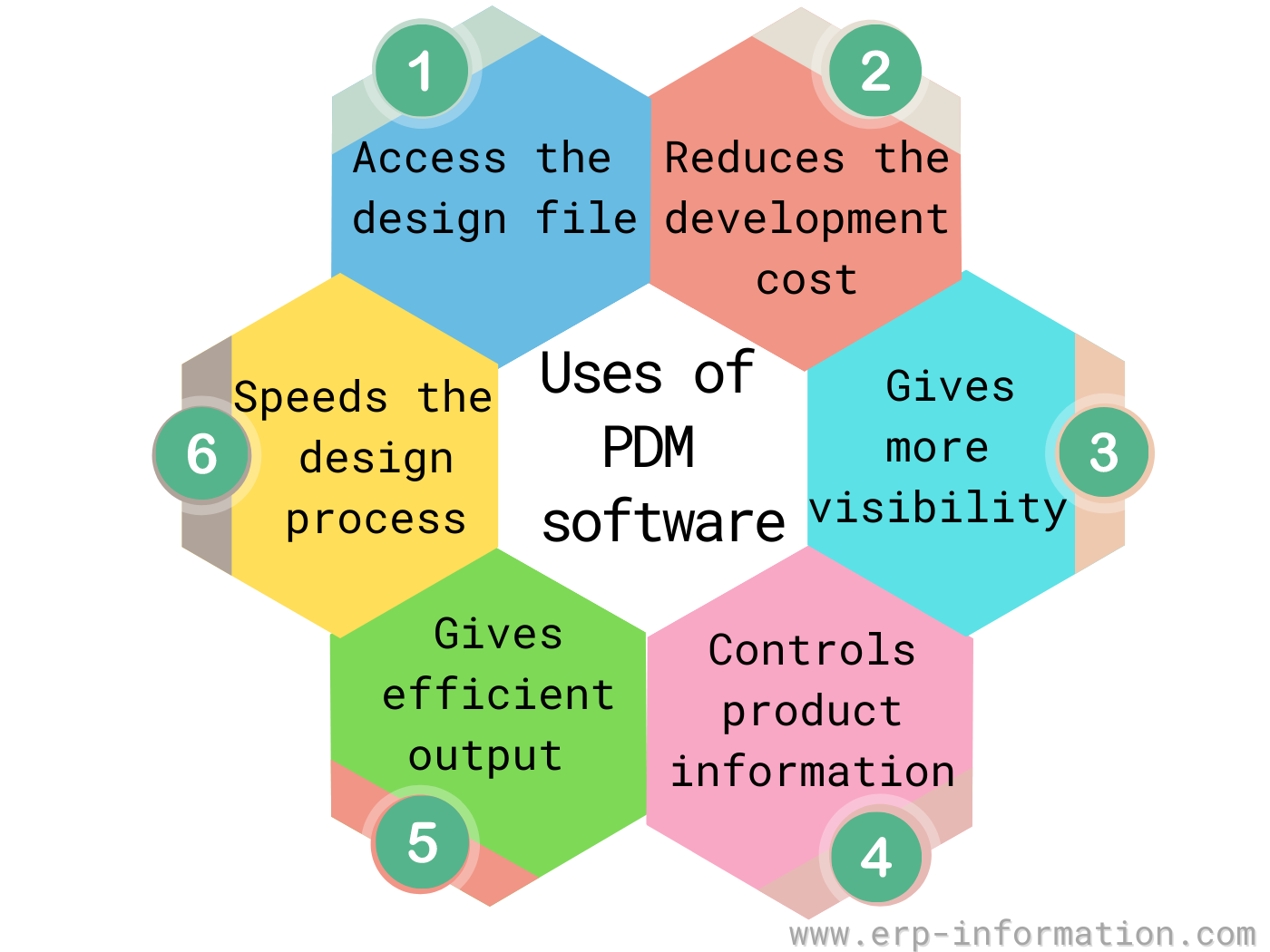 It helps to access the design files from CAD software. Generally, it is not easy to find these design files.
It helps to reduce development costs and errors.
It allows you to get more visibility across teams and improves cooperation between team members.
It helps the organization to get complete control over the product information.
It helps to get efficient output from the design and engineering team.
It allows the design team to speed up the designing process and helps to release the product quickly in the market.
Conclusion
Why is product data management critical?
Product data management is crucial because it ensures that all product-related data is accurately and consistently stored in a single system. This makes it easy to access and track information about products, which can help make decisions about production, marketing, and sales.
Additionally, good product data management can help improve communication among different departments within a company and between companies and their suppliers and customers.
Product data management can help businesses run more efficiently and make better decisions based on real-world data by providing accurate and up-to-date information about products.
What is the difference between PDM and PLM?
PDM is the process of organizing and managing product data. This includes the product description, specs, engineering drawings, photos, and other related documents.
PLM is a comprehensive system for managing all aspects of the product lifecycle. It covers everything from ideation to end-of-life disposal.
The Product Data Management system is the centralized system for the effective management of product data and manufacturing processes.
The engineering team can save valuable time and resources by deploying the PDM software.
You will also like: