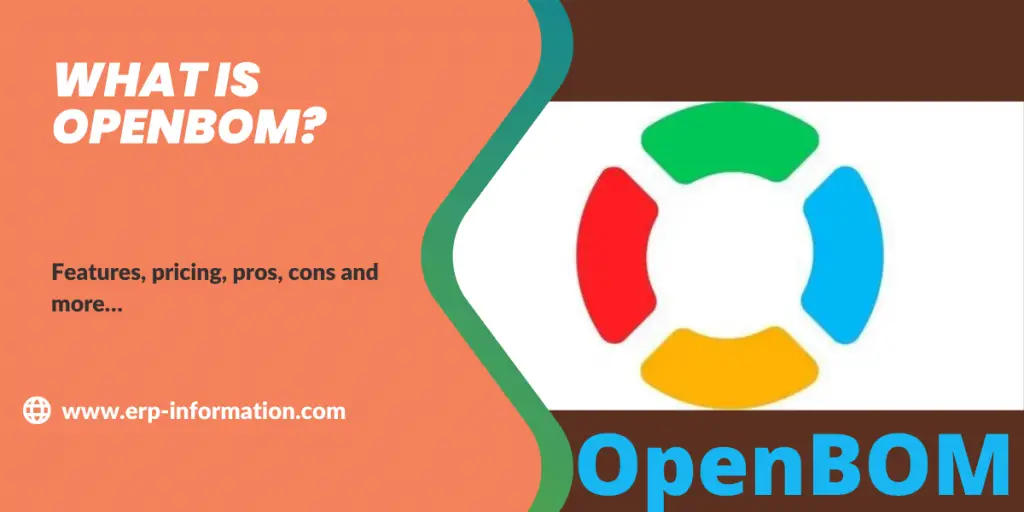 Product data management (PDM) has become a critical factor in product development in recent years. The right PDM system can help you organize and manage your product data, improve communication among team members, and automate specific tasks. 
So how do you choose the right PDM system for your business? This comprehensive guide will provide you with all-over knowledge of OpenBOM.
Here we discuss OpenBOM product data management software and how it is helpful to your production with its unique features and pricing. We also consider the pros and cons.
Latest Version:1.0.2347
Released date: March 29, 2022
What is OpenBOM?
It is a cloud-based product data management software and SaaS platform that allows you to manage your products, parts, and bills of materials (BOMs) in one place.
With it, you can easily create and manage your BOMs, track inventory levels and pricing changes, and collaborate with suppliers and manufacturers.
It also offers a variety of tools for managing parts, purchases, CAD(Computer-aided -design) files, and documents.
This software integrates with other BOM, ERP, and PLM and does not require any particular skill to work on it. This works as excel and can automatically generate fusion 360 like 2D, 3D, and PDF.
Pricing
There is 14 days free trial for users.
Plans for monthly billing
Single user: Users can enjoy the free benefit
Professional team: Costs $350 per month per user
Company: Costs $850 per month per company
Enterprise: You need to contact the vendor directly
Plans for yearly billing
Single user: Single users can enjoy a free subscription.
Professional team: Costs $ 3500 per annum per team
Company: Costs $8500 per annum per company
Enterprise: You need to contact the vendor directly
Additional License
Additional concurrent team user license: $900 per month,$9000 per annum
Additional concurrent company user license: $130 per month,$1300 per annum
Onboarding services: $ 1500
Key features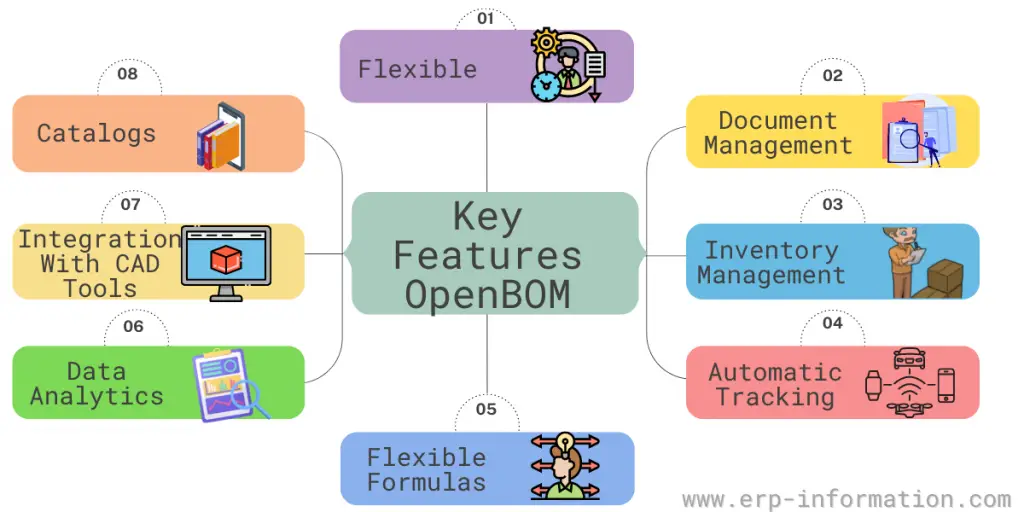 Flexible
OpenBom software is flexible. It is built to hold different data semantically, and it is customizable. It helps with data sharing between companies.
As it is similar to excel and spreadsheets, it manages your data and easily connects information. Comparatively, it is less complex than PLM and ERP.
Document management
This feature is useful for managing drawings and CAD files. It manages the integration of file storage using different catalogs.
Inventory management
This allows you to manage the purchase order, production, inventory, production batches, and procurement planning.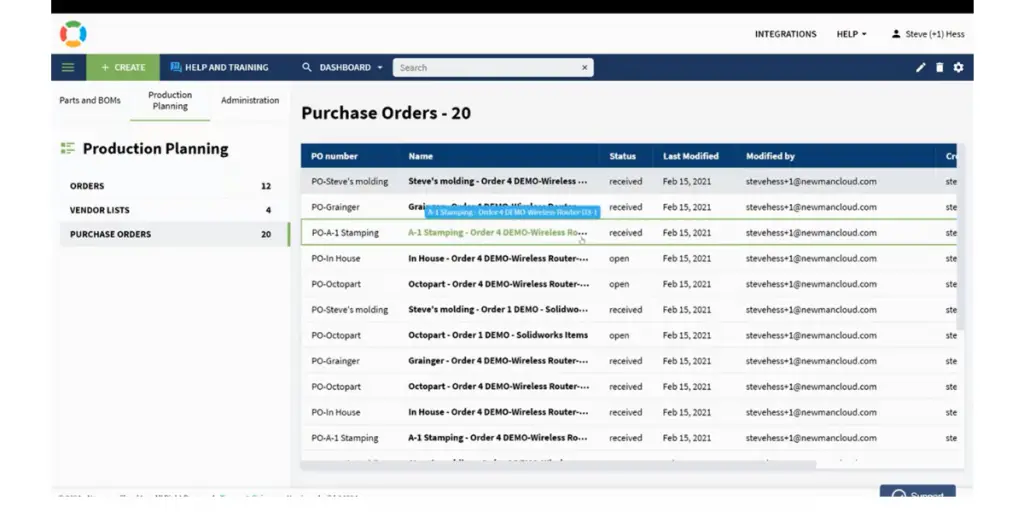 Automatic tracking
This feature allows you to automatically track the changes, send the change requests, and approve the mechanism. So it is easy for you to track BOM structure, CAD files, and other documents. 
Flexible formulas
Flexible formulas are one of the major features of OpenBOM. These flexible formulas make calculation easy and quick. As a result, operations of any data property can be done very effectively with high speed.
Data analytics
Graphical representation is a good way to store and navigate the relations, which helps to analyze, navigate, and access the companies and beyond company information.
Integration with CAD tools
This feature is helpful for you to import the bill of materials and CAD files easily and have the option to convert the documents to PDF or DXF.
Catalogs
Catalogs allow you to stay organized and keep track of your inventory levels so that when production starts, or vendors deliver materials, they will know what's required exactly. Easily You can store, manage organize the items.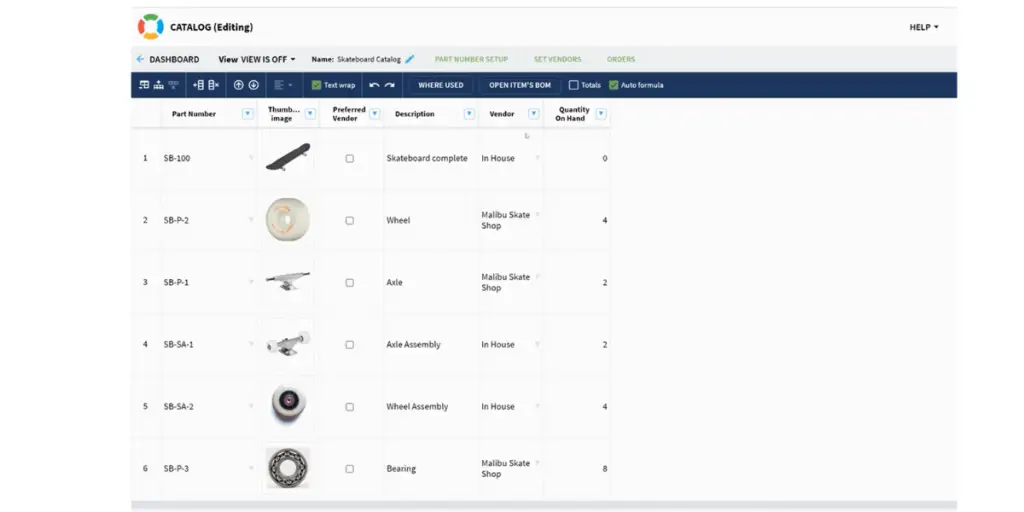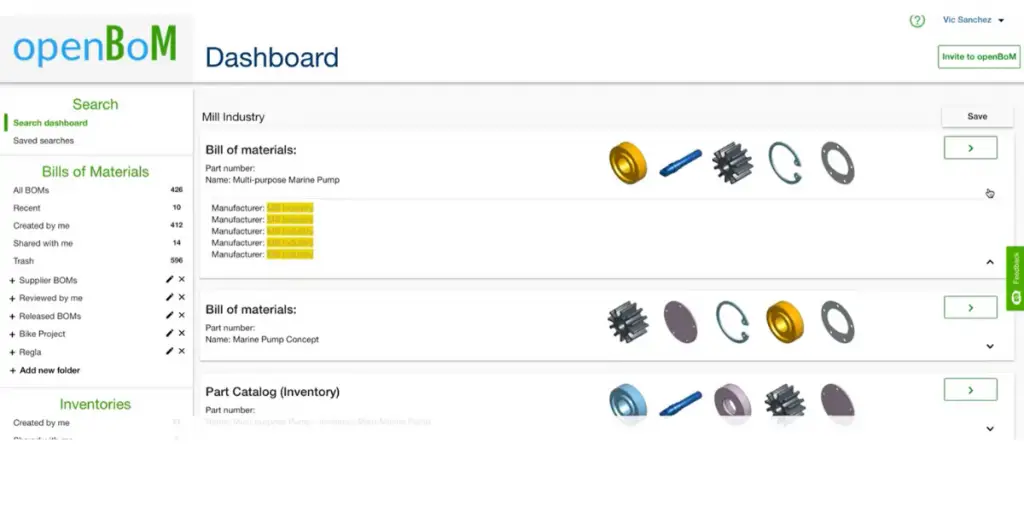 Pros
User-friendly and easy to customize
The catalog option allows separating the stock from BOMs
Easily integrates with CAD and other PDM tools
Able to create and manage multilevel BOMs and Summerise the total(count, sum, and many other functions)
Easily create catalogs from fusion 360
Cons
The interface is not intuitive or modern-looking, with a few old-fashioned features thrown in for good measure.
It does not recognize the related geometric elements.
Other information
| | |
| --- | --- |
| Deployment | Cloud-based |
| Alternatives | Autodesk vault, Solidworks PDM, Siemens Teamcenter, Delogue |
Our opinion
Users can easily manage complicated multilevel robotic equipment BOMs with OpenBOM. With this, anyone can catch mistakes that they would never have found without them. Users can also get ahead of the game by using reference catalogs for incorrect/ duplicate part numbers.
FAQs
How does OpenBOM reduce cycle time?
It reduces cycle times by allowing us to efficiently reuse a previously created document, make some changes and have another new version ready for manufacturing.
What is OpenBOM used for?
The software is a tool that can be used in all stages of engineering, manufacturing, and supply chain environments. It will replace obsolete PDM or PLM systems to bring your company into the future with efficiency.
Conclusion
OpenBOM should be one of your top options if you are looking for good PDM software. It has many features that will support your company and its operations.
Its integration with CAD and other BOMs and its cataloging and inventory management capabilities can help streamline your operations and increase efficiency.
Reference