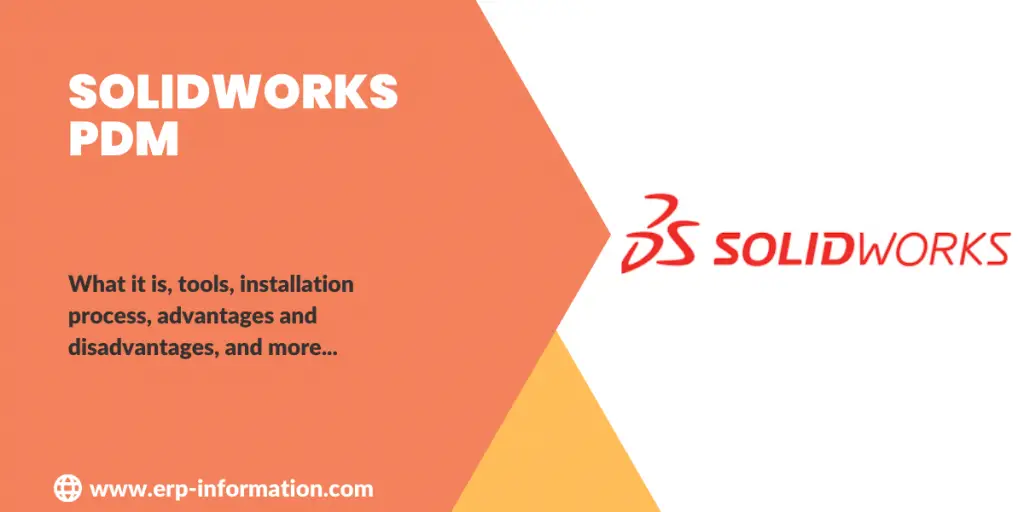 If you're like most engineers, you have trouble keeping your design data organized and under control. Unfortunately, this may lead to many problems, such as missed deadlines, incorrect designs, and even product recalls. That's where Solidworks PDM comes in. 
This blog post will provide an installation guide for Solidworks PDM and its tools, advantages, and disadvantages.
New version: Solidworks 2020 SP5
Released date: As of September 2022
What is SolidWorks PDM?
SolidWorks is a software solution that helps you get your design data under control and improve the sustainability of how your teams manage and collaborate on product development.
The software designs and builds mechanical, electrical, and software elements. With this, you'll have a system for organizing the data that will keep you productive and on schedule.
Installation process
First, you'll need to download the software. Then, follow the instructions to install it. Before installing it, ensure that you have sufficient space on the computer to install the software.
Once you've installed the software, open it up and familiarize yourself with the interface. There are four main sections in Solidworks PDM.
Home – In the home section, you'll see an overview of your data and recent activity.
Files – The files section is where you'll go to browse and search for files.
Tasks – The tasks section is where you can create and manage tasks.
Settings – You can customize your SOLIDWORKS PDM experience in the settings section.
You can get help with implementation, configuration, data migration, and user guides from the "Go engineers team."
Tools
Revision control tool
Solidworks PDM lets you keep track of changes to parts and assemblies. You will come to know who made the changes and when they happened.
That makes it easier to work on projects because you don't have to worry about remembering who made which changes and when.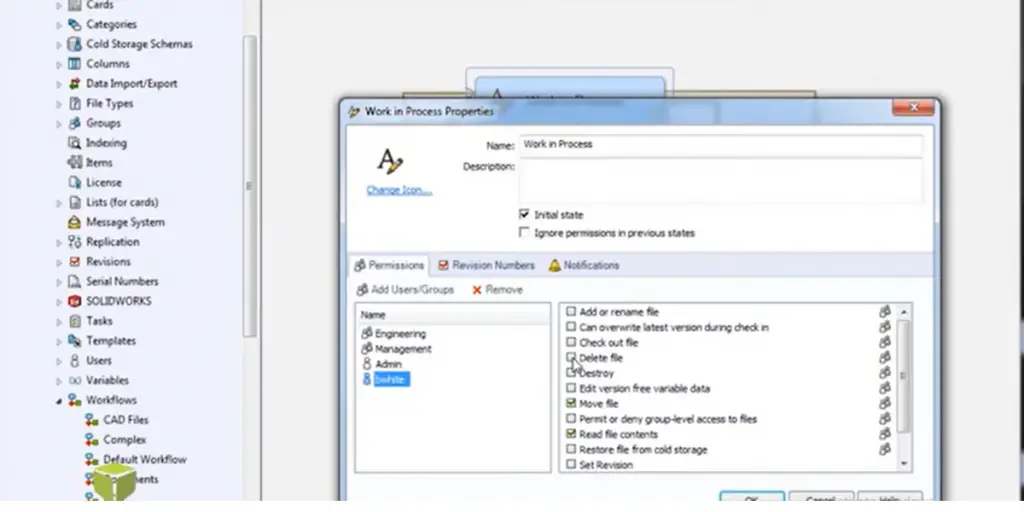 Workflow communication tool
The present world requires fast communication that can reach people who are not even in the office. PDM Workflow can be built to act like how engineers work.
The built-in notification system will tell the right people at the right time so designs and documents keep moving through the process.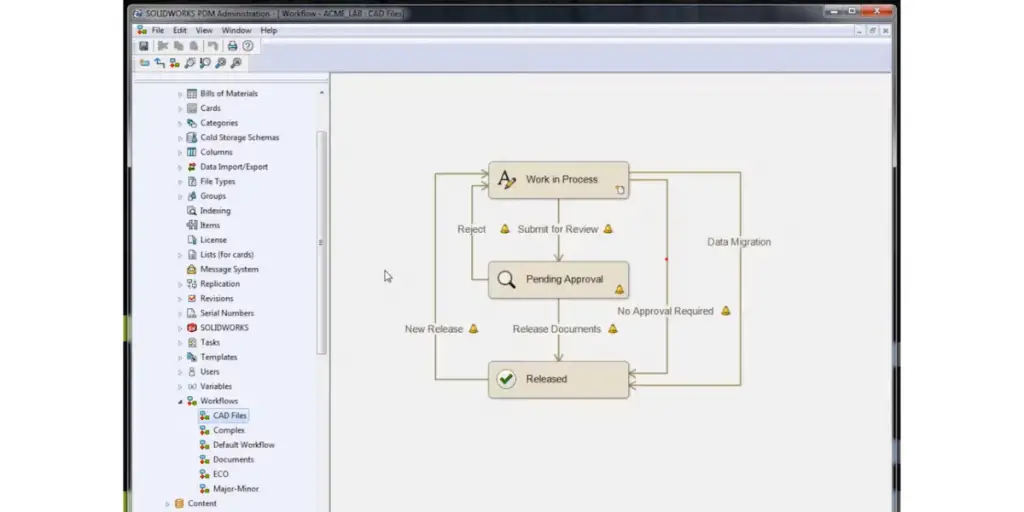 Collaboration with multi-user
With PDM, multiple designers can work on different components of the same assembly simultaneously. When they update it, other people can see the changes, and it is easy for everyone to work together.
Website accessibility
Web2 program lets you work in the PDM vault through a web browser on your phones or computers. This way, we can see and review files and move them through workflows without the desktop client.
Your suppliers can also be granted access to your CAD files without having to install PDM anywhere in the world!
Advanced searching
With this PDM, you don't have to search by filename. You can also use attributes like Part Number, Description, or Material. That makes finding what you're looking for easier and makes the search process faster.
File standardization tool
SolidWorks PDM keeps track of your file references and parent/child relationships. So if you pass a file to a new folder or rename it outside of SolidWorks, PDM will still know what changes you made.
Branch and merge
Sometimes, when an engineer finishes designing a product, they might want to explore new ideas for the product. But they don't want to change the existing design.
With Branch and Merge in PDM Professional, designers can make a copy of the existing design (a branch) and then later choose whether to merge it back into the original design (as a new version) or keep it as its own separate design.
Some Screenshots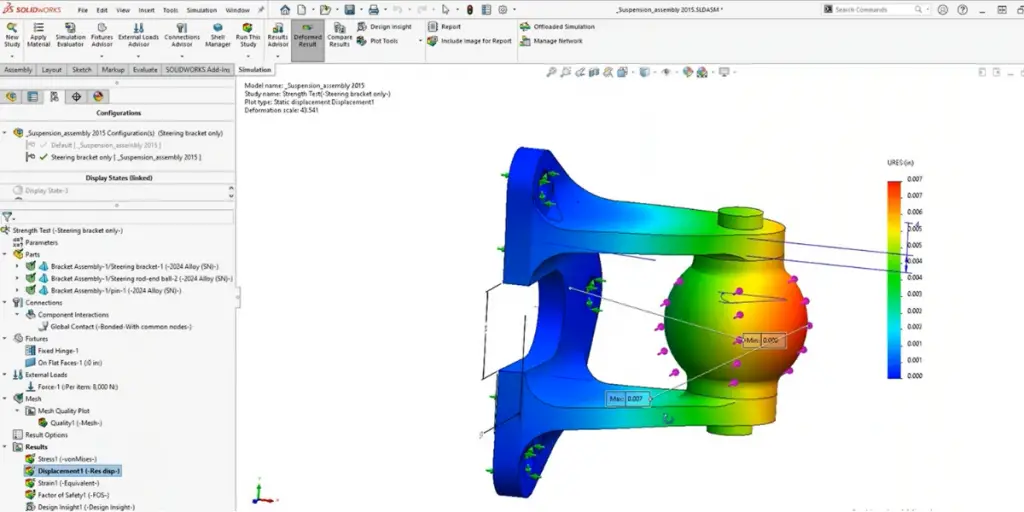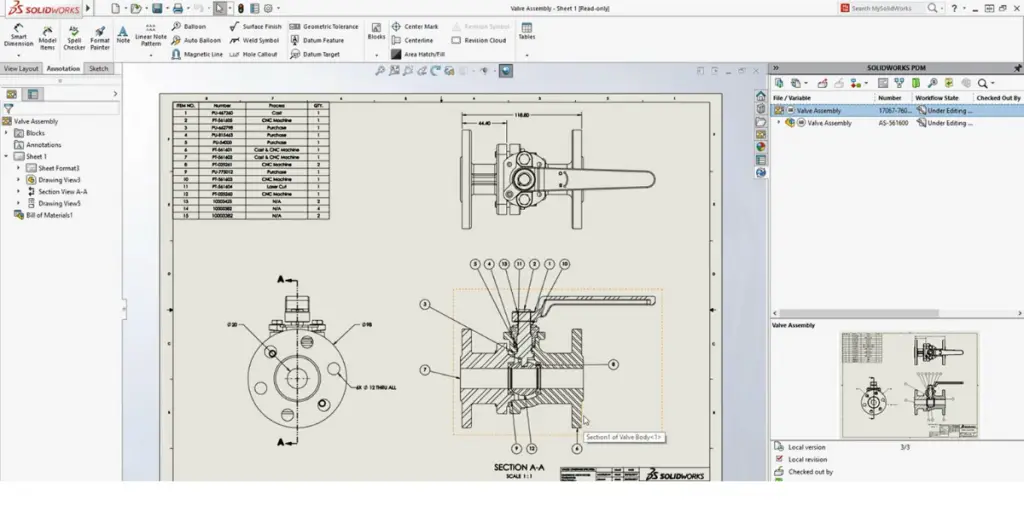 Packages
Solidworks offers three packages.
Standard
Smaller single-site users, easy to use, utilizes Microsoft SQL and server Express.
Professional
Utilizes Microsoft SQL, Server standard, CAD applications, and Microsoft office.
Manage
It is an advanced record and data management system with many capabilities you can use and distribute to different areas of your business.
Advantages
It helps you track every change made to your files, so you can quickly find the latest file version. This helps to increase accuracy and reduce the chances of making mistakes. 
This includes tools that allow you to collaborate with other team members, such as commenting on files and creating tasks. This helps improve communication and collaboration between team members.
Notifications will go via e-mail rather than any other kind of communication.
This helps to reduce the time to complete the process of design development and ECO(Engineering change order)
Able to export the BOM( Bill of Material ) and its processing
Creating files, applying formulas, and PDFs are automated.
Disadvantages
Comparatively, pricing is high for personal users.
Porting between CAD platforms is another disadvantage.
It may not have the ability to work with CATIA.
High battery consumption
Need improvement in large assembly management
In the development area, some dialog boxes don't have features like copy and paste or select all.
Other information
| | |
| --- | --- |
| Deployment | SaaS, On-cloud, Web-based |
| Supported device | MAC, Windows |
| Programming language | C++ |
Solidworks PDM Alternatives
Onshape
PDXpert PLM
COMPRO
Bynder
Jasper PIM
Conclusion
Solidworks PDM is a software solution that helps you control your design data and substantially helps manage the team and collaborate on product development. With this, you'll have a system for organizing the data to keep you productive and on schedule. 
The learning curve for this software can be steep, so it's essential to have adequate training before using it. However, once you're up to speed, this can help you increase accuracy, productivity, and collaboration between team members.
We believe this blog has given you sufficient knowledge of Solidworks PDM.
Reference