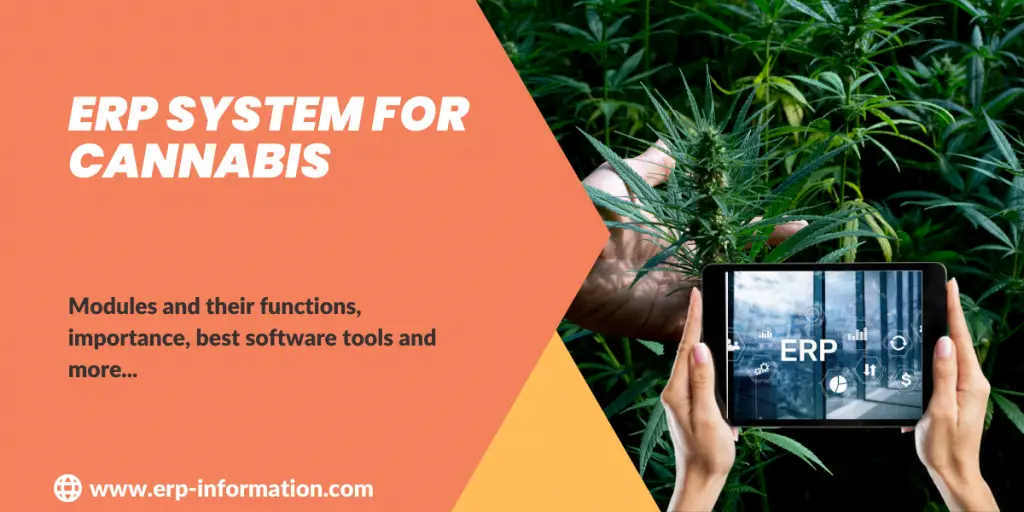 You've probably heard about ERP systems but may not know what they are or why you need them.
An ERP system is a critical piece of business software that can automate and manage many essential tasks for your company's success.
The cannabis industry is one of the fastest-growing industries in North America, and with that growth comes the need for innovative solutions to help run efficient and compliant businesses.
An ERP system for cannabis can help your business by providing a comprehensive solution for cannabis that includes everything from accounting to cultivation management.
In this blog post, we'll discuss The Cannabis ERP system, Cannabis ERP modules, and their functions, why cannabis ERP is an essential plan, How to choose the right cannabis ERP solution for your business, and the best ten cannabis ERP software tools.
What is an ERP system for cannabis?
Cannabis ERP (enterprise resource planning) are integrated on-premise or cloud-based system that is growing in popularity. They provide comprehensive business solutions that help manage everything from cultivation tracking traceability to inventory, finance, and more. 
An ERP system for a cannabis operation can ensure safety and compliance by integrating all business areas into one centralized system. That includes cultivators tracking plants and products from seed to sale, dispensaries having real-time inventory data to avoid running out of product, and bookkeepers having an up-to-date financial picture of the business.
That helps to ensure that products are accurately tracked and accounted for and taxes are paid on all products. The system also helps prevent black market activity and illegal sales of cannabis products.
Modules and their functions
Cannabis ERP modules help businesses manage the production, sale, and tracking of cannabis plants and products. Cannabis ERP products typically include modules for accounting, cultivation management, product tracking, regulatory compliance, inventory management, CRM, etc.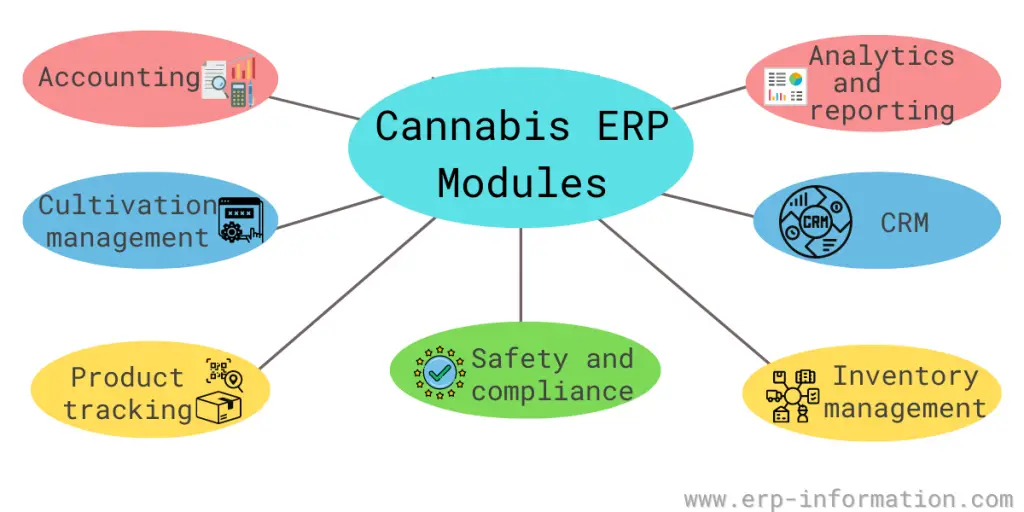 Accounting
Accounting includes Payments, receivables, fixed assets, and general ledger are all handled by this department. Also, calculating and tracking the tax liability of all cannabis products sold, such as excise tax, sales tax, and VAT.
Cultivation management
Cultivation management includes keeping track of all cannabis plants from seed to sale, their growing conditions, and their movements through the supply chain using seeds-to-sale functionality. It also ensures growing space is utilized efficiently, monitoring crop performance, forecasting crop yield, and calculating crop yield.
Product tracking
For performance measurement, inventory control, and compliance, trace your products at every step, from seedling to harvest, processing, and point of sale.
Safety and Compliance
Regulatory compliance includes ensuring that all cannabis products are sold according to state and federal laws.
Inventory management
Inventory management monitors each stock across locations, such as warehouses, wholesalers, distributors, and customers.
CRM (Customer Relationship Management)
CRM captures customer data and manages interactions, including marketing sales and customer service.
Analytics and Reporting
Analytics and reporting include business intelligence tools that turn data into actionable insights. It also provides comprehensive financials, sales, customers, inventory, and cultivation reports.
Why is cannabis ERP an essential plan?
The following points give reasons why cannabis ERP is an essential plan.
1. Comply with regulations
It can help you comply with regulations since it can track your seed for sale.
2. Automate tasks
It can automate many of the essential tasks to your company's success, such as accounting, sales orders, and materials management.
3. Save time and money
It can help you save time and money by using a central database system and integrating all the tasks required to run your business.
4. High level of mobility
It has a high level of mobility because it may be accessed remotely from any location.
5. Enables tracking
It can help you track your inventory and production.
6. Gives real-time visibility
It gives real-time visibility into the entire operation, which helps get a better sense of how your cannabis business is doing.
How to choose the right cannabis ERP solution for your business?
Cannabis businesses are subject to a unique set of regulations, making choosing the proper Enterprise Resource Planning essential to success. Here are four tips to consider when selecting cannabis ERP software for your business:
Make sure the software is fully compliant with state and local regulations.
Choose an ERP solution with comprehensive features designed explicitly for the cannabis industry.
Work with a reputable provider who offers ongoing support and updates. 
Compare costs and reviews before making your final decision. Implementing an ERP system is a significant investment, so you'll want to ensure you're getting the best possible value for your money.
Best Cannabis ERP software tools
1. Canix
Canix is a cannabis ERP software system that helps businesses manage their cannabis operations more effectively and efficiently. Canix provides users with a complete picture of their business, allows them to track inventory and sales, and provides tools to manage compliance and licensing. In addition, Canix offers online ordering and eCommerce capabilities, making it easy for businesses to operate online.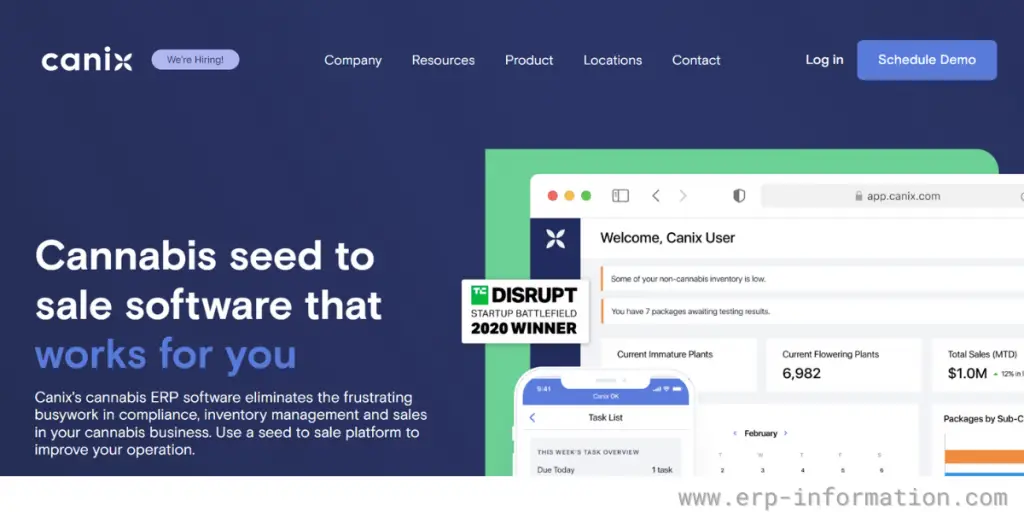 Price
Starting price is $499 per month
It may increase up to 10000 per month
A free trial is not available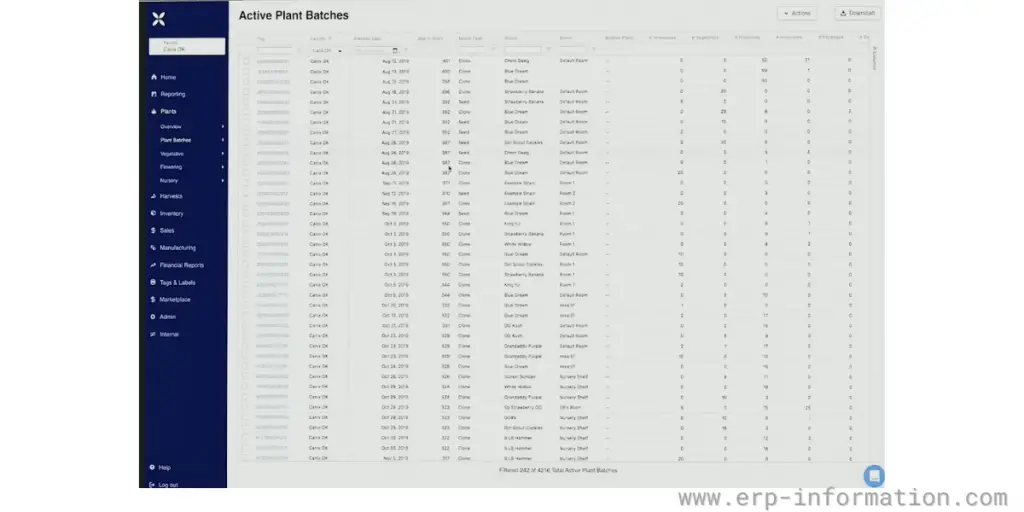 Features
Inventory management
Compliance
Open API
RFID scanning
Batch templates, custom label printing
Remote tracking
Historical performance analysis
Task management
Cultivation and location forecasting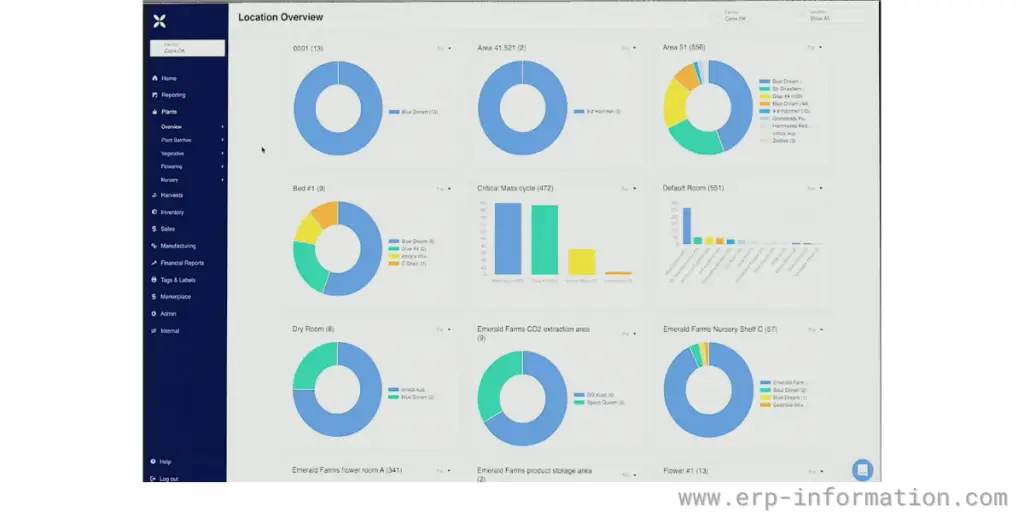 Harvest profitability
Web app and offline enable mobile app
Analytical and financial reports
Pros
Helps to save time in the cultivation, manufacturing, and distribution of cannabis by using RFID scanning, Batch templates, custom label printing, remote tracking, and workflow automation.
Provides customization for particular business requirements
Provides world-class customer satisfaction in times of need
Cons
It does not provide a solution for dispensaries
Other details
| | |
| --- | --- |
| Supported platforms | SaaS, Windows, Mac, iPhone, iPad, Android |
| Training | Documentation, live, in-person videos |
| Support | Business hours, Online |
| Organization | Type Small, mid-size, large, non-profit |
| Supported languages | English |
| Integrates with | metric, LeafLink, way fast, leaf trade, Onfleet, Sage, Quickbooks, Confident Cannabis, Green Check |
| API supported | Yes |
2. Distru
The Distru is a cannabis ERP software that helps streamline the process of tracking and managing inventory for businesses in the cannabis industry. It integrates with various point-of-sale systems and cultivation, production, and retail management software to provide a comprehensive overview of operations.
District also offers compliance tools that help businesses stay within state regulations for cannabis sales. The software has been used by some of the largest dispensaries and cultivation facilities in the United States.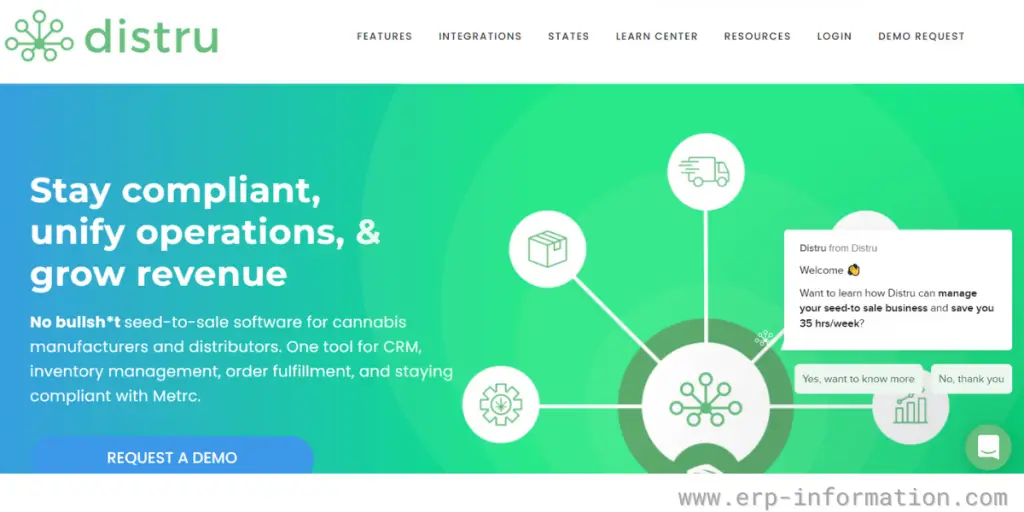 Features
All compliance is covered, including tax, tracking, testing, and state reporting.
Inventory management provides a product catalog, enabling metrics to be verified in real-time inventory management.
CRM allows for tracking licenses, adding activity logs, and also enables to add of multiple contacts, brands, customers, suppliers
Distro analytics helps to find financial reports, product reviews, re-order tracking, and verify payments of customers.
Provides specific Product tracking, Batch tracking capabilities
Provides live menu and route planning for the sales team
Label printing
Provides a mobile app to manage inventory operations remotely
Provides multi-user capability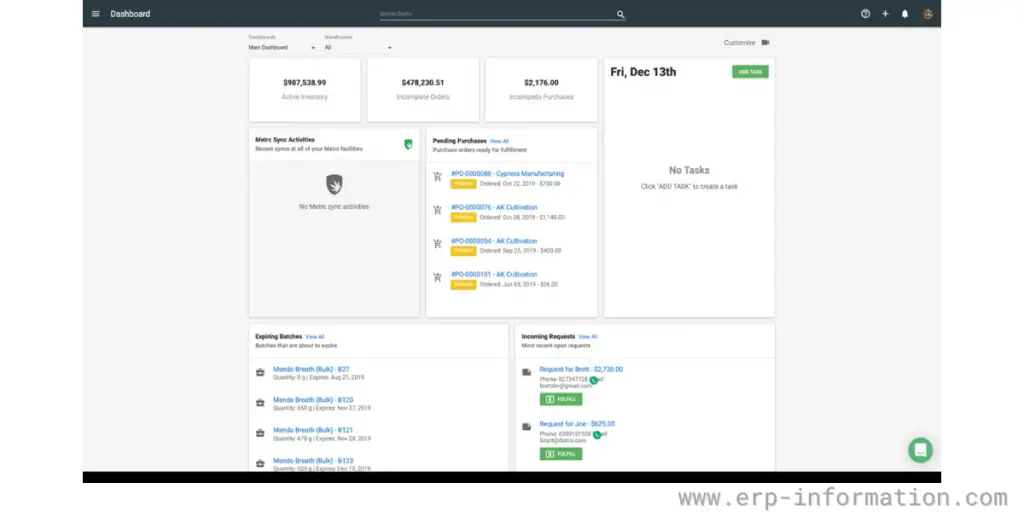 Price
The introductory price is $100 per user/month
Pros
The use of sample analytics can help teams better understand the quantitative impacts of samples on sales volumes.
Integrating systems helps reduce human error and double data entry.
Other details
| | |
| --- | --- |
| Supported platform | Cloud, Saas, Web, iOS, Android |
| Customer support | Online, webinar |
| Organization type | Small, mid-size, and large |
| Supported languages | English |
| Integrates with | Metric, LeafLink, Google data studio, Quickbooks |
| API supported | Yes |
| Valid for | Manufacturers, distributors, cannabis operators |
| Type seed | To sale software |
3. Flourish
Flourish software is a powerful package for cannabis growers, manufacturers, and distributors to monitor products from seed to sale and manage operations. It offers comprehensive tracking, growth management, and retail solutions for the cannabis industry. Growing, manufacturing, processing, and retail companies can use Flourish as a cannabis and hemp ERP system.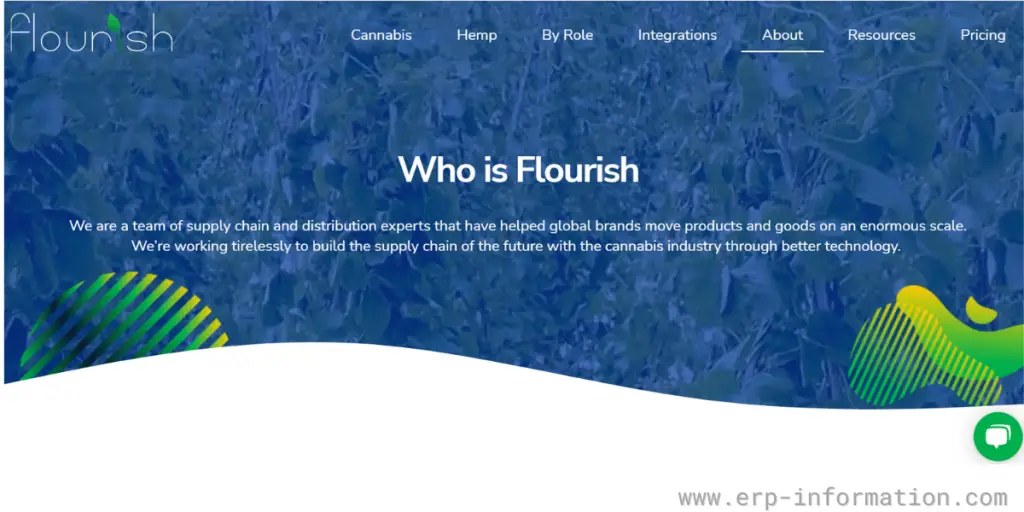 Price
Basic – Program for Startup Operators $750/m, per license
Premium- Standard Pricing for 1 to 2 Licenses $1750/m per license
Enterprise – Operators over $3M in Revenue, contact vendor.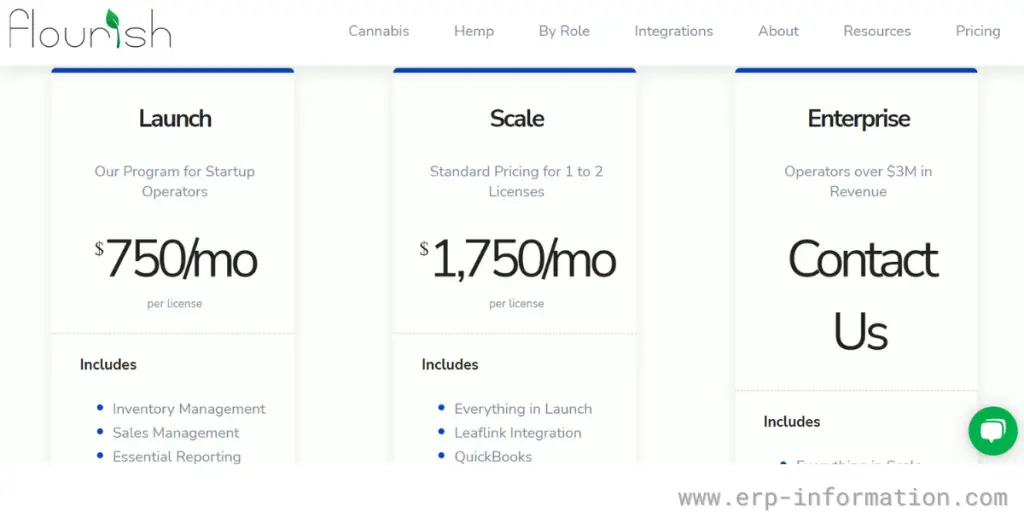 Features
Cultivation management allows for tracking plants through different growth stages.
Provides better compliance through METRC, MMUR, and PMP
Reporting and analytics allows data – Driven decision and also provides advanced track notes, cultivation inputs, and harvest forecast with dashboards
Calculate and track – Using Flourish, you can compare actual costs against standard costs as you build inventory.
Inventory management – Location, locking, and adjusting inventory are essential functions of inventory management. It supports self and 3pl distributions.
Connectivity –You can capture orders wherever your customers are with APIs, webhooks, and Zapier connections.
Discount options- Provide discounts based on customer team, time, item Etc
Pros
Excellent customer support helps customers in better decision making
Provides the best compliance to stay in regulations
Implementation is easy
Cons
Dashboards and invoice templates need to be more customizable
Other details
Customer support
Email, call, Web portal
Suitable for startup
Mid-size and large enterprise
Supported languages
English
Integrates with
Bio Track, METRC, State PMP, MMUR(for compliance), Aero pay, Hypur, Linda, Quick books, Sage intact(for finance and payments)
Google sheets Google workforce and 1000's apps via Zapier
API supported
Yes
Useful for
Cultivators, manufacturers, distributors, and retailer
Type seed
To sale software
4. Strimo
 It is a complete cannabis software solution that includes features for growing management, product tracking, and retail point of sale. It supports the cultivation process, manufacturing workflows, distribution, wholesale, accounting, and compliance.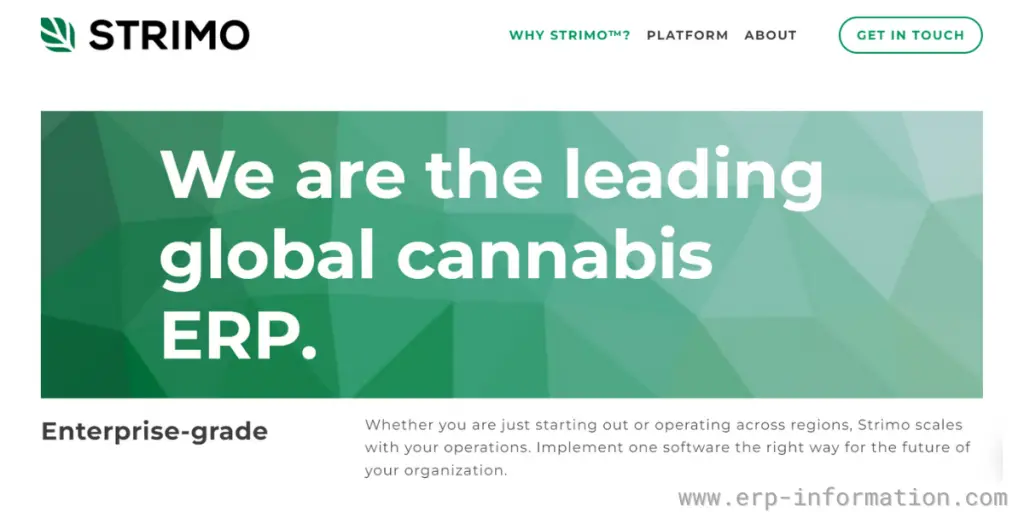 Features
Cultivation management
It offers full tracking for the cannabis plant from seed to harvests, such as growth, batch, and plant tracking.
Enables forecasting and planning for future harvests.
Provides efficient workflow methods and data templates
Manufacturing management
It provides features for managing the cannabis manufacturing process, such as product tracking, recipe, and yield management.
It also offers compliance features such as lot and batch traceability.
Distribution management
It provides features for managing cannabis distribution, such as order management, extracting, packaging, testing, and cost tracking.
Account management
It integrates with QuickBooks for financial tracking and accounting.
It also offers compliance features such as lot and batch traceability.
Retail management
It provides features for managing the cannabis retail process, such as POS, customer management, and product inventory.
Compliance
Discrepancy warnings enabled
Quality assurance quality checking is handled 
Assures regulatory compliance incorporating GMP standards to mitigate risk efficiently
Pros
Flexible, configurable, reliable, and data-rich software.
Generates traceability reports
It can be used to manage multiple farms
Cons
The user interface is not very user friendly
The software is expensive
Other details
| | |
| --- | --- |
| Customer Support | Email, chat |
| Suitable for | Nonprofit, Freelance, Small, Mid-Size, Enterprise, and Government |
| Supported | Languages English |
| Integrates with | Quickbooks, Xero, Ridder, Leaflink POS |
| API supported | Yes |
| Useful for | Cultivators, manufacturer distributor |
| Type seed | To sell software, software as a service, cannabis, ERP |
| Supported platforms | Windows, Web, SaaS |
| Training | Live, documentation |
Cannabis ERP systems are essential for businesses in the cannabis industry. They help with compliance, tracking inventory and production, and managing customer relationships.
FAQs
What is Cannabis?
Cannabis is a plant that contains psychoactive compounds known as cannabinoids. These compounds can produce mind-altering effects when consumed.
Why does Cannabis need a unique set of regulations in its business?
Cannabis needs unique regulations because cannabis is a unique product. The cannabis plant contains over 100 different cannabinoids, which are chemical compounds that interact with our bodies in unique ways.
Each cannabinoid has its own set of potential benefits and drawbacks, which means that the regulation of cannabis products must be particular to ensure public safety.
What are the different forms of Cannabis?
Cannabis comes in many forms: Flower buds, concentrates, edibles, etc. Each form requires a specific set of regulations to ensure that consumers receive accurate information about their buying.
Conclusion
When choosing a cannabis ERP system, be sure to consider the features that are most important to your business.
Some of the top providers of cannabis ERP software include 365 Cannabis, flourish software, Viridian Sciences, NexTec, etc. We hope this blog post has helped you learn essential facts about the cannabis ERP system!