Definition
Demand management is a method devised to keep track of all purchase-related requirements. This methodology is used to plan or forecast the demand and supply, and pricing.
It is also popularly known as consumption management. It is the connection between suppliers and customers.
What is the purpose of demand management?
The purpose of demand management is to forecast, realize, and determine customer demand.
That is where the supplier or service provider has to understand the customer's needs and demands.
The key factors which determine demand management are Pricing, Purchasing, and Supplier.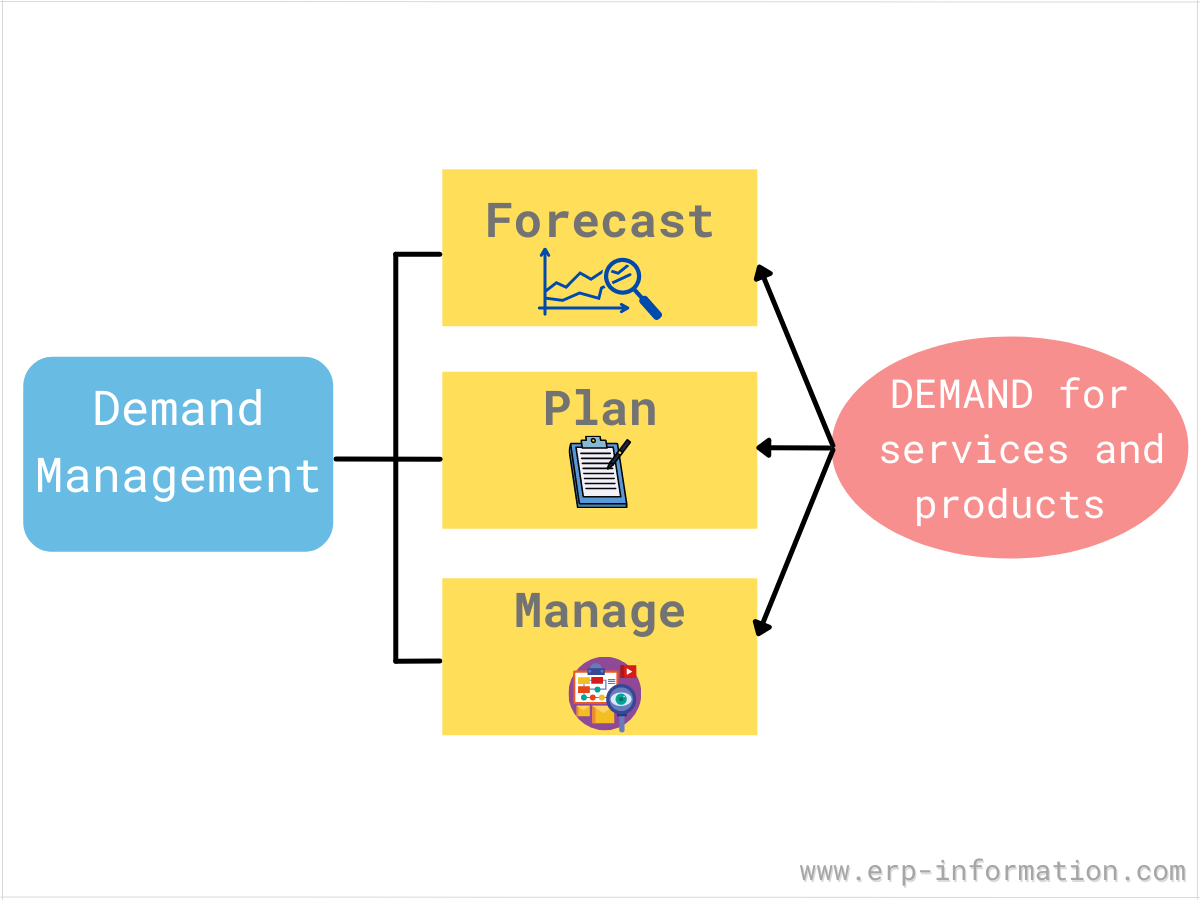 Process of demand planning in demand management
Nowadays, companies do demand planning based on the inputs from the sales and marketing departments. The main objective of the demand planning process is to use available resources on the optimum side to meet customer demand.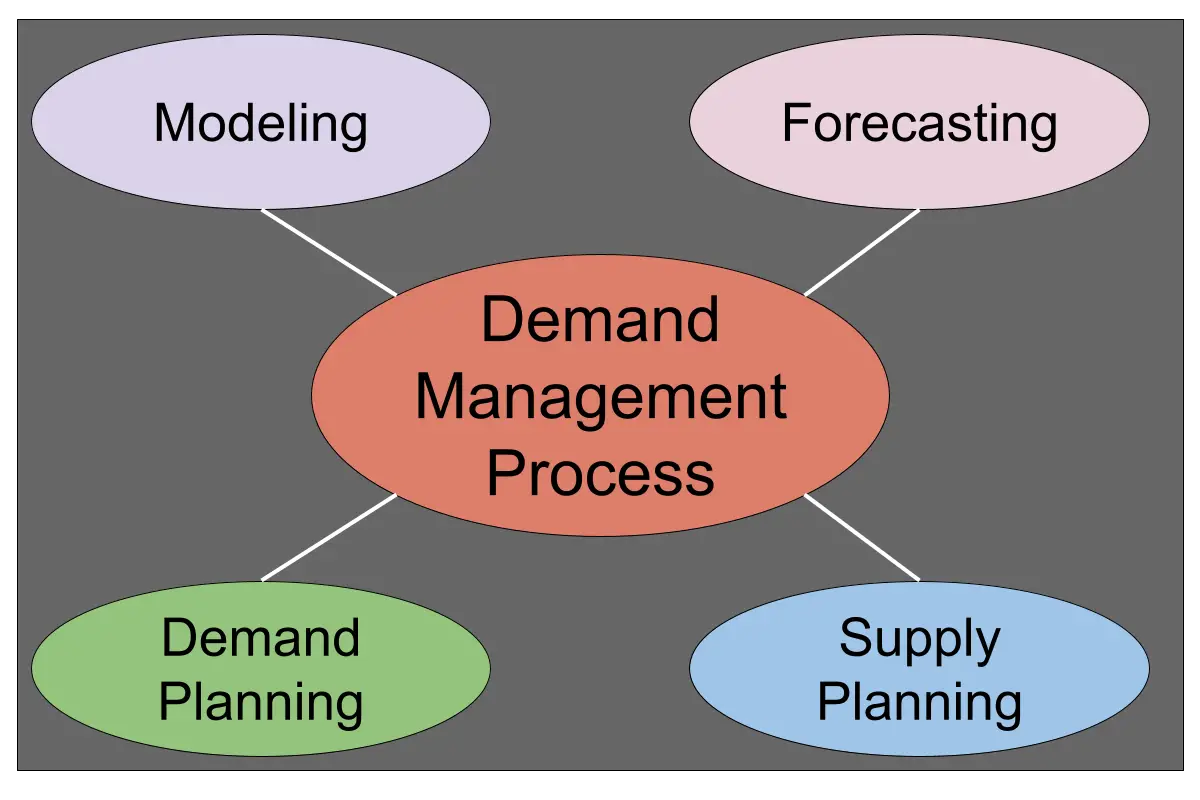 According to Feldman, there are four main steps in this process
Modeling
Forecasting
Demand planning
Supply planning
Demand planning is dependent on the right tools, information, and process. It may differ from one organization to another depending on the organization's objectives, product positioning, and inventory needs. Following are the best practice for demand planning.
Have the right ERP software: While implementing Enterprise resource planning software in your organization, make sure that it can handle forecasting, reporting and also confirm that it provides transparency and realistic data of the forecast.
Collect and prepare data: Data manages demand planning. It gives real-time visibility to look at inventory movements that allow you to identify the areas to be improved.
Define the process: Well defined process with accurate data and information helps to improve overall performance. To define the process, follow the below steps.
Construction of data
Initial forecasting
Integration of market intelligence
Review of sales objectives and financial reports
Rectify the final forecast
Monitor the performance 
Monitor the demand planner: Based on the historical data and expressive analytics, design a demand planner and have a dedicated team to design the plan, execute it and monitor it.
Advantages and Functionalities
Few advantages of Demand Management
Helps to build a foundation for merchandising, budgeting, and logistics processes.
Monitor supplier transactions and check for growth or decline, respectively.
Monitor all related expenditures.
Build a strong relationship with customers and suppliers. Also, ensure that the relationships built last with reasonable pricing and other offers.
Allows you to boost supply chain operations.
It helps to create more revenues.
Functionalities of demand management
Point out the critical delivery dates.
Make out the future needs.
Point out the frequency of demand.
Link the requirement to the budget.
Based on the past spends and future demands analyze the spendings.
Integrates with the planning activities like strategy planning, procurement planning, requirement analysis, and market analysis.
In case of strategic purchases, manages industry analysis and commodity analysis.
The components of effective demand management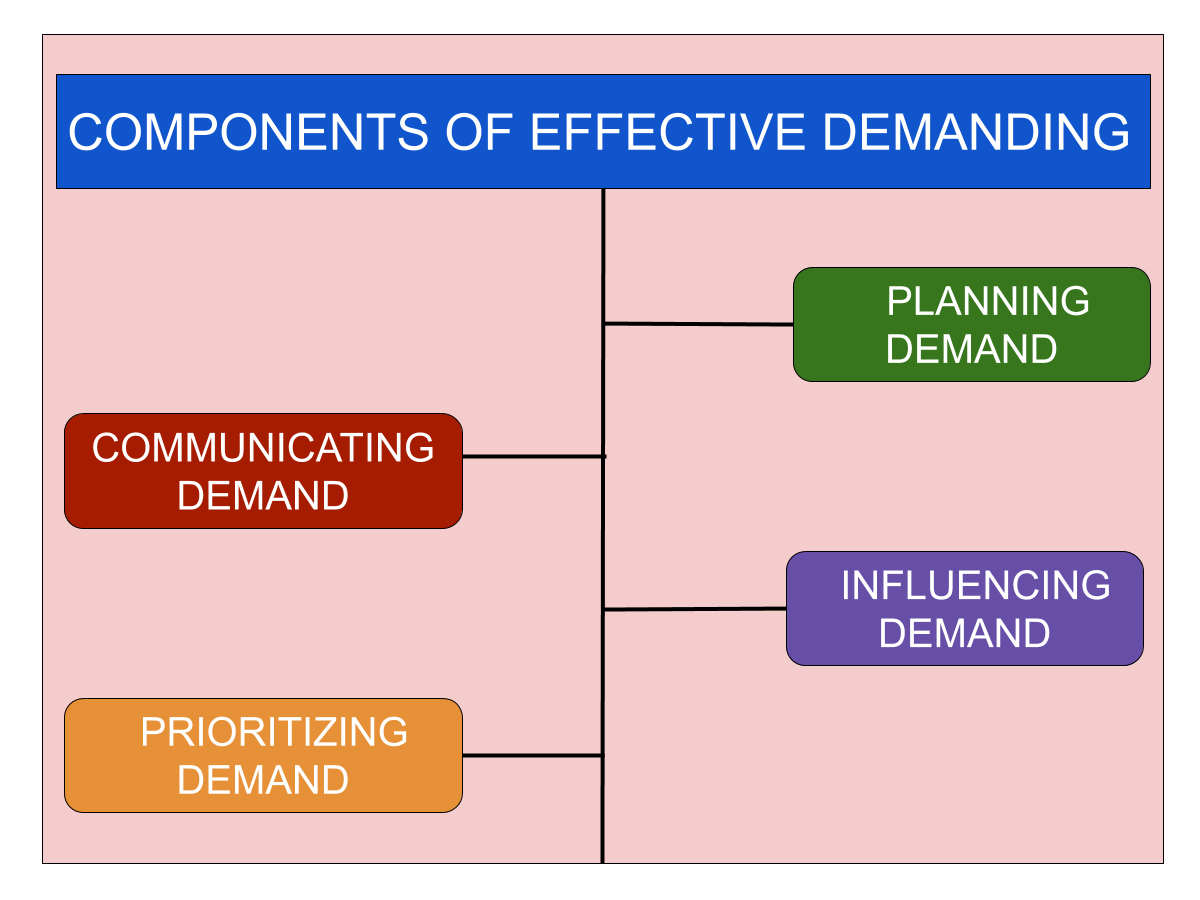 1. Planning Demand
It is also known as Demand Planning. This is a process that analyzes customer requirements in advance and forecasts IT resources.
Built primarily for IT administrators, this component deals with analyzing, evaluating, and projecting customers' future requirements within an IT environment.
Demand planning uses statistical analysis, best practices, and past and current demand cycles to evaluate future customer demand.
It also serves as an input to capacity planning to provision required IT resources based on current and expected future demand.
2. Communicating Demand
Communicating demand is an essential component in demand management. Therefore, management will implement qualitative methods to forecast demand and subsequently communicate amongst all the stakeholders.
Once the firm understands the demand, it is also important that the same has been made known to several aspects of the business to ensure that they leverage the production accordingly.
3. Influencing Demand
A part of the supply chain management (SCM); Businesses should focus on retaining customers, service level, and supplier relationship.
Additional policies should be built to face sudden changes in demand and supply.
4. Prioritizing Demand
Identifying and prioritizing projects forms an essential part of demand management.
Organizational capacity, risk assessment, financial value, and implications must be carefully assessed while forming policies around it.
Challenges of demand management
While implementing demand management faces some fundamental challenges. They are
Lack of knowledge about automated algorithm.
Maintaining balance for sales and retailers to generate demand design to find the timing, level, and location.
Lack of organized data structure for receiving, storing, and retrieving the point of sale information from retailers.
Factors that affects demand
Many factors will influence demand. Here I am listing few factors.
External factors
Market situations: It is a significant factor that directly affects the demand. For example, recessions and strikes.
Competitor's step: If your competitor started giving the same product or services with good quality at less price, then there will be a chance of sudden reduction of demand for your product or service.
Seasonality: Some products' demand increases or decreases depending on seasons. For example, ice cream, woolen cloths, umbrellas, school bags, etc.
Trends: Market trend is one of the major factors that increases or decreases demand.
Internal factors
Pricing approach
Maintenance
Customer relationship
Promotion and advertisement for products/services
Product alteration
Demand management tools
Following are the popular software tools for demand management.
Oracle Demand
SAP Advanced Planning
Infor Demand Planning
Logility Demand
Kinaxis RapidResponse
NetStock
Get more definitions of demand management and other ERP-related terms here.