Definition
Open source ERP means an enterprise resource planning software with an open-source license, and its source code is made publicly available.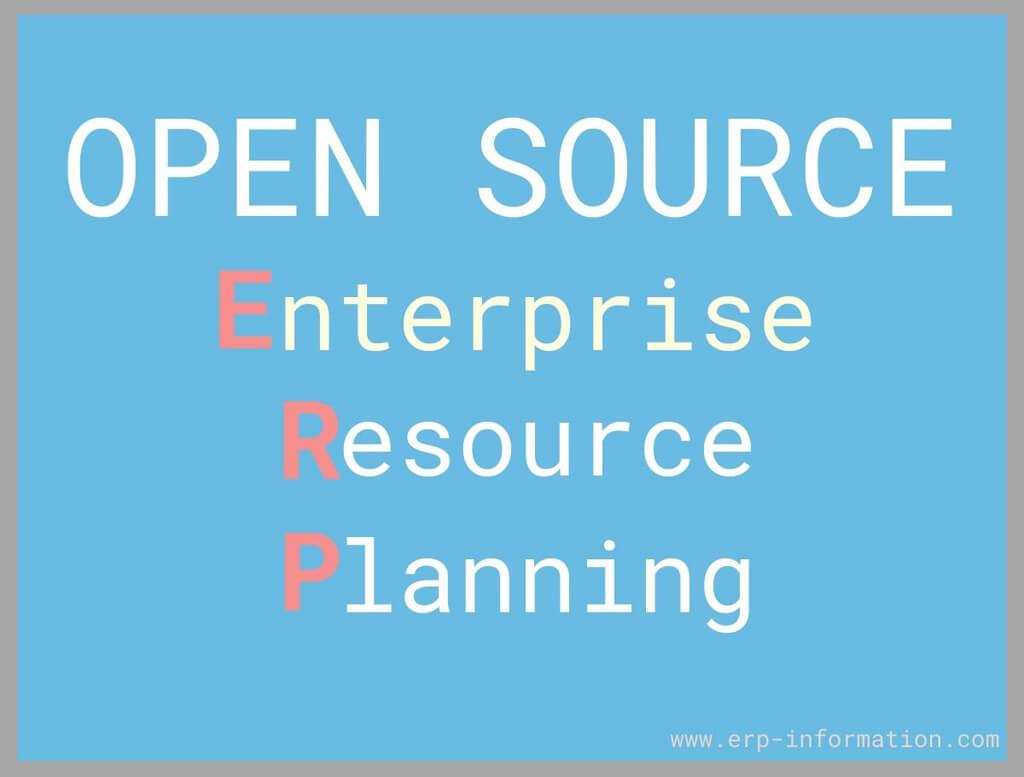 This tutorial is made based on knowledge of selecting & implementing a large number of popular open-source ERP software systems.
If you are here looking for a list of open source ERP software follow this link.
One of the reasons why this guide is created is to make everyone aware of how easy it is to choose and implement open-source software systems.
Use this and also help us in sharing this free tutorial with a maximum number of people.
"There is no inherent reason open source ERP cannot provide very rich functionality and scale well."

Open source ERP exhibits the following 10 characteristics
Redistribution, including selling or using as a component without a fee.
The Source code must be available in a readable form.
Derived work must be allowed under the same license conditions.
The integrity of the author's source code (licenses may require that modifications are redistributed only as patches).
No discrimination against persons or groups.
No discrimination against fields of endeavor.
Distribution of license (license applies to all whom the program is redistributed to, closing up software is forbidden).
The license must not be specific to a product.
The license must not restrict other software.
The license must be technology-neutral.
Your ERP tutorial starts here, all the best!
Welcome to Your personal Open Source ERP tutorial
This ERP Tutorial will help you become familiar with all of the ERP modules and will lead you step-by-step through the 10 "DAY" S -> I -> T -> E process.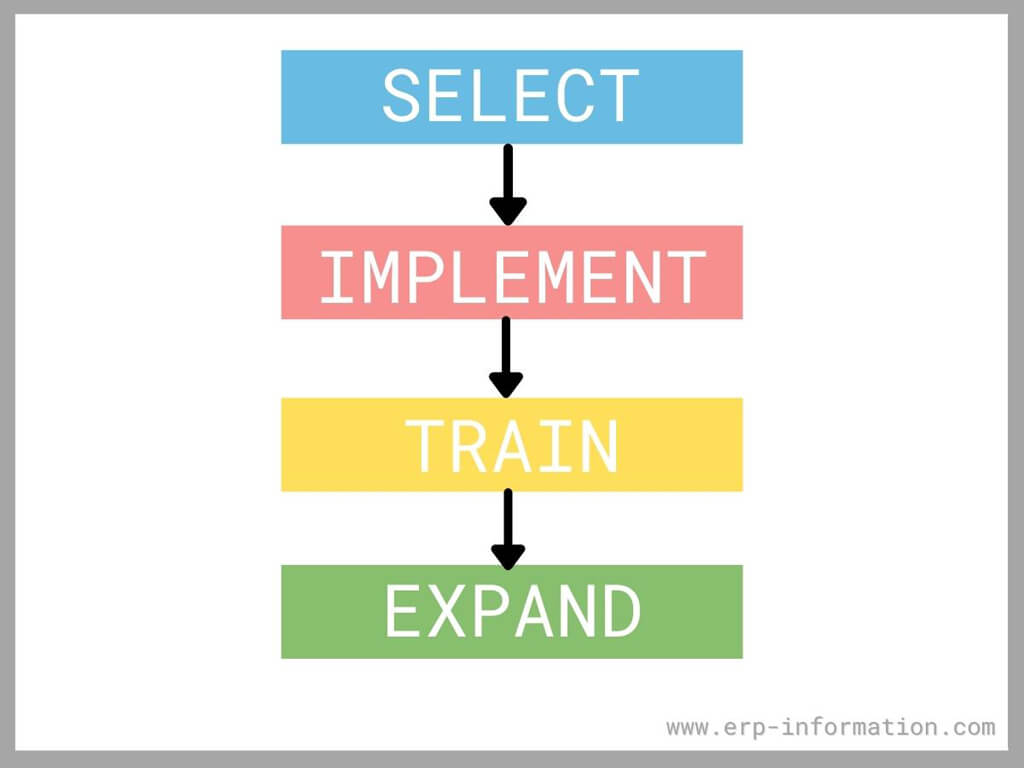 When you finish the guide, you will have a deep understanding of how to implement ERP for your business.
And like so many others, you will have the knowledge to own Open Source ERP for your business.
Print this guide if you plan to read offline.
Do not skim through it. Absorb it. It is not an owner's manual. It is your guide to succeeding in the most efficient, proven way possible.
Even if you have implemented 100 ERP before now, S -> I -> T -> E process is unique. You will acquire a whole new set of best practices, and you will be able to work the ERP with an advanced set of success-oriented skills.
Let's get started!
Introduction  – 10 DAY ERP Training: The BIG Picture
This is a "10 DAY process."
The concept of "10 DAYS" is really just an easy way to divide the Select ->Implement -> Train -> Expand process into do-able steps. You actually proceed at your own pace.
No matter what your business may be, the key is to EXPAND your business by SELECTING an excellent Free ERP that suites the theme of your business. This Selection…
leads to successful implementation, which will be used by
Trained users, that will help you in
Expanding your business.
S -> I -> T -> E
Select -> Implement -> Train -> Expand
The Action Guide and the integrated set of these website tools make the process all so doable. www.erp-information.com makes your business expand.
THAT is what makes this tutorial unique… AND effective.

Don't Get Distracted!

Open Source ERP training guide is your learning-and-doing expressway. As a new user, your 100% focus should be on the Guide. But you're going to be tempted.
Do not be distracted by all the extra offerings. Read supplementary information ONLY when the timing is right for you when you need it when it's relevant to where you are at in the process.
Otherwise, keep moving ahead on your expressway, this guide. Later, when the time is right, you will encounter one of those articles that you didn't understand. You'll be ready to use it then.
Even this Action Guide can seem like a lot. So keep your focus here. Do not try to drive the whole length of this expressway all at once.
Do it DAY by DAY, little step by step. You'll be amazed at how savvy you become.
The First 5 DAYs
The first major steps in any venture, the ones leading to those "first decisions," are the most important ones.
If you get those decisions right, your entire business flows more easily and yields greater returns.
New To The ERP software? The ERP and accounting software can all seem rather mysterious if you are a "raw newbie."
Let's sweep away the smoke and mirrors and explain the basics of ERP solutions. It's actually rather simple, as you will see.
Armed with this information, you know enough to proceed through this Action Guide, DAY by DAY, step by step, and succeed.
Here are the biggest of BIG pictures.
DAYS 1-5 — prepare until you have chosen perfect open source ERP software.
IMPORTANT: A critical part of the READY-AIM-FIRE philosophy is NOT to select your ERP software too soon. So if you're tempted to be specific about a particular ERP system right away, please don't.
Follow this Action Guide step by step, add your own ideas and you WILL join the happy (and large) circle of successful ERP owners. Nothing else succeeds like this methodology.
DAYS 6-10 — Follow actual S -> I -> T -> E process. SITE Open Source ERP training will help you get all these steps of the process.
Now let's zoom in for a closer look and focus on your goals for the upcoming first 5 days…
MASTER basics of ERP systems.
DEFINE business needs and get a shortlist of solutions.
COMPARE your shortlisted solutions using thousands of criteria.
ANALYZE the strengths and weaknesses of each solution.
Moving Forward
Determine now to WIN. That attitude is the common thread of all successful people. They simply decide to win, no matter what — then they merely keep doing it until they are hugely successful.
Super-successful learners of this guide, all say the same thing,
"Follow the Guide."
Let's get started… It's time for DAY 1!
DAY 1: Master The ALL-Important Basics and Open Source ERP Definition
Your DAY 1 goal is to understand all ERP basics.
ERP is the short form for Enterprise Resource Planning.
"Software solution that addresses the enterprise needs taking the process view of an organization to meet the organizational goals tightly integrating all functions of an enterprise."
Today's Action Steps
Build the foundation of your ERP system knowledge right now.
How? By absorbing, then living, these All-Important Basics…
Getting a clear definition of ERP software.
Knowing about the history of ERP systems.
Getting important ERP solution-related terms.
Enterprise resource planning (ERP) is a term used to describe a software system providing multiple application modules to run a business in the areas of Financial Management, Logistics, Manufacturing, Human Resources, and extended supply chain operations.
More on the definition and What is ERP?
History of ERP
ERP (Enterprise Resource Planning) is the evolution of Manufacturing Requirements Planning (MRP) II.
From a business perspective, ERP has expanded from the coordination of manufacturing processes to the integration of enterprise-wide backend processes.
From a technological aspect, ERP has evolved from legacy implementation to more flexible tiered client-server architecture.
To know the definitions of ERP related terms please look into
Moving Forward…   Ready For DAY 2? You're ready for DAY 2 if you answered this question "What is ERP?"…
Onwards and upwards …
DAY 2: S -> I -> T -> E Open Source ERP Methodology
Your DAY 2 goal is to understand the S -> I -> T -> E ERP methodology.
Know-how and why choosing the right software, not customizing at the beginning, is what maximizes profits.  
Today's Action Steps
Build the foundation of your business software right now.
How? By absorbing, then living, these All-Important Basics of ERP methodology.
Understand the difference between "Proprietary ERP Software Systems" and "Open Source ERP Software Systems."
Act upon the "Open Source ERP Implementation Reality."
Maximize Return On Investment (ROI) and profits.
Step 1 – Understand the difference between "Proprietary ERP Software Systems" and "Open Source ERP Systems."
Select -> Implement -> Train -> Expand
What's it all about? Where's the magic?
No magic. And it's all about your "business running every day"…
Success on all begins with a critical mindset shift. This means replacing that well-known strategy of using "proprietary ERP software" with…
"Open Source ERP Software Systems."
In the open-source world, no one just happens to explain to you how their ERP system will help you grow your business.
Instead, you are the one who needs to study what are your business requirements and which software suits your business.
You are not sold here, instead, you will be owning your own robust free ERP system.
Give the business what it needs.
With open source ERP, you will be owning your own ERP system without any license fees. The system will be in your control. Unlike in commercial ERP systems, you should not try to customize the system before using it.
Instead, you need to make a smart selection of ERP which suits your business. That will help you in multiple ways.
Save your time.
Save your money
Reduction in the risk involved with ERP failures.
More options for studying your requirements with the ERP system and customizing it accordingly.
With your proprietary ERP systems, you will have fewer options for achieving the same, since you are not the owner of the software there and you are dependent on vendors. This proven, results-generating process works.
SELECT -> IMPLEMENT -> TRAIN -> EXPAND
No matter how you plan to Expand your business…
You need to understand of Open Source ERP methodology is completely different from commercial ERP methodology.
Owning Open Source ERP is like getting your own house (for free!)
Having a commercial ERP is like living in a rented house.
People "buy" or they are "sold" by proprietary ERP marketing materials.
And that is why 99% of small businesses fail to implement ERP in their organization successfully.
After studying the above information, take this test…
Do you understand the difference between…
"Open Source ERP" and "Proprietary ERP ".
Once you've absorbed S -> I -> T -> E ERP methodology, please realize this is not "theory." It has been proven thousands of times as the only way for the small business person to succeed with ERP — it is a reality. You are now ready to…
Step 2 — Act upon the "Open Source ERP Implementation Reality."
As just mentioned, the reality of Open Source ERP Implementation is that it works… if YOU work it! Thousands of ordinary, everyday business people have done exactly that. They have used the S -> I -> T -> E process.
The reality is that it is all under your control, far more so than in the risky, proprietary ERP business world. This reality can be summed up as follows…
"Nothing happens by accident in the world of computers, customers, and the business response. There is always a reason for what happens, good or bad, that reason is YOU. "
Once you realize the logic and power of S -> I -> T -> E ERP methodology, then you know what success really is DO-able. It is indeed "yours to be had." And if you don't succeed immediately, keep trying until you find the right approach.
You only fail when you quit. Patience and persistence ultimately rule the day.
Persistence wins. Keep pushing it… the business software you implement will take on its own momentum.
It will fulfill all your objectives if you put in the right approach, the time, and persistence that are required to grow anything worth achieving.
Bottom line…
S -> I -> T -> E along with www.erp-information.com sweeps away the barriers (technology, training, etc). You literally have all you need to determine to make it work.
So decide now to join the majority of this website user who makes it into successful ERP implementation.
Special TIP For Keeping Trial & Error To a Minimum
Follow this Action Guide. It's wonderful to have the persistence to push your way past errors. But why not reduce the amount of trial-and-error and save your persistence for bigger matters?
Follow the Guide and reinforce your understanding by reviewing these materials!
We're making superb progress. You understand S I T E ERP methodology. More importantly, you are ready to invest (and "invest" is the perfect word!) time to build S -> I -> T before you Expand.
Once you do, Expanding the implemented system is the easiest (and most fun!) part. Let's do it…
Step 3 — Maximize Return On Investment (ROI) and profits
Selecting the right software (free open source software without license fees), systematic implementation, and adequate training will minimize the total amount of investment required for ERP implementation.
If you follow these steps and start using one module by one in your organization you will start getting benefits of ERP implementation.
We provide you required templates for accurately measuring the ROI of the same. On day 10th we will guide you, how to use ROI templates.
Moving Forward.
Ready For DAY 3?
You're ready for DAY 3 if you understand that Expand comes last, not first.
You are really ready if you understand that the E is the easiest part of S -> I -> T -> E ERP methodology and that you will only start S after DAY 6! And speaking of S…
Before you can do that, you must do,
DEFINE business needs and get a shortlist of solutions.
COMPARE your shortlisted solutions using thousands of criteria.
ANALYZE the strengths and weaknesses of each solution.
And THAT is exactly what you are going to be doing from DAY 3 to DAY 5. Remember, don't rush. The rest of your business depends on it. Onwards and upwards.
DAYS 3,4 and 5: DEFINE Business Needs And Get a Shortlist of ERP Software Solution.
Your DAY 3-4-5 goal is to, Define your business needs, get your shortlist of ERP software solutions, start comparing your ERP solutions.
Today's Action Steps
Time to start molding "ERP Implementation Blueprint." How?.
Define Your Business Needs.
Get Your Shortlist of ERP Software Solutions.
Finish with Comparing Your ERP Solutions.

When do we select a suitable ERP for your business?
Not now. Yes, most people (those who do not have visited our website!) do select software immediately on reading a few reviews (often a big mistake). You will only do that on DAY 6.
It's part of the reason that our readers get success.
Today, DAY 3, you are going to define business needs and get a shortlist of solutions. On DAY 4, you're going to compare your shortlisted solutions using thousands of criteria.
On DAY 5, analyze the strengths and weaknesses of each solution.
Then and only then, assuming DAY 3, DAY 4, and DAY 5 "prove up" your selection, will you be ready to select a suitable ERP for your business (DAY 6).
What if it fails to "prove up?" Simple… you repeat DAYs 2-5.
Does this seem like too much preparatory work? Are you super anxious to select your software? "Enough of all this planning," you say?
These are your most important DAYs…
The decisions you make on DAY 3 to 5 determine the size of the success of all your efforts over ERP implementation. So…
Time spent now is time well spent.
Step 1 — Define Your Business Needs.
The process is fast and simple…
Answer questions about your business needs. Disqualify Open Source ERP software solution fails to meet the requirements.
Select the knowledge base that best fits your organization's requirements.
Select the vertical segment or industry that most applies to your business (select all that apply).
Select the range that represents the total number of people employed by your company.
Select if your organization is regional, national, multinational.
Select if your organization is a single-site enterprise or multi-site enterprise.
Select categories best describe your business.
In what languages do you need to use this solution? This refers to requirements such as a user interface language (select as many as are appropriate).
Please indicate which of the environments (modules) most applicable to your business (select all that apply).
Indicate your organization's functional requirements (select all that apply).
What are the technology requirements of the system?
Day 4 ….
Step 2 – Get Your Shortlist of ERP Software Solutions.
Shortlist of ERP software solution that meets your business requirements gathered in Step 1. It is simple to do. Compare your requirement against features of ERP solutions available. To do this get a list of ERP software.
Day 5 ….
Step 3 – Finish With Comparing Your ERP Solutions.
Compare the solutions which are shortlisted in Step 2.
The evaluation criteria and its sub-criteria serve to compare selected open source ERP systems.
Functionality
Flexibility
Support
Continuity
maturity
Functionality
It is the degree to which the chosen ERP system fits your business processes. The higher the fit is, the lower are the customization and implementation costs.
Functional fit has a high impact on the total cost and implementation time. As functional requirements vary widely depending on the business area, there is no general way to measure functional fit.
You need to compare the functionality of your system against the needs of your business.
Flexibility
Flexibility allows bridging the functionality gap between out-of-the-box functionality and the close functional fit provided by a customized system.
Apart from the opportunity to adapt the system to optimize business processes, flexibility also implies questions of ease of use and administration and platform independence.
It is about technical concepts and the software design of the system. Compare accounting software with the following criteria:
Customization
Flexible upgrades
Internationalization
User-friendliness
Architecture
Scalability
Security
Interfaces
Operation system independence
Database independence
Programming Language
Support
Support helps to shorten the implementation time due to the knowledge transfer to the company. It helps to develop internal skills or engage external consultants for implementing and maintaining an open-source ERP system.
Compare accounting software for support with the following criteria:
Support infrastructure
Training
Documentation
Continuity
Project continuity ensures that your ERP system expenses are a sustained investment. When you focus on one system, you also run the risk that the system will be no longer endorsed.
Compare ERP software for Continuity with the following criteria:
Community activity
Project structure
Transparency
Update frequency
Maturity
Here maturity is used in a more narrow context and means the quality of a software.
Whereas flexibility is about technical concepts and the design of the software, maturity tells you how well and bug-free it is implemented and tested.
Compare accounting software maturity using the following criteria:
Development status
Reference site
Now we defined your business needs, shortlisted the software, and analyzed ERP software solutions, now let's proceed with selecting appropriate open source ERP software solutions for your business.
Let's move to Day 6…
DAY 6: Select Free Business ERP Software For You
It's the time! No, not to select business ERP software for you…
Not quite yet!
Yes, you do have a Definition of Your Business Needs, a Shortlist of ERP Software Solutions, and a Comparison of ERP Solutions in hand.
All that stands between you and your perfect free ERP software … this DAY!
If you have not prepared them already please go back and do that first.
Your DAY 6 goal is to refine your ERP choice based on some final considerations, and then…
Yes! You will finish today by selecting your perfect open source ERP software.
You have a set of shortlisted ERP solutions on your list now.
Final considerations for selecting perfect Open Source ERP Software for your business are,
Is the software ready for production?
Select only the systems which are ready for production. Systems that are already implemented successfully at some other organizations.
Is software includes all the modules required for your business?
List out the modules you are looking forward to in your ERP. Select that software that has all the modules you are looking for.
Is the software supports the smooth migration of your data from your existing system?
Select the software which supports the migration of your existing data easily.
What is the licensing policy for the software?
You need to select the software which is having a licensing policy that suits your business plans.
Is the software supports smooth integration with other software systems required for running your business?
How is a community activity, how is community support, how futuristic is the system?  
You're Ready! Let's select Business ERP software for you.
Resolve conflicts between shortlisted solutions…. and Now
Select It!
Can you believe it?
End of DAY 6. You have not "spent" 6 DAYs preparing. You have invested them.
You've come a long way in a short time. You now know how to select Business ERP Software that WORKS! the solution that will help you in expanding your business. And you've started the right way…
You've done what precious few small business people do, commercial ERP or Open Source ERP. You have brainstormed, researched, studied, and planned extensively. Heck…
You have selected ERP for you on DAY 6!
So you ARE ready!
You stand at the start of a trend that will grow geometrically over the coming years… S I T E … Expanding business using free ERP.
More and more, small business owners are beginning to realize.
No matter which expansion you choose, you must first select the right software. And to select that right software you must consult us!
So not only are you ready, you have a huge head start.
You are leading the trend! And what a trend it is! For some inspiring role models, see success in action.
Is there any reason why you can't do the same? I think not. I know not!
Ultimately, it all comes down to what one of the "hero entrepreneurs" once said. I'll repeat it here because perseverance is the single most common "must-have" on the road to success.
"How to succeed? Try hard enough."
Pick up the action at DAY 7 of the Action Guide. Put on your hard hat; it's building time!
Go get 'em!
DAY 7: Open Source ERP Implementation Process Guide
Put on your hard hat. You are entering the ERP implementation phase of this journey…
This is I of S I T E methodology.
Your DAY 7 goal is ERP Implementation at your organization. An integrated, simple-to-use set of tools is in place, waiting for your ideas, commands, and dedication.
Before starting the day …If you have not chosen the ERP software solution for your business yet please go back to DAY 6 and complete the selection process.
Success is all about preparation. And have you prepared! Get ready to install an ERP that works!
Understand ERP Implementation Life Cycle.
Download ERP-dependent software and install them.
Every ERP software needs dependent software to run. You need to install dependent software on your ERP servers before installing the ERP system. Installation manuals contain a list of dependent software.
Operating system.
The database server installed and configured.
Printers drivers.
Barcode scanner drivers.
Webserver if your software needs it.
Download this software, install them on your server and do the required configurations.
Download Free ERP Software and Install it.
Find the download page of Free open-source ERP software that you have shortlisted. You will get download links on the home pages of their websites.
Download them. Unzip if it is required. You will get a binary version and source code both.
First, download only binary files. When you are successful with running applications then you can think of downloading source code files.
Migrate existing ERP data into the new system.
To complete the ERP implementation one would need to migrate master data, including customer master, material master, budget head, employee list, etc, from legacy systems.
A large number of earlier transactions (a pending transaction for completion, the archived transaction for analysis) would also be transported to the ERP system.
In a typical corporation, these would call for a significant amount of data transport. Often they may not be available in machine-readable form.
Manual data often have inconsistencies such as incorrect code numbers, multiple code numbers to represent the same item, misspellings, etc., that need data cleansing. Data cleansing itself could be a major activity.
Even if data is available in machine-readable form, it may be distributed across heterogeneous hardware and software platforms.
A reasonable amount of effort must be spent in reconciling such data. Special utilities are available for data migration both from ERP vendors and third-party vendors.
You have chosen the solution that fits your business. This website includes all the resources, manuals, read-me, and download links for your chosen software. Follow them to install and implement the same at your organization.
Now you know how to install and implement different complete ERP systems at your site. Hey, that brings you to the end of DAY 7. Phew!
A big DAY but an even more significant accomplishment!
Congratulations!
What's that? One last question?…
"So how a user will learn to use the ERP system implemented?
That's not one last question. It's the first question for "tomorrow."
Let's see how as we…
Advance to DAY 8.
DAY 8: Open Source ERP Training and Teaching Guide.
DAY 8 includes Steps involved in successful open source ERP training in an organization.
On DAY 7 you mastered the installation and implementation process of your ERP software. If you have not yet familiar with that, please go back to DAY 7 and complete it.
This is T of S -> I -> T -> E methodology.
The purpose of the Training Plan is to describe the processes and timeline by which training will be delivered to all users.
All users, trainers, and support personnel will need training and resources at different levels. Comprehensive training is a critical requirement for all. Training in different modules needs careful planning and scheduling.
Several levels and types of training are required and will be scheduled at the appropriate times during the implementation period.
Different levels at which training is required.
 Technical Training.
Functional Area Training for Modules Team Leads.
End-User Training.
S-I-T-E approach training will be delivered using a process including user guides and online resources.
Methods used to communicate training will be e-mail, website, etc.
Deliverables:
Project Training Schedule
Open Source ERP User Guides
Job Aids/User Documentation
Quick Reference Guides
Online Workshops
Training Materials
Online Help
FAQs
Now we are familiar with the training plan for the ERP system…Now move on to Expanding your solution for your business on DAY 9 …
DAY 9: Own Custom ERP Software For Your Business!
You have chosen the right ERP for your business, learned everything about it now. Time to own Custom ERP Software for your business.
Welcome to DAY 9 to become the owner of ERP software.
This is E of S -> I -> T -> E methodology. Expand It!
That is the beauty of Open Source ERP Software. It will allow you to own your copy of ERP and make modifications to it according to your business requirement.
There are no license fees, so that you can do it at your own pace. You can select any vendor if you need any assistance in customizing.
Yes, now we are familiar with owning custom software for our business. Let's move on to DAY 10 …
DAY 10: Post ERP Implementation Support
At the end of implementation, to get maximum benefit, it needs ERP Implementation Support.
This is day 10!
Keep in mind that the job is not over when your ERP system goes live. Therefore, your post-implementation plan should include provisions for ongoing training to help your employees get the most out of your ERP investment.
There will inevitably be gaps in training content and schedules. Training must continue after release, especially for new hires who enter your company after implementation has begun and do not know about what was done before.
After the dust has settled, you also have the chance to re-evaluate your business processes and determine if they can be optimized even further.
ERP software systems will certainly improve productivity, but once those efficiencies have been realized, it's up to you to examine your processes and see what can be streamlined.
Process optimization should be an ongoing activity in your business.
Critical Dimensions Need To Be Considered in Post Implementation Stage
Evaluation of fit with strategic vision.
Review of project planning effectiveness.
Evaluation of infrastructure development.
Review of fit resolution strategies.
Evaluation of system integration attainment and reporting flexibility.
Evaluation of the level of attainment of expected system benefits.
Review of driving principles for the project.
Review of project justification practices.
Review of user learning.
Evaluation of effective knowledge transfer (among project team members and other users).
This is the end of DAY 10.
Just do business!
                   "How to succeed? Try hard enough."
There's nothing else. Go get 'em. And…
This tutorial is for creating awareness, guidance about the open-source ERP software. We will keep on improving it, and it will remain free forever.
Please help us spread the word. Tell your friends, colleagues at work about this tutorial. This initiative grows purely by word-of-mouth, allowing us to over-deliver value and your success. Thank you!
You will also like: