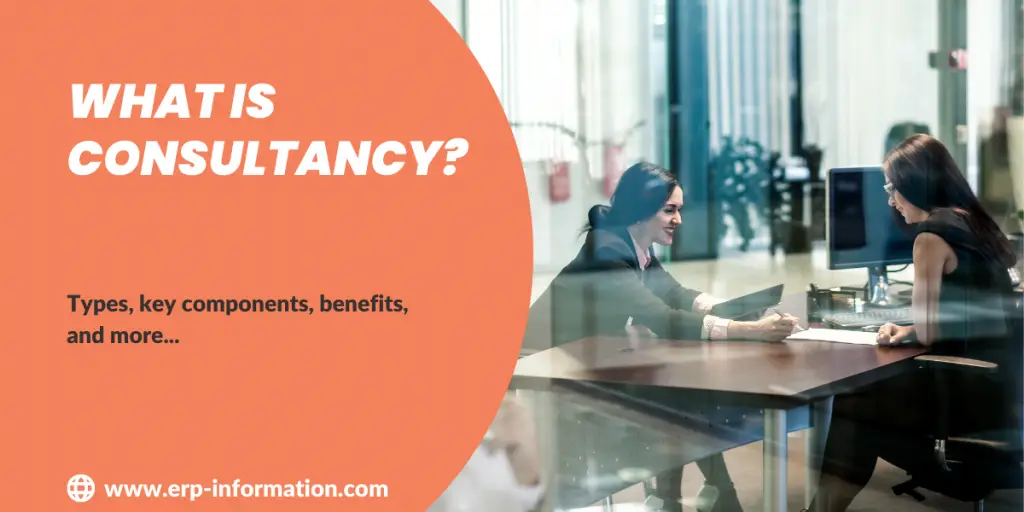 Are you an aspiring entrepreneur seeking guidance to turn your business idea into reality? Then you have the world of consultancy at your service! With their extensive expertise and diverse skill sets, consultants are well-equipped to provide invaluable support in every aspect of running a business.
From strategic planning and operational optimization to market research and financial analysis, consultancies have become the go-to resource for organizations in need of expert guidance. Embrace the power of consultancy and unlock the full potential of your business dream.
This blog post will explore the definition of consultancy and consultants. It will discuss the types, key components, and benefits of it. It will also look into the best seven consultancy services.
Let us look into the consultancy definition.
What is Consultancy?
The consultancy definition refers to professional advice and guidance from experts in various fields. That can include business strategy, operations management, marketing, and many other areas.
A consulting firm is a company that helps other businesses. They have experts who can give advice and help with tasks. Consulting firms can be very small or big, offering services in different areas like management and engineering.
Consultants
Consultants are usually experts in a particular field, such as business, management, IT, or marketing. They use their knowledge and experience to help their clients make informed decisions and solve problems.
Types
There are many different types of consultancy, each with its focus and areas of expertise. Some common examples include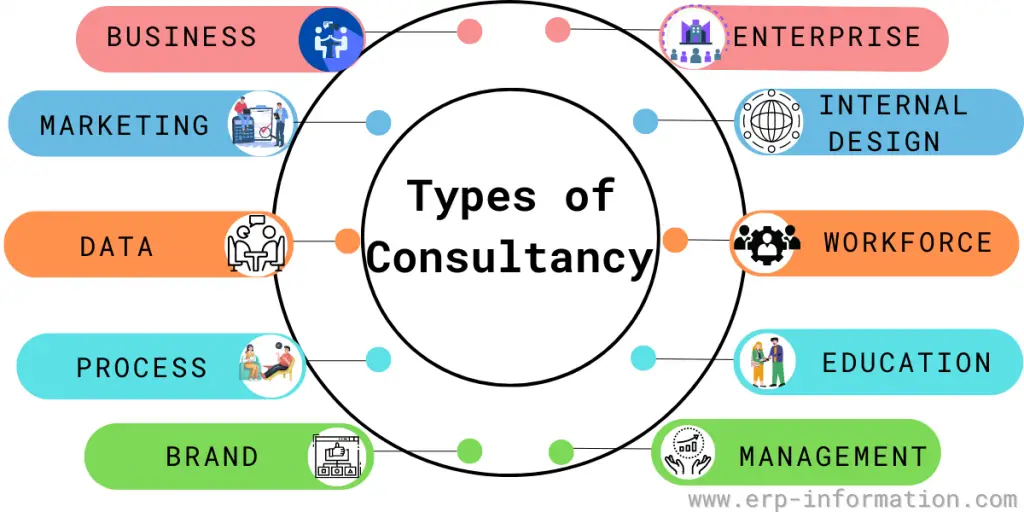 Business consultancies
Business consultancies offer advice and guidance on business strategies, operations, and processes. 
They may help clients to develop and implement marketing plans, manage their finances, or hire and train staff.
Marketing consultancies
Marketing consultancies offer advice on branding, advertising, promotions, and other aspects of marketing.
They may help clients build their online presence, conduct market research and analysis, or develop marketing plans for various products or services.
Data consultancies
Data consultancies support data analysis and management, helping clients make decisions based on metrics and performance indicators.
They may support clients with software and tools to help them analyze their data and make more informed marketing, sales, and customer service decisions.
Process consultancies
Process consultancies work with clients to help them improve the efficiency and effectiveness of their operations.
They may help clients develop and implement new workflows, manage projects, or optimize business processes.
Brand consultancies
Brand consultancies focus on helping clients to manage, develop, and build their brands.
They may support clients with advertising campaigns, branding strategies, product or service development, and other marketing activities.
Enterprise consultancies
It offers advice and guidance on managing large organizations, including strategy development, risk assessment, and operations management.
They may work with clients to help them make strategic decisions, manage resources more effectively, or improve efficiency within their organizations.
Internal design consultancies
Internal design consultancies work with clients to help them improve the effectiveness of their internal operations, including office design, employee productivity, and work processes.
They may help clients to create more effective physical or digital workspaces that promote greater collaboration, communication, and creativity.
Workforce consultancies
Workforce consultancies focus on supporting organizations to attract and retain talented employees, build a positive company culture, and develop effective human resource practices.
They may offer support with workplace training, performance management, leadership development, or other aspects of workforce management.
Education consultancies
Education consultancies offer support and guidance to schools, colleges, universities, and other educational institutions.
They may support clients with curriculum development and implementation, teacher training, facility design, operations, or other aspects of education management.
Management
It focuses on supporting organizations in managing their human, financial, and physical resources.
It can include advising clients on strategy development and implementation, performance management, budgeting, forecasting, or other aspects of managing an organization.
Key Components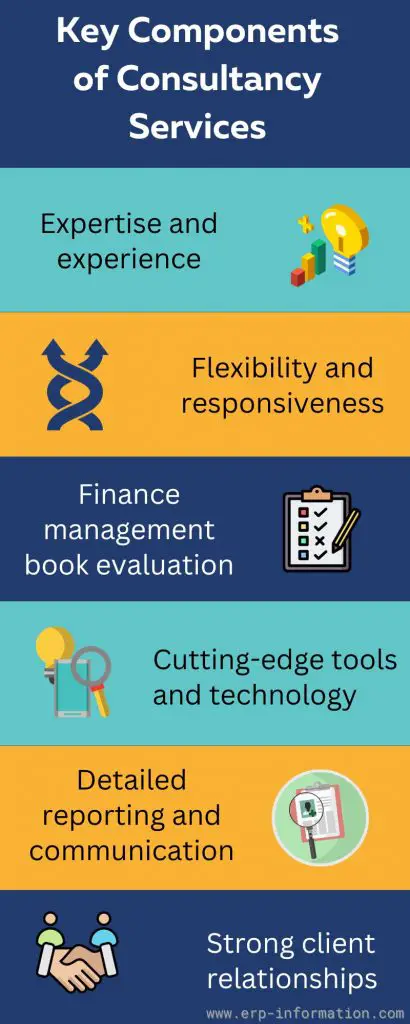 Expertise and experience
A reputable consultancy typically has extensive expertise in the industry or field in which they provide services and a deep understanding of organizations' complex challenges and opportunities.
When working with clients, they can draw on this expertise to create effective solutions tailored to their unique needs.
Flexibility and responsiveness
Consultancy understands that clients' needs are constantly evolving, and they can adapt their services in response.
As a result, they can immediately and effectively respond to changing conditions, working collaboratively with clients to ensure their needs are met throughout the process.
Thorough research and analysis
A good consultancy conducts extensive research on the prevailing trends, challenges, and opportunities in the industry or field and their clients' specific needs.
This research provides the foundation for their recommendations and solutions, helping them to deliver effective and well-informed services.
Cutting-edge tools and technology
A reputable consultancy uses the latest tools and technologies when working with clients, providing them access to the most innovative and effective solutions. That allows them to focus on delivering well-informed and customized results for their needs.
Detailed reporting and communication
In addition to delivering effective solutions, a good consultancy also provides clear and detailed reporting and communication to clients.
That helps to clearly understand their project's progress and any ongoing challenges or opportunities they may face.
Strong client relationships
A good consultancy builds strong, long-lasting relationships with its clients, working collaboratively to fully understand their needs and ensure they are satisfied throughout the process.
That helps to build trust and mutual respect, fostering a collaborative working relationship that promotes success.
Benefits
Expertise
A good consultancy firm will have experts in various fields to get the best advice for your needs.
Objectivity
A consultant is unbiased and will give you an honest opinion on what course of action to take.
Independence
A consultant is not attached to any organization and is less likely to be influenced by personal biases or agendas.
Efficiency
Consultants can often assess a situation and provide recommendations much more quickly than an in-house team would be able to.
Cost-effective
Hiring a consultant is often more cost-effective than hiring full-time employees, who may not have the necessary.
Seven Best Consultancy Services
| | |
| --- | --- |
| Company name | Services |
| Deloitte | Audit, consulting, financial advisory, risk management, tax, and related services. |
| The Boston Consulting Group (BCG) | Strategy and general management consulting |
| Bain & Company | Service related to strategy, marketing, organization, operations, technology, and acquisitions across all industries and geographies |
| McKinsey & Company | Strategic planning and business analysis in various industries, including finance, healthcare, tech, retail, and more |
| EY | Provides assurance, tax, transaction, and advisory services |
| Maine Pointe | Offers global supply chain and operations consultation |
| Mercer  | Consultation in talent, health, retirement, and investments |
FAQs
What is the history and origin of word consultancy?
This word comes from the Latin word consultant, which means "to take counsel."
The first use of the word "consultancy" was in the early 1800s, and it was used to describe a type of business that provided advice and assistance to other companies.
What are the skills of a consultant?
Consultants should have important skills like good verbal and written communication, Leadership quality, organizational agility, work flexibility, self-motivation, and other interpersonal and soft skills.
What are the types of consultants?
The major types of consultants are sales consultants, management consultants, marketing consultants, business consultants, legal, accounting, technology, medical, public relations consultants, etc.
Why do businesses or organizations hire consultants?
Companies and organizations hire consultants for various reasons, including gaining specialized expertise, solving complex problems, improving efficiency, reducing costs, and implementing strategic initiatives.
How can you choose the right consultant for a business or project?
Selecting the right consultant involves considering their expertise, experience, track record, and compatibility with your organization's culture and goals. References, reviews, and referrals can also be helpful in the selection process.
Conclusion
Consultancy is a specialized field that provides expert advice and support to clients in various industries and sectors. To find the best consultant for your needs, research and compare consultants based on their experience, expertise, and rates.
Whether you are looking for assistance with strategy, marketing, operations, technology, or any other aspect of your business, it can help to ensure that you get the best results and achieve your goals.
Reference