The history of ERP falls back to 1960!
ERP (Enterprise Resource Planning) is the evolution of Manufacturing Requirements Planning (MRP) II.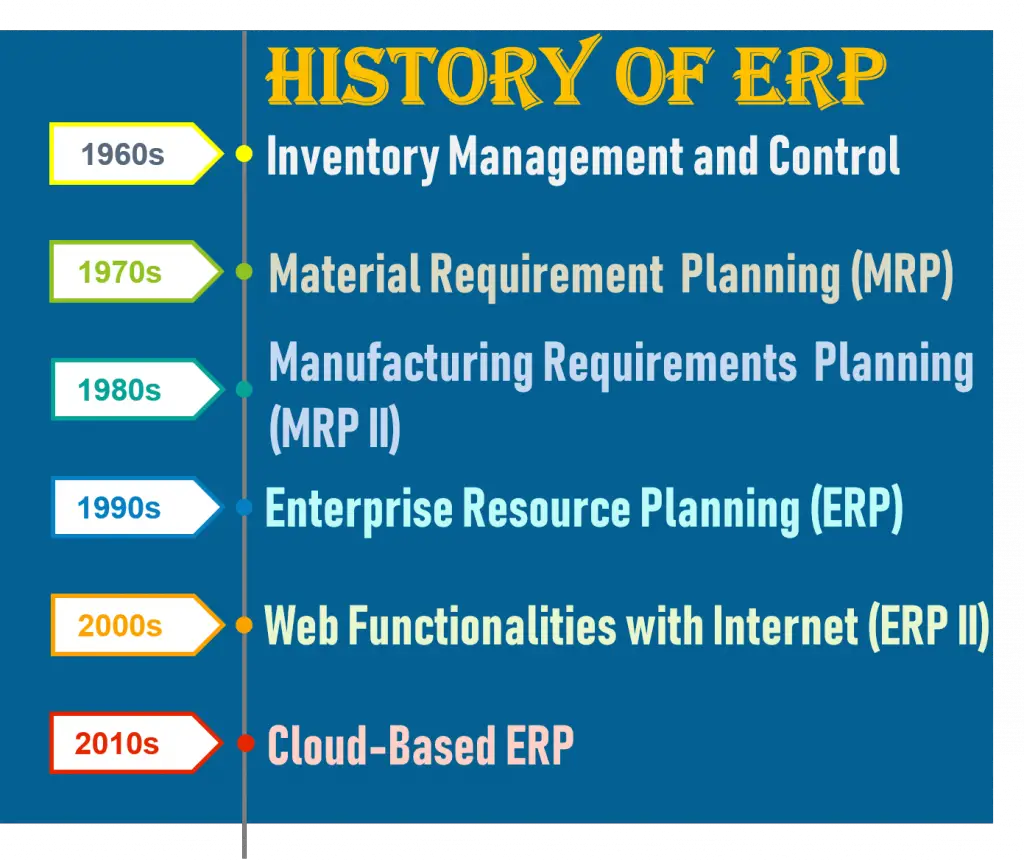 From a business perspective, ERP has expanded from the coordination of manufacturing processes. It expanded to the integration of enterprise-wide back end processes.
From a technological aspect, ERP has evolved from legacy implementation. Evolved to a more flexible tiered client-server architecture.
Inventory Management & Control (the 1960s)
Inventory Management and control is a combination of information technology and business processes. Business processes of maintaining the appropriate level of stock in a warehouse.
The activities of inventory management include,
Identifying inventory requirements.
Setting targets.
Providing replenishment techniques and options.
Monitoring item usages.
Reconciling the inventory balances.
Reporting inventory status.
Material Requirement Planning (MRP)(the 1970s)
Materials requirement planning (MRP) utilizes software applications for scheduling production processes. MRP generates schedules for operations and raw material purchases.
Scheduling is based on,
Production requirements for finished goods.
Structure of the production system.
Current inventory levels.
Lot-sizing procedure for each operation.
Manufacturing Requirements Planning (MRP II) (the 1980s)
Manufacturing requirements planning or MRP II utilizes software applications. Applications for coordinating manufacturing processes. Processes from product planning, parts purchasing, inventory control to product distribution.
Enterprise Resource Planning (ERP) (the 1990s)
Enterprise resource planning or ERP uses a multi-module application software system. Software for improving the performance of the internal business processes. ERP systems often integrate business activities across functional departments.
Departments including,
Product planning.
Parts purchasing.
Inventory control.
Product distribution, fulfillment, to order tracking.
ERP software systems may include application modules for supporting,
Marketing.
Finance.
Accounting.
Human resources.
Web Functionalities with Internet (ERP II) (the 2000s)
Interaction of ERP with other application suite is enabled in ERP II. An example is integrating with CRM systems.
Technological advancementAccessing information using internet web-browsers and mobile devices were made possible.
Technological advancement with Services Oriented Architecture (SOA) was adapted.
Cloud-based ERP (the 2010s)
Business applications are delivered as software as a service (SaaS) model. Servers are deployed on the cloud and accessed with rest APIs. Android, iOS, and browser applications are developed for delivering ERP software in the SaaS model.
Future of history of ERP
Big data analysis and advanced reporting.
Machine learning.
Artificial intelligence and automation.
Data integrity with blockchain technology.
Virtual reality for better interactions.
The history of ERP was always accompanied by the advancement in technology. It will continue to progress to boost business growth.