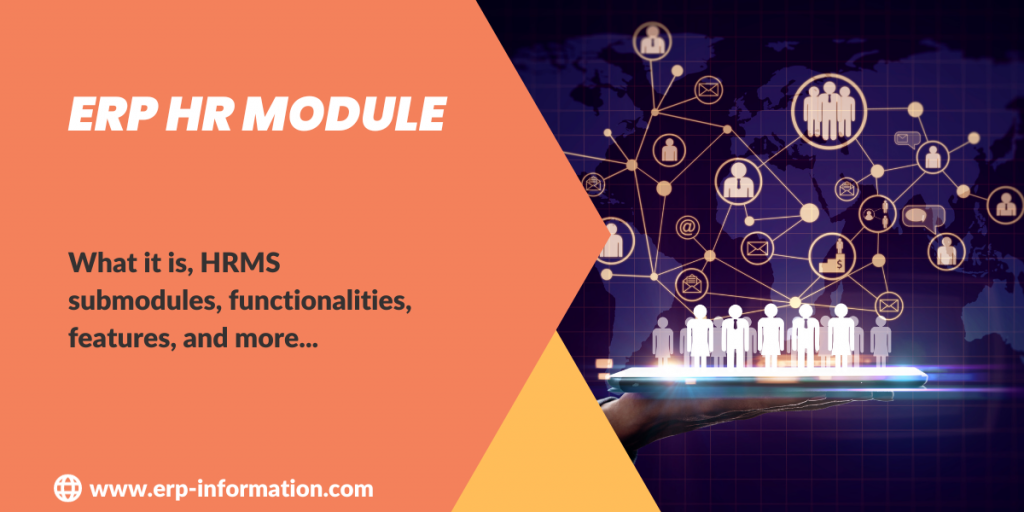 Imagine a scenario where a multinational corporation with offices around the world effortlessly manages its global workforce using a unified system. From tracking employee attendance in New York to monitoring recruitment progress in Tokyo, the ERP HR module brings this global coordination to life. 
The ERP HR module emerges as a transformative force in this context. Featuring an intuitive user interface and a wide range of capabilities, it not only boosts employee engagement but also simplifies HR processes, facilitating informed decision-making through data-driven insights.
In this blog post, we will explore the basics of the HR module (HRMS) and discuss some of its key features. We will also provide tips for getting the most out of this vital functionality.
So, whether you are new to ERP systems or just new to the HR module, read on for insights that will help you get clarity.
Key Insights
 The ERP HR module empowers multinational corporations to effortlessly oversee global workforce operations across diverse locations.
Featuring an intuitive interface and diverse capabilities, the ERP HR module doesn't just enhance employee engagement but also simplifies HR processes, enabling informed decision-making through data-driven insights.
HR modules efficiently manage comprehensive employee databases, encompassing crucial data like contact details, salaries, attendance records, and performance evaluations for streamlined HR management.
HR software streamlines HR processes effectively, with top vendors offering comprehensive ERP systems that consolidate employee management, recruitment, payroll, and reporting within a unified package.
Introduction to HR Module in ERP
ERP HR modules routinely maintain a complete employee database, including contact information, salary details, attendance, performance evaluation, and promotion of all employees.
The advanced ERP human resource module is integrated with knowledge management systems to optimize all employees' expertise.
A knowledge management system is an information technology system. It stores and retrieves the knowledge to improve understanding, collaboration, and process alignment.
Knowledge management systems can exist within organizations or teams. And they can also be used to center the knowledge base for clients.
ERP modules refer to the systems and processes between human resource management (HRM) and information technology.
These ERP systems have their origin in software that integrates information from different applications into one universal database.
The linkage of ERP financial and ERP HR modules through one database is the most critical distinction between the individually and proprietary developed predecessors. That makes this software application both rigid and flexible.
Submodules of ERP HR Module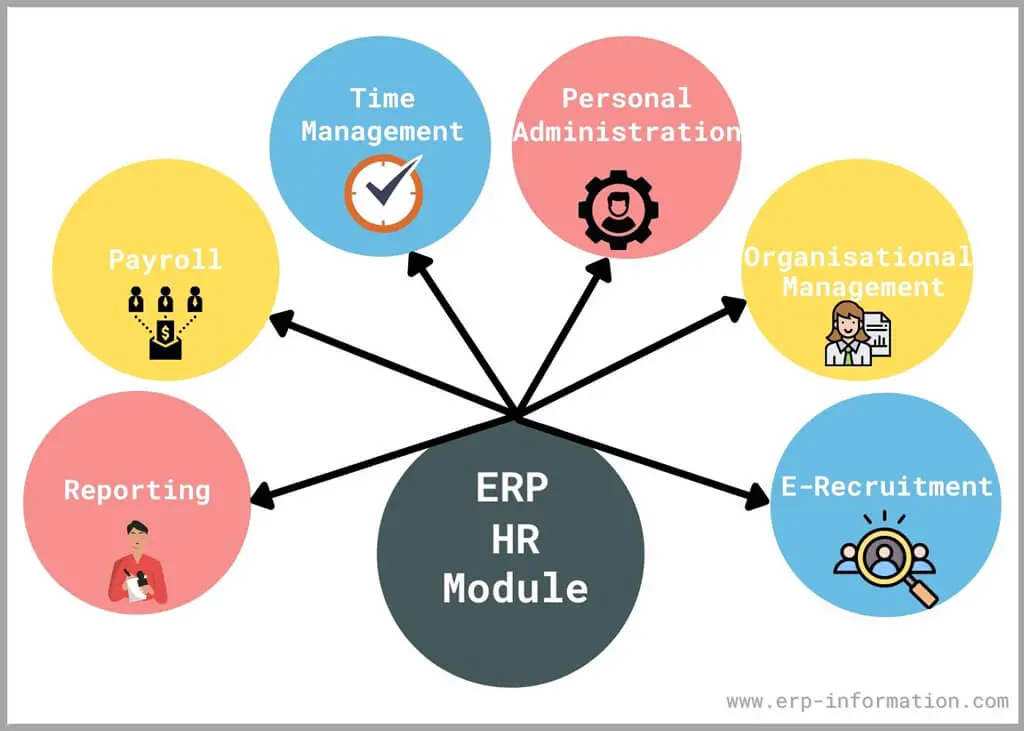 Organizational Management
It helps with personnel planning and application development. It enables analyzing the complete organizational structure. That allows the planning and development of personnel summaries.
E-Recruitment
Submodule for hiring both internal employees and external candidates. That includes access to talents regardless of geography.
Time Management
It enables functionality to record the attendance and absence of employees. It also helps evaluate attendance, absences, overtime, bonuses, and wages.
Personnel Administration
It manages many individual pieces of information. This information is stored, updated, and managed for each employee. To manage personnel data related to tasks, you need it.
Payroll
It manages the payroll of employees in an organization. Payroll can be integrated with other modules like accounting and time management. It consists of payments for each employee and deductions made.
In the transactions of the payroll module, the user is allowed to enter the daily attendance data of all the company employees on the payroll. The user can mark the entire employee's data as present or absent.
Also, if the company operator has worked overtime, the software user can enter the data relating to the operators over time.
Reporting
It provides reports of individual employees and consolidated reports across departments and demographics.
What is HRMS (Human Resource Management System)?
Software that incorporates human resource functions such as payroll, time tracking, and many more into a single platform is called HRMS (human resource management system).
ERP HRMS Major Functionalities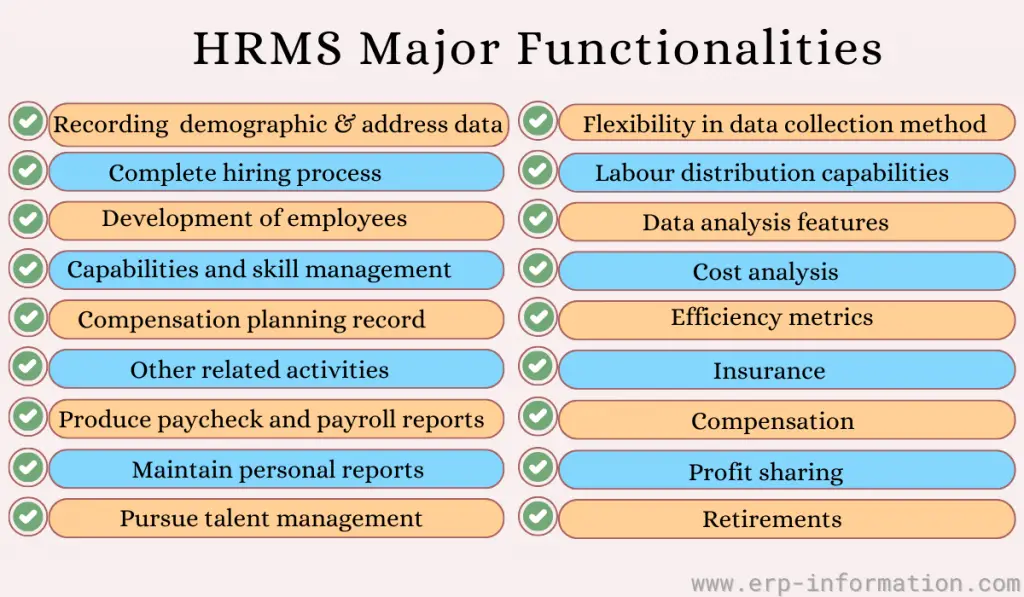 The ERP HR module covers many other HR aspects, from application to retirement. that includes
Recording basic demographic and address data.
Selection, interviewing, and completing the hiring process.
Training and development of employees.
Capabilities and skills management.
Compensation planning record.
Other related activities.
Leading-edge systems can "read" applications and enter relevant data into applicable database fields, notify employers, and provide position management and control.
Human resource management involves many functionalities. That includes recruitment, placement, evaluation, compensation, and employee development.
Initially, businesses used a computer-based information system for,
produce paychecks and payroll reports;
maintain personnel records;
pursue talent management.
Also, the processing of payroll and attendance can be done in this module. After processing the attendance, the reports correctly specify the leaves and the employee's attendance.
Work time gathers standardized time and work-related efforts. The most advanced modules provide,
Broad flexibility in data collection methods
Labor distribution capabilities
Data analysis features
Cost analysis
Efficiency metrics
The benefits administration module provides a system for organizations to administer and track employee participation in benefits programs. That typically includes,
Insurance
Compensation
Profit sharing
And retirement.
Submodules and functionalities names may vary based on vendor to vendor. However, all human resource systems will have the above set of functionalities.
ERP HR Module Features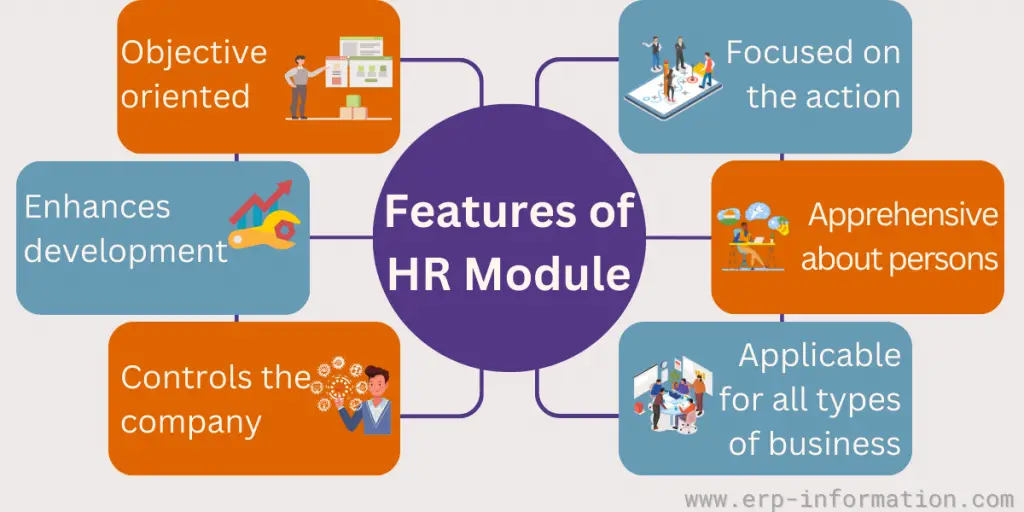 A section to control the company process
Human resource management is purely related to the managing process of the company. Therefore, this system brings out the management principles, concepts, techniques, and utilization of these things during the management of human resources of any business.
Applicable for all types of business
No matter whether the organization is small, medium, or big, the concepts and applications of the system are the same even though the scope and purpose of the organization are different.
Apprehensive about persons
This system connects to the people. That means it relates to an organization's human capital and management. It manages the people of all levels like typical employees, supervisors, managers, and top management.
Focused on the action
It mainly focuses on action instead of generating reports.
Objective-oriented
The system concentrates on achieving the organization's objectives by providing the necessary tools and methods.
Enhances development
The system ensures the complete utilization of human skills and capabilities. It also conducts training programs to upgrade the employees.
Benefits of ERP HR Module
HR module integrated with ERP gives you more advantages.
It helps to automate the process.
It reduces the time consumed while taking the report.
It helps store the data in a centralized location, allowing the business to share the information across the organization faster and more efficiently.
It allows the team members to coordinate while working by providing the correct data.
It enhances the business.
It allows the management to have a short-term picture of its employee resources ( e.g., the employee who comes late, takes more holidays, etc.)
It helps to speed up decision-making by avoiding the duplication of information.
It helps to reduce the cost of licensing. For example, without the ERP HR module, you require more computers and licenses to track all the information about employees, leading to an increase in the cost.
Best ERP HR Software Vendors
Below is the list of vendors who provide ERP HR software for the HR department.
Oracle NetSuite
ADP
Zenefits
Namely
Infor
Odoo
Microsoft Dynamics Business Central
FAQs
What is the importance of HR software?
HR software allows human resource professionals to concentrate on recruitment, company culture, and branding by reducing their administrative time for payroll.
It also provides a performance review system that helps evaluate employees' effectiveness and knowledge about working with others in teams or projects.
What is HRIS (Human Resource Information System)?
A Human Resource Information System (HRIS) is a software application that assists in managing human resources data. For example, an HRIS can help an organization collect and track employee data, manage payroll, process benefits, etc.
Typically, an HRIS will offer a variety of modules or features that cater to the specific needs of an organization's human resources department. For example, an HRIS may provide a module to track employee leave, employee performance reviews, or manage payroll.
Organizations that use an ERP HRIS typically find that it helps them streamline their human resources processes and improve their communication with employees.
What is HCM (Human Capital Management)?
ERP HCM is the comprehensive management of an organization's human resources, from recruiting and hiring to compensating and developing employees.
It encompasses everything from tracking employee performance to planning for succession. Essentially, it's ensuring that an organization has the right people in the right roles and that they are performing to their best potential.
What are the qualities do HR software or HR tools should have?
HR software should have the following qualities
* It should be easy to use
* It should be easy to implement
* It should access multi-channels
* It should provide reports that are ready to use
* It should integrate with other tools
* It should be customizable as per your requirements
* It should provide an employee self-service portal
Conclusion
Ultimately, the ERP HR module stands as a beacon of efficiency and transformation in global workforce management. It has the ability to seamlessly integrate diverse HR functionalities and simplify complex processes.
The best vendors for HR software will have an ERP system with features such as employee management, recruitment and retention tools, time tracking, payroll processing, and reporting – all in one package.
As we've explored the features, functionalities, advantages, and diverse capabilities of ERP HR systems, it's evident that they're not merely tools but enablers of strategic HR management.
References