If you're a human resources professional, managing HRIS can be a nightmare.
There are so many different HRIS systems out there, and it's hard to know which one is the best for your business.
We've done all the research for you! We have listed the best HRIS software, including open-source options. This blog post will help you decide on an HRIS solution that will work best for your company.
What is HRIS?
The HRIS allows organizations to collect, store, and manage employee data. It can help organizations keep track of employee files, benefits, payroll, and more.
There are many different solutions out there. You need to find one that meets your needs for your organization. You can consider the features, the price, and how it will be customized.
When choosing an HRIS, be sure to consult with other members of your team who will be using it. Make sure everyone is on board with your choices, so there are no surprises down the road.
Once you have chosen a system, it is crucial to learn how to use it effectively. Take some time to explore its features and figure out how they can help you manage your workforce more efficiently. You may even want to attend a training seminar or webinar to get the most out of your existing systems.
The bottom line is that an HRIS can help you manage your employee data more effectively and efficiently. As a result, it can save you time and money and help you make better decisions about your workforce.
So, if you are considering a new HRIS system, be sure to research and choose one from multiple systems that meet your organization's needs.
How is HRIS different from a Human Resource Management System(HRMS)?
The main difference between the human resource management system (HRMS) and HRIS is that HRMS helps businesses manage their human resources. At the same time, HRIS helps companies manage their employee data.
HRMS usually includes payroll and benefits administration features, while not all HRIS systems have them. As a result, HRMS is more comprehensive than HRIS and is more expensive.
However, HRIS is more straightforward and less expensive than HRMS. So, which one you choose depends on your needs and budget.
How to choose the best HRIS solution for your business
When selecting the product, there are several factors to consider. Here are some of the most important ones:
The features offered
HRIS products come with various features, so be sure to choose one that has the parts you need. For example, choose one with this feature if you need a system that can track employee hours. In addition, ensure that your HR data is kept safe by selecting a solution with robust data security features.
The price
HRIS products can vary in price, so find one that fits your budget. Verify if the one-time purchase, software as a service (SaaS), or an on-premise license model best suits your needs.
The level of customization that is possible
Companies can customize HR systems to meet the needs of your business, so be sure to find one that offers the level of customization you need. Based on the location, government regulations, and company policies, systems can be set up to meet your specific needs.
The support and training that is available
HRIS applications can be complex, so it's essential to find one that offers good support and training. Ask the solution provider about their support and training offerings before deciding.
The size of your business
HRIS solutions come in various sizes, so choose the appropriate one for your company. For example, you don't need an HRIS designed for large companies if you are a small business.
Once you've considered these factors, it's time to look at specific HRIS systems.
The benefits of HRIS in a business
 HRIS can save you time and money. For example, automating payroll and benefits administration tasks can help you reduce your administrative costs.
It makes it easy to track employee data.
This information can help make decisions about things like pay raises or promotions.
It helps you comply with government regulations.
For example, tracking employee hours can help you ensure that your company complies with overtime regulations.
It makes it easy to keep track of changes in the law
It is constantly updated, so you can be sure that you're always using the latest information.
A list of the top HRIS solution providers
HR Module of most popular ERP systems takes care of HRIS functionality. In addition, here are some of the most popular ones on the market:
1. UKG PRO
UKG pro is an HR software that you can customize to meet the needs of your business. It offers a variety of features, and it's easy to use. The available support and training are excellent, and the price is reasonable.
Features
Managing human resources
Accounting & Payroll
Managing attendance and leave
Direct deposit files
Update the personal information 
Self-service for employees
Managing assets
Providing HR reports
Performance management
Recruiting / ATS
Like
Employee Self-Service made it easy for workers to update their records
Some of the training and knowledge bases are offered free of cost
The system is user-friendly, so even novices can quickly get up and running. It works smoothly and keeps every record, file, or data in one location on all our staff.
Dislike
The complexities of data gathering and reporting are such that they are nearly unattainable.
They need to concentrate on eliminating bugs rather than just new features.
With standard practices, it's been challenging to introduce recruiting and onboarding.
Other details
2. Workday HCM
It is a cloud-based application that helps organizations manage their HR functions, such as payroll, benefits, employee self-service, and employee records. Workday HCM also provides performance management and recruiting features.
Features
Performance management
Recruiting
Onboarding
Activity Dashboard
Benefits administration
Workforce planning
Time and attendance tracking
Analyzing data
Like
The self-service system in HCM helps in empowering the people and leadership quality.
Complete people's pricing and contingent laborers' understanding is enabled by the HCM tool.
Dislike
The dashboard is not entirely informative and needs much improvement.
The user interface is not much great and could be better.
Other details
3. Sage HRMS
Sage HRMS is a human resource information system that provides payroll and talent management functionality. It helps organizations manage employee data, process payroll, and administer benefits programs. Sage HRMS also includes tools for tracking employee performance and managing succession planning.
Features
Applicant Tracking
Decision support
Learning and benefits management
Workforce management
Risk mitigation
Compliance management
Payroll management
Talent management
Like
The HR module is straightforward and user friendly
A wide variety of functions are available
It can be customized to meet the specific needs of an organization
Dislike
The user interface is not much excellent and could be improved
The payroll module is very detailed and complicated to set you
Other details
4. ADP Workforce Now
ADP Workforce Now is an online HR management system that allows businesses to manage employee files, payroll, and benefits. It also provides tax filing and reporting services.
Features
Payroll
Time and Attendance
Check to print
Benefits management
HR Services: Applicant Tracking, Background Screening, Candidate Tracking,
HR outsourcing and PEO
360 Degree Feedback
Like
Excellent customer support
You can manage payroll, time-sheet, and absence easily
Dislike
Online documents for navigation steps need improvements
Need improvement in the reporting tool
Other details
5. Microsoft Dynamics 365 for Human Resources
Microsoft Dynamics 365 for Human Resources is a comprehensive system that can manage all aspects of your human resources operations, from payroll and benefits management to employee tracking and performance reviews. It's a cloud-based solution that can be accessed from any device, making it ideal for businesses.
Features
Attendance programs
Compensation plans
Benefits management
Payroll module
Talent management
Built-in security, privacy, and compliance
Like
Employee profiles can be easily accessible with a centralized system
Employees can work independently with self-service tools that increase productivity
Dislike
The system can be complex and challenging to navigate for some users.
Other details
6. Oracle HCM Cloud
Oracle HCM Cloud is a human resources management system that provides cloud-based HR services to businesses. It enables enterprises to manage employee data, process payroll, and identify and track employee performance.
Features
Human Resources (HR)
Talent Management
Workforce Management
HCM Analytics 
Price
A free trial is available
Like
Configuration steps are easy; no coding knowledge is required
It provides free upgrades, which reduce the maintenance cost
It provides centralized employee data and improves hiring efficiency
A user-friendly interface enables employee self-service from a remote place
Dislikes
It offers limited customization for features
Need improvements in UI performance and search functions
Other details
List of open-source HRIS software solutions
There are many open-source HRIS software solutions available. Some of the most popular ones include:
1. OrangeHRM
OrangeHRM is a popular open-source HRIS. It offers a comprehensive suite of features for managing employee data, tracking time and attendance, and creating payslips. OrangeHRM is ideal for small businesses and startups.
Features
Personal Information Management
Leave management
Time management
Employee Self Service
Recruitment/ Applicant Tracking
Pros
It provides most HR functions in one place, including employee attendance, performance measurement, Timesheet, project tracking Etc.
Cons
The time sheets are not flexible to work with as we cant assign work to a particular employee.
Needs to improve the user interface
Other details
2. BambooHR
BambooHR is a human resources information system that enables businesses to manage employee files, track time off, etc. In addition, it's an online tool that makes it easy for companies to stay organized and compliant with HR regulations.
Features
On-boarding and off-boarding
Application and time tracking
Workflow personalization
Automated reminders
Data Analytics
Employee self-service
Like
It provides centralized data that helps for many HR-related operations
Provides simple and user-friendly interfaces that are easy to learn and need less or no training
Dislike
Getting information on a particular candidate is difficult
The payroll feature needs to be improved
3. Baraza HCM
The Baraza HCM system is a comprehensive human resources information system that automates many of the tasks associated with HR management. It can help you manage employee records, payroll, benefits, etc.
Features
Applicant tracking
Benefits management
Compensation management
Employee database
Employee profiles
Payroll management
Performance management
Recruitment management
Like
The application can be easily customizable using XML
It includes most of the day-to-day easy to use of HR operations.
Self-service is available for employees
Generation of payroll is simple
It can be accessed at any time through a web browser.
Dislike
It isn't easy to upgrade from one version to another
Slow processing
Other details
4. Cangaroo HR
Cangaroo HR is a cloud-based human resources information system that helps businesses manage employee data, track employee roles and responsibilities, etc. Cangaroo HR is easy to use and can be accessed from any device with an internet connection, making it perfect for small businesses and busy professionals.
Features
E-Application tracking
Talent management
Career management
Attendance tracking
Data security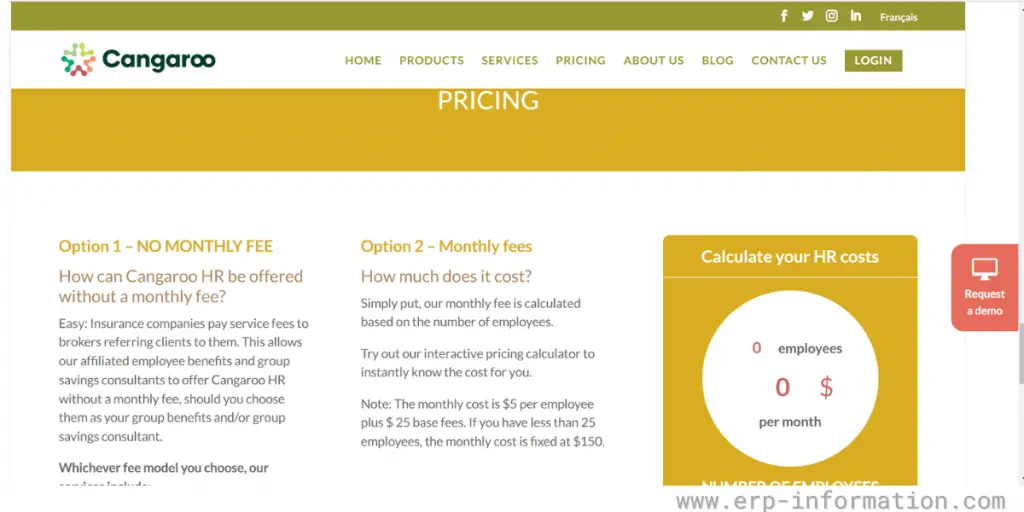 Like
Cangaroo HR is easy to use and can be accessed from any device with an internet connection,
Making it perfect for small businesses and busy professionals.
Dislike
Many features do not work as promised
Navigation is difficult for some users
5. Jorani
Jorani is a cloud-based HRIS that helps small and medium businesses manage their human resources. It offers a variety of features, including employee tracking, time tracking, and performance management. In addition, Jorani is user-friendly and easy to navigate to get the most out of your HRIS system.
Features
Employee database
Leave and absence management
Employee time management
Calendar management
Overtime management
Automatic time capture
Like
It enables you to plan your contracts and leaves types.
Provides easy reporting features
Other details
6. IceHRM
IceHRM is a comprehensive software that caters to the needs of small and medium businesses. It automates the entire HR process, from recruitment to retirement.
Features
Employee database management
Employee presence/leave management
Time management
Payroll management
Reporting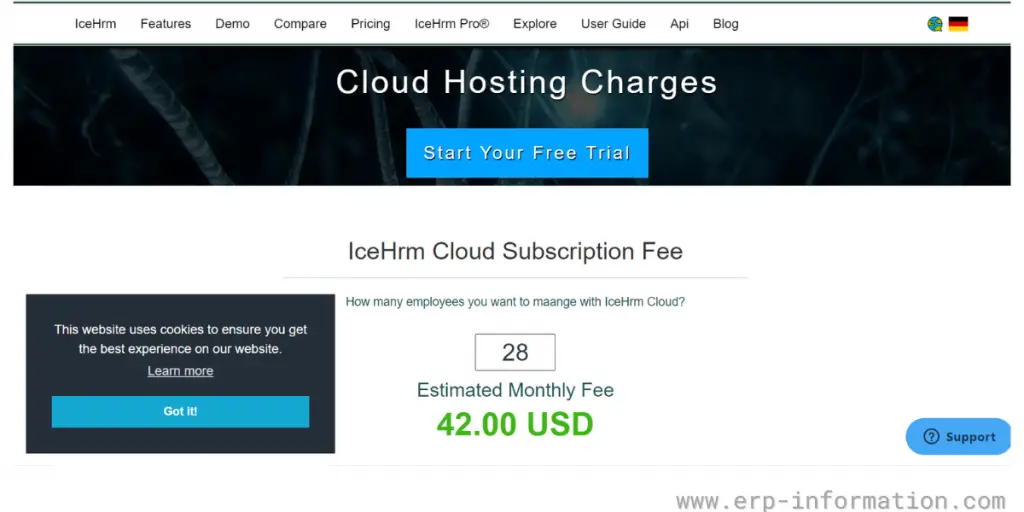 Like
Provides excellent customer support
User-friendly interface
Dislike
Some functions are not visible on the dashboard
Some functions are not customizable
Other details
7. Staff squared
Staff Squared is a cloud-based human resources information system that helps companies manage employee files, payroll, and benefits. It also helps onboarding and offboarding employees and has a built-in time and attendance tracking system.
Features
Dashboard interface
Approval process control
Attendance tracking
Benefits management
Calendar management
Compensation management
Document management
Email management
Like
It aims to fulfill all the essential needs of small to medium business
Features are customizable
Provides a user-friendly interface for new users
Dislike
Reporting could be more comprehensive
It does not offer a timesheet feature
Other details
Why do you need to consider open-source HRIS?
There are several reasons to consider open-source HRIS software. However, the most compelling reason is that open-source solutions are typically less expensive than commercial software.
They're also customizable so that you can tailor them to your specific needs. And because they're open source, they're often updated and maintained by a large community of developers, which means you'll always have access to the latest features and functionality.
FAQs
Conclusion
Enterprises can customize HRIS systems to meet the needs of your business, so be sure to find one that offers the level of customization you need. In addition, they come in various sizes, so choose one appropriate for your company.
Finally, research this blog post if you want help finding which system will work best for you!