Everybody needs an efficient, seamless, and secure way to manage their finances. Infor ERP solution fulfills business needs.
This article discloses the Infor ERP solution and terms related to that.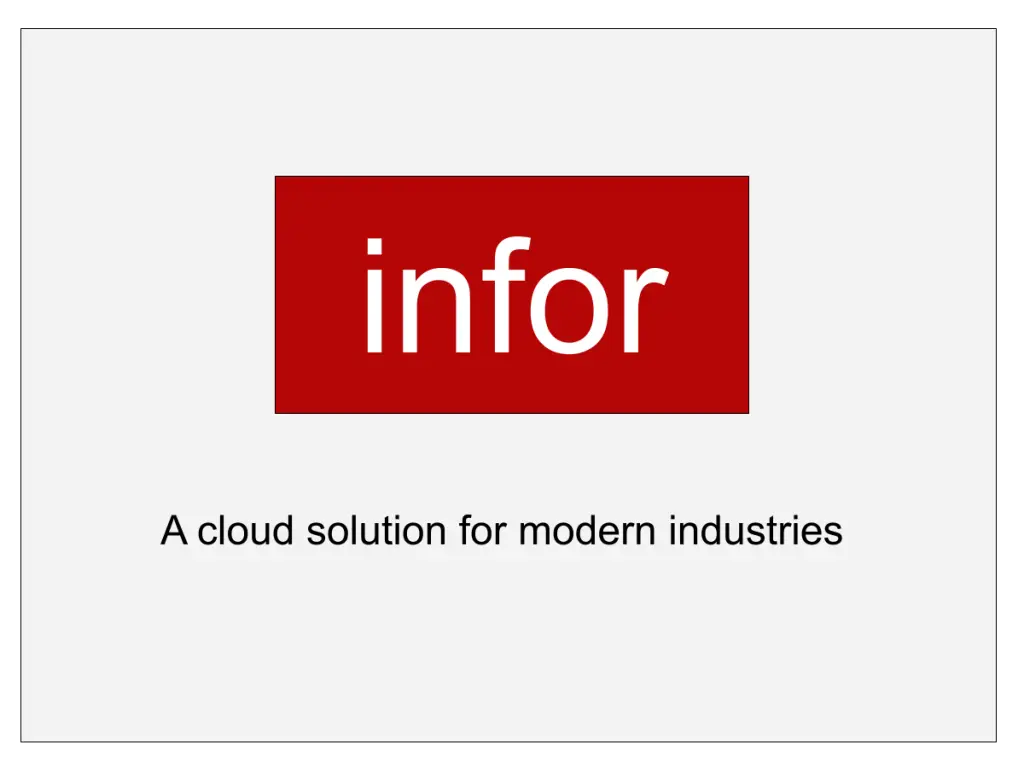 What is Infor ERP?
It is a revolutionary cloud-based ERP solution that puts control of your business data in your hands.
With Infor Cloud ERP, you will not have to wait for hours while your data arrives from the data center; instead, your data is ready to use immediately.
This means less time spent dealing with cloud problems, and more time working on important business problems.
Infor ERP Pricing
It does not provide the pricing details publically, contact the vendor for information.
Implementation
The solution offers 3 types of deployment
On-premise – With this type of deployment, Infor ERP runs on the customer's in-house server at his location. The company's internal infrastructure connects customer's systems, processes, and end-users. Customer hosts data internally.
Cloud – With this type of deployment, this ERP is hosted by a cloud service provider like Amazon Web Services. Maintenance is also taken care of by the service provider.
Hybrid – This deployment model is a combination of both on-premise and cloud. In this type, some of the applications are hosted on-premise and others are hosted on cloud deployment.
Supports and Services
It offers support on daily basis through an expert support specialist. You can contact him by calling Infor's local support number.
For Dedicated customers, it offers elite support that includes support from a designated success manager who has good knowledge about the software.
Infor Modules and their Features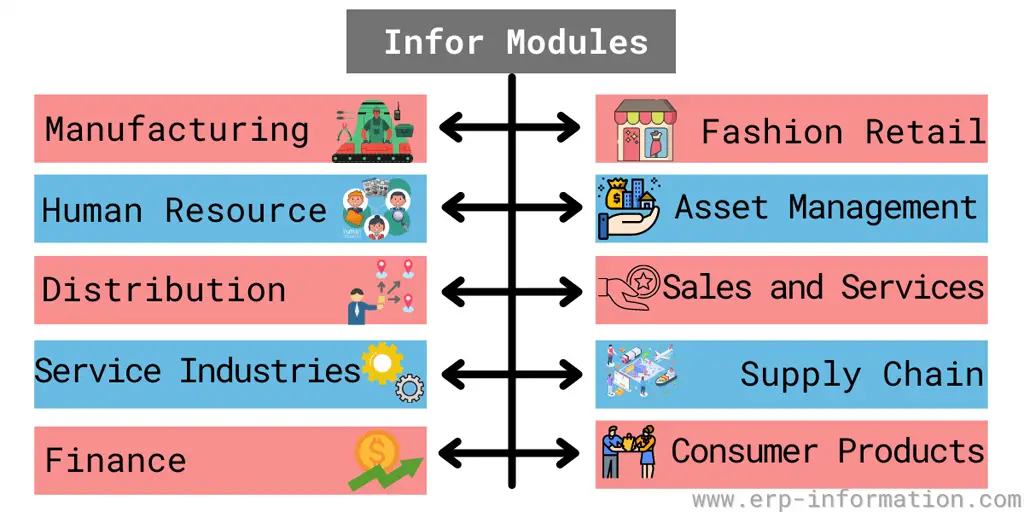 1. Manufacturing
Cloudsuite Automotive
Cloudsuite Aerospace and Defense
Cloudsuite Chemicals
Cloudsuite Industrial Enterprise
Cloudsuit Industrial (syteline)
2. Human Resource
Infor HCM
Infor Workforce Management
3. Distribution
Cloudsuite Distribution Enterprise
Cloudsuite Distribution
Cloudsuite Equipment
4. Service Industries
Cloudsuite Corporate
Cloudsuite Healthcare
Cloudsuite Public Sector
5. Finance
Cloudsuite Financials
Infor Expense Management
6. Fashion and Retail
Cloudsuite Fashion
Infor PLM for Fashion
Cloudsuite Retail
7. Asset Management
Cloudsuite facilities Management
Infor EAM
8. Sales and Services
Infor CRM
Infor Configure Price Quote
Service and Retail
9. Supply Chain
10. Consumer Products
Cloudsuite Food and Beverages
Advantages and Disadvantages
Advantages
Enhances Productivity: No matter clients are distributors or manufacturers, or any other type of industry, it provides them with the potentiality to quickly respond to changes.
It allows the organizations to do a smooth process by providing suitable solutions for small issues.
Facilitates tools for good management: You know, for any organization, managing its process smoothly is a big challenge. For that organization requires different tools.
It provides proper tools to plan resources, plan executions, and scheduling. Hence encourages the organization to manage its processes.
Easy to use layouts: Screen layouts are unstained, functional, and compatible to use.
Disadvantages
Needs external Add-ons: Though it provides many features, you need to have some add-ons packages to have detailed features for purchasing and account payable.
Software loading time is slow.
What industries does it support?
It supports the following industries
Manufacturing
Aerospace and Defense
Automotive
Chemicals
Construction & Engineering
High Tech & Electronics
Industrial Manufacturing
Consumer
Fashion
Food and Beverage
Retail
Distribution
Wholesale Distribution
Equipment Dealers
Logistics Service Providers
Public Sector
Defense
Federal Government
K2 Education
State and Local Government
Energy and Natural Resources
Healthcare
Casinos and Gaming
Hotels and Resort
Restaurants & food services
Service Industries
Banking & Financial Services
Professional Services
Transportation Service Providers
Infor Alternatives
SAP ERP
Sage Intacct
Quickbooks Online
Customers
Pilot Flying J
Reynolds Catering
Herman Miller
Avaap Inc.
First Transit Inc
You can find more cloud ERP software similar to Infor cloud ERP