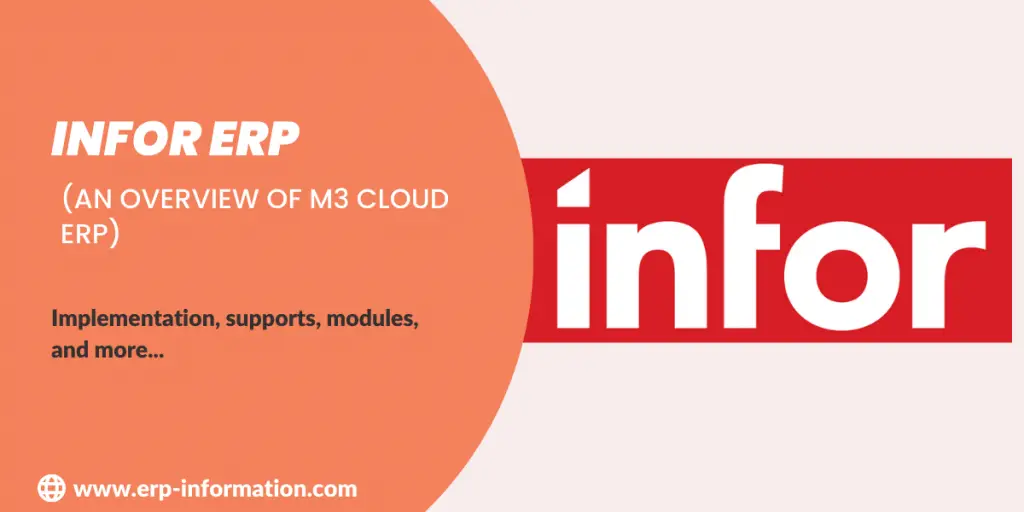 Infor ERP is one of the market's most comprehensive enterprise resource planning systems. It offers a wide range of features and functionality to help businesses manage their operations more effectively.
Infor ERP is useful for your all-encompassing cloud solution for accounting, supply chain, and business process management. This software helps streamline your financials and boost efficiency across multiple functional areas.
This post will discuss the different modules, advantages, disadvantages, and aspects of Infor M3. Stay tuned!
New version: Infor 8.4.0.4
Release date: November 2021
What is Infor Cloud ERP Software?
Infor cloud-based ERP (M3) is a highly customizable, easy-to-use, and comprehensive Enterprise Resource Planning system that enables businesses to manage their operations in one place.
It provides valuable insights into all aspects of the supply chain, from development to production planning, manufacturing execution, and delivery management.
It also helps organizations achieve visibility across their entire business and streamline processes for better performance.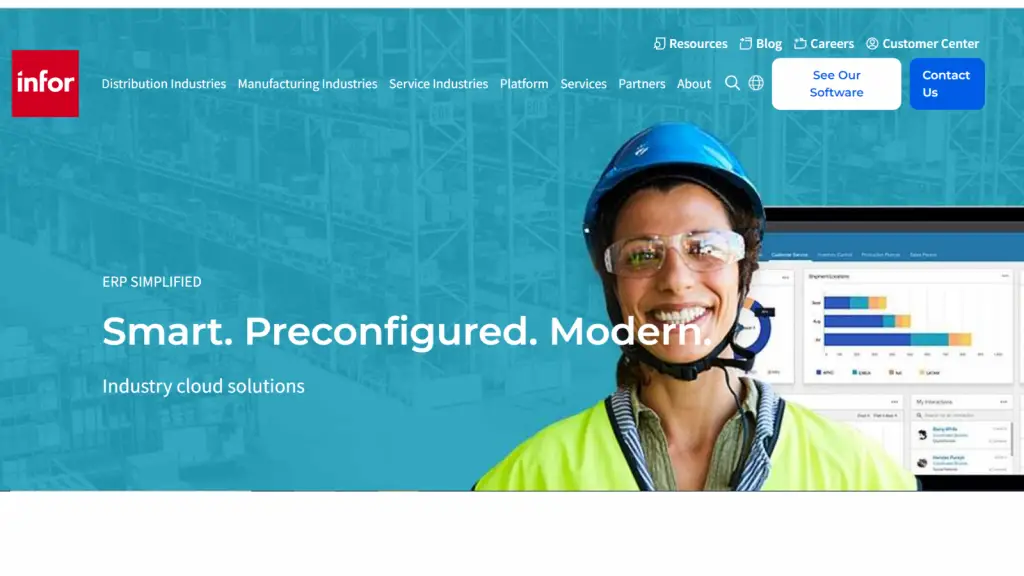 Infor Cost
Pricing can vary depending on the purchased modules and the business size. In general, however, it is more expensive than other ERP systems.
It does not provide the Infor ERP cost details publically. Contact the vendor for pricing information.
Implementation
The solution offers three types of deployment
| | |
| --- | --- |
| On-premise | Infor ERP runs on the customer's in-house server with this deployment type at his location. The company's internal infrastructure connects customers' systems, processes, and end-users. The customer hosts data internally. |
| Cloud | With this deployment, this ERP is hosted by a cloud service provider like Amazon Web Services. Maintenance is also taken care of by the service provider. |
| Hybrid | With this deployment, this ERP is hosted by a cloud service provider like Amazon Web Services. Maintenance is also taken care of by the service provider. On-premise and others are hosted on cloud deployment. |
Supports and Services
It offers support daily through an expert support specialist. You can contact him by calling Infor's local support number.
Dedicated customers offer elite support, including support from a designated success manager with good knowledge of the software.
Infor Modules and Their Features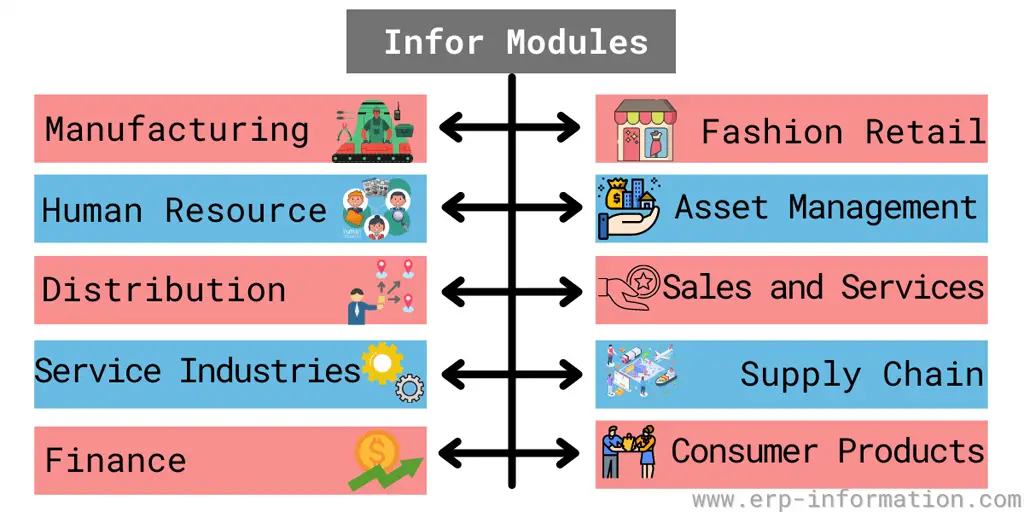 Manufacturing
Cloudsuite Automotive
Cloudsuite Aerospace and Defense
Cloudsuite Chemicals
Cloudsuite Industrial Enterprise
Cloudsuite Industrial (Syteline)
Human Resource
Distribution
Cloudsuite Distribution Enterprise
Cloudsuite Distribution
Cloudsuite Equipment
Service Industries
Cloudsuite Corporate
Cloudsuite Healthcare
Cloudsuite Public Sector
Finance
Cloudsuite Financials
Expense Management
Fashion and Retail
Cloudsuite Fashion
PLM for Fashion
Cloudsuite Retail
Asset Management
Cloudsuite Facilities Management
Sales and Services
Supply Chain
Consumer Products
Some Screenshots
Executive Overview Page
Courses Learning Management
Advantages and Disadvantages
Infor Advantages
Achieve greater visibility across the business
It provides a comprehensive view of all aspects of the business, from development and production to delivery and fulfillment. This gives companies the ability to make better decisions based on accurate data.
Streamline supply chain processes
It streamlines supply chain processes with production planning and execution features, demand forecasting, supplier relationship management (SRM), etc. This can help businesses save time and money.
Enhances productivity
Clients are distributors, manufacturers, or any other type of industry, which gives them the potential to respond quickly to changes.
It allows the organizations to do a smooth process by providing suitable solutions for minor issues.
Facilitates tools for good management
For any organization, smoothly managing its process is a big challenge. So for that organization requires different tools.
It provides proper tools to plan resources, plan executions, and schedule. Hence encourages the organization to manage its processes.
Easy-to-use layouts
Screen layouts are unstained, functional, and compatible to use.
Some other benefits are
Multiple people can access it at the same time
Easy to run and download the reports
Helpful in filing GST
Easy to track work orders
Easy to access customer profile
Limitations
Following limitations that businesses should be aware of before implementing the software.
The system can be challenging to customize
It is highly customizable, but businesses may need to hire a consultant to use the software the most.
The system can be challenging to learn
It is not always easy to learn, particularly for users unfamiliar with ERP systems.
The system can be expensive
It is not the cheapest ERP system on the market and can be prohibitive for small businesses.
Not all modules are included in the standard package
Businesses must purchase additional modules or upgrade their license to access all features.
Though it provides many features, you need to have some add-on packages for detailed purchasing and account payable features.
The user interface needs improvement.
Infor ERP software has an outdated user interface that is not as intuitive as other systems on the market.
You can only use CRM with ERP
Businesses will have to buy both systems from Infor and cannot mix and match products from different vendors.
Incompatibility issues between versions of software
There are two major versions of the software: Infor ERP Enterprise and Infor ERP CloudSuite.
While both systems have similar features, they differ in user interface and functionality. That can cause compatibility issues between users working on different versions at once.
The customer support is slow to respond.
In some cases, businesses report that it takes more than 24 hours for their customer support team to get back to them when they call or email about a problem with their system.
Some more limitations are
Implementation of the software is a complex process.
Cost is high for small companies.
Need to open more than one page to view site locations.
What industries does it support?
It supports the following industries.
Manufacturing
Aerospace and Defense
Automotive
Chemicals
Construction & Engineering
High Tech & Electronics
Industrial Manufacturing
Consumer
Fashion
Food and Beverage
Retail
Distribution
Wholesale Distribution
Equipment Dealers
Logistics Service Providers
Public Sector
Defense
Federal Government
K2 Education
State and Local Government
Energy and Natural Resources
Healthcare
Casinos and Gaming
Hotels and Resort
Restaurants & food services
Infor Services Industries
Banking & Financial Services
Professional Services
Transportation Service Providers
Infor Alternatives
Customers
Pilot Flying J
Reynolds Catering
Herman Miller
Avaap Inc.
First Transit Inc
FAQs
What language infor MP3 is written in?
The Infor M3 server is made with the programming language Java. This makes it easy to use on different types of devices and computers. 
Conclusion
Infor ERP is a comprehensive ERP system that allows businesses to make better decisions based on accurate data.
While there are some limitations to be considered before implementing it, companies should research all options before deciding which product will work best.
In addition to case studies and demos, this also offers pricing options so businesses can find an option that fits their budget.
References: