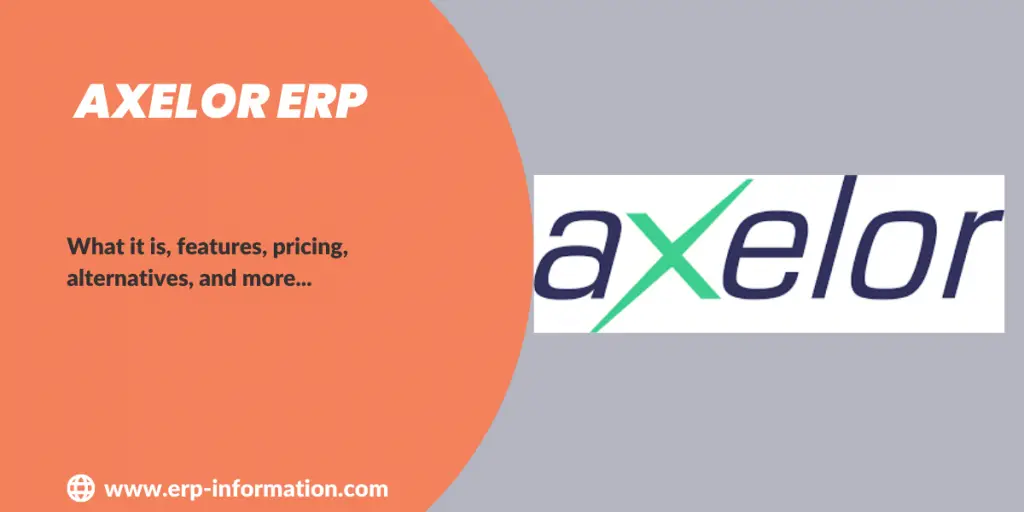 Businesses constantly seek innovative solutions to streamline processes, improve efficiency, and gain a competitive advantage.
Axelor ERP, an open-source Enterprise Resource Planning software, has emerged as one of the options for businesses looking to optimize their operations and adapt to changing market conditions.
In this blog post, we will discuss the features of Axelor ERP, its advantages, pricing, and support so that you can decide if it is the right solution for you. Stay tuned!
Latest version: 7
Release date: 5th May 2023
What is Axelor ERP?
Axelor is an easily customizable, low-code, and open-source software that provides ERP, CRM, and BPM solutions, composing more than twenty integrated business applications.
It is a provider of a hybrid open source platform for business applications. The platform comprises over thirty business applications, including ERP, CRM, sales management, HR, inventory, production, project management, and accounting.
It also includes a Low-code/No-code BPM. The platform serves various industries, such as ministries, service companies, consulting firms, training organizations, and others.
It is a simple, efficient, and easy-of-use software with its modern design and intuitive navigation.
Its integrated BPM offers unparalleled flexibility, allowing you to easily adapt your application to any business changes in real time using simple configurations and minimal custom development.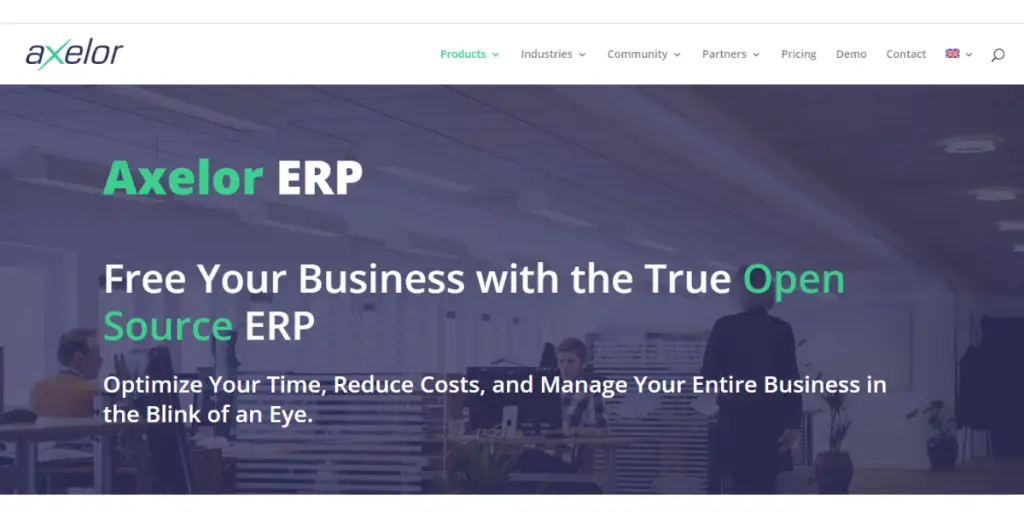 Key Features
Some of its key features include:
A comprehensive suite of features covers all aspects of business management, including ERP, CRM, and BPM.
A user-friendly interface that is easy to learn and use.
An extensive library of modules and add-ons that can be customized to meet the specific needs of your business.
A large community of users who are available to offer support and guidance.
In addition, it provides both cloud and on-premise deployment models.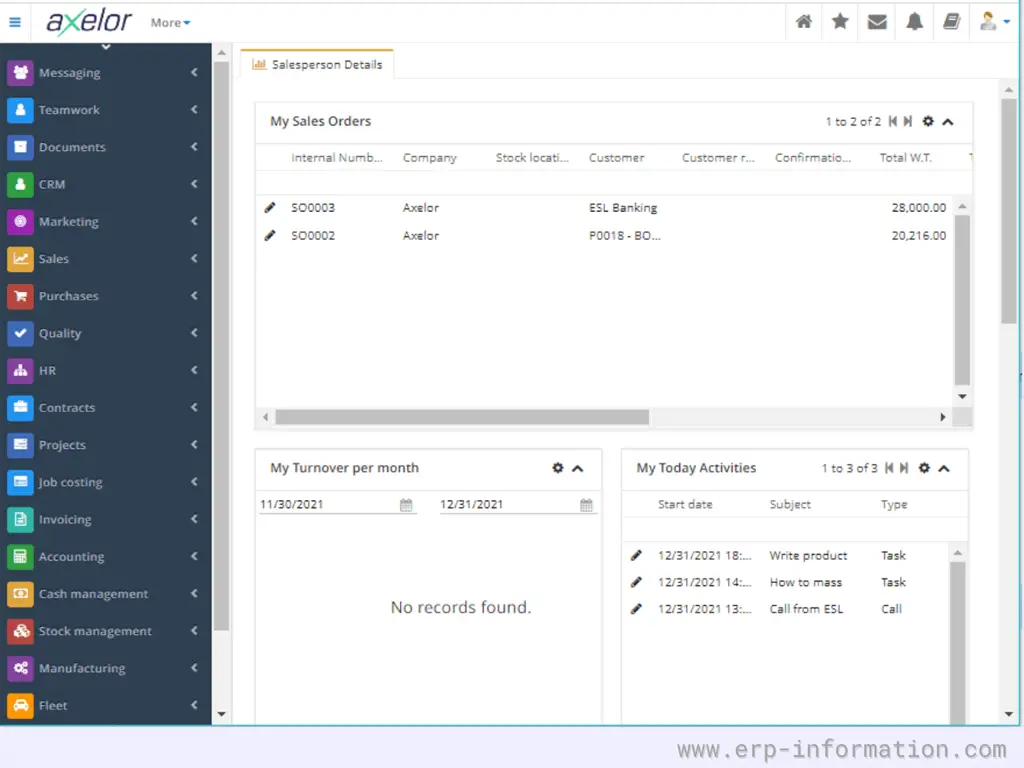 The coding technologies used are javascript, java, and HTML.
Axelor ERP Pricing
Small and medium businesses can use it since it is an open-source ERP system available at no cost. It is also very versatile and can be adapted to meet specific needs. Its pricing is very competitive, offering excellent value for the money.
It offers three types of plans.
Community: All the basic applications are free and open-source for unlimited users.
Pro: This plan is for up to 10 users. You will get cloud deployment and support along with the basic applications.
Enterprise: This plan is for up to 20 users. You will get premium connectors, a dedicated revenue unit, and advanced BI, along with basic applications, cloud deployment, and support.
Pricing details are not available on their official website. You need to contact the vendor directly for the pricing details.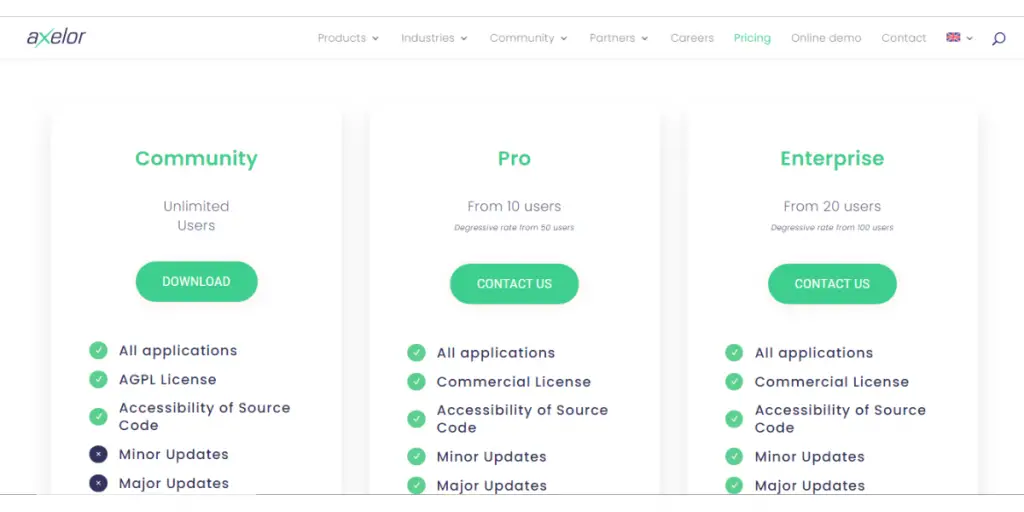 Support
It offers excellent support options. A large community of users is available to provide support and guidance, and It also has a comprehensive help center that includes user manuals, tutorials, and FAQs.
Support is also very responsive; you can get help via email, phone, or online chat.
Implementation
You can install it quickly and easily, and you will find help from the Axelor ERP community if needed.
In addition, it has been tested and proven to work. It also compares favorably with other leading systems when it comes to installation.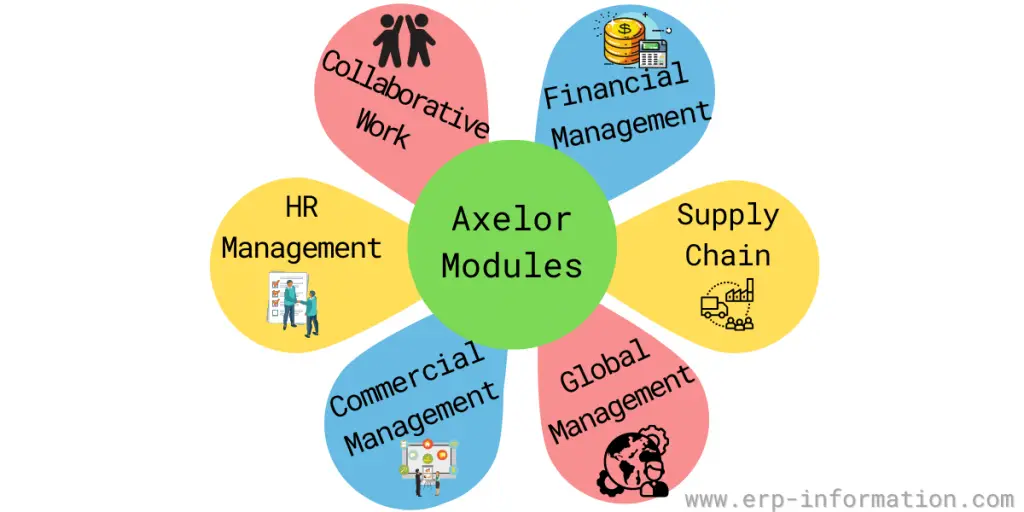 Following are the modules of the system.
Global Management
Commercial Management

Sales
Marketing
Contracts
Business Project

HR Management

Employees
Expense Account
Time Sheet
Fleet Management

Collaborative Work

Social Network
Project
Documents
Help Desk

Financial Manangement

Accounting
Billing
Budget

Supply Chain

Purchase
Stocks
Production
Quality
Supported Industries
It supports industries like,
Service Companies
Industry
Distribution
Public Services
Retail
Alternatives
There are a few alternative solutions you can consider instead are,
Sage Intacct
Quickbooks Desktop Enterprise
Customers
Following are the few customers who are using this solution for their operations,
apex energies
SD services
ORPEA
Cdiscount
CITEL
Axelor vs ERPNext
| | | |
| --- | --- | --- |
| | Axelor | ERPNext |
| Language support | English, French | English |
| Deployment | On-premise, Cloud | On-premise, Cloud |
| Intended users | SMEs, freelancers, Stratups, Enterprises | Small, Medium, Large, Startups |
| Programming language | JAVA, Javascript, HTML | Python, Javascript |
| License | AGPLv3 | GNU, GPLv3 |
| Supported devices | Windows, Mac | Windows, Mac, iOS, Android |
Conclusion
Axelor is a great open-source solution that compares well to other ERP systems on the market. It is modular, so you can pick and choose the modules you need, and it's also fully customizable. It is also user-friendly, making it an excellent option for small businesses.
In addition, its pricing is very competitive, offering excellent value for the money. It also compares favorably to other ERP systems on the market.
Related links: