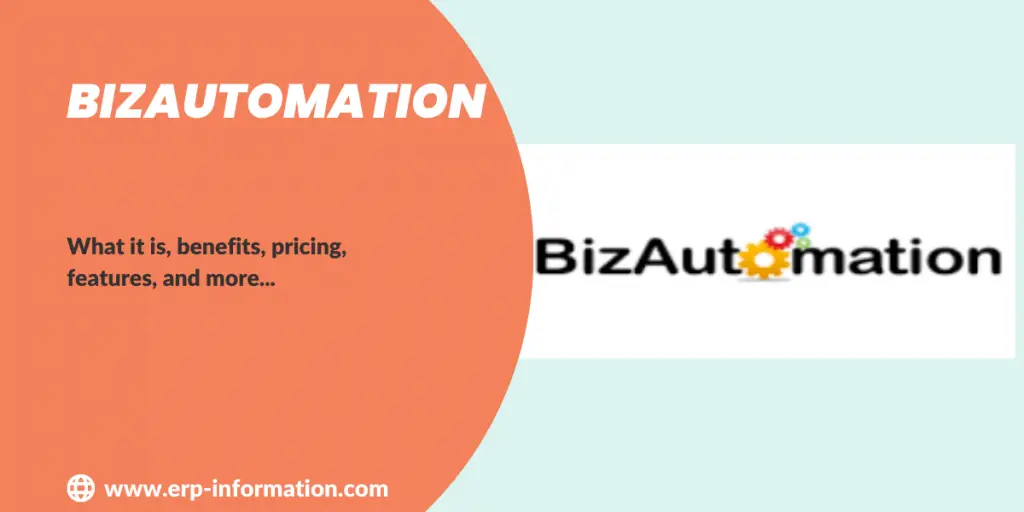 BizAutomation Cloud ERP solution allows companies to take advantage of new technology and cutting-edge solution to enhance their business cycles while reducing costs. The suite of products offers a flexible solution for any business size.
The world of business has been revolutionized by Bizautomation cloud ERP. This software uses technology and software to streamline, automate, and improve business processes.
From enterprise resource planning (ERP) systems to customer relationship management (CRM) tools, It offers a range of solutions that can help businesses increase efficiency, reduce costs, and boost productivity.
With this powerful technology, businesses can focus on their core operations while optimizing their process performance.
This article is about BizAutomation cloud ERP software. It will tell you how much it costs, what other software is like it, and what features it has.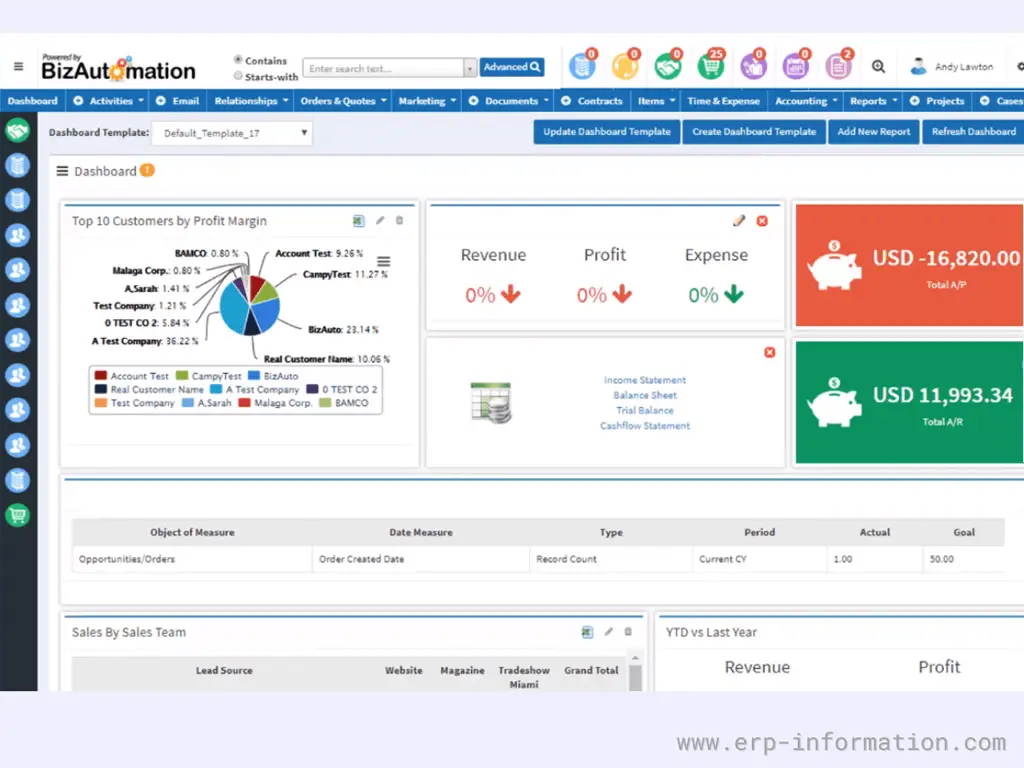 What is BizAutomation?
Bizautomation is the use of technology and software to automate business processes. It helps businesses increase efficiency, boost productivity, streamline workflows, reduce manual labor and paperwork costs, and improve customer service.
Examples of this software include enterprise resource planning (ERP) systems, customer relationship management (CRM) systems, cloud computing platforms, mobile applications, supply chain management tools, and more.
With this software, businesses can focus on their core operations while optimizing their process performance.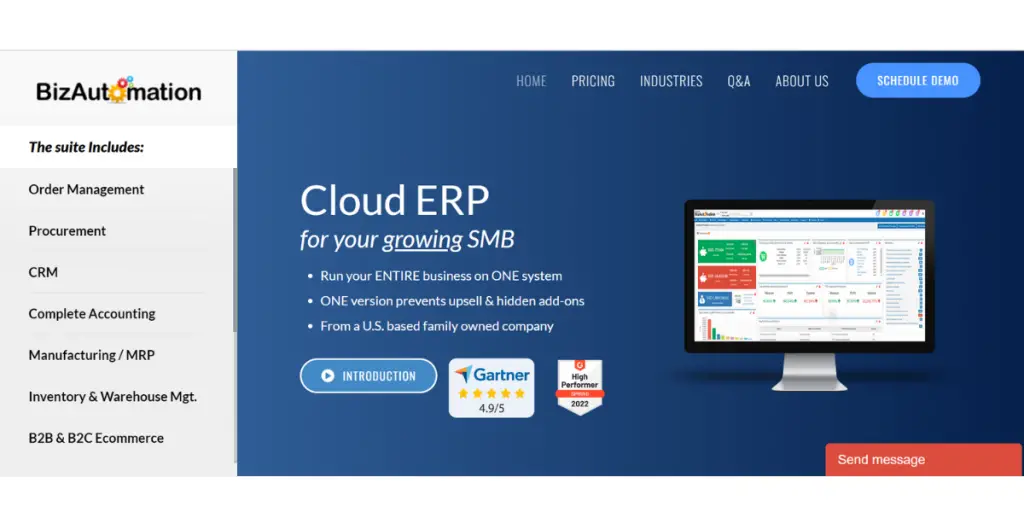 Pricing
Pricing details are as follows as of writing this article. For more updates, refer to its official website.
Its subscription price is
$79.95 for a full user per month
$24.95 for a partial user per month
Apart from subscription charges, it offers different other charges
Biz-commerce – $199.95 per month
Biz-commerce plus – $ 299.95 per month
Third-party app connector – $195 per month
Shopping connector – $59 per month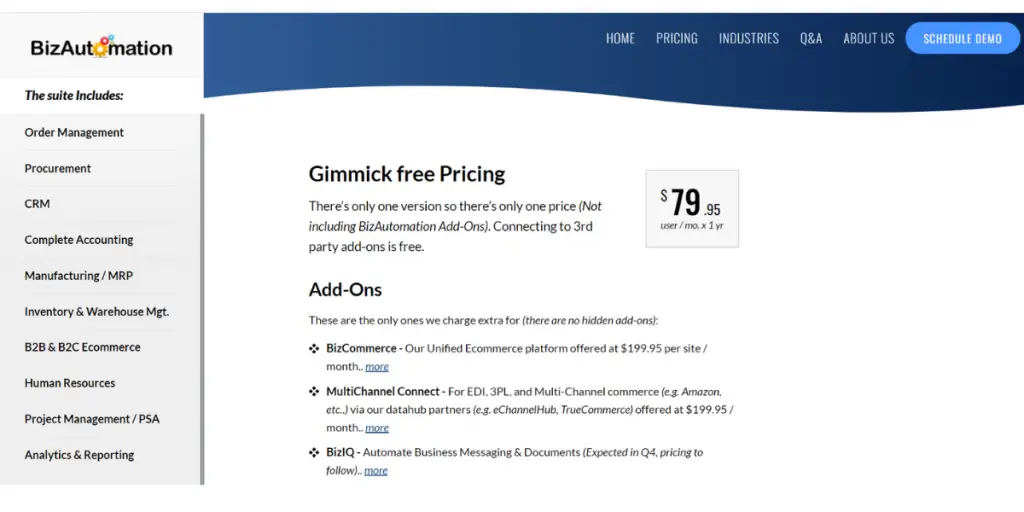 Implementation
In its implementation process, the customer company assigns an employee as a qualified implementation advocate (QIA) to spend 2 to 3hrs in a day on the implementation process.
This employee evaluates the number of setup videos provided by Bizautomation and assigns the appropriate videos to other users who work with the system.
Once all users are thorough with the new system, the launching of the new system (Bizautomation) happens. After the launch, the QIA takes responsibility for fulfilling other users' requirements and supporting them.
Supports and services
It provides an expert to support by phone and chat. In addition, you will get initial support from your QIA (qualified implementation advocate).
Features
Leads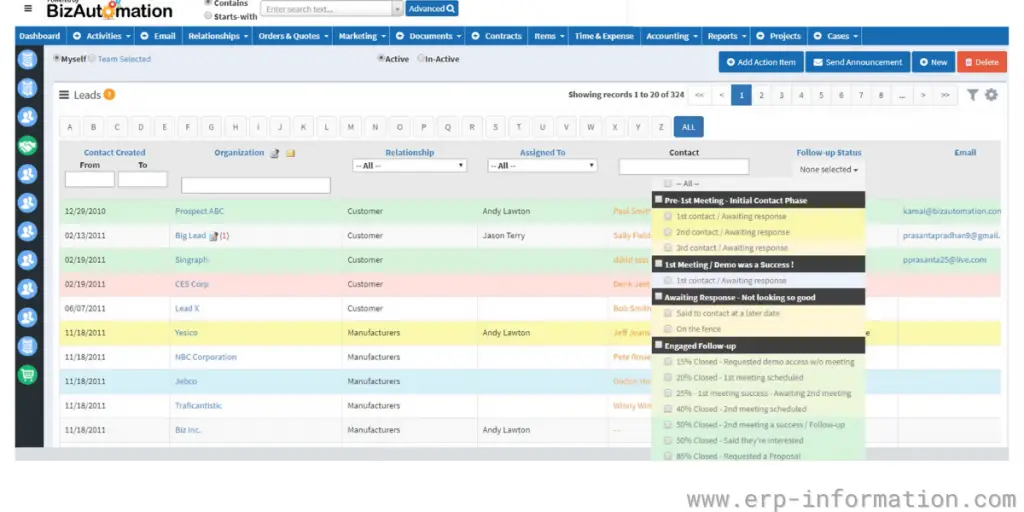 Order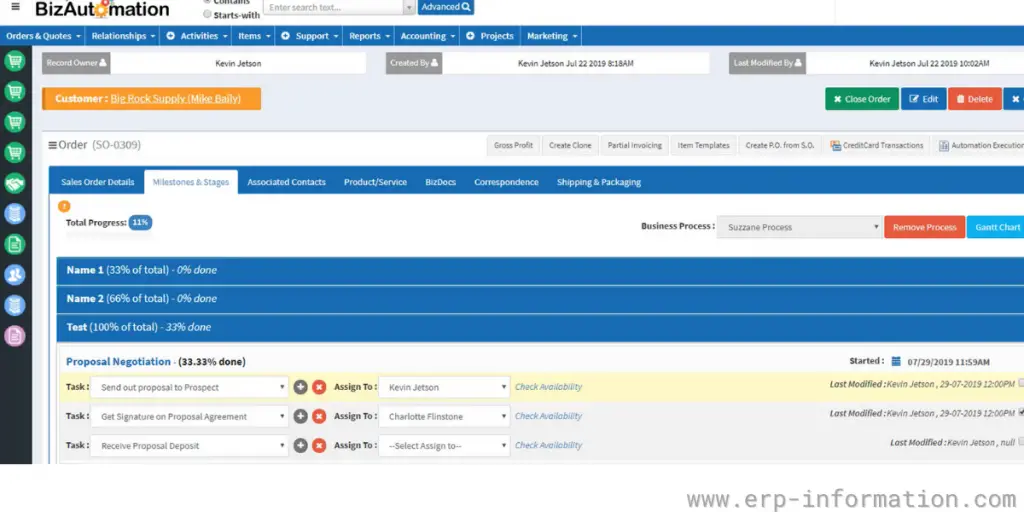 Accounting Balance Sheet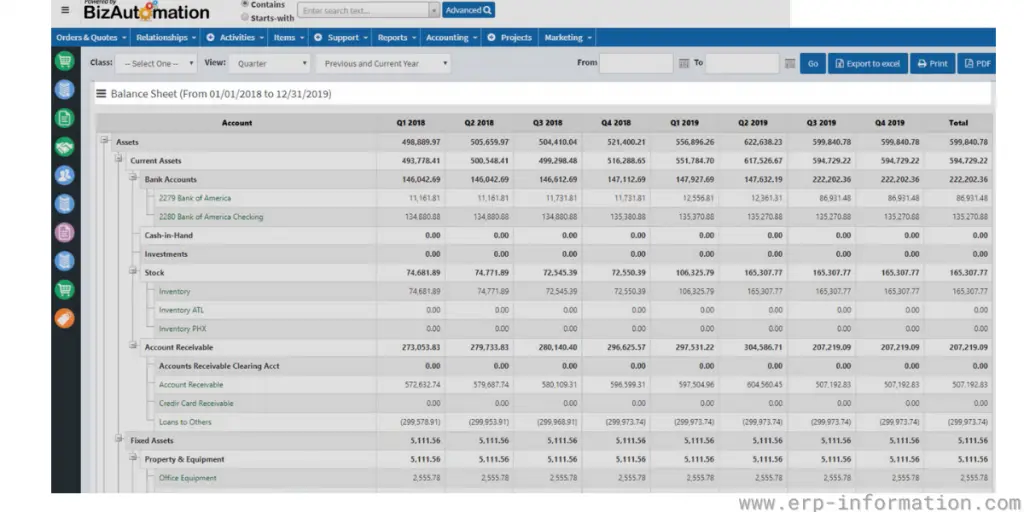 Order Management
Procurement
CRM
Financials H.R
Manufacturing/ MRP
Omnichannel ERP
Professional Services
Inventory and WMS
Business Portal
Analytics and Automation
Advantages of Bizautomation
This end-to-end suite covers accounting, CRM, MRP, and more – plus powerful automation tools that perfectly tailor operations to suit your business needs.
It offers access to customers through our external portal, while extended shipping features can be connected directly to popular carriers for improved efficiency at every step.
It streamlines workflows and eliminates manual labor and paperwork costs; this software can help businesses save time and money.
Businesses can reduce errors and increase customer satisfaction by quickly responding to customer inquiries.
It can increase efficiency and accuracy by automatically routing data to the right people at the right time.
Finally, It can help businesses access up-to-date information in real-time to make informed decisions faster.
It provides excellent customer support.
Disadvantages
It is a small company and does not provide 24/7 support.
The phone app is not available to synchronize CRM.
No proper  documentation and training materials
What industries does it support?
It supports industries like
Wholesale
Distribution
Manufacturing
Retail
Service Industry
Alternatives
DELMIAworks
ECOUNT
SAP S/4 HANA
EXE control
Conclusion
In conclusion, Bizautomation is a revolutionary technology that can help businesses revolutionize their operations. With automated workflows, increased efficiency and accuracy, and timely access to data, businesses can quickly increase productivity and reduce costs.
Furthermore, by leveraging powerful capabilities, businesses can make the most of their resources and gain an edge over their competitors.
We hope this post has given you sufficient information about this software.
You can find more cloud ERP software similar to BizAutomation.