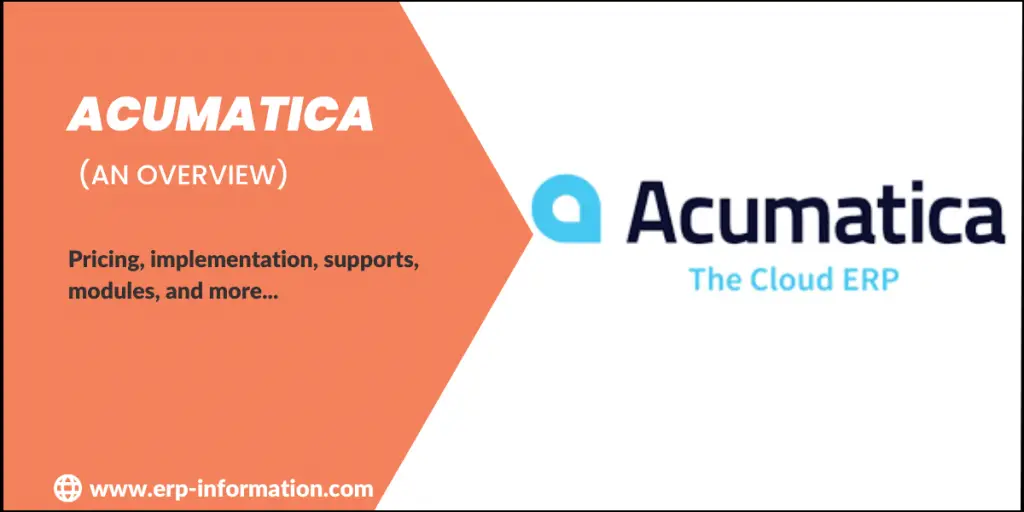 Acumatica Cloud ERP offers best-in-class functionality for small and mid-sized businesses to thrive in the digital economy.
Top distribution companies such as ISS, ToffeIn, and MIE use Acumatica software for their business operations.
You can try out the software for free before purchasing, knowing it's the right fit for your business. And with its cloud-based platform, you can access your data from anywhere at any time.
Read out the article to learn more about Acumatica cloud ERP software, including its implementation, pricing, features, benefits, and limitations.
New version: Acumatica 2023 R1 beta
Release date: 2nd February 2023
What is Acumatica?
The Acumatica Cloud ERP provides best-in-class features for small and mid-sized businesses to succeed in the digital economy.
It includes a full range of business management applications and comes with open APIs, which makes integrating with other software quick and easy.
The licensing charges are based on the number of resources used instead of the number of users, and its platform is designed to be future-proof, enabling flexibility, efficiency, and remote collaboration for growing businesses.
The modern platform provides native mobility to access applications on any device, anytime, anywhere, with open connectivity and low-code and no-code personalization, integration, and customization.
Featuring embedded artificial intelligence with machine learning, tailored workflows, and robust reporting and business intelligence, Acumatica ERP is the solution of choice for more than 8,000 companies globally.
Embedded business intelligence applications include Acumatica Reporting, Generic Inquiries, Dashboards, and BI and Analytics via Microsoft Power BI.
Acumatica Pricing
This complete cloud ERP solution offers a different pricing system than other cloud ERP solutions. Instead of providing a 'per user' or 'number of users' model, it offers prices only for the computing resources features.
You can add casual users, suppliers, and clients without paying additional license charges. Two types of licenses provided by Acumatica are SaaS subscriptions and private cloud subscriptions.
You can get custom pricing by filling out the form available on its official site. Acumatica pricing depends on four factors. They are deployment options, size of the business, support level, and industry editions.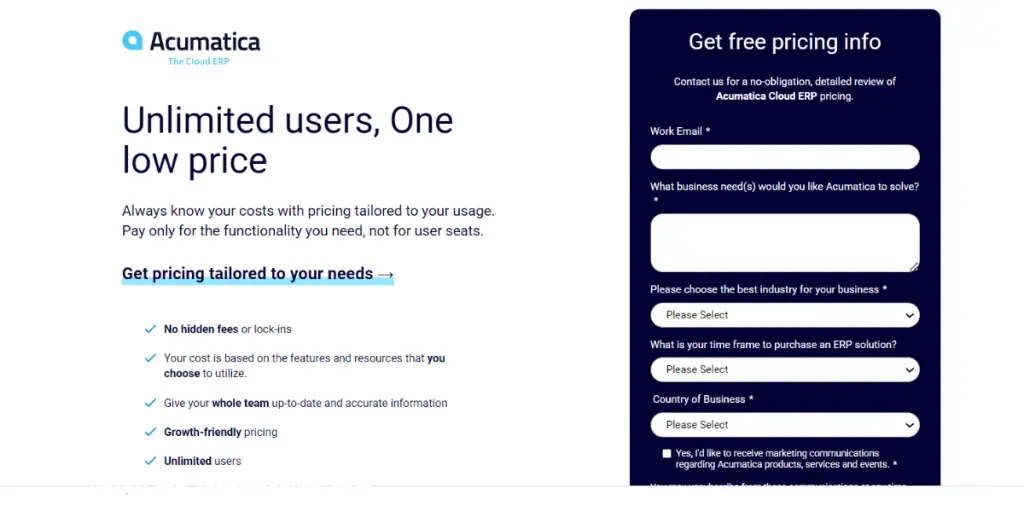 Implementation
It offers three types of implementation.
| | |
| --- | --- |
| Private cloud deployment | In this type, customers can deploy the software on-premise via a committed channel with a selected cloud-hosting vendor. |
| Private perpetual deployment | In this type, customers can deploy the software on-premise or via a selected hosting vendor. |
| Software-as-a-service deployment (SaaS) | In this type, customers' all responsibilities of installation, implementation, and maintenance of the software will be handled by an experienced, full-time cloud host such as Amazon Web Services. |
Features
Real-time insights
This is a cloud-based system with instant updates for partners and customers. In addition, 24/7 information is available regardless of time limitations, making it the perfect fit if you're looking to modernize your business's accounting processes!
Future proof platform
This is an excellent solution with flexible deployments and streamlined integration. You will also get seamless collaboration and Ai-powered automation drives. It provides solutions for Sales modules, purchase modules, CRM, e-commerce, etc.
Customer-friendly licensing
Licensed under flexible plans with transparent pricing, you will never be charged extra simply because of your size or need! Adding additional users is a great facility available in Acumatica.
Acumatica Solutions
It provides solutions for five main industries.
1. Construction Management Software
Construction management
Project accounting
Service management
Equipment management
Financial management
Payroll management
CRM
ERP business intelligence and analytics
WorkWave route optimization
2. Distribution Management Software
Sales order management
Purchase order management
Requisition management
Warehouse management system
Order management
Service management
Financial management
CRM
Commerce connectors
ERP business intelligence and analytics
3. Manufacturing Management Software
Bill of Materials and Routing
Product Management
Material Requirement Planning
Manufacturing Data Collection
Engineering Change Control
Estimating
Product Configurator
Acumatica for Arena Native Connector
Inventory Management
Order Management
Service Management
Warehouse Management
Equipment Management
Project Accounting
Advanced Financial
4. Retail Management Software
Commerce connectors
Sales order management
Inventory Management
Reporting, Dashboards, and data analysis toolkit
Warehouse management system
CRM
Customer self-service portal
Financial management
ERP business intelligence and analytics
5. Service Industry Software
Appointment scheduling
Inventory planning
Resource scheduling
Route optimization
Warranty management
Equipment management
Self-service portal
Enterprise-wide integrations
Some screenshots of Acumatica
Other Details
| | |
| --- | --- |
| Developer | Acumatica |
| Type of Software | ERP |
| Supported Languages | English, French, Spanish |
| Clint OS | iOS, Android, Web |
| Deployment | Cloud, On-premises |
Supports and Services
It supports its customer through.
Live Chat
Webinar Recordings
Community forums
Online knowledge base
News and Blogs
Advantages
You can extend your business market internationally with multiple entities, multi-currency, multi-language, and multi-company capabilities.
It streamlines operations by providing real-time data visibility.
It provides easy data migration.
You can monitor financial, marketing, sales, and service processes by providing a 360-degree view.
Provides real-time reports to quickly compare the actual project costs and revised budgets and get accurate billing.
You can access the software everywhere and on every device.
Acumatica Limitations
It does not have a long history. Compared to other cloud ERP solutions, it is new to the customer.
You may get confused about its pricing because it offers resource-based or feature-based licenses instead of several user-based licenses.
You may face difficulty implementing the software because of its various features and customization options.
Complex administration because of multiple third-party integrations and customization.
Features for tracking warranty items are unavailable.
Absence of rich text like bullet points, spacing, and descriptive texting in customer-facing documents such as invoices and quotes.
What Industries Does It Support?
Distribution
Manufacturing
Service Industries
Retail
Construction
Other Industries
Alternatives
SAP ERP
Sage Intacct
SYSPRO
Customers
FSC Lighting
Bob Davis Sales
BLD Brands LLC
Korpack
Soundcast LLC
Wholesale Furniture Brokers
DDB Unlimited
User opinion
The application is easy to use and implements new solutions or workflows. The Acumatica team's transition to a new system has been seamless and convenient. You can access software from anywhere in the world, which means there is no need to limit where or when work can get done!
Conclusion
If you are in the market for an ERP system and want to read reviews before deciding, check out our blog post. It provided details on pricing, implementations, and more. You can also see how much Acumatica costs from real users.
References: