Accounts payable automation is an organization's most important tool to improve efficiency. With automated technology, businesses can streamline processes, improve record-keeping for audit purposes, increase cash flow visibility, and maintain the business's solvency.
The benefits of implementing Accounts Payable Automation Software are vast – reduced manual errors, improved cost management by reducing bulk costs associated with paper processing, and customizing payment plans to meet supplier terms resulting in fewer late payments.
This article will look at the ten best Accounts Payable Automation software on the market today, so you can decide which solution is right for your organization.
What is Accounts Payable Automation?
Account payable automation is automating the Accounts Payable department's workload. Automation can be used in Accounts Payable to speed up and improve efficiency in many areas, including:
Vendor management
Payment processing
Expense management
Reporting
Common features of accounts payable automation software
Invoice capture and processing
This feature automates the process of capturing and extracting data from invoices, regardless of their format (paper, PDF, email, etc.). That can help to reduce errors and improve efficiency.
Three-way purchase order matching
This feature automatically matches invoices, purchase orders, and receiving reports, which can help to prevent overpayments and fraudulent payments. 
Workflow automation
It allows you to automate invoice approval processes, routing them to the appropriate stakeholders for review and approval based on predefined rules and workflows. That can help to speed up payments and reduce bottlenecks.
Vendor management
This feature helps you to centralize and manage vendor information, including contact information, payment terms, and tax information. This can help to improve communication with vendors and streamline the payment process.
Payment processing
It allows you to make electronic payments to vendors directly from the software. This can reduce manual steps and improve efficiency.
Reporting and analytics
This feature provides insights into your accounts payable data, such as invoice processing times, payment terms, and vendor spending. This information can help you identify improvement areas and make better financial decisions.
The exact features of accounts payable automation software can vary depending on the product and vendor. Therefore, it's important to carefully evaluate each option to ensure it meets your business's unique needs.
How does AP automation tool helps to reduce manual work?
Accounts payable automation software reduces manual work in a number of ways including:
Automating invoice processing
Accounts payable automation software captures invoice data from a variety of sources, including paper, PDF, and email. This data can then be automatically validated and matched to purchase orders and receiving reports. This process eliminates the need for manual data entry and validation, which can be time-consuming and error-prone.
Automating approval workflows
The software automatically sends invoices to the appropriate managers or departments for approval, based on factors such as the amount of the invoice, the type of purchase, or the vendor. That saves a lot of time and hassle, and helps to confirm that invoices are approved and paid on time.
Automating payment processing
Accounts payable automation software makes payments to vendors based on approved invoices. That eliminates the need for manual check writing and mailing, which can be time-consuming and inefficient.
Providing visibility into the accounts payable process
The software provides real-time clarity into the status of all invoices, including their approval status, due date, and payment status. This visibility helps companies to identify and eliminate unnecessary manual steps in the accounts payable process.
Here is the list of software
1. Sage Intacct
It is a cloud-based software and helps to automate the accounts payable process. It provides real-time visibility trough-out the accounts payable workflow. The software is more suitable for small and mid-sized businesses.
Features
AP automation
General ledger
Cash management
Order management
Spend management
Purchasing
Some screenshots of Sage Intacct
Likes
Enhances the accounts payable processing time
Eliminates unwanted, inefficient workflows
With the help of the 'vendor payments' feature, you can connect all your vendors, banks, and payment platforms.
Saves time in report preparation
You can have visibility and traceability with centralized access for billing, approvals, and payment status.
It allows you to pay your vendors with any payment method like checks, virtual cards, or ACH.
Dislikes
Reporting options are confusing
There is no such option to integrate supportive documentation; you have to upload all manually 
It takes time to navigate things, or some Features 
It has some limited options in the PO module
Supported industries
Accountants and CPA Firms
Biotech and Life Sciences
Construction and Real Estate
Financial Services
Healthcare
Retail
Nonprofit
Professional service
Hospitality
Other details
2. Lightyear
Lightyear is the world's fastest accounts payable automation software that is both user-friendly and comprehensive. Lightyear offers many features to help businesses manage purchases, invoices, payments, and other financial processes.
In addition, it provides an intuitive interface that makes it easy to use, even for those not experienced in accounting or finance.
Features
Creation and approval of purchase orders
Goods received tracking
3-way matching
Creation of PO and GRNs
Data extractions
Approvals workflow
Mobile apps
Accounting integrations
Some screenshots of Lightyear
Likes
Provides all the required features for the AP automation process
It provides a free trial
It is software for unlimited users, and you can create unlimited child accounts.
Zero installation fees
Provides exemplary customer support (24/5 chat, phone, email)
Dislikes
The starter plan does not offer purchase order, GRN, and 3-way matching
You need to upgrade to the business plan to get the purchase order feature
The mobile app doesn't have all the features
Sometimes, it becomes an unstable invoice causing re-entry 
Reading OCR code is not fast enough 
Supported industries
Education
Hospitality
Manufacturing
Cannabis farms
Automation for the Automotive Industry
Construction
Oil and gas energy
Manufacturing
Technologies
Transport and logistics
Life science and Biotics
Franchises
Aged care
Other details
3. Tipalti
Tipalti is a cloud-based AP automation software that helps businesses pay their suppliers faster and more efficiently.
With Tipalti, businesses can streamline the entire AP process, from invoice creation and approval to payment. Tipalti also strongly focuses on compliance, ensuring that all payments are made following regulations.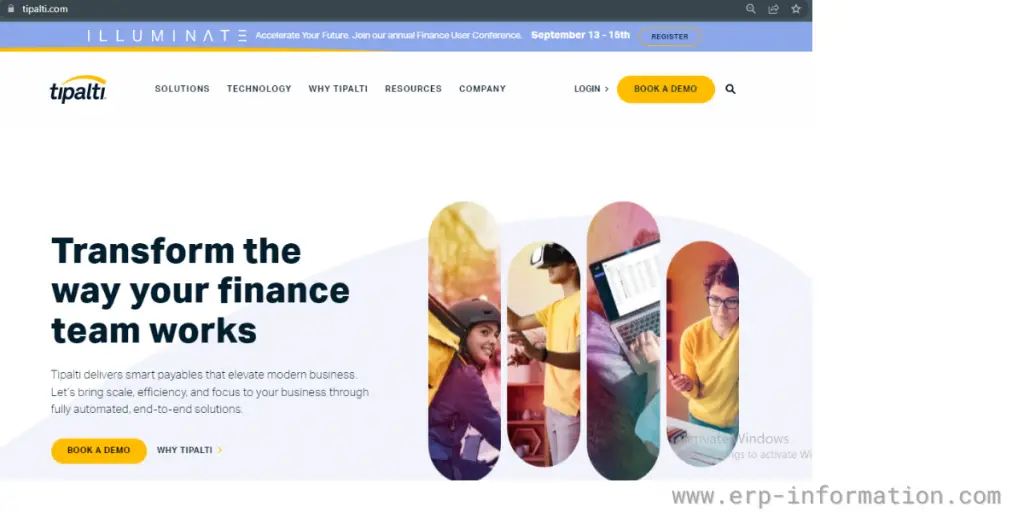 Features
Supplier management
Invoice management
Purchase order matching
Payment remittance
Payment reconciliation
Partner management
Fraud detection
Global payments
Self-billing module
Currency management
Screenshots of Tipalti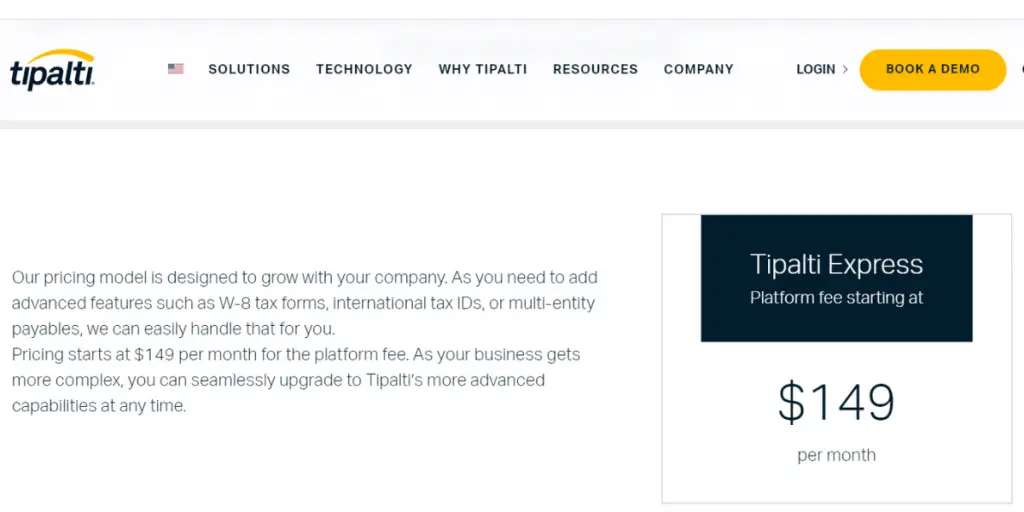 Likes
Provides feature for purchase order management
Reduces payment errors
Reduces accounts payables workloads
Provides real-time insights
Dislikes
Mobile apps and free trials are not available
If users want to download a list of payees based on categories, this option is unavailable.
Tax formats are difficult to fill for those who can't understand English.
When you have to pay multiple invoices from the same vendor, it's frustrating that you can't select them all at once.
Supported industries
Business Services
Software and Technology
E-Commerce & Retail
Education
Healthcare
Other details
4. Oracle NetSuite
NetSuite is a cloud accounting software that helps businesses automate their accounts payable. In addition, NetSuite allows businesses to manage their finances, including invoicing, payments, and expenses. NetSuite also provides tools to help companies manage their cash flow and financial reporting.
Features
General ledger
Cash management
Automatic process of invoices
Payment management
Real-time insights into the accounting system
Some screenshots of NetSuite
Likes
Helps to automate repetitive tasks
You can access the software from anywhere
It avoids duplication of data entry
Provides real-time information and role-based dashboards
Dislikes
No free trial
Not suitable for small businesses
Supported industries
Advertising & Digital
Marketing Agencies
Apparel, Footwear & Accessories
Campus Stores
Consulting
Other details
5. Bill.com
Bill.com is a software tool for automated accounts payable for small and mid-sized businesses. You can generate bills, pay bills and send invoices with this software. 
Features
Payments
Approvals
Controls
Invoicing
API
360-degree vendor information
Customer user roles
Some screenshots of Bill.com
Likes
It provides unlimited data storage.
You can easily import invoices into bill.com
Enhances your time by 50%
It offers multiple payment options
Provides sync between critical data like vendors, invoices, accounts
Dislikes
Integration with limited accounting systems. If you need integration with more accounting systems, you need to upgrade the pricing plan.
There is no way to turn off automatic pay reminders
Customer service is very poor
Supported industries
Accounting firms
Hospitality
Software & Technology
Professional services
Wealth management
Education
Healthcare
Manufacturing
Retail and E-commerce
Non-profits
Other details
6. Stampli
Stampli is a cloud-based Accounts Payable automation software that helps businesses manage bill processing and track invoices. It offers smart, intuitive, and actionable AP automation.
Features
Intelligent AP automation
Accurate invoice capturing
Keep pace with change.
Scale for growth
Intuitive dashboard
Centralized collaboration
Clear visibility of the AP automation process
Automated communications
Audit ready history
Seamless integration
Fast implementation
Some screenshots of Stampli
Likes
It helps the accounting department collaborate and communicate efficiently
It allows you to access invoices anytime
You can make payments in multiple ways, like cash, checks, ACH, and credit cards.
You can work with the software from anywhere, on any device
Dislikes
It is not very customizable
There is no 24/7 customer support
The actual video is not shown in the demo
No mobile apps
Supported industries
Agriculture
Media & Entertainment
Professional service
Health care
Manufacturing
Real estate
Technology hardware & equipment
Other details
7. Avidxchange
Avidxchange is a comprehensive AP Automation software that helps businesses manage and streamline their AP processes. In addition, it provides a complete suite for procure-to-pay.
It helps you to connect a large number of supplier networks with an integrated ERP system. This automated workflow enables you to reduce admin work as well as paperwork.
Features
Flexible, automated payments
Invoice management
Real-time analytics
Matching and approvals
Some screenshots of Avidxchange
Likes
Integrates with many software like QuickBooks, NetSuite, Microsoft Dynamics, etc
It provides live support
Holds invoices for seven years
Provides access to the trainers
Increases financial security with e-payment
Dislikes
It does not offer a free trial
No mobile apps
Sometimes proof of payment will not be available on the Avidxchange portal
Payment processing takes time 
There is no option to track the payment 
Due dates are not visible 
Supported industries
Real estate
Community association management
Media
Construction
Financial Service
Hospitality
Technology and software
Other details
8. Beanworks
Beanworks is a cloud-based account payable automation tool that helps to automate your entire purchase-to-pay workflow. The software is suitable for small, medium, and large enterprises.
Features
Budgetary control
Purchase order matching
Automated approvals
Invoice approval management
Electronic audit trail
Expense management
Some screenshots of Beanworks
Likes
Helps to reduce bottlenecks and delays
Offers centrally managed locations for multiple companies
Provides access to unlimited users
Allows you to access and approve invoices on your Android and iOS mobile
Eliminates duplicate payments
Dislikes
You need to pay more attention during invoice processing.
Sometimes, it is difficult to find out the stage of each expense
Supported industries
Financial service
Healthcare
Education
Insurance
Public sector
Service providers
Other details
9. Melio
Melio software is a free tool helpful for the invoice payment process. Small and medium-sized businesses can use this software. It gives flexibility to all your accounting features, such as vendor pay, invoice processing, and vendor selection.
Features
Accountant Dashboard
International payments
Easy bill capture
Team management
Workflow approvals
Pay and get paid
Some screenshots of Melio
Likes
Free for unlimited users
Provides live support via chat and email
Provides control over the workflows
You can make international payments
Dislikes
You cant pay multiple invoices with a single click
Customer service is not good
Other details
10. SAP Concur
SAP Concur is a software company that provides cloud-based travel and expense management solutions and invoice automation.
SAP Concur automates the accounts payable process, from invoice capture and data entry to approvals and payments. This results in increased efficiency, accuracy, and lower processing costs.
Features
Three-way matching
Integration of concurring invoices with the organization's ERP system
Streamline the AP process with web-based and mobile apps
Pre-defined dashboards and reports
Integration with payment providers
Invoice capture
Some screenshots of SAP Concur
Likes
Enhances compliance and reduces fraud
Supports mobile apps so that users can access the software anywhere
Enhances accuracy by eliminating paper works and manual data entry
Helps to make informed decisions with real-time insights and analytics
Dislikes
Page error occurs while loading
You will not get a preview of the invoice
Supported industries
Consumer products
Financial services
Healthcare
Retail & Restaurants
Technology companies
Oil, mine, and gas
Life science
Other details
FAQs
Conclusion
Accounts payable automation software is critical for any organization looking to improve its Accounts Payable department.
In this article, we've looked at the 10 Accounts Payable & AP Automation Software on the market today so that you can make an informed decision about which solution is right for your organization.
References: