Like most business owners, you probably dread dealing with expenses. Receipts, invoices, and reimbursements can be a hassle to keep track of – not to mention expensive! That's why investing in the best expense report software is essential.
This software can make tracking expenses a breeze, saving time and money.
This article will discuss the ten best software for reporting expenses. So whether you're looking for an easy way to submit receipts or manage client payments, there's a perfect tool for your business!
What is Expense Report Software?
Expenditure Report Software is a type of program that helps businesses keep track of their expenses. That can include everything from tracking receipts to submitting expenses and getting reimbursed quickly.
It can be a lifesaver for any business owner, saving time and money while keeping track of spending.
How Does Expense Report Software Help Your Business?
Expense report software helps businesses in several ways. For example, it can make it easy to submit receipts, track expenses, and get reimbursed quickly.
It can also help businesses manage client payments and employee reimbursements. By using an expense report solution, businesses can save time and money while keeping track of their expenses.
Here, we are listing the 10 Best Expense Report Software.
1. Certify
Certify is expense management software for businesses of all sizes. It provides software solutions both for employees and employers. In addition, it automates the expense process from receipt to report. Hence the financial department focuses more on strategic work.
Features
Manage expenses with mobile apps
Physical and virtual credit cards
Efficient mileage tracking
Effortless reimbursement
Integration into all systems
Actionable dashboards
Submit and track pre-approved spending requests
Manage non-employee expenses
Automated expense report creation screenshots of Certify
Screenshot of Certify
Likes
Implementation of the software is straightforward
Software is intuitive and affordable for small businesses
It provides mobile apps
Efficient expense report
Excellent phone app
Highly customizable
Extremely easy to use
Able to export the data
Easy to import into the accounting system
Customer service is extremely helpful and quick to respond
Supports multiple languages and currencies
Dislikes
You need to pay separate charges for travel and reimbursement features.
The direct link between Certify and our accounting system is not available
Approval mapping is challenging
Substandard navigation
Poor After-sales support
Not all credit card programs are supported
Integration with other programs is complicated
Never provides clear instructions for using the app
Switching between currencies is complicated
Slow on busy expense days
Sometimes the autofill is incorrect
Other details
2. Expensify
Expensify is a cloud-based software for unlimited receipt tracking and expense management. It allows users to track their expenses and submit reports online.
Expensify offers corporate plans for businesses that need to manage expenses for multiple employees and also plans for individuals and self-employed.
Features
Receipt scanning
Credit card import
Multi-level approval workflows
Corporate card reconciliation
Accounting, HR, and Travel integration
Multi-level coding
Advanced tax tracking
Audit and compliance
Deligated access
Compliant security
Likes
It captures the details in the expense automatically.
It provides world-class security.
Easy to reimburse employees timely
Easy to split expenses between departments
Easy to enter an expense
Easy to choose the category
Easy Upload receipts
User friendly
The software can be easily accessible from any device with an internet connection
Dislikes
The software is not suitable for enterprises
Pricing will be confusing
Unavailability of email notification on submitting an expense report
Poor expense summary report
Poor customer service
Substandard integration with endpoint mailer ecosystem
Submitting reports is confusing
The default expense payer is glitchy.
Poor Report labeling
The ability to add a picture to a report is somewhat clumsy
Multiple-project or client billing is complicated
Poor tracking of workflow
The smart scan feature fails or freezes for a long period 
Other details
3. Rydoo
With Rydoo expense report software, you can easily automate the process of submitting claims to their reimbursement. This application saves time for both the employees and the finance team.
It provides plans for five users to 500 users. The Users can snap and manage expenses anywhere, making the expensing process fast and easy.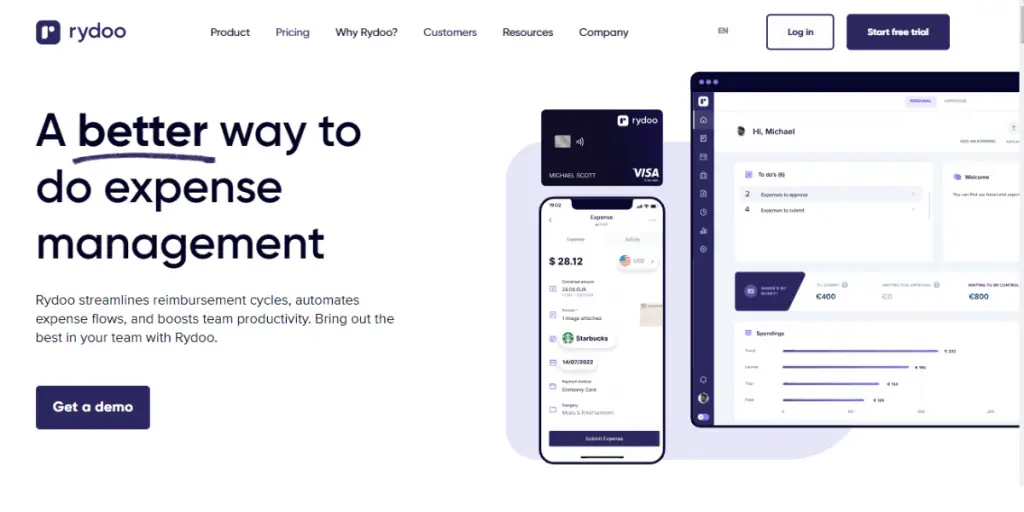 Features
Automated expense approvals
Pre-set dashboards per project per branch per employee
Built-in local compliance
Per Diem management
Mileages
Expenses in real-time
Receipt scanner
Expenditure report
Integration with work tools like Uber, SAP, MasterCard, Oracle NetSuite
Some screenshots of Rydoo
Likes
It supports multiple languages.
It provides a clear and fresh user interface, easy-to-use receipt capture, and receipt submission.
Easy to use
Simple user interface
Uploading expense reports is easy
It automatically fetches data from the scanned bill
Clean interface 
Different ways to create an expense
Straightforward to use
Dislikes
Telephone support and API access are available only for enterprise plans.
Poor Support responsiveness
Substandard flexibility in setting approval flows
Export specific items from Rydoo to QBO is challenging
Accounting is slow and cumbersome
Issues with reading the App status as expenses are not categorized by status
Sometimes the software runs slowly
Takes a long time to upload reports
Hard to see expenses once they've been reimbursed
The approval process is not transparent for end-user
Other details
4. Emburse Abacus
With its intuitive user interface, the Emburse Abacus expense report software is an excellent option for businesses. It is easy to use and helps companies track their expenses to stay on budget.
It leverages data and behavior analysis to automate the creation and approval of expenses in real time. It optimizes expense workflows, allowing administrators to focus on anomalies and high-priority items. 
Features
Automatic generation of report
Capturing accurate expense data
Automation of expense policy and approval
Instant visibility into spending and budgets
Employee reimbursement
Mileage tracking
Likes
Easy-to-use interface
You can have better control over each expense
Easy and quick reimbursement
Employees can easily submit the expenses from anywhere at any time
It's easy to use.
Integration with Intacct is good
Simple to use
Training is easy
Users can understand the software easily
Dislikes
Sometimes mobile application tends to freeze
The description of the receipts' character limit is very short.
Sometimes you will get delayed notifications
Support is lacking
Some issues with the mobile application
Difficult to utilize practically.
Installation and configuration require more effort
Software is updated frequently with many unresolved issues
Bugs in the Software after updates
Not calculating customer account sales correctly
Other details
5. ExpensePoint
ExpensePoint is a cloud-based software that helps users manage their expenses. It offers a variety of features, such as automated expense reporting, receipt scanning, budgeting tools, credit card integration, approval routing, and auto GPS mileage tracking to simplify expense management.
It is suitable for businesses of all sizes. The platform empowers employees to easily create, submit, approve, and process expense reports from any location worldwide.
Features
Mileage tracking
Receipt imaging system
Credit card integration
Multi-currency system
Data integration
Analyze spending data
Employee reimbursement
Security and Compliance
Likes
It provides a multi-currency reporting system
It provides automatic currency conversion
Easy to use
Allows receipts to be entered via drag and drop
An efficient way to submit expenses
Efficient reporting skills
Powerful training tool 
Helps with onboarding and live updates
Very accurate, and the re-read function guarantees
Dislikes
The process will be delayed for disapproved items
It did not provide a travel management feature
User permission configuration is confusing
Unable to automatically live feed credit card into the program
Unable to re-enter their credentials in order to utilize the feature
The interface is confusing
Difficulty in navigation
Poor adaptability and flexibility
Non-intuitive
Doesn't have a self-customization function
Calculations are not always correct
Other details
6. SAP Concur
SAP Concur is a comprehensive reporting system. It provides travel, invoice, and expense management solutions. You can easily make decisions with the help of accurate data and reimburse employees very quickly.
Features
All expense data in one place
Automatic capture of receipts and process reports
Credit card integration
Employee reimbursement
Mobile apps
Screenshot of SAP Concur
Likes
It helps to reduce fraud and reporting errors
It eliminates manual data entry
Simple user experience
Easy to create and manage expense reports
Excellent Reimbursements and approvals
Easy Integration with credit card companies
Easy-to-use associate receipts
Immediately scans receipts
Dislikes
Sometimes the receipt scanning will not be accurate.
Page error occurs while loading and accepting the information
Difficulty in fixing the trouble in workflow
The ticketing system is inefficient
Complicated workflow
It has mobile apps for Android and iOS devices
Interface is messy
Does not allow the attachment image for various expenses
Slightly buggy and takes time to load
Poor integrations
Lack of functionalities
Dissatisfied with the expense approval process 
7. TripActions
It is an expense management software that automates all steps of the expense process. It also provides solutions to travel and invoice management.
It is a comprehensive solution that combines travel, corporate card, and expense management functionalities.
It offers unparalleled visibility and control over expenses. It provides real-time data to ensure the safety of traveling employees, reduce costs, and enhance productivity.
Features
Automatic receipt capture
Custom approval flows
Expense reimbursement
Dashboard for all expenses
Real-time reporting and spend visibility
Automated report
Likes
It is an easy-to-use and user-friendly software.
It provides control and visibility into spending management
User-friendly interface
Good customer service
Easy to manage
Efficient  auto-calendar feature
Fast and easy to send expenses
It provides good customer service
Dislikes
Sometimes expenses submit after a few entries leaving some fields empty. This leads to inaccuracy.
Slightly buggy and takes time to load
Poor integrations
Lack of functionalities
Expense approval process much satisfactory
8. webexpenses
It is a cloud-based expense management software. It also provides solutions for travel and invoice processing. It provides expense reporting and enhances expense tracking.
It simplifies the receipt-to-reimbursement process by automating tasks. It enables firms to manage travel bookings, automate expense report submission, streamline approvals, accelerate reimbursements, and track expense claims in real-time. 
Features
Expense reports
Receipt capture
Employ reimbursement
Integration with over 50 accounting systems
Business expense app
Mileage tracking
Automated policy compliance
Corporate card matching
Petty cash management
Some screenshots of webexpenses
Likes
Enhances control and visibility
Creates automated reports and reduces errors
You can manage multiple claims
Easy to submit and track the status of expense reports
It is very user-friendly and easy to use
It keeps track of mileage and automatically calculates the rate
It is easy to upload receipts and invoices
It is quick and easy to get up to final approval before each pay period
Efficient payment tracking
Dislikes
Occasionally software comes slow and freeze
Lack of rotating and zoom facility
Lack of accuracy in location tool
Inability to scan the receipt to add in detail
Confusing interface
Unreliability of the software
Difficult to use and navigate
Clunky interface
9. Divvy
With Divvy, you can get expense reports with minimum clicks. It makes your expense management very easy and provides real-time visibility into your spending.
It offers a comprehensive solution for automating expense reports, improving employee spend management, managing payments and subscriptions, and tracking out-of-pocket expenses and reimbursement requests.
Features
Virtual cards
Reimbursement
Rewards
Credit builder
Accounting integrations
Mobile apps
Reporting and insights
Payments services
Some screenshots of Divvy
Likes
It is free, and there are no hidden charges or contracts.
You will get business credit cards freely for your employees
It provides good customer support
Easy to manage company perks
Perform purchases very well
Simple and clean User Interface 
Good customer service
Simple and user-friendly
Easily move funds around and manage budgets
Dislikes
The initial setup will be dunting
There is no option for splitting a transaction to come from more than one category.
You will not get notifications or alerts when you submit a reimbursement.
Substandard Accounting controls
Poor integrations
Poor onboarding process
Statements are difficult to work with
Getting set up and a credit line is a bit complicated
Very limited features
10. Pleo
Pleo is a digital expense report software and the number one spending software in Europe. It helps businesses manage their spending. It makes it easy to track expenses, stay organized, and submit reports quickly and easily. 
It provides smart company cards to employees, eliminating the need to track down lost receipts.
Features
Automatic tracking of expenses
Creation of report
Receipt management
Integration with accounting software, such as QuickBooks, Sage, and Xero
Fast, compliant reimbursement of expenses
Likes
It has an easy-to-use interface
It provides good customer support
User friendly
Simple interface
Good integrations
Less time consuming
Easy to learn and implement
Dislikes
Lack of interaction with Gmail
Sometimes, it is difficult to get receipts from Email
Expensive
Substandard Approval process hindrances
Poor Real-time expense management
Poor features
Substandard dealings with financials 
FAQs
Conclusion
Expense report software is a great option if you're looking for an easy way to keep track of your business expenses. Many options are available, each with its features.
By taking the time to research expense management solutions, you can be sure to choose the right one for your business. 
No matter what your business size, there is suitable software that will fit your needs. All of the solutions on our list offer a variety of features and pricing options, so you're sure to find one that meets your specific requirements. We recommend trying each solution to see which works best for you and your team.
References