Running a small plumbing business can be challenging, especially when managing your finances and scheduling appointments.
You need the best software possible to make your job easier. But with so many options available, Which software is right for you?
What is the Plumbing business?
Plumbing businesses provide services related to installing and maintaining plumbing systems in homes and businesses.
This can include the installation of new plumbing systems, the repair of existing plumbing systems, and the occasional maintenance of those systems. In addition, plumbing businesses may offer additional services such as drain cleaning or septic tank pumping.
6 Best Software for Small Plumbing Business
1. Service Titan
Service Titan is one of the best plumbing software for residential and commercial businesses. It offers many features to help you easily manage your business.
Features
Scheduling
Payroll
Timesheets
Reporting
Quickbooks
Mobile
Customer experience
Property data
Financing
Contracts
Marketing
Call booking
Like
As the Service Titan plumbing software is deployed in the cloud, you can access it anywhere.
Dislike
Bugs are more
The software is vast and a complete system; hence to learn it, you need to have good 
2. SkyBoss
SkyBoss is field-service software that is created specifically for small plumbing businesses. It offers a simple and easy-to-use interface that helps you manage your business with scheduling, estimating, invoicing, etc.
Features
Scheduling
Invoicing and payments
Customer management
Technician tracking
Reporting
Estimating
Task management
Accounting
Service agreement management
Like
SkyBoss plumbing Software allows the business to track its client with its CRM module.
Provides GPS tracking
Dislike
Software is only partially finished being developed.
Difficult to send an estimate and then delete non-purchased items for invoicing.
3. Housecall Pro
Housecall Pro is software for home services. It is enriched with scheduling, billing, and dispatch. It's a great tool to enhance your business. It is easily understandable by both owners and operators.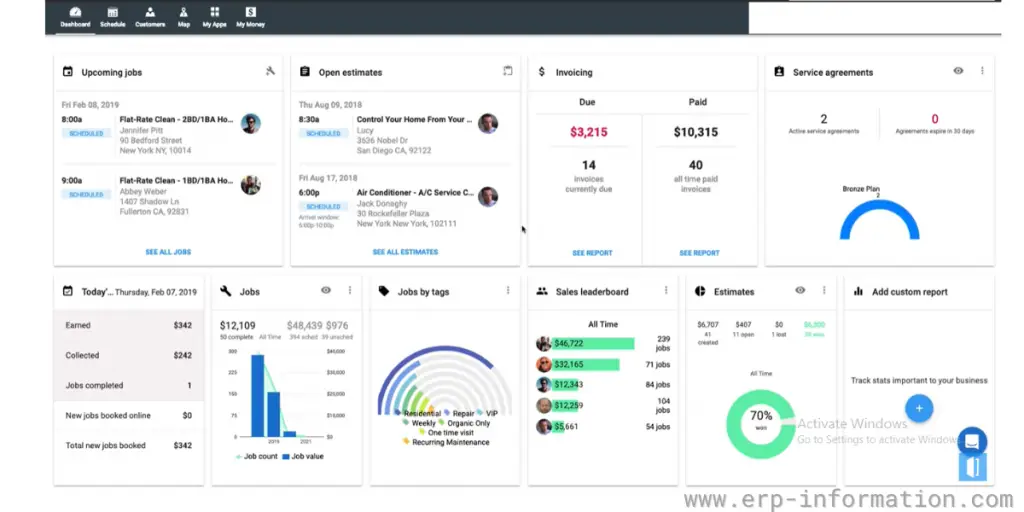 Features
Scheduling
Dispatching
Invoicing
Payments
Estimates
Employees GPS tracking
Email and automated marketing
Google local services
Customer management
Review management
Checklists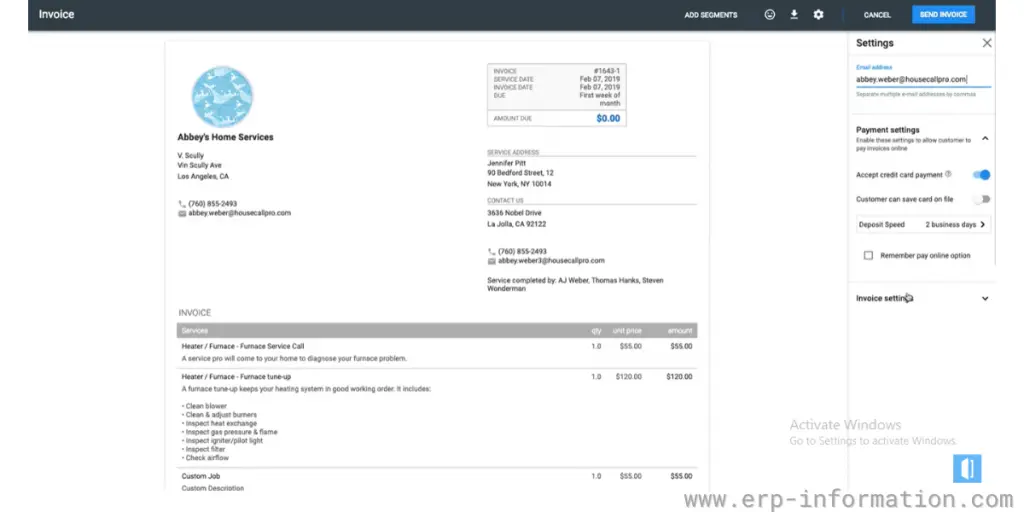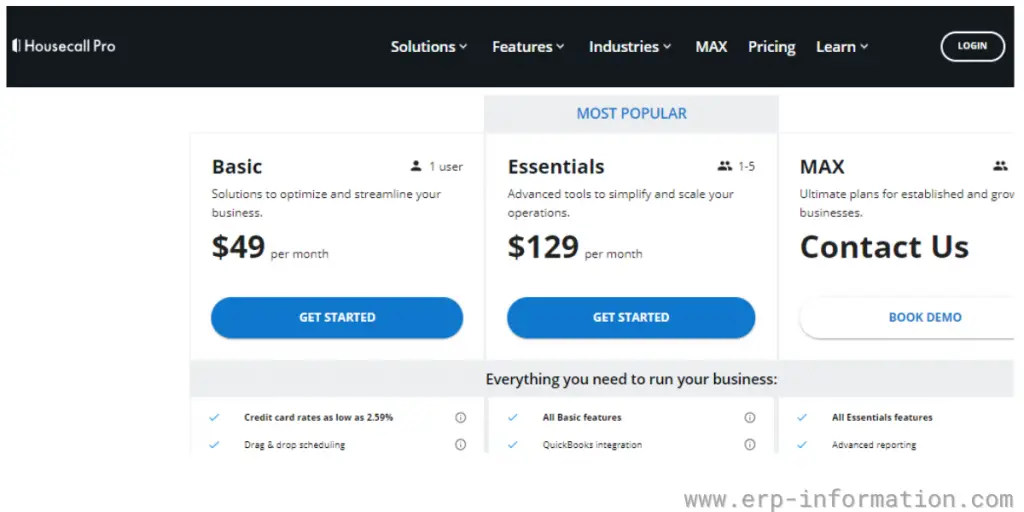 Like
Allows you to keep in touch with team members in real-time
Helps to manage time, location, and job details
Dislike
The direct online booking feature is not good
Very few customization options
4. simPRO
simPRO is end-to-end field service management software. That is used to streamline the workflows and manage the business operations of a plumbing company.
Features
Scheduling and dispatching
Fleet tracking
Job management
Project management
Business reporting
Field service management
Asset maintenance
Like
It provides good customer support
Helps to track fields personnel time
Dislike
You need to spend more time learning the software
Asset management software is not much transparent
Training options are limited
5. Stack
Stack is plumbing software for estimation. It helps to measure the lengths and evaluate them easily, enhancing your plumbing business.
Features
Bid management
Billing and invoicing
Assembly takeoff
Cost estimating
Electrical estimating
Document management
Like
It is easy to use and powerful tool
Integrates with dropbox and google drive
Dislike
Customization is a little difficult
Undo option is not available
6. ServiceM8
ServiceM8 is a cloud-based software that allows plumbing service companies to manage their business operations, including scheduling, dispatch, billing, and invoicing.
Features
PDF forms and reports
Job checklists
Real-time plumber status
Job history
Automated client communication
Billing and invoicing
Dispatch management
GPS tracking
Mobile access
Electronic signature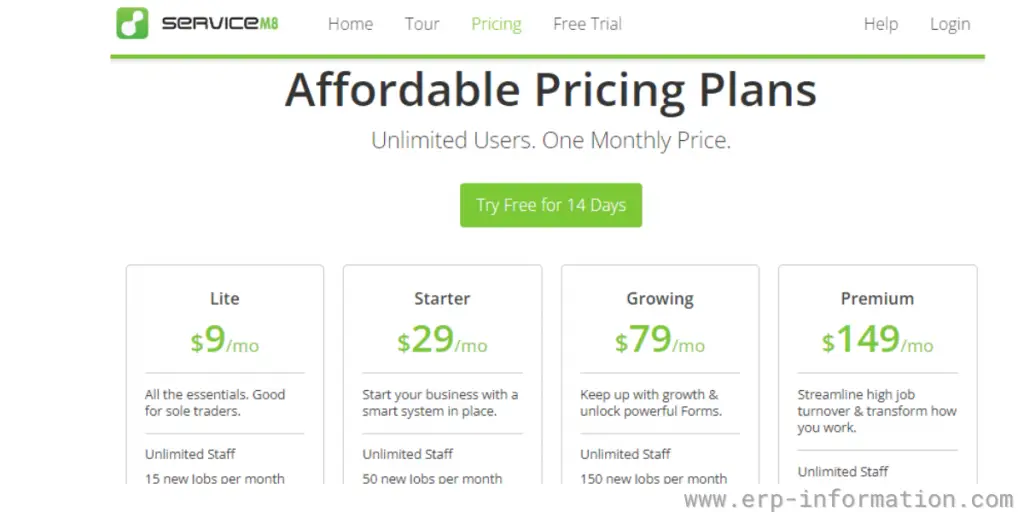 Like
You can customize email templates easily
Eliminates the paperwork
You can view the schedule and receive the notification anywhere
Dislike
Customer service is not good
Conclusion
Small plumbing businesses can be successful by using the right software. The best software depends on the business's specific needs.
We've provided a list of some of the best software for small plumbing businesses. Plumbing businesses should research different options to find the best fit for their individual needs.