Choosing the best HVAC software can be difficult, especially if you're unsure what to look for.
Not all systems are created equal. Out of many options, it can be hard to know which is right.
This blog post will look at 12 of the best HVAC software programs available today. Then, we will compare and contrast each program and help you find the right one for your business.
What is HVAC software?
HVAC software is a computer program designed, simulates, and manages HVAC systems. It can help you calculate your projects' loads, sizing, and pricing.
It can be used to model the performance of a building's heating, ventilation, and air conditioning system. This software also helps to design new systems or to troubleshoot existing ones.
Here is the list of the best HVAC solution software.
1. Jobber
Jobber is a cloud-based field service management software that helps businesses manage their operations more effectively. It provides the best software tools for HVAC businesses.
Features
Client management – Jobber helps you track your client's contact information, service history, and payments in one place.
Scheduling and dispatching – Schedule and dispatch your team more efficiently with Jobber's drag-and-drop scheduling features.
Invoicing and follow-ups – Get paid faster with Jobber's online invoicing, professional template, and automatic payment reminders.
Mobile apps – Stay connected to your business on the go with Jobber's mobile app for iOS and Android.
Customer communications – Keep your customers updated with automatic appointment reminders and text messaging in CRM.
Online booking – Make it easy for customers to book appointments online with Jobber's online booking system.
Client hub – Helps customers to approve quotes, view information, and pay invoices.
Job forms – You can create checklists and custom forms to share with your team.
Quoting and follow-ups – You can send automated reminders and customize templates.
Email and postcard marketing – helps you to send automated emails and postcards to promote your business.
Credit card processing – allows customers to pay invoices by using credit cards.
Reporting – gives you insights into your business with over 20 built-in reports.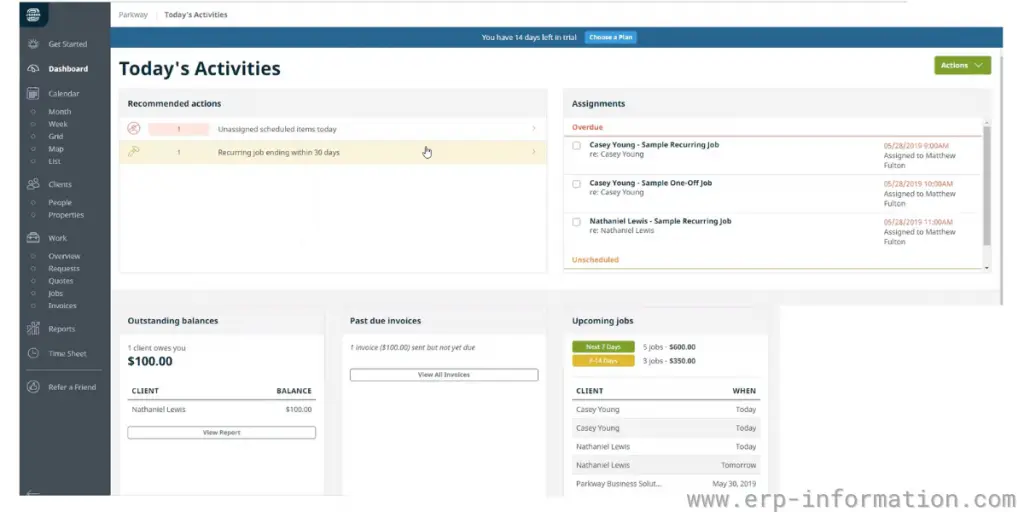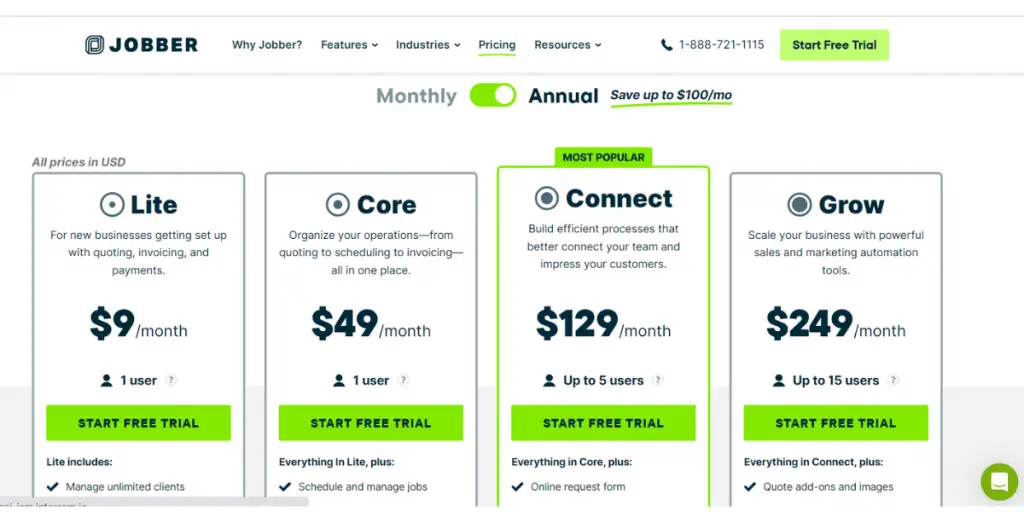 Likes
Features like invoicing, quoting, and scheduling are beneficial and easy to use
Easy to deploy and integrate with Quickbooks
Dislikes
Unavailability of automatic charges for credit card processing
The mobile app is not intuitive
Other details
2. Housecall pro
Housecall Pro is one of the best HVAC software programs on the market. It's easy to use and has many features to make your business run smoothly.
Features
Scheduling
Dispatching
Estimates
Invoicing
Online booking
Reporting
Payments
Card reader
Customer management
Review management
Automated marketing
Call tracking
In-app chat
Checklists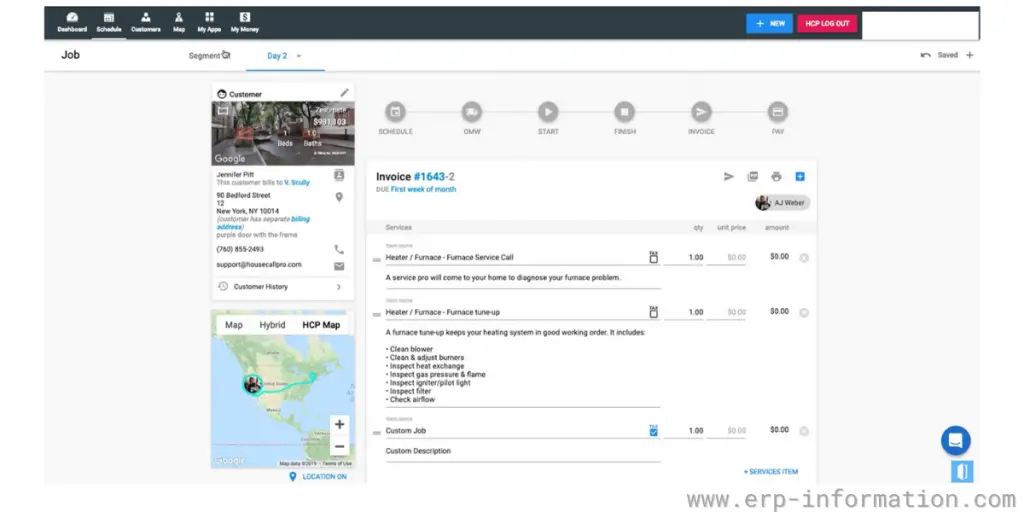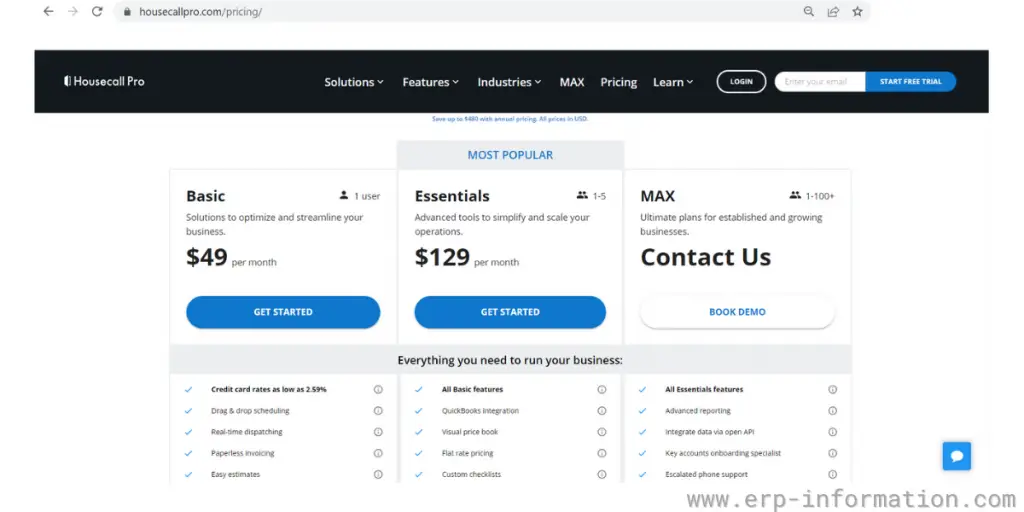 Likes
Provides a flexible pricing model
Dislikes
It takes more time to fix the bugs
Other details
3. Service Fusion
Service Fusion software is field service management software that enables companies to manage and coordinate service technicians' work in the field.
It allows businesses to track the status of jobs, schedule appointments, and assign tasks to individual technicians or teams. Service fusion software can also help companies invoice customers for services rendered and manage payments.
Features
Customer management
Estimates
Easy scheduling and dispatching
Online invoicing and payments
Text message notification
Field technician mobile app
Quickbooks integration
Contactless e-sign solutions
Invoicing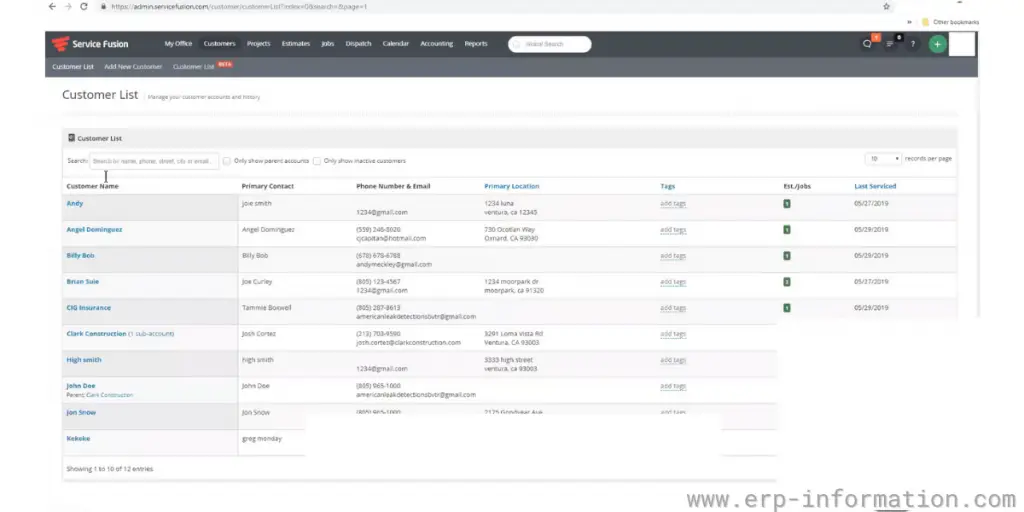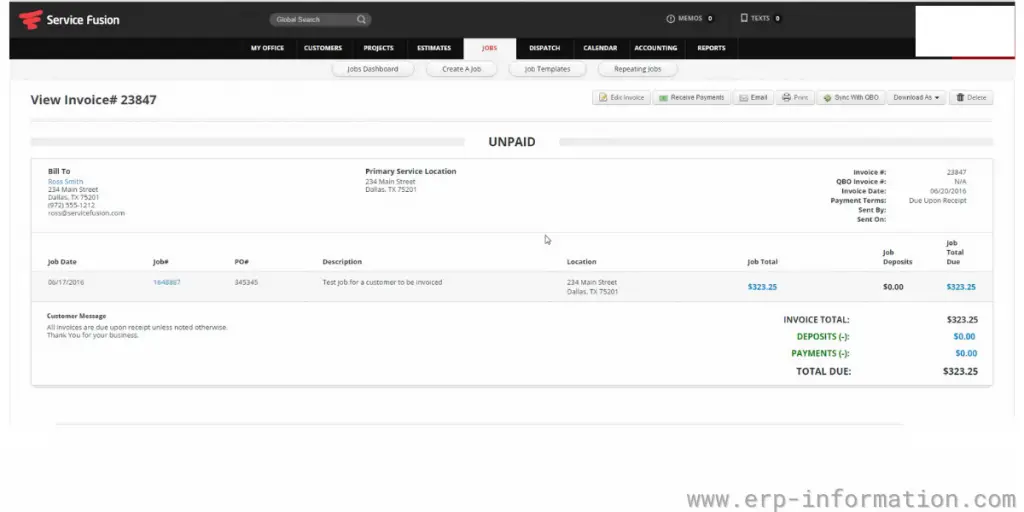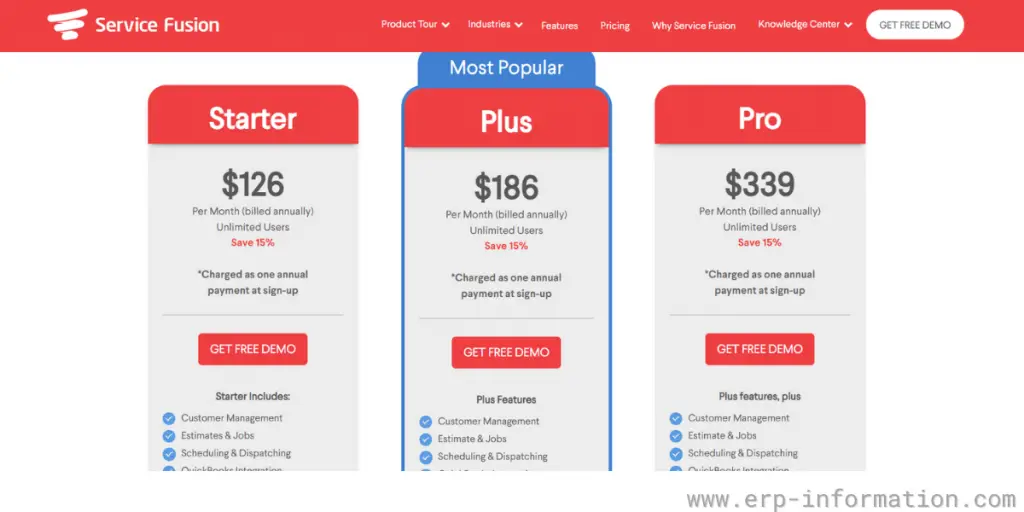 Likes
Hidden fees are not there
User-friendly
It provides more tools
Dislikes
A free trial is not available
Difficult to get all needful reports
Limited integrations
4. FieldEdge
FieldEdge is a comprehensive HVAC service software solution that helps businesses streamline operations, improve customer service, and boost profits.
Features
Scheduling and dispatching
Performance dashboards
Customer management
Quickbooks integration
Service agreements
Price presentation
Quotes and invoicing
Mobile CRM
Likes
Easy to use
It has good integration features
Dislikes
Software lags when we synchronize with several devices
GPS or route optimization features are not available
Reporting tools are complex
Other details
5. Verizon Connect
Verizon Connect is a cloud-based, leading provider of fleet management solutions for businesses of all sizes. Its easy-to-use helps firms to increase productivity, improve driver safety, and lower operating costs.
Features
Tracking of vehicles
GPS tracking
Analytics report
CRM tools
Mobile apps for technicians
Live Map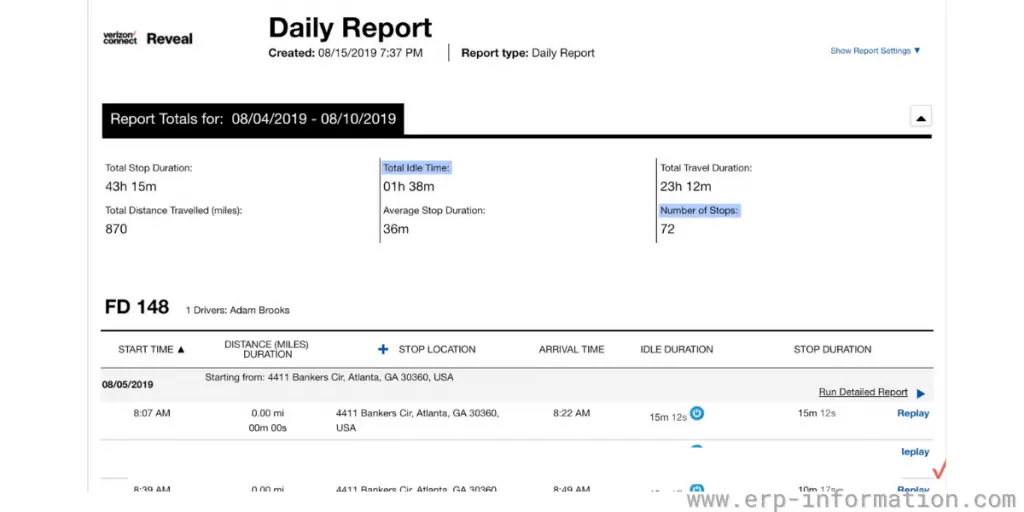 Likes
Good customer service
Easy to use
A stellar support option is available
Dislikes
Other details
6. ServicePower 
ServicePower is both an on-site and cloud-based field service platform. It is suitable for small, medium, and large enterprises working in various areas like HVAC, transportation, IT, and services.
Features
Work order management
Scheduling
Asset management 
Contractor management
Claims management 
Mobility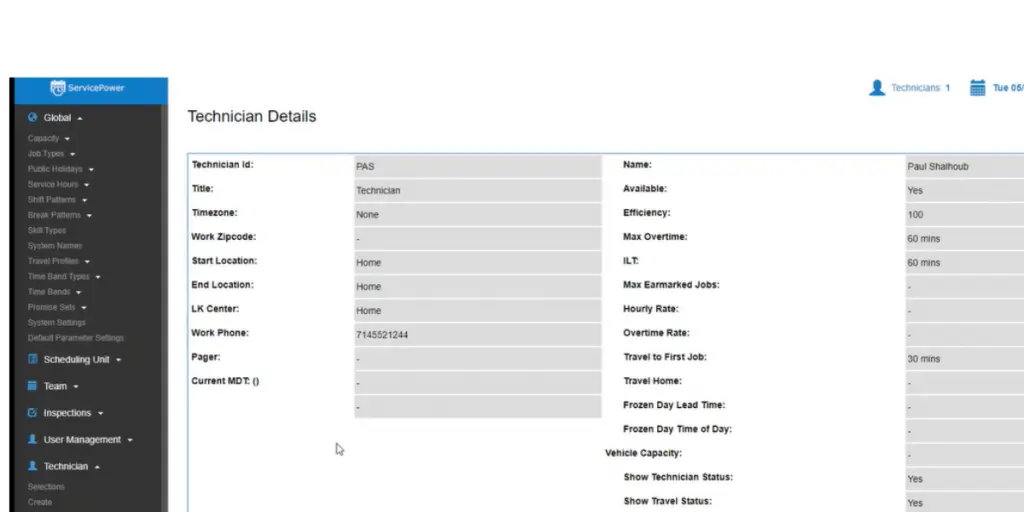 Likes
Easy to set up 
It can be integrated with pre-existing networks.
Good support 
Dislikes 
Other details
7. GorillaDesk 
Gorilladesk is a robust cloud-based field service management platform. It is designed to keep up with the challenges of any HVAC company.
It provides users with a tracking mechanism for their devices by giving barcodes. In addition, it is creating job sheets, designating tasks for teams, and acquiring customer data from multiple devices. 
Features
Scheduling
Dispatch management
Push notifications
Observe progress
Billing and invoicing 
Mobile applications
Likes 
Mobile app 
Invoicing and scheduling
Dispatching
Easy to use
Dislikes 
Pricing is more
Booking features
Other details
8. Workwave 
Workwave's HVAC platform caters to both commercial and residential establishments. As a result, they can meet customer requirements and achieve efficiency in all their operations.
Features
Scheduling and dispatch management 
HVAC Job management
Mobile app
Estimation and billing services
Likes 
Provides marketing features to attract new customers
Mobile options 
Ease of use
Dislikes 
Integration with other systems is limited
No provision for managing inventory 
Other details
9. Service Titan 
Service Titan is a forerunner in comprehensive software for HVAC services for commercial and residential needs.
It helps an HVAC business function in a streamlined manner and be profitable. In addition, it provides various robust tools to execute and run the entire process. 
Features
Marketing
Maintenance
Financing and quotations
Bidding and proposals
Likes 
Booking and dispatch notifications
Good customer experience
Time management features
Accessibility
Easy to use
Dislikes 
Updates are needed for a few features 
Customizing not provided
Other details
10. Thermogrid 
ECI solutions offer Thermogrid, a cloud-based field service solution for small to medium residential contractor HVAC companies. A combination of automated daily operations applications with well-organized service management is offered.
Features
Smart dispatching 
Scheduling
Client database
Invoicing options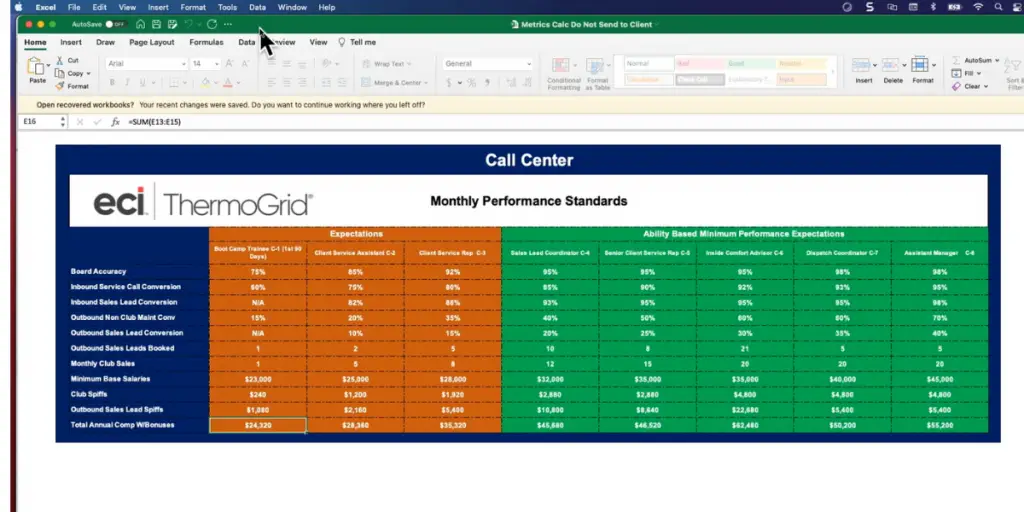 Likes 
Automation of day-to-day tasks
Easy to use
Customization options
Effective integration with QuickBooks
Dislikes 
Slow software update
Platform set-up problems
Pricing details are not mentioned.
Other details
11. HoneyBook
HoneyBook provides the best HVAC software for small businesses. It allows you to book clients, send invoices, and get paid easily.
Features
Invoices
Proposals
Scheduling
Contracts
Automation
Integration
Smart files
Project management
Likes
Easy to use
Great customer service
Specific contract templates
Dislikes
The E-mail signature option is not there.
It takes time to deposit the payments
Sends unwanted notifications to clients
The calendar feature is not good.
Other details
12. Jobprogress
Jobprogress is the HVAC software built for home improvement contractors. This business management software provides many easy-to-use tools for contractors to schedule, organize, and control their business operations.
Features
Fully customized job
Workflow management
Paperless Mobile App
Customer relationship management
Online Sales & Marketing
Quick Estimating, Quoting & Scheduling
Remote business control
Dashboard Workcenters
Safe Cloud Storage & Access
Employee And Subcontractor Management
Instant Proposals And Contracts
Office, Field & Operations Management
Likes
Good for field service management
Good customer service
User friendly
Dislikes
The customer webpage could be more professional.
Uploading more photos ( more than 50) of the job will be a hard process.
Sometimes, reports will not be accurate.
Estimating features is not much intuitive. 
Accounting integration with Quickbooks will not be working properly.
Other details
FAQs
Conclusion
The 12 best HVAC software of 2023 are listed and described in this blog post. HVAC software featured here can help you with everything from load calculation to dispatching service calls.
So if you're looking for an absolute solution to manage your HVAC business, one of these programs is sure to fit the bill.
Reference