Fraud is a massive problem for businesses of all sizes and can be incredibly costly. Therefore, you must employ the best anti-fraud software to protect your business from fraud. Luckily, there are many great options out there!
In this post, we will go over the ten best anti-fraud software solutions in the market. Then, we'll discuss the features of each solution and help you decide which one is right for your business.
So without further ado, let's get started!
What is anti-fraud software, and why do you need it?
Anti-fraud software is a type of software that helps businesses prevent fraud. Fraud can take many forms, such as financial fraud, identity theft, or even data breaches.
Unfortunately, it can be incredibly costly for businesses in terms of direct economic loss and damage to reputation. That's why it's so important to have a good anti-fraud solution.
Types of anti-fraud software
Many types of anti-fraud software are available, each with its strengths and weaknesses. Some of the most popular options include:
Financial fraud detection software: ERP fraud software uses various data points to detect patterns that may indicate fraud. For example, it can look for unusual spending patterns, duplicate invoices, or strange transactions.
Identity theft prevention software: This software helps businesses prevent identity theft. It can do this by, for example, monitoring credit reports or public records for changes that may indicate fraud.
Data breach prevention software: This software helps businesses prevent data breaches. It can do this by, for example, encrypting data or providing access control.
Here is a list of the 10 Best fraud detection software vendors.
1. Signifyd
Signifyd is eCommerce fraud protection software that helps to identify the identity and intent behind every payment, protecting shopper journeys globally and restoring mutual trust between merchants and their customers.
It is trusted by the companies like Samsung, Walmart, eBay, Lacoste, Wish, and more.
Features
Fraud protection
Abuse prevention
Account protection
Payments optimization
Revenue optimization
Cross border expansion
PSD2 compliance and SCA in retail
Order automation
Omnichannel commerce
Some screenshots of Signifyd
Likes
Enhances customer experience by avoiding fraud and abuse
Provides 100% protection from fraud and abuse for automatic payments
The software is easily understandable and easy to use
It is stable and trustworthy
Quick reimbursement 
Easy integration
Dislikes
The software will be expensive for small businesses
The software is with lacks transparency
Address change in orders takes more than 14 days
Inability to re-screen an email when a customer inputs it
Poor custom checkout methods
It's hard to get the reimbursement filed with multiples files
Poor secured way to submit customer ID 
The cost per transaction is higher than other solutions.
Supported industries
Apparel, accessories, and footwear
Electronics and computers
Health, beauty, and cosmetics
Housewares, garden, and furnishing
Sporting goods
Other details
2. Fraud.net
It is a fraud management solution for financial and risk management. Its powerful AI solution prevents fraud for businesses in financial services.
It provides a free demo to learn the software. As a result, many companies, including Gartner, Mastercard, GCHQ, Amazon web services, etc., trust it.
Features
Account takeover fraud prevention
Application fraud
Invoice and wire fraud prevention
Multi-party fraud schemes
Payment fraud
Call center fraud
Loan and credit fraud
Marketing and affiliate fraud
Mobile fraud
Return fraud
Likes
Before opening the email, you can check the suspicious emails.
It is flexible software.
It helps to review manual transactions and enhances the turnaround time to approve an order.
Dislikes
Release management and user experience are not so good
You need to refresh the screen to get new alerts
Supported industries
Banking/Retail
Consumer lending
E-commerce
Fintech
Gaming
Government
Insurance
Marketplace
Mobil
Payments and billing
Telecommunications
Travel and hospitality
Other details
User opinion 
3. Seon
Seon is a fraud prevention software system for online businesses. It provides fraud detection solutions for all businesses and insights into all interactions and transactions.
In addition, it also provides more than 50 digital and social media lookups. The software is used by albo, Fairmoney, Carbon, Revolut, niyo, and AirFrance.
Features
Tailored industry rules
Social media lookups
Precise risk scores
Behavior analytics
Email analysis
Device fingerprinting
Machine learning
API integration
Screenshot of Seon
Likes
The software is a flexible and modular solution.
You can pay the price every month as per your needs
It offers a 14-day free trial
The software is easy to use and customize
Good transaction verification
Good order tracking
Automated fraud prevention
It has complete control on the blacklist
Dislikes
The phone number verification tool is not so good
Loading time is more sometimes
Improvement needed in the dashboard view
Poor live tracking
Substandard data enrichment
Poorly optimized filtering for searches
Poor customer service
High learning curve
Supported industries
Banking and insurance
iGaming and gambling
Online lending
E-commerce
Travel and ticketing
Other details
4. ClearSale
ClearSale is a comprehensive e-commerce fraud protection system. It helps organizations to stop fraud and enhances sales and customer satisfaction. The software is used by more than 5000 companies worldwide.
Features
E-commerce fraud protection
User-friendly dashboard and custom reports
Chargeback protection
Protection from false declines
Likes
No setup and integration costs and also no monthly costs
Integrates easily with e-commerce platforms such as SalesForce, Magento, Oracle commerce, Shopify, PrestaShop, and more
Good customer support
Dislikes
Approval of orders will become delayed sometimes.
With Shopify, the software does not allow you to exclude Paypal and Mercado Pago; hence you need to pay a commission.
Pricing is not disclosed on the official site; hence you will not get a clear idea about that.
Analysis times of each transaction are long
The responding time consumes more time
Poor invoicing features
Supported industries
Fashion and Luxury
Consumer electronics
Automotive parts
Travel and airlines
Other details
5. Kount
Kount is one of the best Anti-fraud Software. This leading anti-fraud prevention solution serves over 15,000 enterprises worldwide, including Samsung, HP, Staples, GNC, BlueSnap, Petsmart, Chase, and more. With the help of ML and AI tools, it detects and prevents fraud.
Features
Account takeover protection
Digital identity verification
Bot detection
Dispute and Chargeback management
Reports and analytics
Screenshot of Kount
To get the pricing details of each model, you need to request a custom quote by filling out a form on its official site.
Likes
The software allows you to approve, hold, or decline transactions automatically.
Its artificial intelligence capabilities provide fraud detection and hence reduce fraud costs.
Flawless integration
The cost per transaction is very less
Easy to use
Dislikes
The user interface is not intuitive
Downloading reports with more data will be slow
Poor user interface
Other details
6. Arkose Labs
Arkose Labs is an Anti-fraud software solution that provides long-term protection against fraud. It uses a multi-layered approach to identify and protect against fraudsters.
It can analyze user behavior. Arkose Labs can distinguish between legitimate users and fraudsters, providing long-term business protection. 
Features
Bot and abuse management
Account takeover protection
Payment fraud management
Micro-deposit fraud
New account fraud management
Website scraping
API protection
Likes
The software provides real-time risk assessments, machine learning analytics, and transparent risk insights.
When someone starts abusing your service, Arkose Labs helps quickly and generates new strategies to avoid abuse.
Good integrations with the third party
Works great with bulk attacks
Good customer service
Dislikes
The dashboard will not provide more self-service analysis features
Synchronous events need to be improved
Lack of front-end integration
High learning curve
It is difficult to navigate the dashboard
Supported industries
Finance and fintech
Online gaming and gambling
Retail
Sharing economy
Media and streaming
Technology platform
Travel
Other details
7. Certifid
Certifid is an anti-fraud software that helps organizations prevent and detect fraudulent activities.
It is an AI-driven solution that uses machine learning to identify and prevent fraudulent behavior. The solution is customizable and can be configured to meet the organization's specific needs.
Features
Identity validation
Bank account confirmation
Secure transfer of wiring information
Direct insurance for businesses
Money protection plan
Fraud recovery service
Likes
It is easy to use and easy to submit a request for information to people.
It provides email notifications when you receive instructions.
Dislikes
No templates for greeting messages
No free trial
Language Support
English
8. DataDome
DataDome is online fraud and bot management for mobile apps, websites, and APIs. It features sophisticated machine-learning algorithms that detect and prevent fraudulent activity in real time.
The software is used by some of the world's largest companies, including Asus, Reddit, McDonald's, The New York Times, and more.
Features
Protection against account takeover
Protection against web scraping
Protection against layer DDoS attacks
Protection against card fraud
Protection against credential stuffing
Protection against fack account creation
Protection against vulnerability scanning
Real-time dashboard
Advanced analytics and reports
Screenshot of Datadome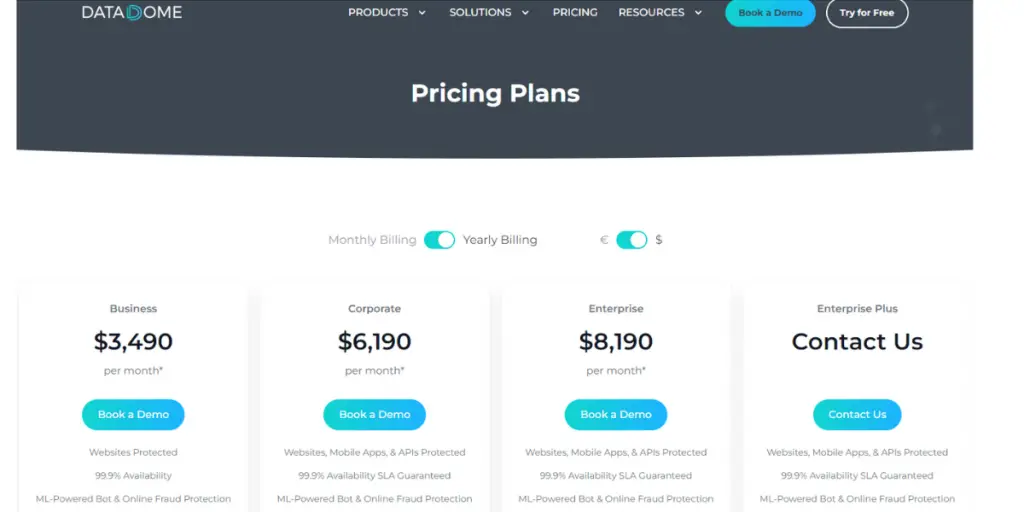 Likes
It provides detailed insights on attempted account takeover attacks
Secures all end-points against web scraping
It provides good customer support during implementing
Smooth onboarding process
Excellent AI detection
Transparent pricing
Good reporting 
Flexible tools and deployment
Dislikes
24/7 support is not available for business plan
Dashboard navigation is a little bit difficult
Limited impact with features
Poor third party integration
Substandard setup
Other details
9. Alessa
This anti-fraud software makes compliance and fraud prevention easy. It allows you to analyze data from all sources and provides predictive analytics to help you identify and prevent fraud.
Features
Real-time risk intelligence
Transaction screening for suspicious activities
Advanced analytics
Realistic assessment of risks
Dashboards
Investigation tools
Likes
No need to spend more money on training the employees as it is easy to use
The software is easily customizable
Good customer support
User friendly
Easy to join webinars and q and a sessions
Ability to identify and take action on the flaws or loopholes
Dislikes
It takes more time to customize
Initially, it requires consultation to customize
The software is not  flexible
Poor functionalities and integration
Often works slow
Substandard dashboard
Unsatisfied export function
Supported industries
Banks
Credit unions
MSBs
Casinos and Gaming
FinTechs
Investment banking
Insurance
Corporate
Other details
10. Sift 
Sift platform handles any issue relating to fraud operations. It safeguards against fraud with the latest in technology and ability.
The solutions are simpler, more flexible, and smarter with automation at each touchpoint. Companies like Twitter, DoorDash, and Twilio have implemented Sift to stay secure and lucrative. 
Features 
Payment protection
Account defense
Dispute management
Content Integrity 
Password authentication
Sift Connect – Digital trust and safeguarding
Some screenshots of Sift
Likes 
Easy to search
Reliable
Accesible to navigate
Detection of fraud for any business transactions
Smart, automated decisions
Dislikes 
The initial learning curve is tedious
Integration with third-party tools
Pricing
FAQs
Conclusion
The fight against fraud is an ongoing process, and it can be difficult to keep up with the latest scams and schemes. However, using anti-fraud software can help you protect your business from financial losses and data breaches.
In this article, we've listed ten of the best anti-fraud software solutions currently available. We hope this list of 10 Anti-fraud software will help you choose the suitable solution for your business needs.
Reference: