Businesses have started to become more and more environmentally conscious. One way of tracking the greenhouse gas emissions of businesses is through carbon accounting software. This software helps companies to track their greenhouse gas emissions and ultimately reduce their environmental impact.
This blog post will discuss the ten best carbon accounting software programs of 2023!
What is Carbon Accounting Software?
Carbon accounting software is a program that helps businesses track their greenhouse gas emissions. This information can be used to enable enterprises to reduce their environmental impact.
How does Carbon Accounting Software Work?
Carbon accounting software typically works by tracking a business's energy usage. This information is then used to calculate the amount of greenhouse gas emissions the business produces.
What are the Benefits of Using Carbon Accounting Software?
There are many benefits of using carbon accounting software. Some of these benefits include:
It helps businesses track their emissions.
It helps businesses reduce their environmental impact.
It supports businesses in meeting emissions goals.
It can be used to report a company's emissions.
It helps businesses save money.
Glossary of Terms Related to Carbon Accounting
Carbon footprint: The amount of greenhouse gas emissions that a business produces.
Climate change: A long-term change in the Earth's climate.
Greenhouse gas: A gas that traps heat in the Earth's atmosphere.
Emissions: The release of greenhouse gases into the atmosphere.
Reporting: Documenting and sharing information about a company's emissions.
Reducing emissions: Taking action to reduce the amount of greenhouse gases that a business produces.
Carbon accounting software: A program that helps companies to track their greenhouse gas emissions.
How do You Choose the Right Carbon Accounting Software for Your Business?
When choosing a carbon accounting software program, you should keep a few things in mind. Some of these factors include:
The size of your business
Your emissions goals
The type of data you need to track
How often do you need to report your emissions
The cost of the software
Here is the list of carbon accounting software
1. Persefoni
Persefoni is one of the market's most famous climate disclosure and carbon management software. It is popular because of its simple and elegant user interface.
In addition, it has a critical relationship with global industry heads like Brain, Workiva, SCSK, CGI, Hitachi, and Patch.
The software is known for its scalability and support and is used by Fortune 500 organizations.
Features
Audit quality carbon accounting
Financed emissions calculation
Climate impact benchmarking module
Climate trajectory modeling module
Sustainability reporting and disclosers
Screenshots of Persefoni
Likes
Prior technical knowledge is not required to calculate your company's carbon footprint.
It cooperates with the Greenhouse Gas Protocol and hence makes easy calculations of Scope 1, 2, and 3 inventory.
It provides an easy-to-use interface and endless support for users.
You can easily view the calculation frameworks, formulas, and emission factors with its CO2e ledger.
You can easily maintain the emission factors set by the IPCC, IEA, EPA, and DEFRA.
It provides easy configuration and deployment.
The Persefoni team helps in a way to set up your carbon footprint.
Dislikes
The user interface is complex for beginners.
You can find a few glitches on spreadsheets.
Waste generation could be better with this tool.
Limited life cycle analysis for specific products.
The Naics code classification process is time-consuming.
A detailed checklist is needed for all the necessary data.
Other details
2. IBM Environmental Intelligence Suite
IBM environment intelligence suite offers a comprehensive suite of software for carbon accounting and emissions management with the help of AI capabilities.
The IBM Environmental Intelligence Suite allows organizations to track, report, and analyze their greenhouse gas emissions.
Features
Streamline, automate, and operationalize carbon accounting
Stationary emission API
Fugitive emissions API
Mobile emissions
Location-based emissions
Market-based emissions
Transport and distribution emissions
Screenshot of IBM Environmental Intelligence Suite
Likes
It provides built-in, AI-driven augmentation capabilities.
Automates data conversion using APIs.
Automatic updation of data points.
It helps establish disaster-resilient environments through data-driven analytics and decisions.   
It has a powerful and comprehensive platform for managing and analyzing environmental data.
It provides options and access to organizations to customize their dashboards.  
It reduces disruption with environmental intelligence.
It is easy to use and navigate. 
Dislikes
Its cost is so high that small companies cannot afford it. 
It has complex features so that only experts can handle this platform.
It will not provide 100% data accuracy.
Its premium services can be expensive.
It has some screen crashes and loading issues.
Requires a skilled workforce to operate and analyze the data.
High learning curve for users.
Frequent updates.
Limited scalability to other apps.
Complexity, and demanding significant expertise is challenging.
Supported industries
Energy, Environment, and Utilities
Public sector
Travel and Transportation
Retail
Financial services
Industrial products
More about the IBM Environmental Intelligence Suite
3. Net Zero Cloud by Salesforce
Net Zero Cloud by Salesforce is a carbon accounting software designed to help businesses achieve net-zero emissions.
The Net Zero cloud will be powered by 100% renewable energy, and it will help customers decrease their carbon footprints through a range of features and services.
Features
Analyze scope one emission
Analyze scope two emissions
Dashboard
Emissions forecasting
Analyze scope three emissions
Automated data gap-filling
Data model and calculation
Procurement emission management
Transportation and distribution
Waste management module
Business travel module
Screenshot of Net Zero
Likes
It provides detailed dashboards for scopes 1, 2 and 3
Offers actionable insights
Provides secure supplier collaboration
It allows the integration of data from many sources
It is scalable, flexible, and agile
Dislikes
The user interface becomes challenging to keep track of location within the system
Lacks sufficient support for complex organizations with multi-tier hierarchies
Falls short in providing insights into the cost of carbon
Not fully transparent regarding the distinction between net zero and true zero emissions.
Supported industries
Energy and utility
Education
Financial services
Governments
Healthcare and life science
Manufacturing
Media
Retail
Non-profit
Transportation and hospitality
Technology
More about Net Zero Cloud by Salesforce
4. Microsoft Cloud for Sustainability
Microsoft Cloud for Sustainability is a carbon accounting software introduced recently. The software manages environmental data and reports on an organization's carbon footprint.
In addition, the software includes various features, such as tracking facility emissions, fleet, and air travel. Microsoft Cloud for Sustainability is a web-based application that can be accessed from any internet-connected device.
Features
Recording and reporting of environmental impact
Measurement and monitoring of emissions
Dashboards to visualize emissions activities
Actionable data insights
Energy management
Screenshots of Microsoft Cloud for Sustainability
Likes
It helps to reduce the carbon footprint and energy consumption
It allows you to get insights into reducing carbon emissions, energy costs, and waste
Helps to collaborate with sustainability team members like stakeholders and contributors
Increases transparency and accountability
Supported Industries
Automotive
Energy
Financial services
Manufacturing
Retail
Smart places
More about Microsoft Cloud for Sustainability
5. Sphera
Sphera is one of the most popular carbon management platforms. It helps businesses manage their emissions and greenhouse gas data with its integrated Environmental, Social, and Corporate Governance(ESG) solutions.
It offers a variety of features, such as data management, tracking, and analysis. Sphera also provides consulting and training services to help businesses reduce their emissions.
Features
Sustainability
Chemical management
Master data management
Health and safety management
Operational risk management
Control of work
Screenshots of Sphera
Likes
Identifies the scope of three categories
Calculates corporate carbon footprint
Gathers data for energy consumption and number of products per period
Determines emissions sources
Reduces all paperwork at the time of auditing 
You can do a sustainability-related analysis easily 
You can scan large inventory in small places 
Its program is user-friendly 
Dislikes
Uploading new docs can be complex.
File sharing ability needs to be improved. 
Configuring and customizing the platform is tricky.
Lack of flexibility in the product according to future needs.
Exporting it to Excel could be time-consuming.
Less satisfying user interface.
It demands a learning curve for effective navigation.
The server functionality could be smoother for an improved user experience.
The comparison between it and the Audit, may not have been favorable.
Supported industries
Building and Construction
Chemicals and life science
Government
Manufacturing
Metals and mining
Oil and gas
Energy and mobility
Retail and consumer goods
6. Sinai Technologies
Sinai Technologies is the world's leading decarbonization software. The software helps businesses to manage their emissions and set targets for reducing their carbon footprint. It measures, analyzes, and helps to reduce emissions.
Features
GHG inventories
Reports
Baseline projection
Emissions target
Carbon budget
Carbon price
Risk management
Stakeholder engagement
Value chain management
Likes
It defines opportunities for carbon reduction.
It provides multiple database capabilities; hence you will get accurate data.
It offers strict architectural concepts that provide proper security.
Determines valuable information and provides real-time analytics.
Enhances data tracking and reporting.
Supported industries
Transportation
Industrials
Utilities
Consumer goods
Buildings and construction
7. Greenly
Greenly is a leading carbon accounting and management software developed to help businesses and organizations reduce their carbon emissions.
It provides features like tracking emissions data, creating reports, and setting targets. The software also allows users to compare their emissions performance with other businesses and organizations.
Features
Digitized GHG assessment
Employee engagements
Action plans
Offset
Life-cycle
Screenshots of Greenly
Likes
It is a good platform for SMBs to track their carbon emissions.
Calculates emissions across Scope 1, Scope 2, and Scope 3
It provides a detailed dashboard for carbon footprint
Offers good support with climatic specialists to your net-zero journey
Includes concrete and actionable alternatives
It helps businesses implement effective energy audits
It has sustainability and product digitization features
Dislikes
Receiving documents takes time
Here, the remainder of the procedure disappears soon
Supported industries
Tech and Digital
Construction
Fashion and Textile
Food
Chartered accountants
API and Banks
Media and Press
Other details
8. Diligent
Diligent is a carbon accounting software that helps non-profits, executives, and governments to account for their greenhouse gas emissions.
Diligent was founded in 1994, and its headquarters is in New Zealand. It acquired Accuvio, an ESG vendor, in 2021, and both streamlined the connection between risk, compliance, audit, and ESG.
Features
Board and leadership collaboration
Board management
Entity and subsidiary management
Risk management
Sustainability and ESG reporting
Carbon accounting
Audit management
Internal controls management
Likes
It provides climate leadership certification
Helps to plan ESG data against standards like SASB, GRI, TCFD, CDP, and WEF
You can easily track and monitor your ESG progress and compare it with your competitors.
Provides real-time alerts
Provides reports on ESG progress
Streamlines carbon, energy, waste data collection, and reporting
Dislikes
Pricing is too complicated and expensive
There are additional fees for admin users
It has a steep learning curve and requires significant time and training for users to become proficient
Frequent need for assistance due to complexities
Overdependence on external support at every step
Scalability issues with managing supplements
Supported industries
Financial services
Broadcasting and telecommunication
Government
Higher education
Manufacturing
Private Equity
Technology
Advisory and legal research
Energy
Healthcare
Non-profit
Real estate and construction
Retail
Transportation and warehousing
9. Sweep
Sweep is a software solution for carbon emissions management. It organizes, measures, and reduces carbon emissions. It mainly focuses on the collaboration of features that help track and visualize tasks in a centralized system.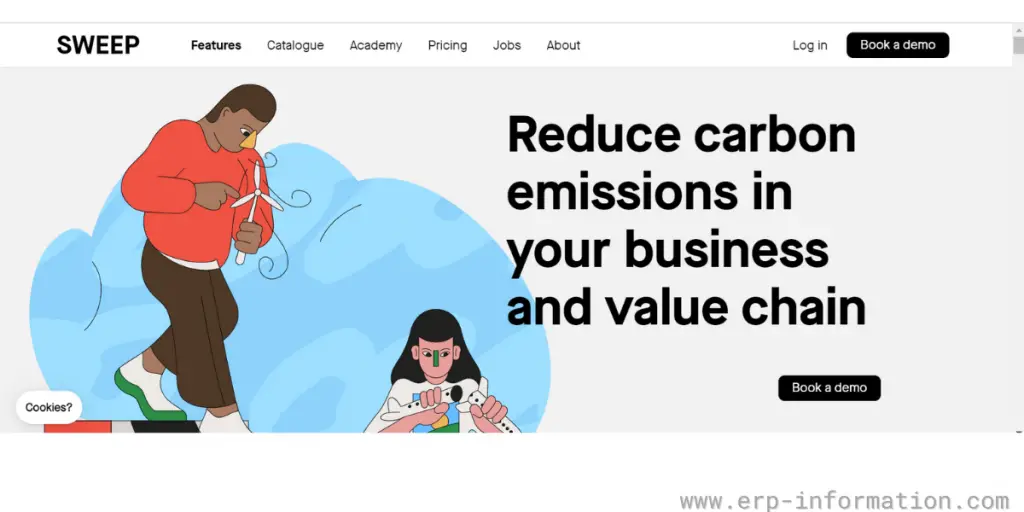 Features
Assign teams
Connect with other companies
Track progress
Emission factor database
Create composite factors
Import factors
Coordination and controls
Note: The pricing mentioned above is the old one. Currently, pricing details are unavailable on the official website. Kindly contact the vendor for current pricing details.
10. Watershed
Watershed is a newer software for environmental accounting that started in 2019. It helps businesses and organizations measure and manage their environmental performance.
It offers a comprehensive carbon accounting solution to help organizations understand their greenhouse gas emissions and take action to reduce them.
Features
Rigorous carbon accounting
Dashboard with drag and drop file facility
Analyze emissions with real-time data
Carbon removal technologies
Invenstor grade reports
Likes
It measures scope 1, scope2, and scope 3 of the greenhouse gas
It helps to track the carbon emission of every supplier
It helps to reduce emissions with net-zero goals
FAQs 
Conclusion
As the world progresses towards a more sustainable future, businesses must adopt carbon accounting software to track their emissions and greenhouse gas production. This blog post highlights 10 of the best carbon reporting software options today.
We hope this list will help you make an informed decision about which carbon accounting software is right for your business. Thanks for reading!
References: