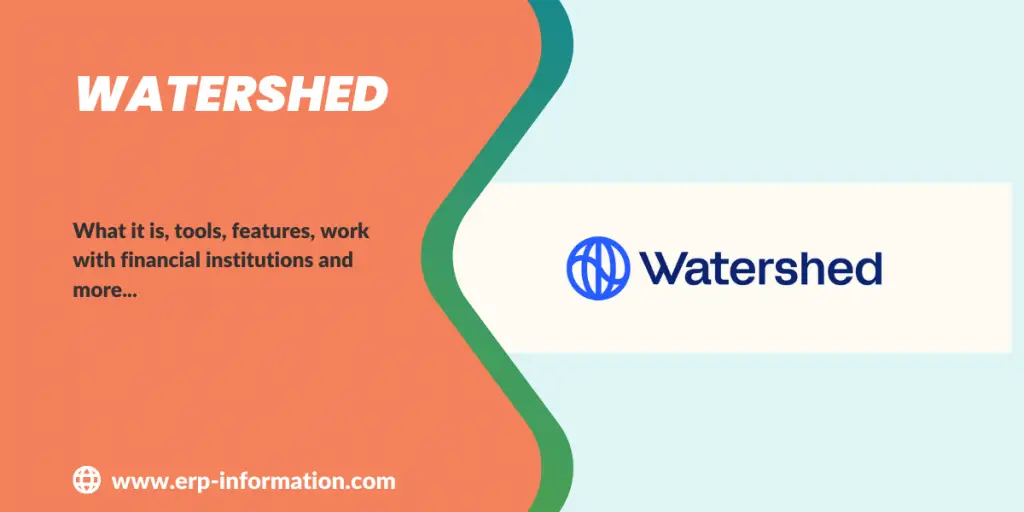 Are you searching for NetZero software that can reduce the carbon emission of your organization? Here we are in the discussion of Watershed carbon accounting software.
NetZero software can reduce the carbon emission of your organization. 
Watershed carbon accounting software is designed to help business and facility managers understand their climate impact and take action to reduce it.
This blog post will explain how Watershed can help reduce emissions and improve your business. It has features that make it good for emission reduction. Companies can benefit from it in many ways. However, it also has some drawbacks. 
What is Watershed?
It is software that helps control the number of carbon emissions from three different steps. First, it measures how effective carbon emissions are and reports it. Then it takes action to reduce the number of carbon emissions.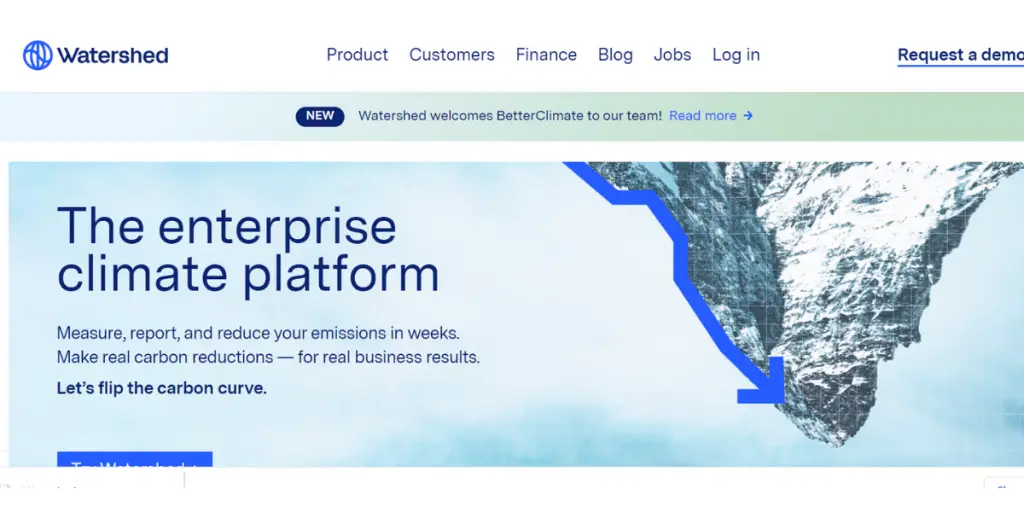 Pricing 
Contact the vendor for pricing details.
Watershed Tools
1. Measure
This measures the amount of carbon emission impacting nature from the organization. With a carbon footprint, knowing where your organization fits into the bigger picture is important. A model can help you map out how much of an impact you have on Earth and what changes need to be made for us all to do our part.
Features
Powered by the latest carbon science
It can measure the emissions from every line of your business. It is Scope 1, 2, and 3 of the Greenhouse Gas rules. And it has also developed methods for measuring emissions from remote work, cloud computing, cryptocurrencies, food, apparel, and more.
Know footprint in a week
The time it takes to become aware of the environmental effect you are having on Earth can vary greatly depending on how long ago certain events took place and what day looks like now compared with then.
Automatic data collection
This built a method of automating data collection. By dragging and dropping any file into the dashboard or using our API, you can have new PDFs show up instantly within minutes, so there is no need to wait weeks before getting what you want.
Turn numbers into action
You can use a real-time dashboard to see how much emissions your company produces. This will help you see where your company stands compared to others in your industry.
2. Reduce
Find out how much carbon dioxide your business emits. Then, cut down on emissions from every corner of your business.
Make a detailed plan based on what you find. Set ambitious goals to reduce emissions to zero. That will help meet the high standards of the Science-Based Targets initiative.
Features
Hands-on support
In-house climate leads have expertise from McKinsey, Stanford, Apple, and other prestigious climate programs.
3. Remove
Watershed is the leading carbon removal company on a global scale, with high-quality products and services for all types of businesses.
Features
Empowering businesses and investors with access to frontier carbon removal technologies, helping build the market.
It will take care of everything from designing your portfolio and tracking how much impact you have on the dashboard. 
4. Report
Features
Investors grade reporting
You can work with a team of climate experts to prepare and submit your CDP report, and they will also work closely with third-party auditors.
Helps to keep the whole organization in the loop
Your climate program will never be the same after a dynamic, real-time presentation from you. Give teams access to customize their data and graphs with granular permissions so they can stay interested in what's happening within your organization!
Climate solution for financed emissions
The Watershed Climate Platform is a great way to analyze, reduce and report emissions for leading financial institutions.
Some screenshots of Watershed
How Does Watershed Work in Financial Institutions?
Climate action powered by data
You can get a complete picture of financed carbon emissions through the latest science and data methodologies.
Get insights from high-level data quickly.
Develop climate change mitigation and adaptation programs for each of your portfolio companies.
Make a plan to support your commitments to Glasglow Financial Alliance for NetZero (GFANZ).
Investor grade compliance simplified
They can help you create a plan to stay in compliance with ever-changing regulations. 
They offer expert guidance on how best practices may have changed and will work closely alongside clients throughout their engagements to equip them for success at every stage fully.
Unlock value with real decarbonization
You can find opportunities to create value in your portfolio.
You can look for efficiencies across companies, sectors, and vendors. 
You can also model future climate impact scenarios to see how a potential investment might be affected. 
Pros and Cons of Watershed
Pros
It is a cost-effective, high-impact software
Dedicated internal team, for your help
Cons
No free trial is available
Take time to learn in the beginning
Conclusion
People who invest in companies, people who regulate companies, customers of companies, and employees of companies ask that companies have a plan to fight climate change. Watershed helps you create a plan to meet these demands, and it can also save you money.
We hope this blog post provided you with complete knowledge of Watershed, its uses, and its feature for reducing carbon emissions.
Reference