You may hear a lot about machine learning lately, and you're keen to learn more, but where do you start?
Even though you have experience with machine learning, many software options are available, and choosing from them can be challenging.
In this blog post, we'll give you an overview of the ten best machine learning software options that helps you to make an informed decision about which is right for you.
What is Machine Learning Software?
Machine learning software is artificial intelligence (AI) software that enables computers to learn from data without being explicitly programmed. Instead, it provides algorithms, APIs (application programming interfaces), and tools to allow developers to create software. 
Typical ML software applications include image recognition, predictive maintenance, fraud detection, and demand forecasting.
Here is a list of the ten best machine learning software tools.
1. Scikit Learn
Scikit-learn is an open-source machine learning library for Python language. It contains various algorithms for data mining and predictive modeling, including support for deep learning and artificial neural networks.
It has been used in several real-world applications, including predicting the outcomes of elections and detecting fraudulent credit card transactions.
Features
Classification
Clustering
Preprocessing
Model selection
Dimensionality reduction
Screenshot of Scikit Learn
Likes
It provided good documentation that helps to apply algorithms when you are stuck.
It provides an inbuilt dataset for practices.
Dislikes
Deep learning algorithms not available
The clip is not elaborative
Other details
2. TensorFlow
TensorFlow is one of the most popular free open source software libraries for machine learning and data science.
It provides various deep-understanding tools, including neural networks, convolutional nets, and recurrent networks. TensorFlow also supports reinforcement learning and generative adversarial networks.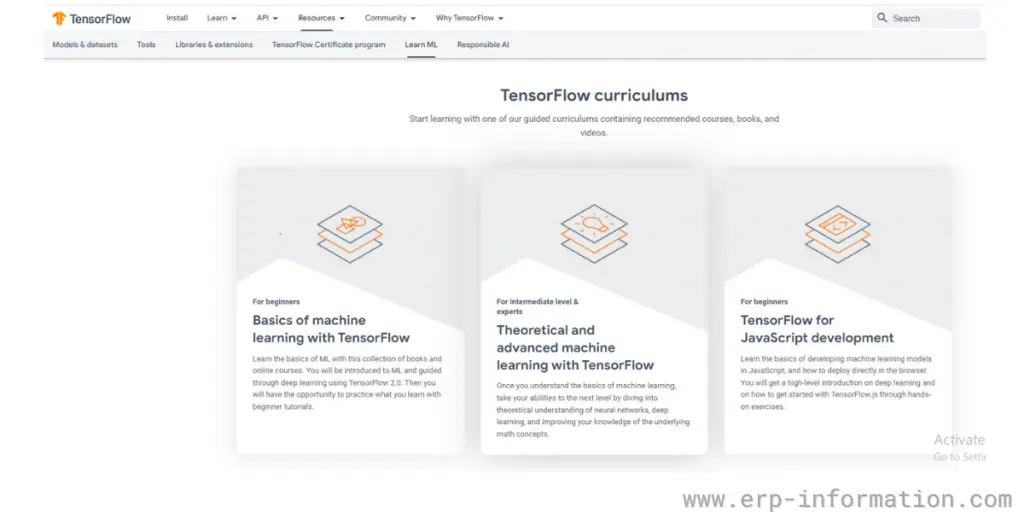 Features
Symbolic math library
Dataflow programming library
Differentiable programming
Statistical machine learning
Screenshot of TensorFlow
Likes
Easy to install
It provides more resources that help to learn.
Dislikes
It does not provide control flow operations and loop functions.
Other details
3. Anaconda
Anaconda is one of the most famous Python data science platforms. It has many data accuracy analytics, machine learning, and scientific computing features.
Features
Predictive modeling
Deep learning models
Screenshot of Anaconda
Likes
The free version is available with basic features.
It allows you to create multiple virtual environments.
Dislikes
It is not easy to use at the beginning
Start-up time is low
Other details
4. PyTorch
PyTorch is open-source software for machine learning libraries based on the Torch library. It offers various features, such as support for multiple processors, integrated graphics processing units, and a wide range of applications. Additionally, it is available on both Windows and Linux operating systems.
Features
Autograd Module
Optim Module
NN Module
Screenshot of PyTorch
Likes
It is an optimized framework for deep learning
It provides good documentation
Dislikes
Not suitable for a small amount of data
Integrate with another application is difficult
Other details
5. Weka
Weka is a software suite containing a variety of tools for data mining, including machine learning, preprocessing, classification, regression, visualization, and more.
It is open-source software released under the GNU (General Public License). In addition, Weka is written in Java, so it can run on any platform that supports Java.
Features
Data preparation
Classification
Regression
Clustering
Visualization
Screenshot of Weka
Likes
Provides free online courses
Students can easily understand the software
Dislikes
Documentation is very less
Other details
6. Google Cloud AI Platform
Google's cloud AI platform is a cloud-based comprehensive suite of tools for data analysis, machine learning, and deep learning. In addition, it provides components like training, prediction, and data labeling services.
Features
A unified UI for all ML workflow
Pre-trained APIs for vision, video, and natural language
End-to-end integration
Support for all open-source frameworks
Free built algorithms
Some screenshots of Google Cloud AI Platform
Likes
The user interface is easy to use
You can create new MI models easily
All AI services are available in machine learning model training
Dislikes
UI navigation is challenging
No frequent updation of training and document resources
Other details
More about the Google Cloud AI platform
7. Amazon Personalize
Amazon Personalize is a machine learning tool that allows you to train, deploy and manage your custom machine learning models. It offers a wide range of features and flexibility, making it a perfect choice for businesses of all sizes.
Features
Automatic loading and inspection of data
Allows you to select the correct algorithm
Provides accurate metrics
Screenshot of Amazon Personalize
Other details
Like
It is very easy to use for newcomers
Dislike
Sometimes the program will be very slow
8. Apache Mahout
Apache Mahout is a distributed machine learning framework. It is used to build machine learning applications and includes several clustering, classification, and collaborative filtering algorithms.
Features
Distributed linear algebra
Classification
Clustering
Regression
Preprocessors
Screenshot of Apache Mahout
Like
It is a scalable machine learning libraries.
Dislikes
The visualization part is not so good
Unavailability of scientific calculation libraries
Other details
9. Amazon Sagemaker
Amazon SageMaker is a machine learning platform enabling you to quickly build, train, and deploy models at scale. It makes it easy to choose the correct algorithm and framework, get your data ready, and configure your deployment model.
Features
Predictive modeling
Visualization
Model Training
ML algorithm library
Screenshot of Amazon Sagemaker
Likes
Helps small projects by reducing the time with ML models
No need to have prior knowledge while working with it
Has user-friendly interface
Dislike
Fewer customization options
Other details
10. H2O.ai
H2O.ai is an open-source machine learning software tool. It is best suited for enterprises for fraud detection and advanced analytics.
Features
Ml algorithm library
Model training
Natural language processing
Visualization
Statistical modeling
Predictive Modeling
Document classification
Some screenshots of H20.ai
Like
Dislike
Lack of accountability and management
Other details
FAQs
Conclusion
Every machine learning software is constantly evolving and changing. As new versions are released, different software becomes the best option for various purposes.
We will update the list of the ten best ML tools we've provided to ensure you have the most accurate information possible. We highly recommend that you check back often to see if any changes in the best machine learning software of 2023.
Reference