Predictive maintenance is a process of detecting and correcting potential failures in equipment before they occur.
The benefits of predictive maintenance are clear, but the process can be difficult and expensive to implement.
We've compiled the ten best predictive maintenance management software solutions to help you get started. These software solutions offer an easy way to detect and correct potential failures before they cause downtime or expensive repairs.
What is Predictive Maintenance Software?
Predictive maintenance software is a program that helps companies plan and schedules their predictive maintenance tasks.
It is used to detect and correct possible failures in equipment before they occur. That can help reduce downtime and expensive repairs.
Here is the list of 10 best predictive maintenance software.
1. Fiix
It is a CMMS software by Rockwell Automation and provides asset management solutions to organizations. It is a cloud-based platform and also provides mobile capabilities.
Features
Equipment information management – The software provides a complete view of the equipment, including its inventory, location, and usage.
A complete view of maintenance across multiple sites – The software provides a consolidated view of maintenance tasks across multiple sites.
Asset tracking fields customization – The software allows users to customize asset tracking fields to their specific needs.
Work order management – The software allows users to create, track, and manage work orders.
Assigning particular assets to individuals – The software allows you to assign assets to a person for tracking and maintenance.
Reporting and dashboard – The software provides users with reports and dashboards to help them track and manage their assets.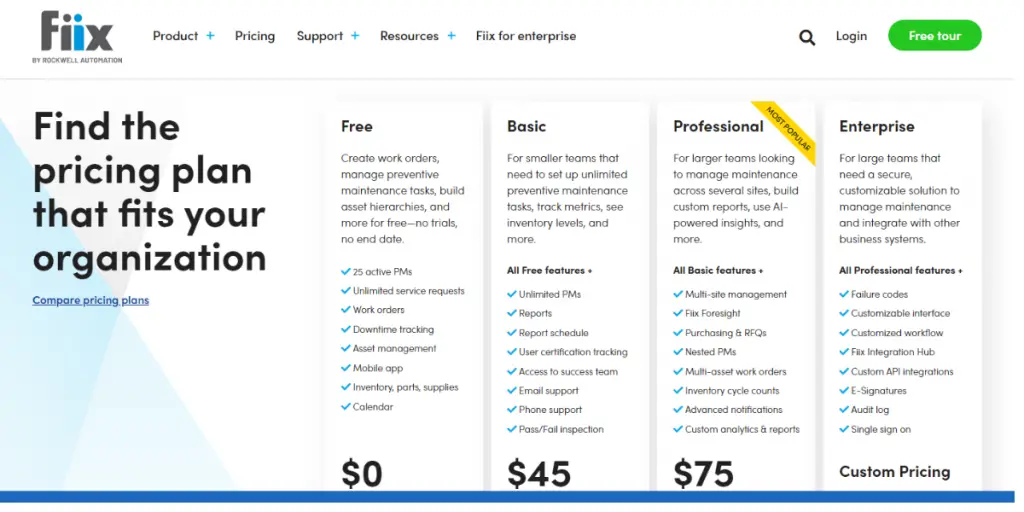 Like
It provides user-friendly mobile apps.
Allows the company to add assets and gives access from technician to manager.
It provides an intuitive dashboard.
Dislike
Creating a report is a complex process.
It does not provide a specific report for the particular task.
Other details
2. Fracttal
Fracttal is an asset management software that uses IoT and Bigdata to make organizations' operations efficient, safe and sustainable. It provides 3 types of products that are Fracttal One for managing, Fracttal X for monitoring, and Predictto for forecasting assets.
Features
Creation of predictive models – The software automatically creates predictive models by analyzing your maintenance data.
Forecasting reliability – The software forecasts the reliability of your equipment and helps to know the reliability value of the asset so that you can plan your maintenance accordingly.
Risk cost ratio – The software presents an asset's clear risk cost ratio so that you can make informed decisions. It also calculates the best time to begin maintenance.
Digitalizes processes – The software digitalizes your maintenance processes and gives you a clear overview of all the activities. It provides digital reports with graphs and charts.
Like
Allows you to have adequate control by providing precise information.
It allows you to integrate with ERP solutions.
Dislike
There is no difference between the registry of equipment and people.
Its BI functionalities are not so good.
Other Details
3. eMaint
eMaint is a web-based software as a service(SaaS) model that helps businesses keep their equipment running smoothly. It provides robust CMMS software and solutions for many industries, including manufacturing, oil and gas, automotive, education, government, and more.
Features
Monitoring of noise, vibration, temperature, pressure, and lubricants
Monitoring of meter readings
Auto-generate work orders
Condition monitoring diagram
Global customer support
Work order management
Like
The software is multilingual.
It has an intuitive user interface.
It allows you to customize the dashboard.
Dislike
Unavailability of communication and mobility within the software.
The development timeline is more. That means it takes more time for bug resolution.
Initial learnings of reporting techniques are difficult.
Other Details
4. Limble CMMS
Limble CMMS is a top-rated predictive maintenance management software to help keep your equipment in top condition. It is trusted by over 50,000 companies worldwide, including Pepsi, McDonald's, and Unilever.
Features
Plug-and-play sensor setup
Immediate alerts when the limit crosses
Automatic corrective tasks
Real-time data
Downtime tracking
Reports and dashboards
Like
It is easy and user-friendly software.
You can also use the software in the field using a mobile without needing a laptop.
It provides good customer service.
Dislike
You can't zoom in on the icons on mobile.
You can't scan out a part without opening work orders.
Other Details
5. Brightly
Brightly asset essentials is an asset management software that helps you to manage and maintain all assets in the organization. It provides a next-generation enterprise platform with efficiency.
Features
Work order and workflow management
Mobile application
Equipment and asset management
Mapping and GIS asset management
Reporting and analytics
Work order parts and PO management
Like
It keeps track of historical maintenance data.
It provides a good phone app.
Dislike
The customization option needs to be improved.
Bugs create a frustrating user experience.
Reporting is not so good, and they have not incorporated custom fields.
Sometimes, the server becomes very slow.
No option to track parent-child work orders and service contracts.
Other Details
6. Upkeep
Upkeep is an asset operations management software that helps the organization run operations efficiently. It serves over 4000 companies, including Yamaha, Subway, Mcdonald's, and more.
Features
Work order management
Location management
Asset management
Barcode scanning
Asset downtime tracking
A complete view of assets across the locations
Monitoring of uptime and downtime of equipment
Reporting and analytics
Like
Provides good customer support.
It optimizes resources by avoiding manual entries.
Provides custom analytics dashboards.
Dislike
The loading of screens is slow sometimes.
You can't do all the operations on the mobile app that you can do on the web portal.
The software is a little expensive.
Other Details
7. Senseye PdM
Senseye PdM is a predictive maintenance software that uses artificial intelligence and machine learning to help identify and prevent equipment failures. It provides reliable solutions to machine-centric industries.
Features
Pre-configured hardware and sensor technology
AI-driven predictive maintenance analytics software
Custom dashboards and reporting
Multi-language, multi-device user interface
Like
It helps to reduce unplanned downtime.
Predict the failure in advance and hence minimizes the waste.
It helps to use resources more efficiently.
It helps to reduce operating costs by reducing the need for manual inspection.
Other details
8. Siemens MindSphere
MindSphere is an industrial IoT solution by Siemens. It provides real-time data and analytics in one centralized place with its AI solutions.
Features
Global access to cloud-based applications
Fast-track insights for critical and non-critical processes
Comprehensive analytics by getting data from PLM, ERP, CRM, SCM, SLM, and MES systems
Like
A good cloud platform that allows you to store all your applications.
Scalable, expandable, and integrated with other solutions based on business requirements.
Dislike
Sometimes the server will not work properly, and hence it may be not easy to access applications.
Other details
9. Tag
Tag is an asset maintenance solution. It is a cloud-based solution that helps you to manage your assets more effectively. It provides software solutions for industries such as power&utility, manufacturing, and hotel&hospitality.
Features
Automate health index calculation
Configure risk index calculation and rules
A comprehensive health index ledger
Like
It integrates with Dynamics NAV/BC ERP and provides complete visibility of the maintenance process.
It provides great customer support.
Dislike
As it uses Dynamics NAV/BC user interface, navigation of the system and interface will be difficult sometimes.
Other details
10. Fastmaint CMMS
FastMaint CMMS is a maintenance management software developed by SM Global.
Features
Planned maintenance work orders
Custom fields on work orders
Parts management
Equipment register
Customize reports and work orders
Bar code support
Like
It offers automatic report generation and email.
It keeps all tasks in one place and all vendor information in one place.
Other details
FAQs
Conclusion
Predictive maintenance software is essential for businesses that want to avoid equipment failures and downtimes. Predicting before a machine fails can prevent costly breakdowns and keep your production lines running smoothly.
In this article, we've listed 10 of the best predictive maintenance software programs on the market. We hope the above list will allow you to find the right program for your business needs.
Reference