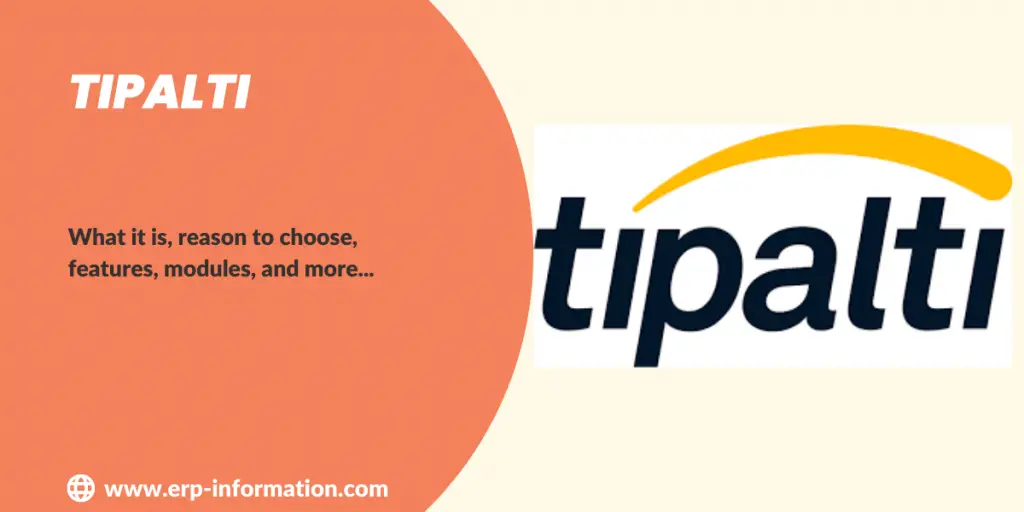 Do you need help to speed up your account payable process? Are you looking for a way to make your workflow faster? If so, automated software can help.
If you want to learn more about automated account payable software, then read this blog post. In it, we provide complete information about Tipalti accounts payable software.
This blog post will explain how Tipalti works, its features, pricing, advantages, and disadvantages. The advantages make you feel comfortable, and the disadvantages make you think twice about this software.
What is Tipalti?
It is an account payable software that helps to automate your repeated accounting transactions.
This software enables you to focus on the most important things for your business, ensures your impact is felt throughout the company, and enables you to keep your team happy and change quickly when needed.
Reasons to choose Tipalti
This holistic platform automates your manual processes. It helps you scale your entire payables operation rapidly and efficiently without adding headcount or systems.
It eliminates the workload and maximizes your work efficiency.
It controls the financial risk like maximum payable tax, fraud, regulatory, and audit risks.
It provides great insight into cash flow and streamlines your payment reconciliation process.
It manages international subsidiaries easily. Payment methods like KPMG-approved global tax engine, Multi-language supplier interface, etc.
It attracts the partners by allowing them to use preferred payment methods and currency.
Tipalti Pricing
Pricing starts from $149 per month. You can upgrade your plan according to your need by adding new capabilities.
You can add advanced features like W-8 tax forms, international Tax IDs, Multi entry payables, etc., for your plan.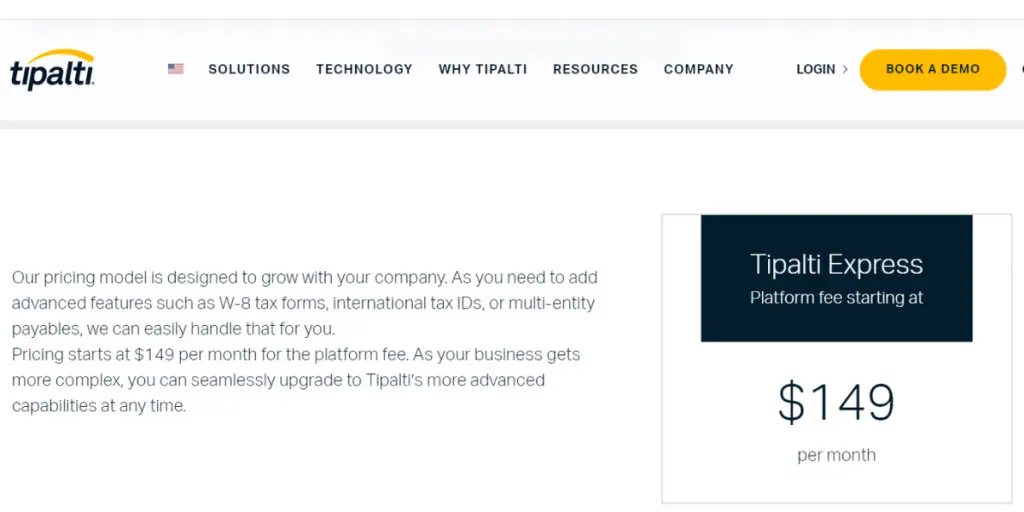 Features
Multi-Entity Architecture
Multi-Entity account payables are possible in Tipalti for business units and global subsidiaries.
It manages different account payable workflows in a single model.
Useful to each entity manages its unique workflow.
Able to manage a large number of entities.
It expands capacity without adding more AP resources.
Segment information by an entity can help prepare for an audit, create financial controls, prepare financial reports, prevent fraud, and improve visibility.
Rolling up your paperwork efficiently and correctly makes it easier for headquarters to handle.
Independent branding, payment methods, tax onboarding, etc.
Send communications specifically about the subsidiary to payees using the subsidiary's email address and branding.
Financial controls
It controls financial payables and all payment operations and provides special security.
It provides security for suppliers' sensitive data and automatically validates contact information, payment information, tax, etc.
It automatically routes invoices and payments based on certain criteria. This helps ensure a strong approval process for both invoices and payments.
It protects against loss with ongoing screening.
It helps to prevent fraud with electronic payments.
Application Programming Interface.
It provides powerful and secure payment API
All actions are logged with the IP and username of the person who took action so that everything is transparent and people can see what is happening.
There are different roles that people need to take to use the API. These roles can be divided into what the person pays for and what they receive.
Secure Cloud Platform
Tipalti follows the best security and performance practices to ensure your information is protected and continuity is maintained.
It runs with one cloud and can provide many features and benefits with the same version.
Anytime access and unified user experience.
It provides data security with best-in-class cloud standards.
Automatically back up the data daily and the entire system image every four hours.
Uptime and ongoing monitoring.
Money Service Business
Tipalti is a company that helps people send and receive money. They are licensed by the United States Treasury and registered as a money service business.
Provides you best money service experience
Eliminate the risk of fines and penalty
Pi (Payable Intelligence)
Tipalti Pi is a tool that can help you pay your bills more efficiently. It will adapt to the way you work and make the process easier.
This Pi program helps you find mistakes in your payments and fix them.
It helps to reduce the damages and errors that occur in productivity
Increases the efficiency of your payable workflow
Pi continuously adds new features for the continuous progress that helps the Future.
Modules
Account Payable Automation
It manages the end to end invoice based payments
Invoice management
Payment remittance
Supplier management
Global payments
Purchase order matching
Purchase Order Management
It simplifies and customizes the purchase requisitions.
Able to collect all the critical information and capture up-to-date status
Automates all rule-based approval routing
Vendor onboarding and management
Automatic generation of PO
Multi-entity cloud infrastructure helps to scale and grow your business.
Global Partner Payments
It will allow your partners to see what is happening with the payment, choose their payment method, and receive proactive automatic emails informing them of the payment status so they don't have to contact you for this information.
Reduces tax compliance risk.
Simplifies workload with self-billing.
Easy integration with existing systems.
Tipalti Card
The Card is a virtual card solution that makes it easy for employees to make purchases. With this Card, you can easily issue, control, and see where your employees are spending money. That makes it easier to reconcile cards and purchases.
Pros
User-friendly and easy to use
Simple to search and easy to pay bills
Very smooth integration with other systems like ERP, NetSuite, Quickbooks
Cons
Some users want to download a list of payees based on categories, but this option is unavailable.
If a payment happened on a particular month and then got recalled in the subsequent period, it's automatically deleted. That can make it harder to reconcile that month's finances.
It cannot store Physical attachments like W9s on vendor setup.
Tax formats are difficult to fill for those who can't understand English. 
People should be able to attach more documents or email approvals/receipts. This will show a trail to the External auditors. Also, Tipalti logs people out quickly, so it should allow more idle time before logging people out.
Sometimes, it doesn't go through when you try to send an invoice or make a payment. If this happens, you can contact Tipalti support to help resolve the issue. However, most of the time, these problems get fixed pretty quickly.
Comparatively less flexible in custom reporting.
When you have to pay multiple invoices from the same vendor, it's frustrating that you can't select them all at once.
Tipalti Integrations
Oracle NetSuite
Sage Intact
Quick books
Microsoft Dynamics
Sage Accounting
Tipalti Alternatives
Airbase
Payoneer
MineralTree
Other Details
| | |
| --- | --- |
| Deployment | Cloud, SaaS, Web-Based |
| Headquarters | San Mateo, California, United States |
| Supported device | Mac, Windows, Linux, Android, iPhone, iPad |
| Supported languages | German, English, French, Italian, Japanese, Korean, Dutch, Portuguese, Russian, Spanish, Chinese (Simplified) |
| Support | Email/Help Desk, FAQs/Forum, Knowledge Base, Phone Support, 24/7 (Live Rep) |
| Training | In-Person, Live Online, Webinars, Documentation |
| Customer rating | Capterra: 4.7 (123+reviews), G2:4.5 (131+reviews) |
Supported Industries
Advertising technology
Affiliate and Influencer Networks
Business service
E-commerce and retail
Education
Financial service
Health care
Manufacturing and wholesale
Conclusion
After reading this blog, you have learned about the working, features, and benefits of Tipalti. For example, providing various features like global payments and supplier self-service, among many others, makes it very user-friendly and efficient. 
Studying all the pros and cons of making your final decision is a good idea. Then, compare different offers from various software and think about what works best for you.