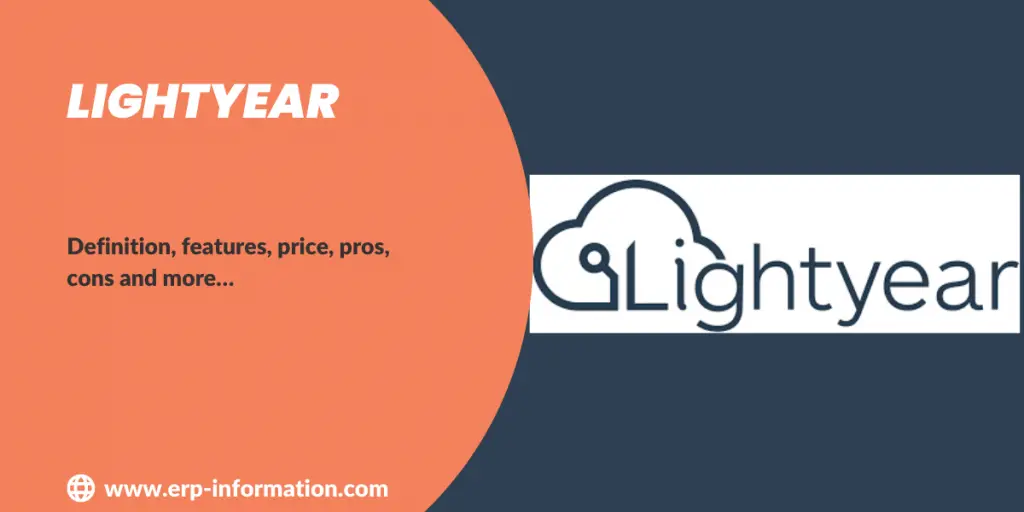 Accounts payable is a critical but time-consuming process in every organization. 
The traditional accounts payable process is slow, error-prone, and paper-based.
"Lightyear accounts payable automation software" speeds up the entire process by automating key tasks such as invoice capture, approval routing, and payments.
This blog will discuss Lightyear features, price, pros, cons, and other essential details that will help you understand how this software can save your organization time and money. 
What is a Lightyear?
Lightyear is an accounts payable automation software that helps businesses manage their invoices and payments.
It streamlines the process by automating invoice creation, scanning, and matching tasks. That helps reduce processing time and improve accuracy.
Additionally, it offers features such as reporting and analysis, which gives businesses a better understanding of their spending habits.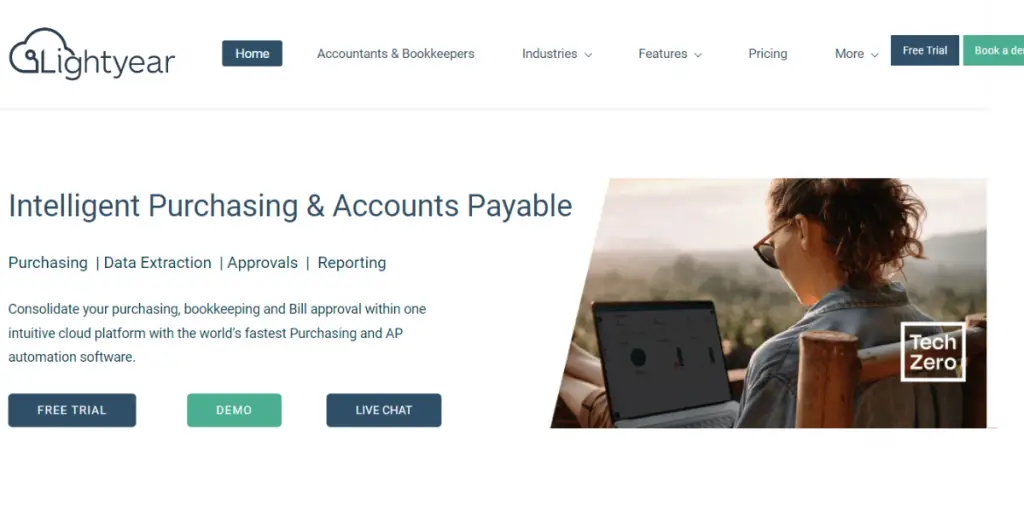 Features
Rules-based Automation
With its powerful automation rules engine, you can easily set up workflows to automate your accounts payable processes. That allows you to eliminate manual tasks and ensure that all invoices are processed quickly and efficiently.
Invoice Processing
Automatically capture invoices and match them to your POs, receipts, or bills for instant matching. Then, quickly route invoices for approval to speed up the payment process.
Payment Process
With this software, you can automate your payments to speed up the entire accounts payable process. Choose from various payment options, including direct deposit, check, and ACH payments.
Purchase Orders
Manage your purchase orders more easily with its AP automation software. Create POs in seconds, and receive notifications when they're received or approved.
In addition, with a centralized repository of all your POs, you can quickly search for and access them when needed.
Intelligent Data Extraction
Its advanced data extraction capabilities can automatically extract key information from your invoices and other documents, helping you to improve accuracy and reduce manual data entry.
Reporting and Analytics
With its AP automation software's comprehensive reporting and analytics features, you can easily track and analyze your accounts payable data to make more informed business decisions.
Integration
Lightyear AP automation software integrates seamlessly with various other systems, such as finance and accounting, CRM, and ERP systems.
Export Data
This software allows you to export data to other systems or applications in real-time.
Group Structure Access
It gives you granular control over who has access to what data, ensuring that sensitive information remains secure.
Price
It offers three pricing plans.
Starter – It starts from $125 per month.
Business – It starts from $199 per month.
Enterprise – It starts from $1199 per month.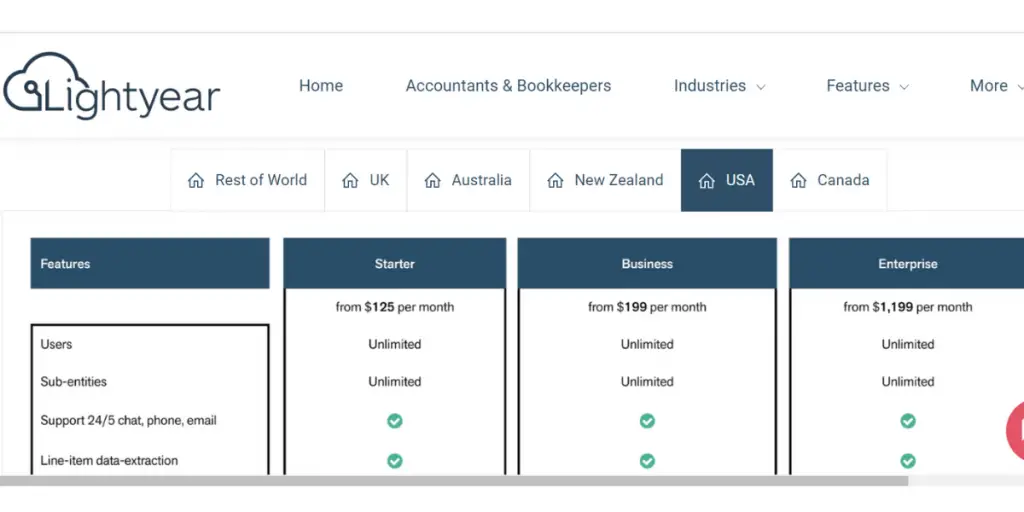 Pros
Automated invoice capture and matching reduce processing time and improve accuracy.
Rich reporting and analytics features offer greater visibility into accounts payable data.
Easy integration with other systems and applications (Abcom, MYOB, Xero, Sage 50, Fuelsoft, and Netsuite) allows for greater flexibility in managing accounts payable processes.
Advanced data extraction capabilities help to improve data accuracy and reduce manual data entry.
The software is easy to use, cost-effective, and affordable.
Each department head is responsible for submitting invoices and processing them independently.
It eliminates manual data entry errors and the overhead of a staff member.
Customer service provides prompt responses.
Cons
Incorrectly imported Gl codes or Suppliers cannot be deleted.
There may be a delay in the processing of mappings.
With its OCR technology, it can process documents very quickly and accurately.
The software requires an initial investment in time and resources to implement and maintain.
The phone app doesn't have all the functionality of the website.
Other Details
Deployment
Cloud, SaaS, Web-Based
Business Type 
Large SMEs, Enterprises, and ERP business
Supported device
Mac, Windows, Linux
Support
Email/Help Desk, FAQs/Forum, Knowledge Base, Phone Support, 24/7 (Live Rep), Chat
Training
Live Online, Webinars, Documentation, Videos
Supported language
English
Supported platforms
Webapp, iOS, and Android
Supported
industries
Its AP automation software is used by organizations in many industries, including healthcare, retail, manufacturing, construction, cannabis farms, education, and finance.
Suitable for
Accounts Payable Specialist, Inventory Management Specialist, Bookkeeper, Accounting Manager, Chief Financial Officer, Supplier Manager, Chief Information Officer, Financial Controller, Accountant, Financial Directo
Alternatives
Blackbaud Financial Edge NXT
RealPage 
JD Edwards EnterpriseOne
Taxprep
Sage Intacct
FAQs
Does Lightyear offer a free trial?
Yes, it offers a free trial of its AP automation software, allowing you to test its key features and capabilities.
What types of data can Lightyear extract from documents?
The software can extract key information such as invoice numbers, dates, supplier details, and amounts from various document types, including invoices, purchase orders, receipts, and expense reports.
Conclusion
A Lightyear is a powerful and efficient tool for automating accounts payable processes. Whether you want to streamline invoice processing, speed up the payment process, or improve reporting and data analysis, this tool can help.
Its advanced features and intuitive interface make it the ideal solution for businesses of all sizes.
Reference